Inez Gertrude (Hayes) Crippen
(1890-1949)

Inez and Zean Crippen
Inez Gertrude (Hayes) Crippen was born on Feb. 27, 1890 in Rome Township, Athens County, OH, the daughter of Susanna Minerd and -- reputedly -- Mahlon Hayes. Because of her mother's biracial heritage (Pennsylvania German and Native American), she and her children faced lifetimes of racial discrimination.
Family lore states that the girl's father was Mahlon Hayes (1852-1924), the son of Bartlett and Lucinda (Butts) Hayes. Mahlon -- who was white and married -- was a farmer who employed Susanna and her brother Jacob. Hayes was married to Ida M. (Crippen) Hayes and had a family of eight children. Thus Inez's half brothers and sisters were Carl Hayes, Kenneth Hayes, Thomas Hayes, Riley B. Hayes, Emmett T. Hayes, Winifred A. Hayes, Everett R. Hayes and Guy Hayes.
When Inez was age one, her mother married former slave Fleming Woody (1855-1915). He may have adopted the young Inez unofficially as his own. Inez may also have taken on his surname -- "Woody" -- as she was listed in the 1900 federal census.
Inez grew up in the same community as her father and half-siblings, but it is unknown whether she had any relationship with them.
At the age of 18, in about 1908, Inez married Zenas L. "Zean" Crippen (1886-1965). He was a farmer, and the son of Lorenzo D. Crippen of Champaign County, OH. This must have been somewhat awkward as Inez's birth father was married to a Crippen, who in turn was the daughter of James R. Crippen (1819- ? ).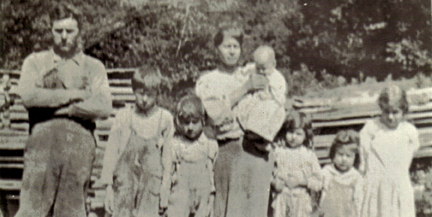 Zean, Inez and their children
Inez and Zean went on to have nine children, among them Walter Walter Crippen, Mamie Leora Bond, Harry Lorenzo Crippen, Lennie Leota Barnhart, Erma Gertrude Crippen, Winifred Frances Crippen, Carrie Irene Barker, Nellie M. Haffner and Zeanas Albert Crippen.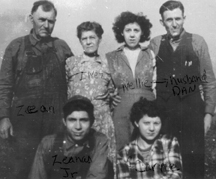 Zean and Inez, upper left, with clockwise, from top: Nellie and Daniel Haffner,
Carrie Barker and Zeanas Crippen
The photograph seen here shows Zean and Inez, at upper left with some of their family. Clockwise, from top: daughter and son in law Nellie and Daniel Haffner, daughter Carrie Barker and son Zeanas Crippen.
When the federal census was taken in 1910, Zean and Inez and two-year-old son Walter made their home along Hocking River Road, with Zean employed as a farm laborer. That year, they lived just two doors away from James D. Kyle (who later married Inez's cousin, Edna Minerd).
The 1920 census shows the Crippens living in Rome Township, Athens County, with Zean continuing his occupation as a farmer. When the census again was taken in 1930, the Crippens were in Rome Township, with eight children and granddaughter Norma L. Deininger in their home.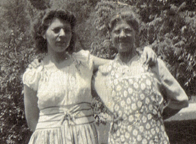 Inez and daughter Carrie
The photograph seen here shows Inez with her daughter Carrie Barker.
On Feb. 3, 1924, Inez's father Mahlon Hayes died at the age of 72, caused by uremic poisoning and chronic swollen kidneys. He was laid to rest in the Bean Cemetery.
Interestingly, the 1930 census taker marked Zean as "white," while Inez and their children all were listed as "negro."
Inez suffered from chronic congestive heart failure, and died from its effects at the age of 59 on June 19, 1949. On her official Ohio death certificate, her mother was listed as "Susan Minard" and her father as "unknown." She is buried in Wyer's Cemetery near Stewart, Athens County.
Zean outlived his wife by 16 years. He passed away on Oct. 20, 1965, at the age of 79.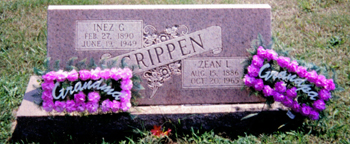 The Crippens' grave at Wyer's Cemetery near Stewart, Ohio
~ Son William Walter Crippen ~
Son William Walter Crippen (1908-1974) was born in 1908.
He married a first cousin on his father's side, Goldie Marie Crippen ( ? - ? ).
They had three children -- Helen Marie Crippen, William Charles Crippen and Walter Marvin Crippen.
William died in 1974, a the age of 66.
~ Daughter Mamie Leora (Crippen) Bond ~
Daughter Mamie Leora Crippen (1910-1997) was born in 1910.
She married Howard Bond ( ? -1973). He brought a son to the marriage from an earlier marriage -- Garrett Bond.
The Bonds went on to have 10 more children -- Norma Bond, Hazel Bond, Charles Bond, Clyde Bond, Ronald Bond, William Bond, Garner Bond, Judith Bond, Clarice Bond and James "Jimmy" Bond.
Sadly, son Clyde was killed in the U.S. Armed Forces while serving our nation -- details are being researched.
Howard died in 1973.
Mamie outlived him by almost a quarter of a century. She passed into eternity in 1997, at the age of 87.
~ Son Harry Lorenzo Crippen ~
Son Harry Lorenzo Crippen (1912-1970) was born in 1912.
He married Bertha Matthews ( ? - ? ) . They had no children.
Harry entered eternity in 1970.
~ Daughter Lennie Leota (Crippen) Barnhart ~
Daughter Lennie Leota Crippen (1914-1993) was born in 1914.
She married Roy Barnhart ( ? - ? ).
They had three children -- Clyde Barnhart, Patricia Barnhart and Phyliss Barnhart.
Lennie died in 1993.
~ Daughter Erma Gertrude (Crippen) Mayle ~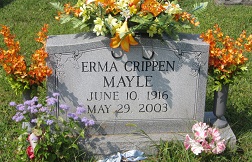 Mount Hermon Cemetery
Daughter Erma Gertrude Crippen (1916-2003) was born on June 10, 1916.
She married widower Luther Elsworth "Lute" Mayle (1883-1952). Luther was 35 years older than his bride, and the son of John and Sarah (Dalton) Mayle of nearby Wesley Township, Washington County, OH.
Luther's first wife Jennie (Parsons) Mayle (1894-1924) had died of organic heart disease on April 23, 1924, and he brought seven children to the marriage with Erma -- Sarah Mayle, Forest Mayle, Sarah "Faye" (Mayle) Mayle, Daniel Mayle, Okey Roscoe Mayle, Al Gershen Mayle and Harley Mayle.
Erma and Luther resided in Chesterhill, Morgan County, where he was a coal mine laborer.
They had 10 children of their own -- Russell Mayle, Delores Mayle, Robert Mayle, Shirley Carnes, James Mayle, John Mayle, David Lee Mayle, Marion Mayle, Karen Mayle and Sharon Mayle. (Click to see the summary of all the known marriages between Minerd- Minard- Miner- Minor and Mayle-Male families over the years.)
Luther passed away at the age of 69 on March 27, 1952, of colon cancer. In his obituary, the Zanesville Times-Recorder said he had "dug coal more than 50 years in the mines around Sharpsburg." Burial was in the old "miner" section of Mount Hermon Cemetery.

Typical coal mining operation in Athens County in which Luther E. Mayle would have labored for more than half a century
So significantly younger than her husband, Erma outlived Luther by more than half a century. She died on May 29, 2003. Her remains were interred in Mount Hermon, and were colorfully decorated with orange, purple, pink and yellow flowers when photographed in September 2015.
Step-daughter Ethel May Mayle (-1910-) died of typhoid fever at the age of seven months on Sept. 6, 1910.
Stepdaughter Sarah "Faye" Mayle ( ? - ? ) married (?) Mayle. They resided in Utley, Athens County in 1946 and in Sharpsburg in 1952.
Stepdaughter Sarah Mayle (1912- ? )
Stepson Daniel Mayle (1913-1932) was born in 1913. He was a farmer. Tragically, he was killed in an automobile accident at the age of 19 when his vehicle failed to navigate a turn. The accident occurred on Sept. 15, 1932. Burial was at Mount Hermon.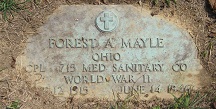 Mount Hermon Cemetery
Stepson Forest A. Mayle (1915-1946) was born on (?) 12, 1915. He served in the U.S. Armed Forces during World War II as a corporal and member of the 715th Medical Sanitary Company. He was employed as a coal miner with Black Diamond Coal in Athens County. Heartache struck the family when, on June 14, 1946, he was shot and killed by a .22 cal. rifle wielded by Willard Edwin "Eddie" Norris in Bern Township. He was laid to rest at Mount Hermon. "No reason was ever given for the shooting," said the Athens Messenger. "Norris and Mayle, with other companions, had spent the evening together in the Tick Ridge area of eastern Athens County. Norris stopped at a friend's house to borrow a gun on the pretext of going ground hog hunting, then returned to the car and shot Mayle who was standing beside the vehicle." (The 5 a.m. incident is believed to have occurred at the home of cousins Jesse and Ivy [Minerd] Fischer.) "Throughout his trial Norris declined to give a reason for his action." Norris was found guilty of murder and spent more than two decades in prison before his sentence was commuted by Ohio Gov. James Rhodes.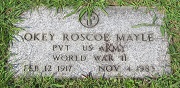 Mount Hermon Cemetery
Stepson Okey Roscoe Mayle (1917-1983) was born on Feb. 12. 1917 in the coal mining community of Lathrop, Athens County. He married Dorothy (Beckwith) Williams (1916-2013), a Chicago native and the daughter of George and Jennie Beckwith. In all, he had 18 children -- including Carole Ann Lucas, Juanita Miller, Denise Marie Mayle, Lisa Renee Mayle, Robert Mae Williams, Nora Jeanne Gandy, Cynthia Diana Coombs, Thomas Williams Jr., Richard H. Williams, John Henry Mayle, Okey Michael Mayle, Byron Edward Mayle, James R. Mayle, Forrest Woody Mayle, George Leslie Mayle, Theodore Allen Mayle, Sandra Mayle and Dorothy Mayle. Okey served as a private in the U.S. Army during World War II. They lived in Detroit in the 1940s and '50s, but by 1968 had returned to Athens, Athens County. He died on Nov. 4, 1983, at the age of 66, "as a result of injuries received while working on his automobile," said a local newspaper. He is buried at Mount Hermon, with the funeral services led by Rev. Frank Peoples of Philippi, Barbour County, WV. Dorothy survived her husband by three decades. Reported the Athens Messenger, "After graduation of high school in Chicago, she completed two years at Ohio University. She was employed at River Valley Community School as a caregiver, and was active in her church, the Kingdom Hall of Jehovah's Witnesses." At the age of 97, having outlived seven of her children and one son-in-law, she joined Okey in eternal life on Sept. 29, 2013, and is buried beside him in Mount Hermon.
Step-grandson Thomas Sankey Williams Jr. (1948-2003) was born on Valentine's Day 1948. He resided in Athens County. He was married and had six sons -- Andrew Williams, Jonathan Williams, Thomas "Tommy" Williams, Walter Williams, Teddy Williams and Gary Williams. Thomas died at age 55 at Mount Carmel West Hospital in Columbus, Franklin County, OH on Sept. 21, 2003. Burial was in Mount Hermon Cemetery.

Granddaughter Carole Ann married Joe Lucas. He was deceased by 2013.

Grandson James Mayle married Susan and lived in Baltimore, OH.

Grandson John H. Mayle was united in wedlock with Cindy and called Florida home.

Grandson Vyron Mayle was wedded to Donna and lived in Chesterhill.

Grandson Forrest Mayle married Vickie and made their residence in Columbus, OH.

Grandson Mike Mayle was united in matrimony with Angie and resided in Columbus.

Granddaughter Juanita married (?) Plocher and lived in Florida.

Granddaughter Chirsta ("Christa"?) was wedded to Paul Mayle and made their home in Ohio.

Granddaughter Lisa married (?) McCormick and dwelled in Austin, TX.

Granddaughter Denise was united in wedlock with Steve Mayle of Nelsonville, OH.

Granddaughter Cynthia Mayle married Brent Combs and lived in Denver.

Granddaughter Nora Jean was wedded to (?) Hoffman. Her home in 2013 was in Charlotte, NC.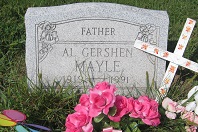 Mount Hermon Cemetery
Stepson Al Gershen Mayle (1919-1991) was born on July 1, 1919. Al lived in Sharpsburg in 1946 and in Akron, Summit County, OH in 1952. In 1968, he made his residence in Columbus, Franklin County, OH. Sadly, at the age of 72, he passed away on Dec. 11, 1991. His remains were placed into eternal repose in Mount Hermon Cemetery. Inscribed at the top of his grave marker, photographed by the founder of this website in September 2015, is the single word "Father." The marker was highly decorated with flowers, a cross and other colorful objects.
Stepson Harley Mayle (1921- ? ) was born in about 1921 in Ohio. He made his home in Sharpsburg in the 1940s and '50s. He was the informant on his father's death certificate. He lived in 198 in Columbus, Franklin County, OH. In 1983, he dwelled in Philippi, Barbour County, WV. His fate is not yet known, but he may be the same "Harley Mayle who died in Philippi on Jan. 15, 1998.
Mount Hermon Cemetery
Son David Lee Mayle (1949-1968) was born on May 12, 1949. Tragically, the 18-year-old David and 19-year-old Mayle cousin Larry Vernon Hill died of carbon monoxide poisoning in April 1968 while sleeping in their automobile near Amesville, Athens County. Hill was the son of Hobart and Martha Marie (Mayle) Hill of Zanesville, and at the time of the tragedy had been employed at Burnham Boiler Corporation.
Daughter Shirley Mayle ( ? - ? ) -- married (?) Carnes. In 1968, they dwelled in Chesterhill.
Daughter Karen Mayle ( ? - ? ) lived at home in 1968.
Daughter Sharon Mayle ( ? - ? ) resided at home in 1968.
Son Russell Mayle ( ? - ? )
Son Dan Mayle ( ? - ? )
Son Robert Mayle ( ? - ? )
Son John Mayle ( ? - ? )
Son Henry Mayle ( ? - ? )
Son Marion Mayle ( ? - ? )
~ Daughter Winifred Frances (Crippen) Boyer McGill ~
Daughter Winifred Frances Crippen (1918-2001) born in 1918 and was married twice.
Her first husband was Howard Boyer ( ? - ? ). They had four children -- Eugene Boyer, Barbara June Boyer, Donald Boyer and Nellie Boyer.
Winifred's second husband was LeRoy McGill ( ? - ? ). They also had four children -- Mickey McGill, Robert Gary McGill, Debra McGill and William Wayne McGill.
Winifred died on April 20, 2001 at the age of 83.

Carrie Barker
~ Daughter Carrie Irene (Crippen) Barker ~
Daughter Carrie Irene Crippen (1920-2000) was born in 1920.
She left home at the age of 20 and moved to Springfield, Clark County, OH, where she found employment. While in Springfield, she met her future husband, James Clarence Barker (1922-1957), a native of Green, KY, and the son of Everett and Lucy (Musick) Barker. They were wed in Kentucky in August 1946.
The Barkers had five children -- Clarence Barker, Patricia Barker, Thomas Barker, Virginia Barker and Betty Dill. They made their home in Springfield for 10 years, where all of their children were born. In 1956, they moved back to Stewart and Coolville, Athens County.
Tragically, on Feb. 12, 1957, James was killed while driving a trailer truck on the West Virginia Turnpike near Princeton, WV, when the brakes failed and the vehicle careened off a concrete bridge abutment into a small stream.
Widowed at the age of 37, Carrie made her home with her children on Bethany Ridge until 1965, conveniently located just two miles from the home of her widowed father. When her father died in 1965, Carried relocated several times in and around Albany, Athens County, and finally settled in Stewart toward the end of her life.
She passed away on Nov. 11, 2000, at the age of 80. She was laid to rest in Wyer's Cemetery with her parents and many siblings.
~ Daughter Nellie (Crippen) Haffner ~
Daughter Nellie Crippen married Daniel Haffner.
They had six children -- Paul Haffner, Peggy Haffner, Marjorie Haffner, John Haffner, Robert Haffner and Susan Haffner.

Zeanas Crippen
~ Son Albert "Zeanas" Crippen Jr. ~
Son Albert "Zeanas" Crippen Jr. (1929-1999) was born on Valentine's Day 1929.
He married Mary Hayes ( ? - ? ).
They lived in the Guysville area and had three children -- David Crippen, Allen Crippen and Roger Crippen.
Zeanas died on July 15, 1999, at the age of 70.
Copyright © 2009, 2014-2015 Mark A. Miner