Martha (Leonard) Turney
(1851-1928)
Martha (Leonard) Turney was born on Aug. 19, 1851 at Meadow Run near Ohiopyle, Fayette County, PA, the daughter of Benjamin and Sarah (Harbaugh) Leonard. She likely was named for her maternal step-grandmother, Martha (Minerd) Harbaugh.

On the Fourth of July 1870, at Ohiopyle, Martha married Daniel Turney (1844-1901). She was age 19 at the time, and he 26.
They had eight children, of whom seven are known -- Mary E. "Mollie" Kauffman, George Benjamin Turney, Jane Turney, Curtis Turney, Sally R. Stedman, Clyde Ellsworth Turney and Albert F. Turney. Jane and Curtis are believed to have died young.
The Turneys initially resided in Farmington. When the federal census was taken in 1880, Daniel and Martha made their home in Stewart Township, near the homeplaces of her brothers Reuben and Christmas Leonard. Daniel's occupation that year was listed as "Black Smith."
Later they moved to a residence in Uniontown, Fayette County, on South Beeson Avenue.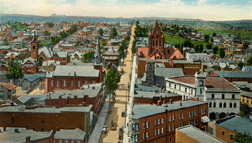 Seen here is a rare old photographic postcard of Uniontown, showing a bird's eye view of Morgantown Street.
The 1900 census shows the family living in Uniontown Borough, on Cleveland Avenue. Daniel, age 55, was working as a day laborer, while daughter Mollie, age 29, was employed as a dress maker.
Sadly, "while sitting in a chair" at home, Daniel passed away suddenly at the age of 56 on Nov. 10, 1901. Said the Uniontown Daily News Standard, "His death was very unexpected." His burial site is unknown.
Martha survived him by more than a quarter-century. Later in life, she moved into the home of her son Clyde in South Connellsville, Fayette County. Said the Connellsville Daily Courier, she "was a devout Christian and was a member of the Methodist Episcopal Church for 63 years. She [was] affiliated with the First Church of Connellsville for about 20 years and was a member of the Women's Foreign Missionary Society and the Ladies Aid Society."
During World War I, Martha watched sons Clyde and Albert serve in the Armed Forces, Albert with the Mech., Co. D, of the 110th Infantry, 28th Division.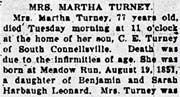 In 1920, she lived under the roof of her widowed daughter Mollie Kauffman on East Green Street in Connellsville. Also in the household was her six-year-old, motherless granddaughter, Nelle Turney.
On the morning of Sept. 4, 1928, having suffered a stroke, Martha passed away at son Clyde's home in South Connellsville, just 15 days after her 76th birthday. The Daily Courier said she "was the last surviving member of a family of 12 children." She was laid to rest at Connellsville's Hill Grove Cemetery, and among her survivors were 19 grandchildren and eight great-grandchildren.
In 1928, daughter Mollie resided in Connellsville; son Benjamin in Ohiopyle; daughter Sallie (wife of J.B. Steadman) in Rochester, Beaver County; and son Albert in Connellsville.
Martha and Daniel are mentioned in the Cooperriders' 1947 book, Harbaugh History. We hope to learn more about their lives someday.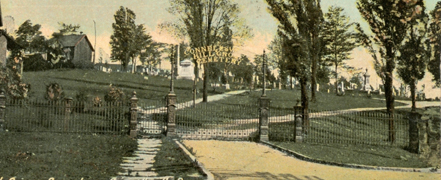 Connellsville's Hill Grove Cemetery
~ Daughter Mary E. "Mollie" (Turney) Kauffman ~
Daughter Mary E. "Mollie" Turney (1870-1951) was born on Nov. 5, 1870 near Farmington, Fayette County. She and her family later moved into the city of Uniontown, Fayette County, and she lived at home with her parents for many years, working as a dress maker.
On Nov. 7, 1900, when she was age 30, Mollie married 32-year-old John R. Kauffman (1868- ? ), the son of Noah and Nancy Jane Kauffman of South Fork, Cambria County, PA. Rev. W.G. Terbush performed the ceremony.
The Kauffmans had at least one daughter, Martha Kauffman.
At the time of marriage, John was employed as a carpenter in Connellsville. They lived circa 1910 with John's parents at 308 East Green Street in Connellsville, with John employed as a foreman working in the bridge construction industry.
When Mollie's sister in law Minnie (Bennington) Turney died in 1918, leaving behind seven children, Mollie took in the youngest, Nelle Turney, and raised her in the residence for many years.
Sadly, John died during the decade of the 1910s.
In the federal census of 1920, 48-year-old Mollie is shown as a widow, with daughter Martha, niece Nell Turney and widowed mother Martha Turney living under the same roof.
The 1930 census shows Mollie, her daughter and son in law Martha and Daniel Vance, and niece Nelle Turney living together on East Green Street.
In July 1934, Mollie and Martha traveled to Pittsburgh for the 25th wedding anniversary of Mollie's brother-in-law and sister-in-law, Wallace G. and Nell (Kell) Kauffman. Said the Daily Courier, "A family reunion with a picnic lunch served at noon, was held during the day and in the evening approximately fifty guests were present at a reception. The rooms were attractively decorated with roses and gladioli. Lunch was served at small tables arranged on the lawn."
Mollie died at the age of 82 in April 1951. Viewing was held at the Mitchell Funeral Home, with burial in Hill Grove Cemetery in Connellsville. A brief obituary appeared in the Connellsville Daily Courier.
Daughter Martha Kauffman (1902- ? ) was a school teacher at Indian Head, Fayette County, in the late 1920s and at least until 1935. She married Daniel Hunt Vance (1900- ? ), the son of Madison and Ida B. (Beatty) Vance, in about 1923. They had two sons -- Richard Vance and Daniel Vance.
The federal census of 1930 shows the Vances making their home with Martha's widowed mother and 17-year-old cousin Nelle Turney in the family's longtime residence on East Green Street in Connellsville. That year, Daniel was employed as an engineer with a steam railway company. In April 1931, she attended a banquet for teachers and school directors of Saltlick Township at the Evangelical Church at Davistown. Said the Daily Courier, "The affair, which was also in the form of an educational rally, marked the closing of one of the most successful years in the history of the township schools. The Saltlick township schools have made such wonderful progress that they are rated among the best of the county." In April 1935, her employment as a grade school teacher was renewed by the South Connellsville Board of Education.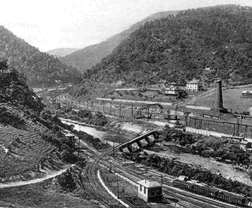 Daniel, on the other hand, was employed by the Baltimore and Ohio Railroad for 49 years. He also served as a captain with the Connellsville Volunteer Police circa 1952. He retired in 1965 as passenger engineer on the Diplomat and Chicago Express running between Connellsville and Cumberland.. Said the Daily Courier, he joined the B&O "as a locomotive cleaner in the Motor Power Department April 4, 1916. He was transferred to locomotive fireman Oct. 14, 1917, and promoted to engineer Oct. 15, 1942. From 1944 to 1946 he worked as assistant trainmaster at Smithfield and returned to the road as an engineer in March 1946."
The famed "Narrows" of the railroad line in Cumberland is seen here.
Circa 1961, the Vances made their home at LaVale near Cumberland, Allegany County, MD. Their son Daniel resided in Cumberland at that time, while son Richard made his home in San Francisco.
Grandson Daniel G. Vance played football for the Connellsville Joint Senior High School. He married Catherine L. Gellner of Cumberland. They resided at LaVale, MD and had at least one son, Daniel Madison Vance.
~ Son of George "Benjamin" Turney ~
Son George "Benjamin" Turney (1874-1941) was born on Feb. 19, 1874 in Farmington, Fayette County. On May 28, 1898, when he was age 24, he wed 21-year-old Minnie Bennington (1876-1918), daughter of William and Mary Bennington of Hopwood. The ceremony was led by Rev. J.C. Carpenter at Fairchance, Fayette County.
They had at least seven children -- Mrs. Charles Hannum, Mrs. Carl Wheeler, Chauncey Turney, Mrs. Leslie Miller, Nellie Turney, Tressa Turney and Thelma Reader.
The Turneys made their home in Farmington for many years, where they were members of the local Methodist Church. In the early years of marriage, Benjamin labored as a teamster. In 1910, he worked for a railroad company as a "hostler." Later, he was a longtime employee of Bell Telephone Company.
When the federal census was taken in 1910, the Turneys made their home in North Union Township, Fayette County. At the time, they had produced seven children, with six surviving. Also living under their roof in 1910 was "second cousin" Andrew Matson, age 50, a laborer in local coal mines.
Sadly, Minnie died in 1918.
Benjamin's whereabouts for the next few years are not yet known. In 1930, he lodged in the residence of Clarence and Goldie Plows along Railroad Street at South Fork near Johnstown, Cambria County, where he worked as a lineman for the telephone company. Circa 1935, he moved in with his son in law and daughter, Mr. and Mrs. Charles Hannum, near McKeesport, Allegheny County.
Benjamin passed away at the age of 68, in the Hannums' home in McKeesport on Oct. 29, 1941. His remains were returned to Connellsville for interment in Hill Grove Cemetery. At the time of his death, said the Courier, he was survived by 11 grandchildren and two great-grandchildren. Traveling from Ohio Pyle to Connellsville to attend his funeral were his cousins Sarah (Leonard) Rush and Homer Leonard and his family.
Daughter Elizabeth Turney (1899- ? ) was born in January 1899.
Daughter Iva M. Turney (1902- ? )
Daughter Agnes Turney (1903- ? )
Son Chauncey Turney (1904- ? ) was only age 15 when his mother died. He and his sisters Grace and Tressa went to live in the home of Anna Piersol in West Elizabeth, Allegheny County, PA, and are shown in the residence on the 1920 federal census. In 1941, at the time of death of his father, he lived at Grand Coulee, WA.
Daughter Grace Turney (1907- ? )
Daughter Tressa E. Turney (1909- ? ) made her home in Camden, NJ circa 1941.
Daughter Thelma Turney (1912- ? ) was taken into the Connellsville home of her aunt and uncle, Sally and John B. Stedman, following the untimely death of her mother. She apparently was legally adopted as her maiden name changed from "Turney" to "Stedman." Later, she moved with the Stedmans to Rochester, Beaver County, PA. Thelma married Clair Reader ( ? - ? ) of Rochester. Circa 1964, Thelma was employed as public relations news supervisor at Geneva College in Beaver Falls. She was pictured in the Daily Courier in mid-October 1964 welcoming one of the 466 incoming freshman at the college.
Daughter Nelle Turney (1914- ? ) apparently never married. Age four when her mother died, she was taken into the home of her aunt Mollie (Turney) Kauffman in Connellsville, and raised there to adulthood. In June 1947, at the age of 33, she continued to make her home with the Kauffmans at 308 East Green Street in Connellsville, and graduated from the Monongalia General Hospital School of Nursing in Morgantown, WV. Her aunt Mollie Kauffman and cousin Martha Vance traveled to Morgantown to attend the commencement exercises.

~ Daughter Sally R. (Turney) Stedman ~
Daughter Sally R. Turney (1881-1949) was born on Sept. 3, 1881 in Farmington, Fayette County.
In 1913, when she was age 32, Sally married her husband, John Barnett "J.B." Stedman (1887-1932), the son of William H. and Emily Ancene (Grossman) Stedman of Rochester, Beaver County, PA. She was three years older than her husband. John had grown up in a house on Rochester's Pennsylvania Avenue, near where his father worked as a glass cutter at Fry Glass.
Sally and John made their home in Connellsville in 1920, and later in Rochester at 290 Clay Street. The Stedmans had no children but raised and may have adopted two girls -- niece Thelma Turney (daughter of George Benjamin Turney) and Betty Stedman.
In the census record of 1920, the Steadmans lived in Connellsville on Woodlawn Avenue, where John worked as a laborer for a local coke company. Thelma, age eight, was listed as their niece.
During the 1920s, Sally and John relocate to his hometown of Rochester. The 1930 census shows his occupation there that year as machinist at a bridge works, quite possibly Pittsburgh Bridge & Iron, just a few blocks away from their home.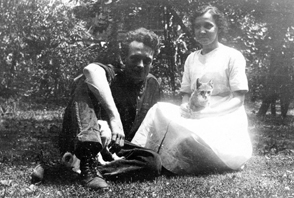 The Stedmans and a pet cat, date unknown
Another informally adopted "daughter," Betty A. Stedman, came into the family home circa 1926. She is said to have attended the Methodist church and took part in theatrical productions.
J.B. was seriously ill circa 1931 with what today might be considered Crohn's Disease, a chronic inflammation of the digestive tract which prevents food from being properly broken down. He admitted for treatment to a local sanitarium. A Connellsville Daily Courier article dated Oct. 29, 1931 stated that "Mrs. J.W. Kincell and son, Alfred, Mrs. J.V. Cunningham of Woodlawn avenue, Emmett Piper of Wheeler and Charles O'Neal of South Connellsville motored to Rochester, Pa., ... to visit with J.B. Steadman, who is a patient at the Beaver County Sanitarium. Mr. Steadman's condition is unimproved, it was said."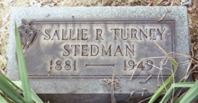 John never recovered from his illness. He died in 1932, at the age of 45.
Sally outlived her spouse by 17 years. She made her home at 290 Clay Street, Rochester.
She died at home at the age of 65 on Feb. 2, 1949. She was laid to rest in the Irvin Cemetery in Rochester. A three-paragraph obituary in the Daily Courier said she "lived all of her life in the vicinity of Rochester, Uniontown and Connellsville."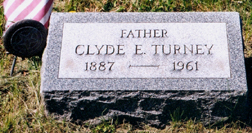 ~ Son Clyde Ellsworth Turney ~
Son Clyde Ellsworth Turney (1887-1961) was born in September 1888. He served in the military during World War I. He married Rose Lee Stillwagon (1892-1981).
They had 20 children, of whom 17 lived to adulthood -- Benjamin Turney, Melvin Turney, Robert Turney, Theodore Turney, Paul Turney, George Turney, Marie Turney, Evelyn Cross, Helen Woodrick, Kathryn Grimm, Martha Colburn, Beatrice "Betty" Richter, Carrie Mae Aller, Mary Ann King, Shirley Ann Kozel, Pauline Anderson Skelton, and Orville Turney. They also raised Judy Heller and Fred Barnes, said the Daily Courier.
Clyde "was a member of the First Methodist church and a roundhouse foreman for the Pennsylvania and Lake Erie Railroad at Dickerson Run for 35 years, retiring in 1953," reported the Daily Courier.
Clyde passed away at the age of 73 on Jan. 29, 1961. He was laid to rest in Hill Grove Cemetery. At the time, he and Rose Lee had 42 grandchildren.
Rose Lee outlived her husband by two decades. She died at the age of 89 in 1981, and was buried beside her husband at Hill Grove.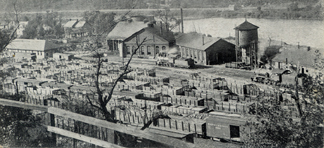 The busy railroad yards at Dickerson Run near Dawson, where Clyde Turney labored for decades

Pittsburgh & Lake Erie logo
Son Benjamin R. Turney (1909-1973) was "an engineer employed by the Pittsburgh and Lake Erie Railroad since 1941, and was a member of the Brotherhood of Locomotive Engineers and the Loyal Order Of Moose," said the Connellsville Daily Courier. "He had lived in South Connellsville for many years. He was a member of Wesley United Methodist church and its Men's Bible Class." He never married. He died at the age of 63 on May 8, 1973.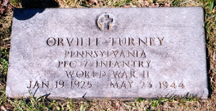 During World War II, son Orville Turney (1925-1944) served with Company E, 7th Infantry, 3rd Division, and was killed in action in Anzio, Italy. Prior to the war, he was employed by Anchor Hocking Glass Corporation in Connellsville. He joined the Army in April 1943, and took basic training at Fort McClellan, AL, going overseas in September 1943. During an amphibian invasion of Anzio by 40,000 Allies troops hoping to out-maneuver German troops, the 7th Infantry broke through and moved to capture Rome. Orville's death occurred on May 23, 1944, just a few weeks before D-Day. He is one of many extended cousins to lose their lives in the service of their nation during wartime. His remains were returned to Connellsville from Europe in August 1948, more than four years after his death, for burial at Hill Grove Cemetery. (His grave marker is seen here.)
Daughter Martha C. Turney (1927-2009) married Leroy E. Colborn ( ? - ? ). "Early in her life," said the Daily Courier, "Martha was employed at the now former Anchor Hocking Plant in South Connellsville and later in life she did babysitting for several area families... Martha was an excellent baker and was well known for her delicious pies!" They had four children. Martha passed away at the age of 82 in the Eicher's Family Nursing Home in Normalville, Fayette County, on March 14, 2009. At the time of her death, Martha and Leroy had produced eight grandchildren.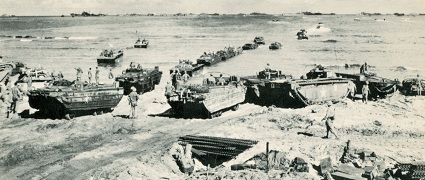 Allied invasion at Anzio, Italy, where Orville was killed
~ Son Albert F. Turney ~
Son Albert F. Turney (1890-1953) was born in May 1890 in Uniontown. He married Emma G. (?) (1898-1953). They had a son, James Turney.
Albert was a member of Dawson American Legion Post 483, Walter E. Brown VFW Post 21, Society of the 28th Division and Fayette County Voiture, Forty and Eight. Emma belonged to the Dawson American Legion Auxiliary, Connellsville VFW Auxiliary, Vanderbilt Women of the Moose ant the First Presbyterian Church. In October 1942, Albert was elected commander of the Newmyer Post of the American Legion in Dawson. They resided at 400 East Crawford Avenue in Connellsville.
Sadly, Emma died on Nov. 29, 1953 at the age of 55 at Connellsville State Hospital, following an illness of two months.
Albert went to live with son James on Railroad Street in Dawson, Fayette County. Just a few weeks later, at age 63, Albert died in his son's home. Burial was at Hill Grove Cemetery.
Copyright © 2001, 2003-2004, 2006-2010, 2013 Mark A. Miner