Charles "Edward" McKnight
(1906-1973)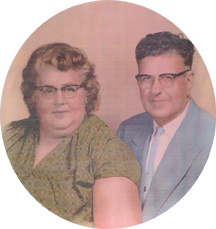 Charles "Edward" McKnight was born on Dec. 29, 1906 near Dawson, Fayette County, PA, the son of Charles and Keziah (Stimmell) McKnight.
Edward married Clara Porter Bates (1911- ? ) in 1929, and they were married for 44 years.
They had five children -- William Leroy McKnight, Elizabeth Helena Hegadore, Welene Gibbons, Clara McKnight and Delores McKnight. Sadly, daughters Clara and Delores died in infancy.

Edward obtained employment at the B.F. Goodrich Company tire plant in Avon Lake, OH, and the family relocated there, remaining for many years.
Following Edward's retirement, he and Clara moved back to Dawson, where they made their home on Railroad Street. In his retirement years, Edward operated an antique shop in Dawson. He also passed down a love of history and antique family heirlooms to a grandson.
They were members of the Bryan Methodist Church in Dawson.
Edward passed away at the age of 66, on July 14, 1973 at Allen Memorial Hospital in Oberlin "after a long illness," said the Elyria Chronicle-Telegram. His remains were returned to Dawson for burial at the Bryan Methodist Church Cemetery. At the time of his death, he and Clara had produced 11 grandchildren and two great-grandchildren.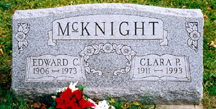 ~ Son William Leroy McKnight ~
Son William Leroy McKnight ( 1936-2002) wed Marie Mancuso (1943- ? ) and were married for 41 years.
They had three children -- Jean Billingsley, Delores "Dee" McKnight and James Edward McKnight.
They lived in Elyria, Lorain County, OH. William "worked for U.S. Steel in Lorain [OH] from 1954 to 1959, then entered the Army, where he served until 1965," reported a newspaper. "He was employed by Lorain County Sanitary Engineers as a foreman for 39 years before retiring in 2001. He was a member of LaPorte United Methodist Church in Elyria ... [and] a member of the Waverly Hunt Club in Wakeman. he enjoyed spending time with family, especially his grandchildren, farming, auto racing and hunting."
William died in 2002.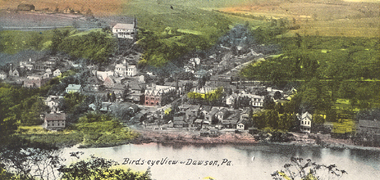 Bird's eye view of Dawson, from an old color-tinted postcard
~ Daughter Wilene (McKnight) Gibbons ~
Daughter Welene McKnight (1933- ? ) married Charles "Harold" Gibbons (1931-1998).

They had five children -- Paula Welene Miller, Charles "Harold" Gibbons Jr., Clara Enos, Marie Ann Shultz and Amy Pearl Mongell.
Step-grandson Emerson T. Long, III (seen at right, stepson of Charles H. Gibbons Jr.) is a certified public accountant. Formerly with the Greensburg, PA office of Malin Bergquist, one of Western Pennsylvania's largest independent CPA firms, he today serves clients with the firm of Deluzio & Co. An Army reservist since 1991, Emerson currently is serving in Iraq in his third deployment, following tours in Iraq and the Aberdeen Proving Ground in Maryland. During his first Iraqi deployment, he dealt in "technical intelligence" -- collecting enemy weapons on the battlefield, including buried warplanes, and analyzed them for improvements and advancements. He also helped determine if enemy weaponry was being supplied by countries in violation of treaty agreements.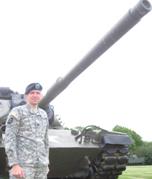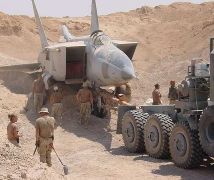 Army reservist Emerson T. Long, III (left) helps excavate hidden warplanes in the Iraqi desert
~ Daughter Elizabeth Helena (McKnight) Hegadore ~
Daughter Elizabeth "Helena" McKnight (1929-2004) married John C. Hegadore ( ? - ? ). They had three children -- Ronald Hegadore, Richard Hegadore and Veta Lynn Hegadore.
The Hegadores made their home in Oberlin, OH.
Elizabeth passed away at the age of 74 on Jan. 31, 2004.
Son Richard Hegadore has maintained a love of McKnight family history and with his wife Kay, were regular attendees of the McKnight Reunions of the early 2000s in Western Pennsylvania.
Minerd.com extends its gratitude to Wenona Miller and Richard Hegadore for sharing their information on this family.
Copyright © 2008, 2012 Mark A. Miner