Thomas M. Miner
(1831-1910)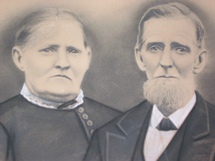 Thomas M. Miner was born on March 24, 1831 in Madison Twp., Perry County, OH, the son of Frederick and Jane (Richardson) Miner Sr. He was one of three brothers to serve in the Civil War, and while in the service of his nation was held as a prisoner of war.
With limited education and literacy, he did not even know his own birthdate.
On Oct. 22, 1857, in Ilesboro, Hocking County, OH, Thomas married Maletha Ann Ogburn (1838-1918), sometimes spelled "Augburn." Justice of the peace Samuel Stultz performed the ceremony, which took place at the Ogburn home.
Maletha's parents were George and Hester (Milligan) Ogburn, who were Quakers and natives of Pennsylvania, and who had migrated to Perry County as children. The Ogburns first lived in Perry County, later moving to Hocking County and thence westward to Terre Haute, IN (where Maletha's mother died).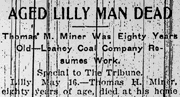 The Miners had at least eight children, of whom five lived to adulthood -- Harvey E. Miner, Elizabeth "Lizzie" Lytle, Frederick Miner, G. Wilbur "William G." Miner and Charles W. Miner.
During the Civil War, Thomas and his brother Andrew joined Company H of the 90th Ohio Volunteer Infantry, and their brother Frederick was a member of the 10th Ohio Cavalry.
At the time of enlistment, Thomas stood 5 feet, 11 inches tall and was considered "a sound able bodied man." While in the service, however, he suffered terribly from chronic diarrhea, hemorrhoids and back problems. He later said this was due to "being over-heated & much exhausted by a forced march from Lexington to Louisville, KY... [and] during said march, [I] was much deprived of water, & marched 100 miles in 86 hours, less about 16 hour sleep." The march occurred in September 1862.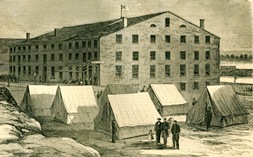 The regiment's Captain, Nicholas F. Hitchcock, later wrote that during the forced march:
...many men were injured. Among the number Thomas M. Miner was injured by our exertion and after arriving at Louisville, Ky., and while there maneuvering said Miner fell out of Ranks by the wayside, exhausted & broken down.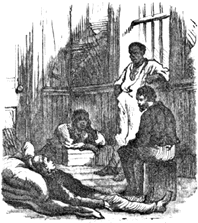 Adding to his suffering, on New Year's Eve 1862, Thomas was taken prisoner at the Battle of Stone River. In his own words, he "was sent to Richmond, Va. and nine days in Prison at Libby." Libby Prison, a converted tobacco warehouse built of red brick, and seen above left, was a notoriously filthy and deadly prison, considered one of the Confederacy's worst.
The sketch seen here is deceptively pleasant image of Libby Prison. One prisoner, a surgeon with the 12th WV Infantry, complained of having to sleep on bare floors, in front of open windows, with insufficient clothes or blankets. The men also were exposed to cold temperatures, dampness and germ-carrying insects from the nearby James River. Sanitation was non-existent -- prisoners relieved themselves in the corners of their rooms.
Thomas later was released as part of a parole program at a hospital in Annapolis, MD. He then was sent to Camp Chase, OH to recover. Later, in June 1863, he was released and returned to his regiment. He and his brother Andrew took part in the famous Atlanta Campaign, known today as "Sherman's March to the Sea," which devastated much of Georgia during the Union assault.
Thomas is known to have been treated by an Army physician in Bridgeport, AL. He was so ill that he was discharged there just before Christmas 1863. The regiment's surgeon, R.H. Tipton, wrote: "He is utterly unfit for any duty, and permanently so. He is excessively emaciated and evidently beyond hope of recovery."

Union forces under Sherman burn farm fields and tear up railroad tracks throughout Georgia
Tragically, brother Andrew remained with the 90th Ohio, and died from the savage effects of diarrhea at Vining Station near Atlanta, GA on Aug. 2, 1864. He originally was buried at Vining Station, a stop along the Chattanooga and Atlanta Railroad. His remains later were reburied at the Marietta National Cemetery in Marietta, GA, where he now rests for eternity in Section I, Gravesite 9555.
When Thomas returned home to Sego from the Army in January 1864, he was broken in health, and in his own words, "[I] can only now make about a half hand or do about half as much as an able bodied man and at times say every two weeks cannot do any labor, [get] so weak and remains so for 2, 3 & 4 days & sometimes during that period of weakness [my] appetite is poor and cannot eat sufficient to gain strength."
The Miners' residence was a log cabin, where daughter Lizzie was born in 1865.
In 1871, when his father died, Thomas was to inherit a cow. However, "there being no cow on hand," he received $45 in cash instead. He also received $101.22 as his share of the remainder of the estate. In about 1876, they moved from the Sego area to nearby Bearfield Twp. Thomas worked as a mechanic and a farm laborer.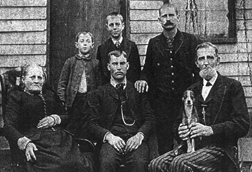 Seen here circa 1890, Maletha and Thomas pose with their four sons, standing left to right: Charles, Will and Harvey, with Fred seated. Note that Thomas holds a favorite pet dog.
Thomas successfully pursued a pension from the federal government for his wartime disabilities. Of his illness, he wrote in 1879 that "for several years [I have] used old prescriptions given [me], and some patent medicines ... purchased and being poor [I have] tried to manage as best [I] could in [my] afflicted condition and avoided expense in treatment..."
In about 1880, they purchased a one-half acre tract at McLuney Station in nearby Harrison Twp., from the trustees of the United Brethren in Christ Church. (The trustees at the time were James Conaway, James W. Shell and Royal H. Conaway.) That year, son Harvey was working locally as a coal miner, though his fate after that is unknown. The online booklet, A Brief History of Perry County, Ohio, says that "McLuney was platted and organized in 1855. It is the centre of a rich coal field, and mining is the principal business."
In 1885, though tall, Thomas weighed only 128 lbs. After administering a medical examination that year to Thomas, his physician wrote:
He is thin, ... eyes and face are sunken, & muscles are small and soft. Abdomen is flat & dull & tender on pressure. His heart is feeble but not diseased organically. His lungs, liver, spleen & kidneys are normal. His tongue is fissured & red & his teeth are half gone.
When the federal government undertook a special census in 1890 of Civil War veterans and their widows, Thomas was listed as living in "McLuney or Deavertown" with no further comment about any wartime-caused disabilities.
In April 1896, they sold the McLuney Station farm to Wesley Russell. They were last known to be taxed in the township in 1898.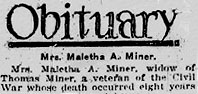 One of the few of our cousins of that generation to move east rather than west, they relocated in 1899 to Gallitzin Twp., Cambria County, PA, to be with their daughter and son in law, Lizzie and John Lytle.
Thomas was blind in his final years, and suffered from hardening of the arteries and heart inflammation. After 52 years of marriage, Thomas passed away in Lilly, Cambria County on May 12, 1910.
To support herself financially, Maletha then obtained her husband's Civil War pension. After eight years as a widow, she died on Feb. 5, 1918. They are buried together beside daughter Lizzie at Lillydale Cemetery in Cambria County, PA.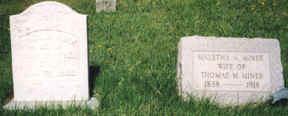 Seen here today, Thomas' grave marker (at left) is faintly visible, while Maletha's is very legible.
Daughter Lizzie lost her husband John Lytle in 1916, and outlived him by 44 years. She passed away in 1960 at age 95.
Son Harvey was a coal miner in Perry County, OH circa 1880. His fate is unknown.
Son Charles was a coal miner in Cambria County, PA circa 1900. Circa 1910, he resided in New York State, and in 1918 was in Little Falls, NY, becoming a jeweler and an optometrist.
Son Fred resided in Lilly and nearby Cresson, PA.
Circa 1910, son Wilbur lived in Altoona, PA. He was a conductor with the Pittsburgh Division of the famed Pennsylvania Railroad.
The Lilly community was in the news on Christmas Day 2008 -- when an 1851 painting of an old local saw mill was published on the front page of Pittsburgh Post-Gazette. The work was painted by Alfred S. Wall and entitled "Old Saw Mill," and today is on display at the Westmoreland Museum of American Art in Greensburg, PA. Click to see the painting and news story.
For more information, contact great-great-great grandson Craig Adams.
Copyright © 2001-2002, 2005-2006, 2008 Mark A. Miner.
Original painting of Sherman's March to the Sea from the Milwaukee Public Museum.