Home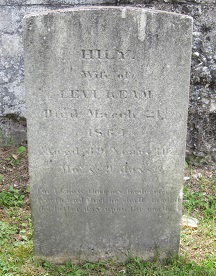 Hily's grave, Ream Cemetery, Ursina
Levi Ream (1816-1903) was born on Nov. 28, 1816 in Ursina, Somerset County, PA, the son of Samuel W. and Mary (Rheims) Ream.
He married Highley "Hila" King ( ? -1864), daughter of Jacob and Eva (Pringey) King.
Their 10 known children were Norman Bruce Ream, John Alva Ream, Cleon Keys Ream, Franklin "Frank" Ream, Sarah Ream, Samantha Johnson, Marie Garretson, Cynthia Ream, Ida E. Mills and George B. McClellan Ream.
They initially lived in Ursina, raising their children in a household "presided over by sterling, God fearing and loving parents," said the New York Tribune's 1896 book America's Successful Men of Affairs. "Somerset county adjoins the Maryland State line and many were the slaves, who passed through that valley in the olden times on their way out of the house of bondage to freedom and homes in the North."
The federal census of 1860 shows the Ream family in Ursina, with eight children, and 20-year-old laborer John Kelso living in the household.
Sadly, Hila died on May 21, 1864, at the age of 39 years, 11 months and nine days, just a year after having given birth to their youngest son. Burial was in the Ream Cemetery. At the time of her death, son Norman was away in the Union Army during the Civil War. Her grave marker stands today. At the base is etched this epitaph taken from scripture (Job 19:25).
For I know that my Redeemer
Liveth and that he shall stand
the latter day upon the earth.
In September 1866, two years after Hila's passing, their son Norman left the region and migrated to Princeton, IL, and after a short time moved further to Osceola, Clarke County, IA. Likely encouraged by the son's prospects, Levi sold the farm to local real estate investor Judge William J. Baer in 1868 for an astounding $25,000. Evidence suggests that he may have done so after having fallen on hard times in the "livestock commission business."
He is profiled in the 1886 book Clarke County History, page 101, which states that Osceola Township " was then the terminus of the Chicago, Burlington & Quincy Railroad. Here he engaged in wagon-making for six months. He would often send freight for citizens many miles. He has made and sold over 200 wagons in one year, often shipping car loads everyday for months." He also operated a general store and "commission house" with his son until 1871, when the son moved into Chicago. Said the Clarke County History: "Mr. Ream has been an extensive traveler, having visited twenty-nine States and Territories."
Levi died on March 19, 1903 in Osceola, with burial in Maple Hill Cemetery. [Find-a-Grave]
He is included in a published profile of his son Norman in John W. Jordan's 1914 book Encyclopedia of Pennsylvania Biography: Illustrated, Vol. III and in Alfred Theodore Andreas' History of Chicago, Vol. 3 -- in a lengthy biography of his son Cleon in Historical Encyclopedia of Illinois, Vol. 2, Part 2, by Newton Bateman and Paul Selby -- and in Paul Ryscavage's book, Norman B. Ream: Forgotten Master of Markets (Fairleigh Dickinson University Press, 2013).

Ream Cemetery's stone fence constructed in 1911 by Norman Bruce Ream, on the north bank of Laurel Hill Creek in Ursina, PA
~ Son Norman Bruce Ream ~
Son Norman Bruce Ream (1844-1915) was born in 1844 in a small log cabin in Ursina. Having grown into adolescence as a farmer, at the age of 14, he took a class at a local "Normal Institute," devoted to educating teachers, and then pursued teaching.
As a young man, he stood 6 feet, 2 inches tall. Just before the Civil War, he apparently became a store clerk in Harnedsville, near Somerset, and began a fledgling ambrotype photography business.
After the outbreak of the Civil War, Norman went to see his parents and advised them of his intent to enlist. "They were as patriotic as he," said Alfred Theodore Andreas' book History of Chicago, and "gave their consent and blessing." With their support secured, Norman and his cousin Ross R. Sanner enlisted at nearby Somerfield, Somerset County, and then walked a 29-mile distance from Ursina to Uniontown, PA to be formally mustered into the Army. On or about Aug. 15, 1862, they were assigned to the 85th Pennsylvania Infantry. (Many of our MMMM and Younkin also cousins served in the 85th Pennsylvania regiment -- among them John Devan, Simon Firestone, James Frederick Imel, Jerome B. Jennings, Isaac F. Minerd, James Minerd Jr., William Minerd, James Rowan, Leonard H. Rowan, John Irving White, Harrison K. Younkin, Jacob M. Younkin and John X. Younkin.)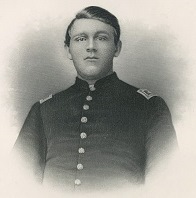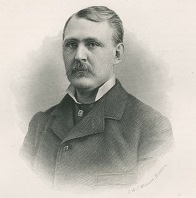 Norman Bruce Ream, in Civil War years and later as a businessman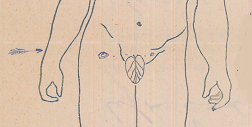 Surgeon's sketch of Norman's first wound,
in the right thigh. National Archives
Norman served as an orderly under Gen. Joshua Howell and twice was brevetted for bravery on the field of battle. In action at White Marsh GA, on Feb. 22, 1864, he was shot in the right thigh, with the enemy bullet lodging in the pelvic bone. He claimed that that the minie ball had hit him in the groin, entering the right side of the abdomen, with the bullet removed from the left side. After a period of recovery, he rejoined his regiment, but he later said that "the effect of the said wound is to weaken my right leg and to impede my walking."
He was with the 85th Pennsylvania at Bermuda Hundred, VA and re-enlisted on June 15, 1864. Two days later, at Weir Bottom Church, on June 17, 1864, during the Battle of the Wilderness, he was wounded behind the right knee, "the ball passing through the back part of the leg." Cousin Sanner carried him on his shoulders for the distance of a mile before arriving at a safe place. Sanner later that day was wounded in the same fight. He was transported to Fortress Monroe, VA, where he was admitted to Chesapeake Hospital for treatment.
Once the second wound healed sufficiently, he received a furlough to return home before receiving orders to rejoin the regiment. After arriving back in the army, he then requested an honorable discharge based on his disability, and following an examination, 85th Pennsylvania surgeon Dr. Samuel L. Kurtz granted the request on Aug. 31, 1864.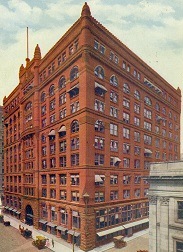 Norman's home at 1901 Prairie Avenue in Chicago, left, and the Rookery Building which he helped finance and where he maintained his office.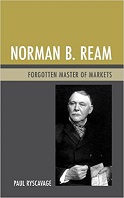 Book by Paul Ryscavage
Upon his return home, Norman filed an application to receive a military pension for his injuries, and it was granted. [Invalid App. #56.946 - Cert. #41.316] He returned to his work at the Harnedsville store. In September 1866, Norman left western Pennsylvania and made a long trip to Princeton, IL. There, he went to work as a general store clerk, and seeing the potential, bought out the owner after just a few weeks.
But 10 months later, the store burned, with him "losing nearly everything," said the History of Chicago. He relocated again to Osceola, Clarke County, IA, about 100 miles southwest of Chicago, and may have encouraged his widowed father and brother Cleon to join him there, as the father sold the family farm and made the voyage in 1868. Other Somerset Countians known to have lived in or near Osceola in the 19th century were Civil War veteran Samuel Freeman Younkin and Moses Younkin of the family of Col. John C. Younkin as well as kinsman John Adam Gaumer of the family of John Gaumer. In Osceola, he worked in the grain and agricultural tool business, but when a season of poor crops in 1870 caused his debtors to default on what they owed him, he was forced to suspend his business.
The following year, in 1871, Norman pushed into the city of Chicago, where he began to make a living as a merchant in livestock and grain in partnership with a Mr. Coffman, dealing in livestock and then into commodities. Circa 1883, he is known to have sold in one day a half million bushels of wheat in Chicago, and due to the economics of the time, the move led to a price drop of three-quarters of a cent, which in essence allowed him to manipulate the market. As well, "He was one of the pioneers in the organization of the steel industry and was active in bringing together the various western steel plants which formed the Federal Steel Company," reported the Connellsville Daily Courier. "When this was absorbed by the United States Steel Corporation in 1901, Mr. Ream became a director of the corporation and has since served as a member of its finance committee, making his offices in this city and his home in Woodstock, Conn. Meantime he had acquired large real estate interests in Chicago and has since maintained an active interest in financial affairs in that city." In November 1884, Norman returned to his home region and stayed in the county seat of Somerset as the guest of A.J. Colborn.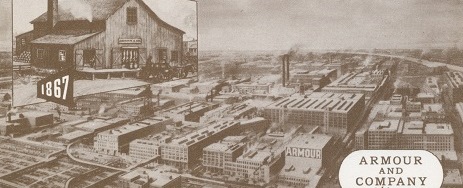 Chicago landmarks which Norman helped build through his work. Above: the Armour Meats plant, where he helped founder P.D. Armour corner the market in pork in 1883. Below, the Marshall Field Museum of Natural History
.
Photo by Mario Scacheri, A. Lenke Studio.

At the age of 31, on Feb. 17, 1876, Norman married 23-year-old Caroline "Carrie" Thompson Putnam (1852-1924), daughter of Dr. John and Elizabeth Putnam. The nuptials took place in Madison, NY. They went on to produce nine children -- Marion Buckingham Stephens Vonsiatsky, Frances M. Kemmerer, Bruce P. Ream, Norman Putnam Ream, Robert Clarke Ream, Edward King Ream, Katherine Ream, Louis Marshall Ream and Henry K. Ream. Sadly, three of the children did not survive childhood. Son Bruce, born in September 1879, died at age seven month of acuge pulmonary congestion on April 27, 1880 -- daughter Katherine, born Feb. 1, 1886, succumbed at the age of just five months on July 5, 1886 -- and son Henry K. Ream, born in April 1890, was swept away by scarlet fever at the age of 27 months on July 22, 1892.
In Chicago from 1888 to 1908, the Reams made their home in a three-story brownstone, with 20 rooms, next to and north of the home of department store magnate Marshall Field. Then in about 1908, the family relocated to New York City.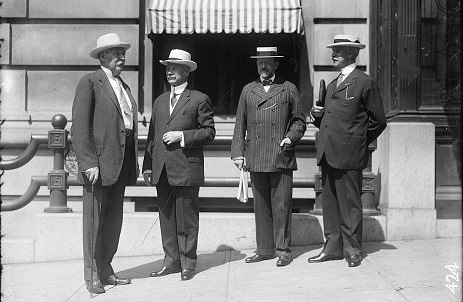 Norman B. Ream with fellow board directors of United States Steel: Richard Lindaburg, Percival Roberts and Elbert H. Gary.
Library of Congress
In addition to U.S. Steel, Norman served on the board of directors of the Baltimore & Ohio Railroad, the Pullman Company, National Biscuit Co. (Nabisco) and the Equitable Life Assurance Society, among many others. At his funeral, President Lincoln's son Robert served as a pallbearer. During his business heyday, Norman frequently rode the B&O Railroad, "often along Laurel Hill Creek through Ursina and past the [Ream] cemetery," said the Somerset (PA) Daily American.
The railroad tracks are located on a hill directly across from the cemetery. Ream decided that when he passed the cemetery, he wanted to be able to see his descendants at rest, so he had all the timber cut away. He then had a retaining wall built at the river bank and a stone wall built to enclose the cemetery.



Above, some of Norman's Chicago friends and business associates who were giants of their eras -- L-R: Marshall Field, Cyrus McCormick, Philip D. Armour. Below, other friends, L-R: Robert Todd Lincoln, P.A.B. Widener, Charles Schwab.
Library of Congress



Norman was very sentimental about his home village of Ursina. Circa 1888, a story published widely in the Arizona Daily Star in Tucson, Wilmington (NC) Messenger, Topeka (KS) Daily Capital and Abilene (TX) Reporter, among others, Norman said to have been "born in a small log cabin, which is still standing in the village of Ursina, Pa. He occasionally visits it, and it is an object of great interest to him." Then in September 1909, he returned to Connellsville, PA for the 37th annual reunion of his former Civil War regiment and stayed for several days to tour familiar old grounds. Reporters used the opportunity to ask him about the coke and steel business. He responded by saying, "I am fighting over the battles I went through in my youth and for the present coke or steel does not bother me. I came here to attend the reunion and am enjoying it immensely." After attending services at the Baptist church [in Confluence?], said the Uniontown Morning Herald, he remarked that he wanted to pay for a new building for the church, saying "Go ahead and build the kind of church you want and when the job is done send me the bill." Added the Morning Herald, "Mr. Ream did not hold the congregation down to any particular figures, giving them the liberty of erecting a church every way suitable.... There was great rejoicing among the members and Mr. Ream was made to promise that he would come to Confluence when the structure is ready for dedication." On the same trip, he visited the town of Addison, held a reception in the store of his old friend Mr. Ross, and dined at the Rush Hotel. In 1914, Norman sent a $1,000 check to a relief fund in Ursina when properties were badly damaged in a windstorm.
He passed away following surgery for appendicitis in New York City on Feb. 9, 1915. His remains were placed into repose in Woodlawn Cemetery in the Bronx. [Find-a-Grave]
At death, newspapers estimated his worth between $50 million and $75 million and guessed that he was among the 25 richest men in the nation. Caroline received an inheritance of $40 million. In April 1916, a lengthy profile of Norman was published in the Genealogical and Biographical Record, contributed by Clarence Winthrop Bowen, Ph.D.
For another decade, Marion made her home as a widow in Thompson, CT. She succumbed at the age of 72 on Dec. 12, 1924. Interment was with her husband in the Ream family plot in Woodlawn Cemetery in the Bronx.

The Reams' mansion in Thompson, CT, known as Carolyn Hall, later the home of Marianapolis College. Below: gardens and lodge on the estate's grounds.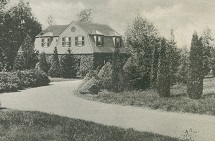 Count Vonsiatsky
Daughter Marion Buckingham Ream (1877-1963) was born on Jan. 9, 1877 in Chicago, the first of the Reams' nine children. She was twice married. Her first spouse was Redmond Davis Stephens ( ? - ? ), whom newspapers called "a wealthy Chicago clubman." They were wed on Feb. 18, 1903 and dwelled in 1907 at 90 Astor Street. The Stephenses divorced in Chicago in March 1918. In his complaint, said the Hartford Courant, Redmond said that she "wanted to travel all the time; wanted to come and go, she said, as she pleased, and wanted to be free." Deeply moved by the suffering in Europe during World War I, Marion went to Paris where she provided relief work services.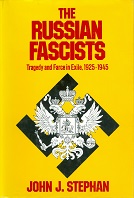 Book about the
Count's activities
Returning to the United States, at the age of 45, on Feb. 1, 1922, Marion was wedded to 23-year-old Polish immigrant Count Anastase Andreyevitch "V.V." Vonsiatsky ( ? -1965) who was almost half her age. The nuptials were held in the St. Nicholas Greek-Russian Cathedral in New York. They had met in Paris, where he had published "stirring stories about the war," reported the Courant. Anastase was a former soldier in the Russian army, having served in the commands of Denikin and Kolchak, and then had come to America, where he was employed as a chemist in the Baldwin Locomotive Works in Philadelphia. Further controversy came to light when a woman in Paris came forward claiming to be the Count's legal wife, but he told news reporters that the "marriage was not legal." Marion and the Count made their home in 1924 in Pomfret, CT. Neighbors considered him nuts for painting swastikas on turtles and setting them free.
In 1932, when a press photograph showed him playing golf with Prince Theodore Romanoff, son of Grand Duke Alexander of Russia, he was billed as "head of the Amereican Branch of the Fund for the Liberation of Russia." Later a scandal broke when he was found to by a Nazi spymaster who was orchestrating a plan to overthrow the United States government. He was founder of the Russian National Revolutionary Party in 1933 and a leader of the White Russian movement. Then he was arrested by the FBI. Said the St. Louis Post-Dispatch, "His world collapsed during the war when he ran across a young and ambitious prosecutor named Thomas J. Dodd. Vonsiatsky was tried and jailed, while Dodd went on to the United States Senate...." In the 1960s, Marion resided on her Quinnatisset Farm along Route 21 in Thompson. Sadly, at the age of 87, Marion died in her winter home in Tucson, AZ on Nov. 11, 1963. An obituary in the Arizona Daily Star in Tucson called her "a patron of the arts" who "long had been active in the support of the Tucson Symphony, the Opera Guild and the Saturday Morning Musical Club. For the last seven or eight years she offered her home at 250 Cottonwood Blvd. for the piano recitals of Robert O'Connor and many other Tucson artists." A public auction of the contents of her Connecticut home was held on April 24-25, 1964, by order of the Chemical Bank of New York Trust Company. The Count died in St. Petersburg, FL on Feb. 7, 1965. His story is told in the book Undercover Tales of World War II, by William B. Breuer. He also was the subject of Capt. Roland Walker Kenney's book Espionage Case of Count Anastase Andreitich Vinsiatsky and John J. Stephan's The Russian Fascists: Tragedy and Farce in Exile, 1925-1945.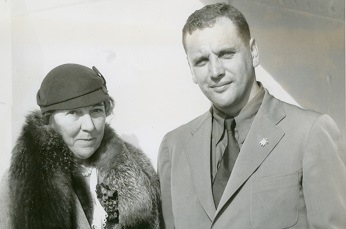 Above: Marion and Anastase aboard the President Van Buren, 1934, en route from San Francisco to Manchuria. Below: the Count (right) plays golf in Los Angeles in January 1932 with Prince Theodore Romanoff, son of Grand Duke Alexander of Russia and a cousin of Russia's last czar.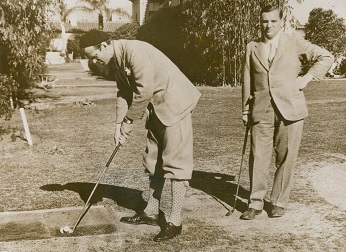 Daughter Frances Mott Ream (1877-1943) was born on Jan. 15, 1878 in Connecticut. At the age of 29, on June 9, 1906, she was united in wedlock with John Leisenring Kemmerer ( ? -1944), son of Mahlon S. and Annie (Leisenring) Kemmerer, the father a pioneering coal operator in Wyoming and president and director of Mauch Chunk National Bank in Carbon County, PA. News of the union -- held in the Ream home in Thompson -- was published in the Chicago Inter Ocean and Chicago Tribune. The wedding was held at the Reams' summer home in Thompson, CT, and the couple began married life in Scranton, PA.
Their four children were Frances Carolyn Kemmerer, John L. Kemmerer Jr., Mahlon Sistie Kemmerer II and Marion Kemmerer. Sadness blanketed the family when eldest daughter Frances passed away on Feb. 22, 1909, with burial in Mauch Chunk.
John was known as a coal operator in Virginia and Pennsylvania, and by 1935 was chairman of Kemmerer Coal Company of Kemmerer, WY. He also was chairman of the boards of Whitney & Kemmerer, the New York Kemmerer Coal Company and the First National Bank of Kemmerer, the First National Bank of Norton, VA and the Titan Hotel Manufacturing Company of Bellefonte, PA. He also was a director of the American Reinsurance Company, Newmont Mining Corporation and West Virginia Coal and Coke Corporation.
In 1913, the Kemmerers moved to a new home in Short Hills, NJ, where they remained for good. John had a magnificent private library, for which he employed as curator Janet Lewis, whose clients included Elbert Gary of U.S. Steel, Whitelaw Reid and others.
The Kemmerers owned a summer home at Hatchery in Penn Forest, where they regularly vacationed. Circa 1932, they owned a 38-foot cabin cruiser, and avoided a sinking when the cruiser strick wreckage about eight miles offshore of Manasquan.
Frances, who was considered "socially-prominent," died in their home at the age of 66 on April 27, 1943. Reported the Mauch Chunk Times-News, she was "kind and considerate, [and] won the respect and affection of all her associates." Interment was in Short Hills.
John only survived his wife by less than a year. He passed into eternity on March 3, 1944. Word of his demise was sent to his lifelong friend Sally Herpel, of Mauch Chunk, whose father had been a coachman for the Kemmerer, Leisenring and Wertz families for 62 years. Said the Times-News, " children's playground, a memorial to the Kemmerer name, now occupies the site of the family's once beautiful home and grounds."

Above: Kemmerer, Wyoming, early 1900s. Below: Kemmerer Coal Co. mine #2 in Wyoming, published by City Drug Store.

Grandson John Leisenring Kemmerer Jr. (1911- ? ) was born in the summer of 1911. He graduated from Princeton University and the University of Utah. He served as a captain with the U.S. Army in Atlanta during World War II. On Sept. 29, 1939, John married Mary Elizabeth Halbach, daughter of Ernest K. and Elizabeth H. (Stafford) Halbach. They resided in Short Hills, NJ and produced three children. For some years he served as an inspector for American Re-Insurance Company, "and in that capacity passed on the safety of mines in every producing area in the United States," said the Kingsport (TN) Times-News. In August 1951, at the death of G.C. McCall, he was elected president of the First National Bank of Norton, VA, a position which his father and grandfather had held before him. In reporting on the election, the Times-News said he was "active in civic affairs and a member of the Episcopal Church, [and] has many other interests in Southwest Virginia. he is president of the New York Mining & Manufacturing Co., vice president of the Wise Coal & Coke Co., vice president of the Kemmerer Gen Coal Co. of St. Charles, a director of the Virginia Coal & Iron Co., and also a director of the National Coal Association." He also was president of Kemmerer coal Company and a director of First National Bank. The Times-News noted that "in immediate Southwest Virginia, his companies have extensive holdings of coal lands in Wise, Dickenson, Lee and Buchanan Counties, in Virginia, and also extensive holdings in Kentucky."
Grandson Mahlon Sistie Kemmerer II (1913- ? ) was born in February 1913. He received a bachelor's degree in geology from Princeton University in 1934, and when he enrolled at the University of Utah in September 1934, to pursue a mster's degree in mining engineering, he flew there in his red Waco monoplane. On one outing with a young lady in October 1934, his aircraft burst into flames, and he somehow force-landed the plan in Wendover, UT. He became a geologist and in 1935 was employed at Grass Valley, CA. On Sept. 12, 1936, Mahlon was united in holy wedlock with Colette " Noel" Fitch, daughter of Cecil Fitch of Eureka, UT, who owned and operated silver-lead mines in and around Tintic, UT. Their ceremony was held at St. Patrick's Church, officiated by Rev. Elliot Reardon. During World War II, he was a flyer with American Export Line.
Son Norman Putnam Ream (1881-1964) was born in May 1881. He graduated from Michigan Military Academy in 1902 and then went on to study at Packard's Business College in New York. By 1905, he was employed Trust Company of New York. Circa 1915, he is believed to have enlisted in the U.S. Army, serving with the Squadron A Cavalry in New York City. He lived in Chicago in 1916 and in New York City in 1918-1924. The Chicago Tribune announced in March 1916 that Norman had been engaged to Mary Green (July 9, 1881-1975), daughter of Adolphus W. Green, of Greenwich, CT and New York City, who was president of National Biscuit Company (Nabisco) which Norman's father had helped to create. The wedding was held at the Plaza Hotel in New York City, with Rev. Fr. Fitzgerald, of the St. Vincent Ferrer Church, officiating. The New York Sun reported that "The bride, who walked to the temporary altar with her father, wore a costume of white satin and net made with a long court train. She wore also a veil of tulle and carried a bouquet of lilies of the valley and white orchids. Robert C. Ream was his brother's best man." The couple honeymooned in California and Japan. Norman served in the New York Division of the National Guard and was named in 1916 news story about activity in Squadron A. In 1920, Mary served as a director of the New York Exchange for Women's Work. Circa 1940, Norman resided in Greenwich, CT and paid a visit to his aged uncle and aunt, Cleon and Isabelle Ream, in Illinois, as noted in the Bloomington (IL) Pantagraph. Norman died in Greenwich on June 12, 1964. His remains were interred in the Ream family plot in Woodlawn Cemetery in the Bronx, New York. [Find-a-Grave] Mary survived for another 11 years. She succumbed on March 7, 1975.
Son Robert Clarke Ream (1882-1957) was born on Aug. 31, 1882 in Chicago. He was a 1904 graduate of Princeton University. On Oct. 24, 1907, when he was 25 years of age, he married Priscilla "Mabel" Wrightson ( ? - ? ) of England, daughter of a Presbyterian clergyman. The news of their union, held at the English country estate of her family, at Ockenden Hall, Cuckfield, Sussex, was printed in newspapers in his hometown of Chicago. Robert's sister and brother in law, Marion and Redmond Stephens, traveled to England to attend the nuptials. The Reams produced three known sons, Robert Bruce Ream (born in December 1908) ), Henry Putnam Ream (1914) and John Wrightson Ream (1919). Robert made his home in 1918-1924 in New York City and served as personal secretary and assistant to his father. Heartbreak blanketed the family on March 13, 1922 when 13-year-old son Robert, a student in Pomfret School in Connecticut, died of pneumonia in a local hospital. In his memory, a stained glass window was dedicated in the Pomfred School chapel. Among others, Robert served on the board of directors of the Carolina, Clinchfield and Ohio Railway, a line which ran through the Blue Ridge Mountains to points south, and the Texas and Pacific Coal and Oil Company. He also founded an insurance firm, Ream, Wrightson & Company, was president of the American Re-Insurance Company, organized in 1917, and in 1930 he was elected to the board of the Seaboard Air Line Railway. Circa 1920, Mabel served as a director of the New York Exchange for Women's Work, and in 1961 was pictured in the Hartford Courant as president of the national organization. Robert is believed to have died on June 2, 1957.
Grandson

Robert Bruce Ream (1908- ? ) was born in December 1908.
Grandson Henry Putnam Ream (1914- ? ) was born in 1914.
Grandson John Wrightson Ream (1919- ? ) was born on Sept. 26, 1919.

He married Barbara Borden ( ? - ? ). Their three known children were Peter W. Ream, Robert c. Ream and Glentworth B. Ream.
Son Edward King Ream (1884-1946) was born on Sept. 28, 1884 in Chicago. At the age of eight, in October 1890, with help from the groom's young sister Florence, he served as a bridal attendant and scatterer of roses in the wedding of Albertina Huck and Marshall Field Jr., the only son of the great Chicago merchandising giant Marshall Field. He graduated from Princeton University in 1905. Edward dwelled in Louisville, KY in 1909-1918, where he was a coal merchant. On July 27, 1909, in Jeffersonville, KY, he was joined in matrimony with 30-year-old divorcee Ellen Morton "Nellie" (Speed) Armstrong (June 24, 1879-1957), with magistrate James S. Kelgwin officiating. Nellie was the daughter of coal merchant James Speed Jr., granddaughter of President Lincoln's attorney general James Speed Sr., and a registered nurse who resided in Dorchester, VA. The couple asked the circuit clerk to keep the marriage a secret, and the news did not become public until December 1909. The Reams were the parents of Mrs. H.D. Mitchell, Mrs. George S. Wanders, Belle Quigley Kitchen and Bethel Veech Ream. Circa 1916, the Reams lived in Johnstown, Cambria County, PA. Their home in 1924 was in Buechel, KY, and Edward was named that year in the obituary of his mother. They moved to Versailles, Woodford County, KY in about 1930 and lived at 168 High Street. In 1933, unhappy with how his brothers Norman and Robert were managing the estate of their late parents, Edward filed a legal claim against the men and the New York Trust Company, with the suit filed in Louisville, KY. A story in the Louisville Courier Journal in May 1934 noted that he assigned his inheritance to the National Iron Bank of Pottstown, PA, then the issued $650,000 worth of bonds on himself, "and afteward went into bankruptcy. Later, the trustees made the claim the assignment was invalid and brought the action to require payment to them of the estate income accruing to Ream." Edward and Nellie moved to a new home circa 1946 -- in a hotel in Frankfort, KY -- "due to the housing shortage in Versailles," reported the Cincinnati Enquirer. On Sept. 30, 1946, he suffered a fatal heart attack at the hotel. A funeral mass was held at the Good Shepherd Catholic Church in Frankfort, with burial in Cave Hill Cemetery in Louisville, Jefferson County. [Find-a-Grave] Nell outlived her husband by 11 years. She died on Aug. 8, 1957, with burial beside her husband.
Step-granddaughter Frazier Morton Armstrong (1902-1945) was born on Oct. 8, 1902 in Louisville, Jefferson County, KY. She married (?) Hill and possibly also George S. Wanless (1903-1945). She produced one son, Morton Hill. Sadly, Frazier died at the age of 43 on March 29, 1945. An obituary in the Louisville Courier Journal noted that her death took place in the Norton Infirmary. Interment was in Cave Hill Cemetery.
Granddaughter Belle Quigley Ream (1915-2000) was born on Feb. 8, 1915 in or near Johnstown, Cambria County, PA. When she was 22 years of age, she wed Wilbur "Edgar" Kitchen (March 27, 1914-1975) on June 12, 1937, with the ceremony taking place in Woodford, KY. His parents were John Lafayette and Mary Louretta (Horton) Kitchen. The couple produced one known daughter, Frances Ream Dishman. Edgar was employed as a state revenue agent for the Alcoholic Beverage Control Board circa 1940. Then in 1946-1950 he served as Representative of the 48th District, covering Woodford and Jessamine Counties. They also raised thoroughbred horses. Edgar died in Versailles on Dec. 10, 1975, with an obituary appearing in the

Louisville Courier Journal

. Belle lived for another 25 years, and passed away in Versailles, Woodford County on Oct. 14, 2000. She rests in Versailles Cemetery in Versailles, KY. [

Find-a-Grave

] Their daughter Frances attended Centre College and married William McGeorge Dishman Jr. ( ? - ? ), son of William M. Dishman of Danville, KY, a student at the University of Kentucky School of Law.
Grandson Bethel Veech Ream (1918-1968) was born in February 1918. He was a graduate of the University of Kentucky and studied at the Columbia University School of Journalism. Bethel was wedded to Nancy Sherwood Seaton ( ? - ? ), daughter of Kendall Seaton of Ashland, KY, in about 1948. Nancy was a Smith College graduate who spent about 18 months working for the Army Intelligence Service in Washington, DC before taking a new position in the office of the president of the University of Chicago. Circa 1947, reported the Woodford (KY) Sun, he visited his sister Belle while traveling from Chicago to Mexico City. Circa 1966, his home was in Chicago. Bethel died at the age of 50 in 1968.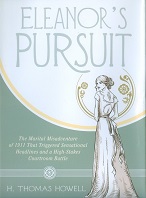 Book about the doomed
Ream-Davidson marriage
Son Louis Marshall Ream (1887- ? ) was born on July 7, 1887 in Chicago. He graduated from Princeton University in 1908 and then went to work as an assistant secretary for the New York Trust Company. In 1911, he met a pretty stage actress, 23-year-old Eleanor P. Davidson ( ? - ? ), while at the Chateau des Beau Arts in Huntington, Long Island. Using the stage name "Eleanor Pendleton," she was known for performances with Elsie Janis in The Slim Princess and also appeared in The Hoyden, The Fair Co-ed and The Bachelor Belles. They married in early September 1911, but his father did not approve of the match, and threatened to dis-inherit the son. Louis left his wife after just five days and later divorced. Eleanor reputedly received a settlement of $210,000. Reported the New York Times, Louis and his father are "said to have become reconciled ... before his death" in 1915. In 1916, his home was ni Worcester, NY. Then on June 1, 1918, he wedded his second bride, Mary S. Weaver ( ? - ? ), daughter of Charles S. Weaver of Putnam Heights and Thompson, CT. The nuptials were held in the Congregational Church in Thompson, performed by Rev. William B. Chase and Rev. Theodore Manning Hodgdon. At the time, he served as an aviator in the U.S. Navy. After a honeymoon, the Reams made their home in Chevy Chase, MD at 5 West Melrose Street. The couple produced two children -- Mary Louise Ream and Louis Marshall Ream Jr. Later, he became a vice president for American Steel and Wire Company in Rhode Island. He married for a third time, to Marion Mason ( ? - ? ). In 2014, Eleanor's story of her effort to receive a financial settlement, "that triggered sensational headlines and a high-stakes courtroom battle," was told in H. Thomas Howell's book Eleanor's Pursuit (Archway Publishing). Circa 150, Louis is believed to have written a manuscript history, entitled The Ream Family.
Granddaughter Mary Louise Ream (1919- ? ) was born on March 16, 1919.

She was wedded to J.T. Dayton ( ? - ? ). They made their home in 1994 in New York City.
Grandson Louis Marshall Ream Jr. (1921-1994) was born on Aug. 26, 1921 in Thompson, CT. He married Cornelia Porter ( ? - ? ) and had five offspring -- John Marshall Ream, Mark Thomas Ream, Bruce Clinton Ream, Scott Weaver Ream and Carolyn Priscilla McPheeters. During World War II, Louis served in the U.S. Army's chemical division in Hawaii. He received a chemical engineering degree at Princeton University and a master's of business administration from the Wharton School of Business at the University of Pennsylvania. He accepted employment with Atlantic Refining Company and rose to the position of executive vice president for research and development, overseeing the company's merger with Richfield to becoming ARCO. "During the early years of the merger," said the

Hackettstown (NJ) Star-Gazette

, "oil was discovered at Prudoe Bay, Alaska by the ARCO crew. When the company moved to California, Mr. Ream and his family purchased a ranch and this later became a vineyard, known as the Zaca Mesa Ranch and Winery. Mr. Ream was the chief executive officer and president of this business until his retirement in the late 1980s." They were members of the St. James Episcopal Church of Hackettstown, NJ, St. Philip in the Fields in Oreland, PA and St. Marks in the Valley in Los Olivas, CA. He spent his adult years in Budd Lake, Morris County, NJ. He died in Glenlora Nursing Home in Chester, NJ on Jan. 10, 1994 at the age of 73. Funeral sevices were private, with obituaries appearing in the

Los Angeles Times

and the

Star-Gazette

, noting that survivors included nine grandchildren. The family asked that any memorial donations be made to the Northern New Jersey Chapter of the Alzheimer's Association.
Great-grandson John Marshall Ream was born in Philadelphia. He resided in Buellton, CA, circa 1994.
Great-grandson Mark Thomas Ream was born in Philadelphia. He made his home in Buellton, CA.
Great-grandson Bruce Clinton Ream was born in Philadelphia. He dwelled in Cranston, RI. He appears to be interested in the Ream genealogy, and if so, we ask that he contact us privately.
Great-grandson Scott Weaver Ream was born in Philadelphia. He lived in Newton, NJ.
Great-granddaughter Carolyn Priscilla Ream was born in Philadelphia. He married (?) McPheeters. In 1994, her residence was in Beaufort, SC.
~ Son John Alva Ream ~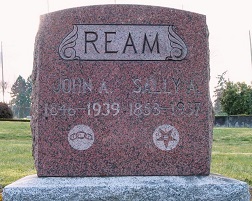 John and Sally's grave, Oswego, OR
Courtesy Bill Meyers, FindAGrave.com
Son John Alva Ream (1846-1939) was born in about April 1846 in Ursina, Somerset County, PA.
As with his younger brother Cleon, he "was of a restless nature," said an Illinois newspaper, learned the carpentry trade early in his life and used that to great advantage. Circa the late 1860s, he went to Texas to trade cattle. Then In about 1870, he and Cleon "found plenty of work on the railroads and at the Indian agencies and Government forts," said the Historical Encyclopedia of Illinois, Vol. 2, Part 2, authored by Newton Bateman and Paul Selby. "At the conclusion of their work at Fort Laramie each traded a six-shooter for a pony, and started on their travels. At Fort Collins, Colo., they sold their ponies, and, walked to Greeley, after which they took the Denver Pacific Railroad to Denver, thence starting for Texas. The train rain into a terrible snow storm, and for three days, with the other able bodied males they were obliged to shovel their way out." Continuing their journey, the two brothers took a stagecoach into Texas, and then walked toward the town of Belton, TX.
During their walk across the Texas plains, on which no roads existed, they saw hundreds of wild steers feasting on beans from mesquite trees, and swam in the Brasor River. "They were finally obliged to return to Denver, and the day following their arrival there started east for Vinita, Indian Territory, the terminus of the Missouri, Kansas & Texas Railroad," said the Historical Encyclopedia. "After staging for 450 miles, they again struck a section of the railroad which they could use on their way to Austin, Texas, and finally, by alternate walking and riding, reached the State capital and afterward Houston. In this vicinity they were employed at carpentry for about six months, when they returned to Denver...." At some point the brothers went to Washington State, where they heard about the discovery of gold in Gold Ruby Creek, hired two native guides, traveled the Skadgett River by canoe, found bodies of men who had drowned in the swirling river, and arrived only to find that the water was too deep for effective panning for gold.
Evidence suggests that John was married several times. With his first bride, name unknown, who were married in the early-to-mid 1880s, they produced these five known children -- Cleondale Ream (born 1885 in Iowa), John Wayne Ream (1887, Iowa), Lenora "Lena" Downer (1889, California), Fay W. ("Stella"?) Ream (1892, Iowa), and Leland Ream (1894, California).
When John ran into "financial difficulties," said the Salina (KS) Evening Journal, his older brother Norman took several of the children into his home until proper arrangements could be made. (More below.) Circa 1900, John relocated from his home in Los Angeles to a farm near Lilly, Tazewell County, IL, or Danvers, McLean County, IL (or both), which he began to cultivate.
The federal census of 1900 shows John and his newlywed bride Nellie (Jan. 1875) residing in Danvers with his five children. But by 1910, John and his 35-year-old eldest son Cleon resided together in Chicago, with John working as an "inventor - drainage," and marked either as "single" or "widowed" (but not "married"). In 1915, when his wealthy younger brother Norman died, John received a $20,000 life trust inheritance, and was named in the New York Times.
John was wedded a third time to Sally A. Rickabaugh (July 8, 1858-1937), daughter of Dudley and Elizabeth Chapman (Spieres) Rickabaugh. They migrated to the Pacific Northwest and settled on a farm in Oregon in the Long Creek Valley of Lake Oswego, Clackamas County. John was a member of the Odd Fellows, and Sally of the Order of Eastern Star.
Sally passed away in 1937, and John joined her in death just two years later, at the age of 93. No obituary has yet to be found for either. They repose for eternity in Oswego Pioneer Cemetery in Oregon. [Find-a-Grave] They are named in Iva (Ream) Barkley's 2017 book Ream Riehm, and John is mentioned in Paul Ryscavage's 2013 book Norman B. Ream: Forgotten Master of Markets.
Son Cleondale Ream (1885- ? ) was born in January 1885 in Iowa. He relocated to Chicago and in 1910, living with his father on Pale Prairie Avenue, was employed as a decorator in a department store. His whereabouts after that are not known.
Son John Wayne Ream (1887- ? ) was born in September 1887 in Iowa. Census evidence suggests that he joined the Army and in 1910 was stationed at Fort Shafter in Honolulu, HI.
Daughter Lenora (or "Lena") Ream (1889- ? ) was born September 1889 in California. She and her father and siblings returned to Iowa where in 1900 they lived in Danvers, McLean County. When her father struggled financially, she was taken in by her multi-millionnaire uncle Norman Bruce Ream and then placed into the care of Mrs. Heddlee in Osceola, Clarke County, IA. At the age of 19, in about 1907, Lenora suffered the amputation of her hand in an accident on the Chicago, Burlington and Quincy Railroad (of which her uncle was a major shareholder), and she was awarded $2,500 in damages, with the promise that the uncle would provide for her during the remainder of her lifetime. Circa 1910, census records show her in two places, suggesting that she moved back and forth -- in Osceola, as a ward of John C. and Elizabeth A. Headlee -- and in Neligh, Antelope County, NE with her sister Stella in the home of their widowed aunt Samantha (Ream) Johnson. In 1913, at the age of about 24, she was joined in marriage with Frank M. Downer, Jr. ( ? - ? ). When the uncle died in 1915, but did not name Lenora in his will, her husband left her. By 1918, she had remarried to (?) Barcus ( ? - ? ) and lived in Detroit but traveled back to Chetopa to see her foster mother. She sued the uncle's estate in 1922 for what she claimed was her $100,000 share. In doing so, her photograph was published in newspapers such as the Salina (KS) Evening Journal.
Son Fay W. Ream (1892-1971?) was born September 1892 or on Nov. 14, 1892 in Iowa or California. With his father unable to provide for their support, Fay and his siblings Leland and Lena were placed as wards in the home of John C. and Elizabeth A. Headlee in Osceola, IA, circa 1910. Also in 1910, a census-taker recorded him as living with his sister Lenora in the dwelling of their widowed aunt Samantha (Ream) Johnson in Neligh, Antelope County, NE. Fay is believed to have traveled with W.E. Headlee to Parsons, KS in October 1913, as reported in the Chetopa (KS) Advance. Later that year, in December, the Advance noted that he was leaving to go to New York and thence to Worcester, MA "where he has a position in his uncle's steel plant." Fay was named in a February 1915 Advance obituary of his wealthy uncle, Norman Bruce Ream, saying that Fay and his brother Leland "have made their home here with Mr. and Mrs. W.E. Headlee, and of Mrs. F.M. Downer, jr., who is now visiting here with the Headlees. Fay Ream has been East for the past year, where he has a position in one of his uncle's steel mills." Fay soonafter was transferred to Philadelphia, where he worked in an office of United States Steel Corporation, where the uncle was a board director. After the outbreak of World War I, Fay joined the U.S. Navy Airship Service and was stationed at Pensacola, FL. He sent letters and postcards back home to Chetopa, informing his foster parents and friends of his whereabouts. He is believed to have passed away in Los Angeles County, CA on Feb. 26, 1971, with interment in Grand View Memorial Park in Glendale. [Find-a-Grave]
Daughter Stella Ream (1892- ? ) was born in 1892 in California.
Son Leland L. Ream (1894-1918) was born in December 1894 in California. He traveled with his father and siblings to Iowa where they are shown in the 1900 census of Danvers, McLean County. By 1910, the father financially strapped, Leland and his older brother Fay and sister Lena were "wards" in the home of John and Elizabeth Headlee in Osceola, Clarke County, IA. Leland enjoyed the outdoors, including catching butterflies and fishing, and in 1914 helped organize the Chetopa High School Athletic Association's basketball teams. Leland and his brother Fay were named in a 1915 Oswego (KS) Independent article about the death of their multi-millionnaire uncle Norman Bruce Ream, stating that they "are said to be heirs to a good portion of an estate left by their uncle ... amounting to something like $75,000,000." At the time, Leland was in Chetopa, while his brother resided in Philadelphia, PA. Newspapers reported that he received a bequest of $75,000. He joined the U.S. Armed Forces in 1917, as the nation edged ever closer to the inferno of World War I, and was preparing to be shipped to France in October of that year. He contracted a serious case of influenza in the winter of 1918 and spent 42 days confined to a hospital in Camp Doniphan, OK. Leland was sent overseas again after recovering, as a member of the 137th Infantry Regiment, 35th Division. In December 1918, his friend Ed Frye of the 130th Field Artillery in France sent a letter to his mother, Mrs. C.B. Stephens of Chetopa, saying that Leland had "been severely injured by bullets from a Hun machine gun." Another Chetopa resident, Gertrude Hazen, serving with the Red Cross in France, said that Leland was missing in action, but Dewey Winstead, another local, said he had seen Leland in a hospital having lost a leg. The matter remained a mystery for months, until June 26, 1919, when the Advance reprinted a Parsons Sun story stating that Leland was a wartime casualty due to an accident. In fact, Leland had been wounded during the Battle of the Meuse Argonne and died on Sept. 28, 1918, at the age of 23. He rests today in the Meuse-Argonne American Cemetery and Memorial in Lorraine, France. [Find-a-Grave]

Osceola's railroad depot, early 1900s
~ Son Cleon Keys Ream ~
Son Cleon Keys Ream (1847-1942) was born on July 18, 1847 in Ursina, "one of a large Pennsylvania Dutch family," said a newspaper. After attending school in Carroll County, Ohio, he relocated to Osceola, Iowa with his father in about 1868.
When profiled in an Illinois newspaper in 1938, at the age of 90, he recalled:"I put extra socks in a carpet bag and went on the train to Chicago. It was too big. Before long I saw a train with the lettering 'Chicago & Milwaukee railroad' so I went to Milwaukee. It was still too big. Then I saw the 'Milwaukee & St. Paul railroad' so I went to St. Paul." The Historical Encyclopedia of Illinois, Vol. 2, Part 2, by Newton Bateman and Paul Selby, states that he went on to become a "wealthy farmer and extensive landowner [and] a man of action and accomplishment -- that he does things, does many things well and is a doer of large things. In his life he had demonstrated the truth of the old adage about the rolling stone, but has verified it in a way which was not in the mind of the philosopher; his ventures and enterprises have covered much of the Western United States from Texas to Alaska, so that truly no moss has been allowed to collect on him, but whatever he had attempted has been pushed with such vim and ability that the benefits to him have been continuous and cumulative."
The year after his move to Iowa, having become "clear-headed, self-reliant and ambitious," Cleon went to Hinkley (?) for six months and thence to a Minnesota lumber camp where he labored splitting logs and bossing Swedish lumberjacks. From there he went to Duluth, MN, where in 1869 he helped place the first rail for the Northern Pacific Railroad. He then ventured to Wyoming, where he helped construct buildings for the Red Cloud Indian Agency at Fort Laramie. Said the Historical Encyclopedia, "it proved to be rather hazardous work, as it was done at the time when the Sioux Indians were causing much trouble to the Government."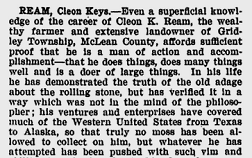 Historical Encyclopedia of Illinois
- Google Books
Then followed a long series of journeyings, and adventures, and hard labors in company with his brother, John Ream. They were both good carpenters and found plenty of work on the railroads and at the Indian agencies and Government forts. At the conclusion of their work at Fort Laramie each traded a six-shooter for a pony, and started on their travels. At Fort Collins, Colo., they sold their ponies, and, walked to Greeley, after which they took the Denver Pacific Railroad to Denver, thence starting for Texas. The train rain into a terrible snow storm, and for three days, with the other able bodies males they were obliged to shovel their way out. They were finally obliged to return to Denver, and the day following their arrival there started east for Vinita, Indian Territory, the terminus of the Missouri, Kansas & Texas Railroad. After staging for 450 miles, they again struck a section of the railroad which they could use on their way to Austin, Texas, and finally, by alternate walking and riding, reached the State capital and afterward Houston. In this vicinity they were employed at carpentry for about six months, when they returned to Denver, where Cleon conducted a shingle mill for a time, also hunting buffalo and antelope, which were readily sold to railroad contractors as food for the thousands of workmen then employed in the West.
Two years after the Denver venture Mr. Ream went to California, learned the millwright's trade, and erected many stamp mills in that country, as well as in Canada and Mexico. The summer of 1876 found him farming in the Los Angeles Valley, and on Christmas of that year, he and his brother started for Seattle, Washington, where they intended to permanently locate. But they found that the mining claims, which were to be the basis of their fortune, were valueless, and they therefore turned to transportation as a means of livelihood. Prospectors were numerous, and by canoeing them to their destinations they realized handsomely from their labors for several months. They then organized a party to prospect west to Vancouver, B.C., and along the streams to Alaska, acting as guides and transportation agents and, after an absence of four months, returning in canoes and boats to San Francisco. Cleon continued to prospect in different States of the Western Rocky Mountain slope until 1881, when, like others of similar experiences, he decided to locate permanently on the rich soil of some prairie State and go into the more profitable and satisfactory partnership with Nature, who never long withholds her bounties from those who study her laws and act accordingly.
In 1881 Mr. Ream located on the fertile soil of McLean County, and, with his brother Norman B., purchased 1440 acres of land in Chenoa and Gridley Townships. The latter was in business in Chicago, while Cleon K. tiled the entire trace, using seventy-four and a half miles of tile, the main leader being twenty-seven inches interior diameter. He also erected large and convenient bars and other outbuildings, and transformed the place into one of the most magnificant horse-farms in the country. As he was a skilled carpenter and had also mastered the science of surveying, the results were wonderfully prompt and admirable. He surveyed his own ditches, and those whom he employed in the prosecution of these great improvements were made to realize tht they had a Superintendent over them who was thorough master of every detail. The earlier years of his residence [in McLean County] were devoted chiefly to Norman and Shire draft horses, of which he was both an extensive raiser and dealer, having at one time 826 head on his farm, handling in all about 4,000 head in ten years. He then abandoned this branch of the live-stock business, and engaged actively in general farming until 1901, when he partially retired and began renting his land. At present time his four sons farm 820 acres of his estate.
He acquired his brother Norman's interests in their jointly held farm and purchased 500 more acres in Des Moines County, IA, said the Historical Encyclopedia, "which he is improving with characteristic eneregy and thoroughness, having recently expended $3,000 on tiling alone. All of which goes to prove the statement ade at the beginning of this article -- that Mr. Ream's aims are clear and large, and that, in today's vernacular, he is a man who 'gets there.' His interests have been so extensive and absorbing since he came to reside in McLean County that, although a strong Democrat who might have had many public honors, he has been obliged to devote himself almost soley to his private affairs." Cleon was elected Road Commissioner of Gridley Township for a one-year term but pursued no other public service.
At the age of 35, on April 13, 1882, he married 21-year-old Isabelle "Belle" Young (Aug. 18, 1861- ? ), daughter of Isaac and Julia A. (Kemp) Young. They remained wed for more than 55 years and produced four sons -- George Y. Ream, Grover C. Ream, John Ream and Allen Ream.
His story was profiled in great detail in the 1887 book Portrait and Biographical Album of McLean County, Vol. II. In August 1915, Cleon and his wife, son George and stepdaughter returned to Ursina for a visit with his aged aunt, Elsie Jane (King) Firestone. At that time, the Meyersdale Republican reported that Cleon "owns a large farm located on the bottom lands of the Mississippi, about 12 miles from Burlington, Iowa. He has 1,700 acres of corn this year and had 1500 last year under cultivation, on which he raised 107,000 bushels, which would be an average of about 70 bushels to the acre." Then in September 1920, now living in Burlington, IL, he and his sons George and Allen returned to Ursina to visit cousin Charles R. McMillan and to inspect the family burying ground.
When he reached his 90th birthday, the Bloomington (IL) Daily Pantagraph published his photo and feature article, headlined "Life of Adventure Leaves C.K. Ream Still Hearty at 90." The story opened: "Life is still a thrill to C.K. Ream, 90 year old erstwhile adventurer, but it's tame as a tabbycat compared to his youthful days when he roamed the wilds of the United States as a 'jack of all trades,' seeking an always elusive fortune. From his easy chair in his comfortable cottage at 1209 North Main street, the tall gray haired retired farmer can give you a vivid account of his adventures as a gold prospector, Indian trader, railroad builder and lumberjack. His strong, kindly face lights up and large brown eyes, which still scan the printed word without need of glasses, fondly gaze into yesteryear as he describes the frontier days when he headed the restless cry of wanderlust." Even at age 90, he and his wife and sons all awoke at 5 a.m. daily and ate hearty dinners of fried chicken. In December 1940, the Reams entertained their nephew Norman Putnam Ream, visiting from his home in Greenwich, CT. Cleon slipped on a hardwood floor in 1942 at the age of 95 and died two months later on Nov. 29, 1942. Funeral services were led by Rev. E.E. Jones of the United Brethren Church in Lexington, with a brief obituary appearing in the Pantagraph, stating that he was the last of six in the family. His remains were placed into rest in Lexington Cemetery. Cleon is John is named in Paul Ryscavage's 2013 book Norman B. Ream: Forgotten Master of Markets.
Son George Y. Ream (1883-1934) was born on Feb. 27, 1883 in Gridley Township, McLean County, IL. On Sept. 1, 1909, he was joined in wedlock with Dorothy "Dot" Montgomery of Lexington, McLean County. The couple did not reproduce. For two decades, noted the Bloomington (IL) Pantagraph in 1934, "they resided near Burlington, Iowa, where he was engaged in the real estate business. They returned to Lexington only a few years ago." George was a member of the Masons lodge, Knights Templar and Shrine. Having been stricken with heart problems, George died on Jan. 8, 1934. Rev. W.G. Anderson and Rev. William Hainsworth of Gridley officiated at the funeral service, with burial in Lexington. An obituary was published in the Pantagraph.
Son Grover C. Ream (1884- ? ) was born on Feb. 21, 1884. His home in 1934 was in Bloomington, IL.
Son John Ream (1887- ? ) was born on Valentine's Day 1887. In the early 1930s, he dwelled in Bloomington, IL.
Son Allen Ream (1889- ? ) was born on July 29, 1889. Allen made his home in Burlington, IA in 1920 and in New London, IA in 1934.
~ Daughter Sarah (Ream) Easton ~
Daughter Sarah Ream (1851-1918) was born in about 1851 in Ursina.
She was joined in matrimony with John Easton ( ? - ? ).
She is reputed to have died in 1918. Nothing further is known at this time.
~ Daughter Samantha (Ream) Johnson ~
Daughter Samantha Ream (1853-1942) was born on or about Jan. 16, 1853 (or 1854) in Ursina.
She was wedded to Moses T. Johnson (1846-1901), son of Wesley and Electa Jane Johnson. They resided initially in Osceola, Clarke County, IA.
Samantha bore three children, of whom one is known -- Ida "Pearl" Johnson, born in 1877.
When the federal census was taken in 1880, the family dwelled in Osceola, with Moses marked as a retired merchant, suffering from "weak lungs," and with Samantha's unmarried sister, music teacher Ida Ream, living under their roof.
The family may have moved to Fairbury, Jefferson County, NE.
Sadly, Moses succumbed in 1901 at the age of 65.

Old mill and dam in Neligh, NE, near Samantha (Ream) Johnson's home in 1910
Circa 1910, census records of Neligh, Antelope County, NE indicate that the widowed Samantha resided with 79-year-old widow Eleanor Rice, 38-year-old bank cashier Thomas Pexton, 21-year-old niece Lena Ream and 18-year-old niece Stella Ream, the two nieces having been born in California in the 1889-1892 timeframe. That same year, the nieces were placed as wards in the home of the Headlees of Osceola, IA. In 1915, at the death of her millionnaire brother Norman, Samantha received a life trust bequest of $25,000 from the estate and was named in the New York Times.
Some evidence suggests that she died on March 5, 1942. The Johnsons are named in the 1911 book History of Linn County, Iowa: From Its Earliest Settlement to the Present Time, Volume 2, by Luther Albertus Brewer and Barthinius Larson Wick.
Daughter Ida "Pearl" Johnson (1876-1961) was born on May 24, 1876 in Nebraska. Single at age 33, in 1910, she lived at home with her widowed mother in Neligh, and apparently never married. She relocated to southern California, and circa 1940, made her home on Beach Street in Los Angeles, Los Angeles County, CA. For many years, she supplemented her income by taking in roomers, including Clarence E. Mercer during the late 1930s and early '40s. She died in Los Angeles County on Feb. 4, 1961.
~ Son Franklin Ream ~
Son Franklin "Frank" Ream (1855- ? ) was born on or about Feb. 22, 1855 in Ursina.
When he was 11 years of age, in 1866, he traveled with his widowed father and siblings to Osceola, Clarke County, IA, where he grew to manhood.
Virtually nothing else is known of his life. Author Iva (Ream) Barkley, in her book Ream Riehm, writes that "death unknown, lived at the Isthmus of Panama."
~ Daughter Mary "Marie" (Ream) Garretson ~

A.B. Garretson
Library of Congress
Daughter Mary "Marie" Ream (1857-1926) was born on April 23, 1857 in Ursina. As with many in her family, she migrated westward to Iowa, and likely went with her father when she would only have been nine years old.
At the age of 21, on Sept. 2, 1878, Marie was joined in wedlock with 21-year-old Austin Bruce "A.B." Garretson (Sept. 14, 1856-1931), son of Nathan and Hannah G. (Swan) Garretson of Winterset, IA. The couple produced three children -- Ivan Ream Garretson, Marie E. Garretson and Vida Kenyon.
They resided for many years in Osceola, Clarke County, IA where they are shown on the federal census in 1900. Austin's occupation in 1900 was listed as "Travelling Adjuster." He became known as "a notable figure among railroad men in the United States and Mexico," said the Ames (IA) Daily Tribune. Austin was employed as a conductor on the Burlington Railroad early in his working career. In 1894, he became an officer of the Order of Railway Conductors, an early union, and was elected president in 1906, holding that position until retirement in 1917.
One of his early tangles was in 1903, when he offered a proposal to the Northern Pacific Railroad for increased wages, only to be turned down. Reported the Mason City (IA) Globe Gazette, "It was he who became the chief arbiter in the historic railroad strike that threatened to wreck our transportation system during World War I." He was linked professionally to three other presidents of railroad unions, among them Warren Stone of the Locomotive Engineers, W.G. Lee of the Railroad Trainmen and W.S. Carter of the Railroad Firemen, and was pictured in newspapers for his work to negotiate wages and better working conditions, including threatening a strike of 400,000 railmen until Congress passed an eight-hour workday law. In 1916, he authored an article, "Will Ye Serve God or Mammon," published in the Order's newpaper, Railway Conductor, promoting Woodrow Wilson for president, with distribution to all railroad men in the nation in advance of election day.
At some point, Austin was appointed by Wilson to a Commission on Industrial Relations. The Garretsons were members of the Christian Scientist Church. In about 1906, they moved to a new home in Cedar Rapids, Linn County. Marie made news in February 1922 when she was mentioned in a Cedar Rapids Republican and Times article about the pending marriage of her niece, Marion T. (Ream) Stephens, to a Philadelphia laborer. Circa 1926, their address was 1920 Grande Avenue in Cedar Rapids, and Austin served as a board director of the Merchants National Bank of Cedar Rapids. At the age of 68, stricken with chronic kidney disease, she passed away, and the doctor arrived too late. Burial was in Oak Hill Cemetery in Cedar Rapids, following services held at Wymer's Chapel, conducted by Charles Westerfield of the Christian Science Church. Austin survived her by five years, with his health declining from heart and mental deterioration. He succumbed at the age of 74 on Feb. 27, 1931.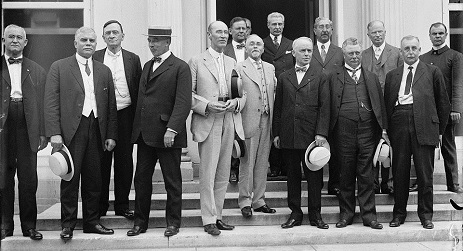 Above, 5th from left, Austin with fellow railroad union officials at the White House. Below: 3rd from left, Austin at a meeting of the Commission on Industrial Relations, appointed by President Woodrow Wilson. Library of Congress.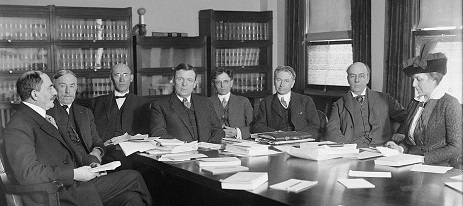 Son Ivan Ream Garretson (1881-1946) was born on March 18, 1881 in Osceola. At the age of 19, in 1900, he lived at home and earned a living as a newspaper compositor. The following year, he was a foreman with the Burlington (IA) Democrat-Journal. He married Nell (?). By 1926, he had relocated to Chicago, and apparently had accepted employment at more lucrative work as a railroad clerk. Ivan was a member of the Republic lodge of the Masons, Englewood Commandery of the Knights Templar and the Oriental Consistory. Their address in the mid-1940s was 7236 Coles Avenue. He died in Chicago on Oct. 6, 1946, at the age of 65, with burial at Oakwoods Cemetery.
Daughter Marie E. Garretson (1883- ? ) was born in April 1883 in Iowa. She was interested in fashion and at the age of 17, in 1900, worked in a millinery shop in Osceola. She was joined in matrimony with E.S. Seeley ( ? - ? ). They produced at least two children, Gary Seeley and Jane Seeley. They dwelled in Cedar Rapids in 1926. If Jane also went by the name "Elizabeth," she was wedded to Douglas Kuhlman in 1942 in Prescott, AZ. At the time, Elizabeth was a teacher with the Civilian Pilot Training program of Prescott, having graduated from the University of Oregon, and Douglas was a student pilot in Prescott.
Daughter Vida Garretson (1884-1951) was born on Christmas Day 1884 in Osceola. In 1926, unmarried at the age of 42, made her home in Honolulu. By 1931, at the death of her father, she had married widower Charles Peter Kinyon (1861-1935) and dwelled in Santa Ana, CA. Charles once had headed sales for the Fuller Morrison Company in Chicago, and had owned a wholesale drug business in Cedar Rapids, and was a member of the Rotary Club, and then sold his firm and moved to Santa Ana. He confessed to a reporter from the Santa Ana Register in April 1920 that "the years he spent before he found Santa Ana were more or less wasted in a vain search for the joy of living that he has at last found here in the balmy southland." He became secretary-treasurer and manager of the People's Finance and Thrift Company of Santa Ana, a position he held in 1924. His first wife, Amanda (Watkins) Kinyon, of Rossville, IA, had died in March 1928. When a Seeley nephew and niece attended the University of Southern California in 1929, the Kinyons entertained them in their home. Sadly, Charles died on Valentine's Day 1936, at the age of 75, with burial in Fairhaven Memorial Park in Santa Ana. Vida survived her husband by 11 years. Circa 1940, living on Yorba Street in Santa Ana, she was a member of the Garden Study Club and hosted meetings in her home. She passed away in Orange County, CA on St. Patrick's Day 1951. [Find-a-Grave]
~ Daughter Cynthia Ream ~
Daughter Cynthia Ream (1859- ? ) was born in about 1859 in Ursina. Her life seems to be list to history.
~ Daughter Ida (Ream) Mills ~
Daughter Ida Ream (1860- ? ) was born in 1860 in Ursina and as a child migrated with her father to Osceola, Clarke County, IA.
Prior to marriage, in early 1880, she was a music teacher and lived with her married sister Samantha Johnson in Osceola.
On Dec. 30, 1880, at the age of 20, she married George P. Mills ( ? - ? ). The Millses did not reproduce and spent their adult years in Kansas.
When her wealthy brother Norman died in 1915, Ida received a life trust bequest of $25,000 from the estate and was named in the New York Times.
Her fate after that is not yet known.
~ Son George B. McClellan Ream ~
Son George B. McClellan Ream (1863- ? ) was born in 1863 in Ursina during the height of the Civil War and appears to have been named for the famed Union Army general.
His mother died just a year after George's birth. As a boy of three, he moved to Osceola, Clarke County, IA with his widowed father and siblings.
But George was not destined to reach adolescence. He was swept away by the Grim Reaper of Death at the age of seven years, six months on Oct. 12, 1870. His tender remains were lowered into eternal rest in Maple Hill Cemetery in Osceola.
Copyright © 2002, 2009, 2012, 2014-2017 Mark A. Miner
Civil War sketch of Norman Bruce Ream from the History of the Eighty-Fifth Regiment, Pennsylvania Volunteer Infantry by Luther S. Dickey (New York: J.C. & W.E. Powers, 1915). Later N.B. Ream sketch from the History of Bedford, Somerset and Fulton Counties.