Dr. Jonas Younkin was born on June 21, 1803 in Turkeyfoot Township, Somerset County, PA, the son of Jacob and Hannah (Nicola) Younkin Sr. A clergyman, physician and farmer, he was directly involved in establishing the Baptist and then the Church of Christ movements in Somerset County. Later, he and his wife and large family were pioneer settlers of Illinois and Iowa before alcohol addiction brought on his sad demise.
When the fatherless Jonas reached the age of 14, in August 1817, John Gephart was appointed as his legal guardian. That same year, he was a charter member when "Professor Charles Wheeler and Rev. Dr. Estep organized a church of immersed believers at Somerset," said the 1906 book History of Bedford and Somerset Counties Pennsylvania with Genealogical and Personal History, by E. Howard Blackburn. "This was the Baptist church of Somerset. So far as is known, its charter members were Mary Ogle, Mary Morrison, Mary Graft (the three Marys), Jacob Graft, Isaac and Elizabeth Husband, Samuel Trent, Catherine Carr, Jonas and Martha Younkin, George Probst, Alexander and Nellie Hunter, Susan Stewart, Peggy May, Betsey Kimberly, Sallie Lichtenberger, Dr. Norman and Eliner Bruce, Peter and Barbara Loehr, Jacob and Nancy Sayler."
Somerset Herald obituary, 1828
He was united in holy matrimony with Martha Pringey (1806- ? ), daughter of John and Abigail (Rhoads) Pringey. This couple produced 10 children -- Elvina Younkin, Uriah Younkin, Archibald Younkin, Walter Younkin, Alexander Younkin, Edwin Younkin, Emily Ogle Howe, Mary Elizabeth "Mate" Parshall, Aaron Schrock Younkin and Austin Younkin.
The Younkins' home in the late 1820s was in the Borough of Somerset. Sadness enveloped the family in late October 1828 when daughter Elvina died in infancy, having lived for only two months. A brief notice of her demise was published in the Somerset Herald.
Circa 1830, Jonas was widely respected for the many hats he wore -- as a farmer and physician as well as a teacher and minister at the Lutheran and Reformed school and church at the crossroads on the David Ream farm at Ursina, Somerset County. This was in a "community in an early day when all the Younkin's spoke the Pennsylvania Dutch," recalled cousin Dr. Jesse "Noble" Younkin of the family of Isaac and Rebecca (Walter) Younkin, in a speech delivered at the 1936 Younkin National Home-coming Reunion in Kingwood, Somerset County, and reprinted in the inaugural Christmas 1937 edition of the Younkin Family News Bulletin.
He had no formal training in medicine but rather learned by observing others and creating home grown remedies. His approach was considered "the New School, as it was known in those days," said a profile of son Edwin in the American Medical Journal. "The reformed practice in that day was in its crudity, and physicians, from necessity, dug their own roots, gathered their own herbs, and prepared their own medicines.... He had his drug-mill, which was made from a section of a large gum tree that in its hollow cavity had fixed two large-mill-stones, and which were made to run by a hand-sweep. [Son] Edwin took much delight in gathering drugs, which grew abundantly in the mountains and valleys, and, after drying, they were ground in the mill." The son "was literally born and reared in a physician's office, where he gained a practical knowledge of medical botany and the methods of compounding drugs according to his father's art."
Cousin Dr. Noble Younkin said that Jonas' son Edwin and daughter Emily "went among the hills and gathered the roots and herbs with which [their] father compounded all his medicine. Dr. Jonas Younkin, [the] father, possessed a big blue bottle at that time and from that bottle he sold, skunk oil, bear grease and rattlesnake oil and turtle oil and goose grease and earth worm oil and many other kinds of oil, all owing to what the customer called for, and all out of the same bottle."
More than 150 years after Jonas began his medical practice, he was cited for this work in the Laurel Messenger newsletter of the Historical and Genealogical Society of Somerset County.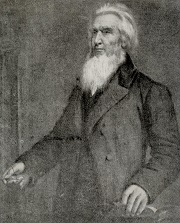 Rev. Alexander Campbell
~ A Role in Founding the National Disciples of Christ Church Movement ~
Jonas' church, continued the Blackburn History, "as organized continued as a Baptist church until September 20, 1829, when it was reorganized as a Disciples of Christ, or Christian, church, and it is one of the very oldest church organizations of that denomination." The origins of the new church are well told in the 1939 book Annals of Southwestern Pennsylvania, Vol. III, by Lewis Clark Walkinshaw, drawn from an earlier work, Tale of a Pioneer Church by Peter Vogel: "One of the most interesting religious movements in America had its beginnings in southwestern Pennsylvania, that of the deomination first known as the Disciples of Christ, and latterly better known as the Christian Church."
The Disciples first began to separate from the Baptists when some of the leaders of the Redstone Baptist Association in nearby Washington County, PA sought reforms, circa 1817-1824, led by former Presbyterian ministers Rev. Thomas Campbell and his son Rev. Alexander Campbell, now aligned with the Baptists.
The Campbells made an effort to place preachers in Somerset County and convert entire Baptist church congregations to the new way of worship. Among the targeted churches was the well-established Turkeyfoot Baptist Church in Ursina, also known as the Jersey Baptist Church. In 1817, the Campbells sent preachers into Somerset County, sometimes leading services in the county courthouse. This led to conflict with local Baptists leaders, who rebutted the new wave by saying that the Bible alone was "a sufficient creed." Then in 1822, John Cox, Jacob Graft and John Pringle were dispatched to meet with Jonas, Rev. James Estep of Mt. Pleasant and Jacob Graft of the Jersey Church. Many did not know whether Alexander Campbell was still Baptist, or not. After a number of Baptist churches were expelled, their representatives formed a new "Washington Association." The association met again with Jonas on Sept. 7-9, 1827, in addition to John Prinkey and Jacob Lichliter.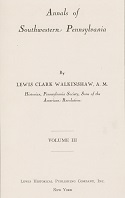 Walkinshaw's Annals of Southwestern Pennsylvania
Then in June 1829, Alexander Campbell returned to Ursina to try once more to sway the Jersey Baptists. Said the Annals:
He found them, however, more wedded to Calvin and Baptist usage than to Jesus and his apostles. He returned in the second week in July to Somerset and began his work in earnest. His meetings, as usual, were circulatory. On Thursday, July 9th, he preached at Peter J. Loehr's, four miles east of the village. Chauncey Forward did not feel comfortable about matters, and saddled his horse for a ride to Stoystown, ten miles to the northeast; but somehow he found himself sitting at Loehr's house, the most attentive listener of all. When the invitation to come to Christ was given, he responded eagerly, followed only too gladly by his wife, and also Mr. and Mrs. Alexander B. Fleming. They were all baptized on Friday, July 10th, at the mill below town. Mr. Forward's baptism made no little stir; for he was a prominent lawyer, had served in both houses of the State Legislature, and since 1825 had been in the National House of Representatives. Mr. Fleming was also a lawyer.
Then on the fateful day of Sept. 20, 1829, after a dozen or more years of work in which our Jonas was involved, Alexander Campbell walked out of a Redstone Baptist meeting and into the nearby woods, where he stepped onto a large rock and began to exhort. He "drew half of the congregation with him, and thus by his dloquent discourse induced them to part with their brethren," said the Annals. "It was a day of historic cleavage, when the great Christian Church, otherwise known as the Disciples of Christ, had their organic formation... There was much bitterness in the discussions at times, but in spite of that, the veteran Baptist, Dr. James Estep, who had been through the controversy with the Campbells, said quite a few years afterwards that if the brethren of the Redstone Association had treated the Rev. Alexander Campbell right, he would never have walked out of the meeting at Big Redstone with the large company that followed him."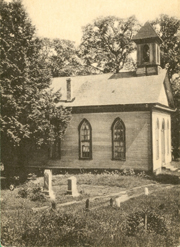 Jersey Baptist Church, Ursina, PA
The Disciples had no creed but Christ, based solely on doctrines found in the New Testament. Their custom was to partake of Communion at each Sunday service, and adult baptism was by immersion. Alexander Campbell specifically rejected the practices of "the holy kiss, deaconesses, communal living, footwashing and charismatic exercises," said the 1975 book Journey in Faith: A History of the Christian Church (Disciples of Christ), by Lester G. McAlister and William E. Tucker.
One of the early members of the Christian Church in Turkeyfoot was Jonas' cousin Catherine Minerd and her husband Jacob. At Jacob's death, in 1842, his last will and testament stated that "I earnestly entreat my wife's utmost care respectively in and about the morals and education of my children ... and desire that they be brought up and instructed in the doctrine and religion of the Christian Church." Then when Catherine Minerd died in 1847, rendering their 15-year-old son Eli an orphan, Jonas along with his friend Aaron Schrock were named by the Somerset County Orphans Court as the boy's legal guardians.
For his work founding the Disciples movement in Somerset County, Jonas is named in The Discipline, A Monthly Magazine of Christian Literature, Vol. IV (July-Dec. 1886). The text says he and Harmon Husband "were the first elders. Both could preach pretty well… But emigration thinned them rapidly, the reaper Death claimed his share, 'the beggarly elements of the world' devoured others, and drink got the better of the Doctor, who then went to Iowa for a grave, and so, in the latter part of the fifties, the candlestick was removed."
Today the Disciples are considered a mainline denomination in the Reformed tradition, with local churches governed by their congregations. National membership as of 2015 was 497,423 within some 3,267 individual congregations across the country. Its official website is http://disciples.org/.
~ Migration to Iowa and Breakup of a Marriage ~
Also in the summer of 1847, Jonas took part in celebrating the Fourth of July -- known as the "National Jubilee" -- in Milford Township. Reported the Somerset Herald, "A liberty pole was erected bearing aloft the star spangled banner, floating on its glorious and ample folds, 'E Pluribus Unum' and cheering the bosom of the American as he responded to the generous sentiment. At an early hour a National salute was fired, and the day ushered in by the waving of plumes, and other demonstrations of lively joy. At ten o'clock the Military, commanded by Capt. John A. Baker, formed, and after passing through a number of evolutions, proceeded to the Grove, followed by a large number of ladies and citizens, when the Declaration of Independence was read, and an Oration delivered by H.B. Barnes, Esq." Jonas was named vice president of the event, and his kinsmen by marriage, John Knable, was appointed secretary.
After years of maintaining a residence in New Lexington, Jonas, Martha and family migrated west, sometime in 1850-1851. Said the American Medical Journal, "In eighteen days sailing down the Ohio and up the Illinois rivers, the family made the trip to Hennepin, Ills., where they landed, and moved westward." Even while away, he retained ownership of several Somerset County properties and rented them for income. They first stopped in Henry County, IL, then pushed further into Iowa, settling in or around West Liberty, Muscatine County. Jonas and his sons went to work "driving six to eight yoke of oxen to a huge prairie plough, or in other ways opening up the western farms," said the Journal.
By 1859, with his health reputedly failing, Jonas acquired a 160-acre tract in Pleasant Valley Township, Johnson County, IA, and the Younkins are shown there on the federal census of 1860. He is known to have purchased a town lot in Iowa City in March 1863, located on College Street between Linn and Dubuque Streets.
During the Civil War, the Younkins were observers as their sons Aaron, Alexander and Walter, and son in law Zimri Howe, joined the Union Army. But after the war ended, for reasons not yet known, Jonas abandoned his wife and Iowa City and went elsewhere, never to return. He is known to have been involved in a legal claim with Iowa City in May 1867, which may have been a legal instrument of legal separation from Martha.
Jonas did not wait long to marry again. On Dec. 10, 1867, at the age of 64, he was joined in marital union with 47-year-old Jane Harris (1830- ? ). She apparently had been married previously and brought a daughter to the union, 13-year-old Lydia Harris. News of the wedding was published in the Ogle County (IL) Press, which stated that Rev. W.H. Smith had performed the ceremony, and that Jonas was "formerly of Cedar Rapids, Iowa," while Jane was from the town of Polo, IL.
Federal census records of 1870 showthe Younkins residing in Lyons City, Clinton County, IA, That same year, Martha moved into the home of her married daughter Emily Howe in Iowa City. In the period from 1863 to 1874, Jonas prescribed medications for his son in law Zimri Howe, suffering from Civil War afflictions.
Jonas died sometime after 1880 in Louisa County. He is reputed to be buried in Nichols, Muscatine County, IA, as noted in the Younkin Family News Bulletin (April 30, 1938). Details may be lost to history, and Younkin researchers of the 1930s did not have specific knowledge of his final fate.
By 1880, Martha had moved into the home of her married daughter Mary Elizabeth Parshall in St. Louis, Jackson County, MO.
She died in Beatrice, Gage County, NE, where her son Uriah and daughter in law Emily Howe also rest for eternity. [Find-a-Grave]
~ Son Uriah Younkin ~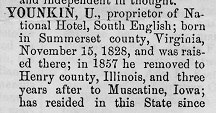 Directory of Keokuk County, Iowa
Son Uriah Younkin (1828-1904) was born on Nov. 15, 1828 in Milford Township, Somerset County. As a youth of 18, he began to learn the blacksmith's trade and did this type of work for a dozen years, until he was about age 30. He also studied primitive country medicine at the hands of his father.
When his parents and younger siblings left Somerset County and moved to Illinois and Iowa circa 1850-1851, Uriah stayed behind. On Nov. 27, 1852, he was joined in marriage with Lydia "Ellen" Spaugh ( ? - ? ), with the ceremony taking place in nearby Fayette County, PA. The newlyweds traveled to join the family in Illinois about 1853 and in 1860 moved to a farm in Pleasant Valley Township, Johnson County, IA, with Iowa City as their post office. Uriah's parents lived just two farmhouses away.
They eventually produced four children -- Orlando Franklin Younkin, Orin F. Younkin, Winfield S. Younkin and Chester W. Younkin.
Upon arrival in Iowa, Uriah began to function as a physician, continuing to do so for six years until a paralyzing illness of some sort forced him to stop. He then took on a new position as proprietor of the National Hotel in South English in English River Township, Keokuk County, IA. When profiled in the Directory of Keokuk County, he was described as "a gentleman well adapted to please the public, and is a courteous and genial landlord," but his birthplace erroneously was listed as "Summerset county, Virginia."
Uriah married a second time to Lucinda ( ? - ? ). Their two daughters, born in Nebraska, were Nettie Younkin (in 1884) and Laura Younkin (1886).
Uriah died and is buried in Beatrice Cemetery in Beatrice, Gage County, NE.
Son Orlando Younkin (1853-1921) was born in about 1853 in Illinois. As an adult, he earned a living as a railroad conductor. He married Margaret D. ( ? - ? ). He died of a strep infection at the age of 56 on Feb. 12, 1921.
Son Orin Younkin (1857- ? ) was born in about 1857 in Iowa.
~ Son Archibald Campbell Younkin ~
Son Archibald Campbell Younkin (1831-1898) was born on Jan. 20, 1831 in Milford Township, Somerset County. He is believed to have been named for Archibald Campbell of the family of Rev. Thomas Campbell and Rev. Alexander Campbell who were instrumental in founding the Disciples of Christ (Christian) Church of that era in Somerset County.
Whether with his parents or not, he migrated west circa 1850. But on March 1, 1854, he apparently had returned east, when he married Mary Catherine Jones (April 26, 1835-1936), of Chambersburg, PA, in a ceremony taking place in Hagerstown, Washington County, MD.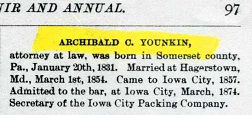 Holiday Souvenir and Annual, Iowa City
Their five children were William Melville Younkin, Edgar Younkin, Helen B. Younkin, Arthur J. Younkin and Lou J. Younkin.
The couple migrated west to Iowa in 1857, taking the train as far as it would go at that time, which was Iowa City. Archibald pursued a legal career and was admitted to the Iowa State Bar in Iowa City in March 1874. He then was engaged as secretary of the Iowa City Packing Company. He was listed in the 1882 Holiday Souvenir and Annual.
They remained in Iowa City there until 1887, when they and their married son William and daughter in law relocated together to San Diego, CA.
Archibald died in San Diego, CA on Nov. 12, 1898.
His widow lived to the ripe age of 102 and died in San Diego in about 1936.
~ Son Walter S. Younkin ~
Son Walter S. Younkin (1833-1868) was born on June 10, 1833 in Milford Township, Somerset County.
When Walter was age 16, in 1849, his father struck an agreement with John R. King to let the son work for King, which may have involved writing, and that King was to provide the boy's boarding, washing, and mending in."
A year later, at age 17, circa 1850, he and his family relocated to Henry County, IL. Finding that locale appealing, he and his brother Alexander remained even as the rest of the group moved again into southeast Iowa. The agreement between Walter's father and John R. King is described in Wilmer Mackey Sanner's 1968 book, The Sanner Tamily in the United States.
Walter was joined in wedlock with Eva M. Troyer ( ? - ? ). They were wed in Cambridge, Henry County, IL on May 5, 1856. They had two known offspring, Jane Younkin and Velzie Younkin.
Walter joined the Union Army during the Civil War on Aug. 12, 1862 and was assigned to the 112th Illinois Infantry, Company A. He attained the rank of sergeant and was mustered out of his regiment on June 20, 1865.
On Nov. 19, 1868, Walter died an untimely death at age 35 in Annawan, Henry County. Burial was in the nearby Fairview Cemetery. Because theirchildren were rendered fatherless without any means of financial support, the federal government in June 1872 awarded them a military pension. [Minor App. #204.127 - Cert. #181.288]
The federal census of 1870 shows Eva, with her last name spelled "Yuncan," heading a household in Annawan.
Eva went on to marry William G. Gillespie ( ? - ? ) on Dec. 7, 1871, in Cambridge, but the marriage ended in divorce.
Daughter Jane Younkin (1858- ? ) was born in about 1858 in Annawan.
Son Velzie Younkin (1861- ? ) was born in about 1861 in Annawan.
~ Son Alexander C. Younkin ~
Son Alexander C. Younkin (1835-1930) was born on Sept. 8, 1835 in Milford Township, Somerset County. He most likely was named for his father's great friend and spiritual mentor, Rev. Alexander Campbell, founder of what today is the national Disciples of Christ Church (Christian Church).
Circa 1850, at about the age of 15, he and his family relocated to Henry County, IL. He and his brother Walter found Henry County appealing and stayed despite the fact that their parents and younger sisters and brothers pushed further west into Iowa.
When the Civil War broke out, Alexander joined the 124th Illinois Infantry, Company F.
On March 18, 1860, at the age of 24, Alexander married Harriett Amanda Mooney (1842-1905). The ceremony took place in Kewanee Township, Henry County, IL.
The couple had one known son, George E. Younkin (1863-1955). Circa 1877, Alexander earned a living as a teamster, residing in Kewanee.
On May 9, 1890, while living in Iowa, Alexander began receiving a federal pension as recognition of his sufferings while in the military. [Invalid App. #1.029.777 - Cert. 745.216]
Alexander succumbed in Platte County, WY on June 6, 1930. [Find-a-Grave]
Son George E. Younkin (1863-1955) was born in 1863.
~ Son Edwin Younkin, M.D. ~
Son Edwin Younkin, M.D. (1838-1926) was born on March 18 or 19, 1838 in Milford Township, Somerset County and was an early physician, learning a homespun profession from his father.
The father's approach was considered "the New School, as it was known in those days," said a profile in the American Medical Journal. "The reformed practice in that day was in its crudity, and physicians, from necessity, dug their own roots, gathered their own herbs, and prepared their own medicines.... [The father] had his drug-mill, which was made from a section of a large gum tree that in its hollow cavity had fixed two large-mill-stones, and which were made to run by a hand-sweep. Edwin took much delight in gathering drugs, which grew abundantly in the mountains and valleys, and, after drying, they were ground in the mill." Thus, Edwin was "literally born and reared in a physician's office, where he gained a practical knowledge of medical botany and the methods of compounding drugs according to his father's art."
When he was 12 years of age, circa 1850, Edwin joined the family in its westward migration to Illinois and thence into West Liberty, Muscatine County, IA. For the family's first six years in Iowa, Edwin and his father and brothers plowed their sod into a cultivated farm. But, said a profile in the American Medical Journal, "It was determined in very early life that Edwin should be the doctor, though he was the fifth of the family."
He enjoyed reading his father's library of medical books, but when the father's health began to fail somewhat, Edwin was recruited to assist in treating patients. "Edwin was called into the rougher part of the professional riding," said the Journal. "Feeling, however, that further preparation was necessary, and that his education was too limited, [he] determined to strike for greater preparation. He told his father his intentions, and left home when nineteen years of age." It also may have been a decision influenced by the father's increasing alcoholism and his parents' failing marriage. "This step was not quite pleasing to the father," continued the Journal:
...as it was felt that the boy could not be spared. After attending a district school one term, he entered a seminary in Kewanee, Ill. While attending school at this seminary he joined the Baptist church, but finally united with the Christian church. Manifesting a talent for public speaking, he was urged to the ministry. He was ordained a minister, and preached acceptably for a number of years; his labors were quite successful, and were crowned with numerous converts. In 1859 he entered Abingdon College, in Knox Co., Illinois, as a student, where he pursued his studied in the English branches, and made some advancement in Greek and Latin, though not to entire completion or graduation. The practice of medicine still dominating in his mind, he gradually out of the ministry and set himself more earnestly to the medical profession.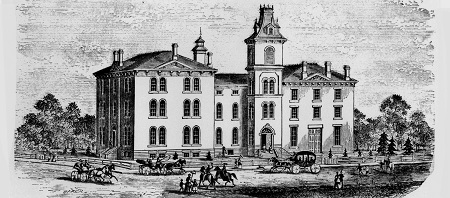 Abingdon College, where Edwin met Matilda and began a great partnership.
On April 28, 1861, when he was 23 years of age, Edwin was joined in holy matrimony with Matilda A. "Mattie" Hart (1843- ? ), of Eaton, OH, whom he had met at Abingdon College. The ceremony was performed by Rev. U.P. Aten (spelling?) in Stark County, IL. The couple settled in West Liberty, Muscatine County, IA and produced two daughters -- Minnie Hall and Carrie Elvina Bowler.
Desiring to extend the Christian Church movement to his new locality, Edwin, Matilda and friends "held religious services in the school house near the home of William Phillips on South Prairie," said the 1938 booklet One Hundred Years of History: Commemorating a Century of Progress in the West Liberty Community. "This little group continued to meet at intervals during 1863 and the winter of 1863 and 1864 organized a Church of Christ. They followed the example of the Church as it is recorded in the Acts of the Apostles, as to officers and teaching and practice. The following were charter members of this church: Mr. Barnes; William and Rachael Hise; James Ball and wife and daughter Lizzie; J.S. Wilson and wife; Frank Grant and wife; Dr. Edwin Younkin and wife; Maria Miller and Adda Kieth. William Hise was chosen Elder and Dr. Younkin and J.S. Wilson were chosen Deacons."
In his early medical practice in West Liberty, Edwin "passed through a severe epidemic of typhoid fever without the loss of a patient," said the Medical Journal. "He contracted the disease himself, and claims that his recovery is due to the nursing of his wife and mother."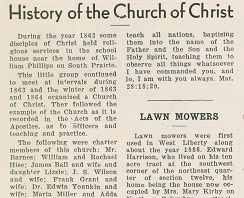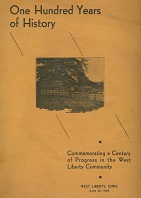 Article naming Edwin in a 1938 centennial history of West Liberty, Iowa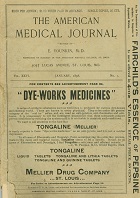 American Medical
Journal, January 1898
They relocated to Long Grove, IA in 1863, during the height of the Civil War, and again he found himself treating a community infected with deadly diphtheria. He sold his practice in 1865 and left Long Grove to enroll in the Eclectic Medical Institute in Cincinnati. He begun there on Dec. 21, 1865, took one course, paid $148 in tuition and graduated on Feb. 3, 1866, receiving a diploma in Latin/English and writing his thesis on diphtheria.
The Younkins then moved to Indian Point in Knox County, IL by 1870 and seemed to be building a reputation until a fire in 1872 "burned out ... all he had, and no insurance, and shortly after this he was induced to go to Leavenworth, Kansas, where he met with other misfortunes, the results of drouth and grasshoppers," said the Medical Journal. The American Medical College recruited him in 1875 to join its faculty as chair of surgery, and he held this post for many years afterward. It was located at 3035 Lucas Avenue in St. Louis, and among other responsibilities, Edwin served as editor of the Medical Journal. When profiled in the Medical Journal, in January 1895, at the age of 46, Edwin was said to be:
...a hard worker, and has made his way through many embarrassments. He has filled public stations, civil, religious, political and professional. He has, with some, assisted in their birth; treated them in disease; tied the gordian knot; performed the baptismal ceremony; an dperformed the last solemn rites of their funerals. He has gone to the head of the medical profession, having been president both of the State and National Associations. As a surgeon he is known all over the United States, and is the acknowledged ovariotomist of the West. He is quick of perception, and acute as a diagnostician. As a lecturer, he is smooth, terse and logical. He centralizes his thoughts and feelings, and is capable of eliminating from his mind all considerations that do not belong to his subject. His language is characterized by precision and method. He deals with facts, and at times rises into the eloquent. His is not much preyed upon by external surroundings; he is fearless and independent, caring more for a conscientious right than what others might say of him. Like the oak, he meets the breeze without succumbing to it; he wastes no time in display, and in an argument burns but few blank cartridges. He has held several public debates upon different topics, and is rather fond of discussion. Whatever may be his dislikes to what he deems untenable ground, he exercises great liberality in his feelings towards his opponent. His ideas, when wrought upon, are affluent, and culminate in keenness of expression, and at times in sarcastic witticisms and irony. His temperament contributes sprightliness of manner, though his intellect is of the German type.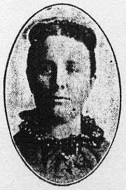 Rev. Matilda
(Hart) Younkin
Matilda was a member of the Women's Christian Temperance Union and of the Knights and Ladies of Honor, a fraternal benefit organization focusing on moral and material aid for members. She also pursued a formal clergy position and, said the St. Louis Post-Dispatch, was "the only St. Louis woman to be ordained in the Christian church and to solemnize weddings and exercise other functions of the ministry.... In addition to the peculiar distinction which was hers, she was one of the best-known women in the Christian Church in the country."
While in St. Louis, she became deeply troubled that churches were oblivious to the human suffering in the slums of St. Louis, where the Disciples were strong, and that congregations lacked the compassion and care to effectively serve homeless, sick and distressed. So in February 1886, she invited five women to join her for prayer in the basement of the First Christian Church at 17th and Olive Streets and to discuss how they could respond to these overwhelming social needs. Their work grew and generated widespread interest and a year later, on March 10, 1887, the State of Missouri granted a charter to the women's new "Benevolent Association of the Christian Church," later named the National Benevolent Association. Matilda traveled to Illinois, Kansas and Missouri, lecturing to Ladies Aid Societies and recruiting their members to assist as auxiliaries. Each auxiliary paid a $5 membership fee which covered the cost to place one orphan in a new, yet-to-be established home. The work was not easy, and she met strong resistance from a traditional male leadership and in some instances received catcalls from audiences as she spoke. In 1889, the NBA's first "home" for orphans and the homeless was opened in St. Louis, and in 1899 the NBA was formally named as an agency of the Disciples of Christ. "Within a few years homes were opened in Colorado, New York, Ohio, Texas, Georgia, and Oregon," said The Encyclopedia of the Stone-Campbell Movement, edited by Douglas A. Foster.
During her extensive travel of advocacy for the orphans' home, "it occurred to her that she could work a great deal more effectively if she was an ordained minister," said the Post-Dispatch.
She turned the subject over fully in her own mind and became convinced that it would be a great advantage. Her husband had no objection. There was nothing in the rules of the church to prevent it. Four years ago [in 1895] she was duly ordained at the Central Christian Church, of which she was a member. She never had charge of a church. It was never her intention to engage wholly in ministerial work. But in her travels she constantly occupied the pulpits of Christian Churches, and when occasion arose she pereformed the other functions of a minister. During the four years she married perhaps a dozen couples. The first ceremony performed by her received a good deal of newspaper attention. It was performed in the parlor of her home. The cuople had met her in her travels in Illinois and made the journey to St. Louise especially to be married by her. Some of the other couples she married while on her travels.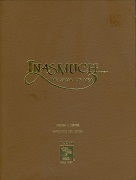 'Inasmuch' book picturing Matilda in several places
Sadly, Matilda contracted cancer in 1896 -- at the zenith of the NBA's national emergence -- and also lost her voice after an attack of "la grippe." The failing health forced her to curtail traveling and speaking on behalf of the NBA. Ironically, she died on Oct. 13, 1899, just a few days before the Disciples formally brought the organization into its organizational fold. Quoted in her eulogy was this apt sentence: "Not all who began the journey together lived to see its completion." An obituary in the St. Louis Post-Dispatch said that Rev. D.R. Dungan of the Cabanne Christian Church officiated at her funeral, to be held at the Central Christian Church, with interment in the Bellefontaine Cemetery, where a flat stone marks her final resting place..
Some 17 years later, among other members of the Husband and Younkin families, she was pictured on the front page the Christian Standard newspaper (Dec. 16, 1916). The story reported that Matilda was "known to the brotherhood as Mattie Younkin, and the founder of our Orphan Home and benevolent work. Sister Mattie needs no eulogy -- 'her own works praise her in the gates.' What a crown of bright jewels awaits her, with all the dear ones who carry on her blessed work!"
Today, the NBA serves as the Disciples' health and social services general ministry, with 40 ministries across 22 Disciples regions. Its ministries focus primarily on older adults, hunger and food security, peace and justice, prison ministry, addiction recovery, advocacy, families and youth, poverty, affordable housing, mental health, at-risk youth, intentional communities and youth mission and leadership development.
Now widowed, Edwin made a new home near his married daughter Carrie Bowler on a farm in Villa Ridge, Franklin County, MO, in Township 43 North, Range 1 East. There, he was was elected into membership of the Gray Summit lodge of the Masons on Nov. 4, 1912. He is named in a discussion of local physicians in the Centennial Biographical Directory of Franklin County, Missouri, published in 1925 by Herman Gottlieb Kiel.
Stricken with a gastric ulcer, Edwin passed away at the home of his daughter Minnie Hall in Chicago on Nov. 12, 1926. His burial site is unknown, and it's entirely possible that he donated his body to science.
In June 1996, some 97 years after her death, Mattie was portrayed as a character in the 30-minute play This Is Our Story, written by Judith Dyer of Salem, OR, performed in the Union Christian Church of Franklin, IN.
Daughter Minnie Younkin (1866- ? ) was born in about 1866 in Iowa. She married (?) Hall. In 1926, their home was in Chicago, and her aged father died there that year. She was in direct contact during the late 1930s and early '40s with the founders and officers of the Younkin National Home-coming Reunion and authored several poems published in the organization's newspaper, the Younkin Family News Bulletin.
Daughter Carrie Elvina Younkin (1868-1944) was born in on Oct. 19, 1868 in Indian Point, Knox County, IL. She wedded James H. Bowler (1862-1933), son of W.W. Bowler. They were the parents of Mattie Brown, Minnie Myers and Frank LeRoy "Roy" Bowler. In the 1890s, they left their home in Villa Ridge, MO for warmer climes in Southern California. They made their new home in Chino, where Carrie was active with the Order of Eastern Star and the First Christian Church of Pomona. James was considered a "pioneer deep-well driller and pump inventor," said the Chino (CA) Champion. He "bore the reputation of being an expert in that line." Sadly, poor health forced him to leave the business, and after a lengthy illness, he died in the California state hospital at Patton in August 1933. After his death, Carrie moved to Pomona and maintained an address of 549 West Center Street. In October 1940, Carrie and daughter Mattie were among 50 cousins to attend a Younkin Reunion held at the Washington Park Clubhouse in Pomona, which received news treatment in the Champion. Others attending were Mr. and Mrs. Glen Younkin and children Cherie and Carlisle; Mr. and Mrs. A.E. Younkin and Mildred Mildred and Clara Ellen; Mr. and Mrs. R.E. Myers and son Lloyd; Mr. and Mrs. H.A. Younkin; Mr. and Mrs. Joseph Bonnett and children Bobby and Jean; Mr. and Mrs. Harold Younkin and daughter Donna; Mrs. L.Rogers; Mrs. Del Morrison and children Barbara, Donald and Marjorie; Opal Adams; Mrs. C.E. Ayers, Mr. and Mrs. Stephen P. Schmitt; Mr. and Mrs. Earle T. Barham; Betty Ross; Mr. and Mrs. Joseph Cribs; Mr. and Mrs. Harry Mirrison and children Glen, Kenneth and Leonard; Lute Jamison; and Mr. and Mrs. Arthur Olson. She died on Aug. 30, 1944, with funeral services held at the Todd Memorial Chapel in Pomona and burial in Pomona Cemetery.
Granddaughter Minnie Bowler married (?) Myers and resided in Chino, CA.
Grandson Frank LeRoy "Roy" Bowler made his home in 1944 in Huntington Park, CA.
~ Daughter Emily Ogle (Younkin) Howe ~
Daughter Emily Ogle Younkin (1840-1935) was born on May 31, 1840 in Somerset County. As a young girl in Somerset County, she and her brother Edwin were put to work by their country doctor father and "went among the hills and gathered the roots and herbs with which [their] father compounded all his medicine," recalled a cousin nearly 100 years later.
Emily migrated with her parents and siblings at the age of 10 to Illinois and thence to Iowa. There, she met and fell in love with Zimri M. Howe ( ? - ? ). One of his ancestors, George Howe, served as a lieutenant under Gen. George Washington in the Revolutionary War with service in Bridgewater, NY.
After the Civil War was declared, Zimri joined the Union Army as a member of the 2nd Iowa Infantry, Company B.. He saw action at Fort Donelson, Corinth, Iuka and several other battles and was wounded at Fort Donelson and Iuka. He transferred to the 55th U.S.C. Infantry, Companies R, M, F and A.

Union soldiers under fire at Fort Donelson, TN
Famous Leaders and Battle Scenes of the Civil War
At some point during the war, the couple agree to marry, and Zimri invited her to join him where stationed in Natchez, MS. She made the trip, of hundreds of miles, whether alone or not is not known. After arriving and reuniting with Zimri in Adams County, MS on Oct. 30, 1865, they were united in holy matrimony.
Many years later, in its "A Fact a Day About Iowa City" column, the Iowa City Press-Citizen recounted their unusual wartime marriage.
Darts of "Dan Cupid" the little blind god, who shoots a "mean arrow," and who has been known through the ages as "Eros" and "Amor", respectively by Athens and Rome, were no less unknown to Civil War soldiers than were the bullets from the guns of the enemy. Romance, in other words, played its role in the drama of the internecine strife of the 1860's, and helped to relieve the tragic scenes. Testimony thereof was given by Miss Emily O. Younkin, a loving bride of these longgone days. From Iowa City, she traveled slowly, but surely, to Natchez, Miss., where she was wed.... In an old Southern church, they were made one. After the war, they came back to Iowa City, and later removed to Beatrice, Nebr., where the romantic warrior was "mustered out" by the Great Commander, not long before the eightieth anniversary of his birth.
The Howes made their home in Mississippi for a brief period of time but in about 1866 returned to where her parents were living in Iowa City.
The Howes were the parents of at least four children -- Effie Howe, Laura Howe, George H. Howe and Catherine M. Howe.
Zimri was named postmaster in the town of Odeil, NE, and also was appointed as superintendent of the county home.
In recognition of his wartime wounds, the U.S. government awarded Zimri a military pension on Jan. 11, 1887. [Invalid App. #593.711 - Cert. #999.720]
After Zimri's death, Emily was awarded his monthly pension payments. [Widow App. #973.480 - Cert. 732.592]
Emily passed away in Omaha.
Emily and Zimri rest for eternity in Beatrice Cemetery in Beatrice, Gage County, NE.
Daughter Effie Howe (1866- ? ) was born in December 1866. She may have married (?) Thomas.
Daughter Laura Howe (1869- ? ) was born in about 1869.
Son George H. Howe (1877- ? ) was born in February 1877 in Nebraska.
Daughter Catherine M. Howe (1887- ? ) was born in April 1887 in Nebraska.
~ Daughter Mary Elizabeth "Mate" (Younkin) Parshall ~
Daughter Mary Elizabeth "Mate" Younkin (1843- ? ) was born on May 8 or 9, 1843 in Milford Township, Somerset County.
She wedded Charles Parshall (1841- ? ). The couple is recorded in notes of Otto Roosevelt "Pete" Younkin, president of the Younkin National Home-coming Reunions of the 1930s and early '40s in Somerset County, PA.
They went on to have three known offspring -- Lulu Parshall, Emma Parshall and Allen Parshall.
The Parshalls made their home in Tennessee in 1867 and Iowa in 1869. By 1880, they had relocated to St. Louis, MO, where Charles worked as an express messenger, and Mary Elizabeth's aged mother in law lived under their roof.
Daughter Lulu Parshall (1867- ? ) was born in about 1867 in Tennessee.
Daughter Emma Parshall (1869- ? ) was born in about 1869 in Iowa.
Son Allen Parshall (1878- ? ) was born in about 1878 in St. Louis, Jackson County, MO.

Aaron S. Younkin
~ Son Aaron Schrock Younkin ~
Son Aaron Schrock Younkin (1845-1941) was born on July 31, 1845 in Milford Township, Somerset County. He was named after his father's dear friend Aaron Schrock.
He relocated with his parents and siblings to Iowa, in 1850-1851, and grew up in Johnson County.
During the Civil War, at age 19, Aaron enlisted in the Union Army on March 26, 1864. He was assigned to the 5th Iowa Cavalry, Company C. A little more than four months later, on Aug. 8, 1864, he was transferred to the 5th Veteran Cavalry Consolidated, Company D. Aaron received his honorable discharge while at Nashville, TN on Aug. 11, 1865, upon the close of the war..
Aaron returned home to Iowa City after the war and decided to pursue higher education. Circa 1865-1866, he was enrolled in preparatory courses at the University of Iowa.
On Jan. 12, 1871, in a ceremony held in Galesburg, Knox County, IL, Aaron wedded Sarah Alton (1850-1941). They are spelled out in the 1997 book Family History: Alton, Allton, Aulton Encyclopedia, by Wilma S. Davis (Gateway Press).
The Younkins produced these known offspring -- William Eugene Younkin, Charles Younkin, Grace Boomer, Winona Spencer and Martha Evelyn Smith.
Soon after their marriage, Aaron and Sarah relocated to Kansas City, Jackson County, MO, where Aaron became a businessman. They did not stay in Kansas City for long but soonafter migrated again to Beatrice, Gage County, NE. From Beatrice they moved to a farm near Odell, Gage County, but in 1887 came back to Beatrice. There, Aaron had an opportunity to own and operate a furniture business, which he did until retiring in about 1915. They then moved to Lincoln, NE, remaining for two decades, and spent the final year of their lives together in Omaha.
On Aug. 11, 1890, Aaron was awarded a military pension as compensation for his wartime suffering. [Invalid App. #850.998 - Cert. #583.529]
At their golden wedding anniversary, Aaron and Sarah were pictured in the Younkin Family News Bulletin in 1940.
Aaron died in Omaha, Douglas County, NE on Valentine's Day 1941. [Find-a-Grave]
Sarah only survived him by a few months and joined him in eternity on Sept. 23, 1941, also in Omaha.
An informational paragraph about Aaron is published in Vol. IV of Roster and Record of Iowa Soldiers in the War of the Rebellion, published by the Iowa Adjutant General's Office..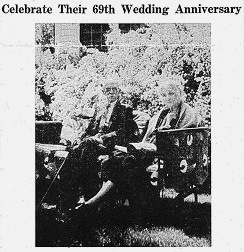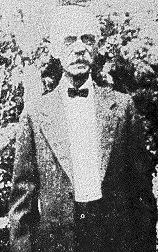 Aaron and Sarah pictured in the Younkin Family News Bulletin, 1940
Son William Eugene Younkin (1880-1947) was born on Feb. 19, 1880 in Beatrice, Gage County, NE. On Oct. 5, 1905, he wedded Violet Frances Davis ( ? - ? ). He passed away in Bethesda, Montgomery County, MD on April 9, 1947.
Son Charles Younkin ( ? - ? ) was deceased before 1890.
Daughter Grace E. Younkin (1873-1970) was born on Sept. 26, 1873 in Illinois. Circa 1900, she was united in holy matrimony with George Ralph Boomer (1869- ? ), believed to have been the son of Irish immigrants John and Eliza (Brown) Boomer. She died in 1970.
Daughter Winona Younkin (1883- ? ) was born on Sept. 26, 1873 in Illinois. She was joined in wedlock with W.T. Spencer ( ? - ? ). She passed away sometime after 1925.
Daughter Martha Evelyn Younkin (1886-? ) was born on June 19, 1886 in Beatrice, Gage County, NE. Sometime after 1941, she married Louis Smith ( ? - ? ).
This family is described in the 1997 book by Wilma S. Davis, entitled Family History: Alton, Allton, Aulton Encyclopedia (Gateway Press). The children are pictured in a 1992 edition of Alton-Allton-Aulton Association Family Newsletter, produced by Cecil C. Alton.
~ Son Austin Younkin ~
Son Austin Younkin (1848- ? ) was born on May 26, 1848 in Milford Township, Somerset County.
On Jan. 25, 1871, at the age of 22, he married Maggie Nancy A. Hunter ( ? - ? ) with nuptials taking place in Wapello, Louisa County, IA.
At the age of 32, in 1880, he resided with his divorced father in Columbus Junction, Louisa County, IA.
Austin died in Colorado on Feb. 17, 1930. [Find-a-Grave]