Maria Catherine (Younkin) May
(1798-1892)
Maria "Catherine" (Younkin) May was born on July 28, 1798, the daughter of Jacob and Hannah (Nicola) Younkin Sr. Her father died when she was 13 years old. In December 1813, her uncle Frederick was assigned as her and her brother Samuel's legal guardian.
Catherine was wedded to Leonard May (1795?-1889), son of Daniel and Elizabeth May.
The Mays originally dwelled in Somerset County, where their son Silas is known to have been born in 1833, but later settled on a farm in Juniata Township in nearby Bedford County, PA.
Their children were John L. May, Mary Ann "Anna" Kellerman, Elizabeth Tipton Metzger, Daniel H. May, Samuel M. May, Louisa Beltz, Marcus "Mark" May, Hiram May and Silas May.
During the Civil War, five of their sons and one son-in-law served in the Union Army, with their youngest son Silas, who was underage, not taking part.
When the federal census enumeration was made in 1860, the Mays dwelled on a farm in Juniata Township. In addition to children Samuel, Mark, Hiram and Silas, three-year-old Mary Mull also lived under their roof. Residing nearby were Leonard and Catherine's sons John and Daniel and their families.
They remained in Juniata during the decade of the 1860s and are shown there in the 1870 census. It appears that in 1870, all of the children had left the home except for their youngest, 20-year-old Silas. But also in the household were 13-year-old George Tipton and 13-year-old Mary Kellerman, presumed grandchildren.
The 1880 census, also of Juniata, shows that they provided a home for 17-year-old Sarah Beltz.
Leonard was featured in a paragraph in the 1884 book, History of Bedford, Somerset, and Fulton Counties, Pennsylvania, by Waterman, Watkins & Co. The paragraph, in the section about Juniata Township, said: "Leonard May, now upward of eighty years of age, is a native of Milligan's cove, and a son of one of the early pioneers. Mr. May had five sons in the army during the late war, and all lived to return."
Leonard passed away in Juniata on Feb. 2, 1889.
Catherine survived him by three and a half years. She died in Juniata Township on Aug. 22, 1892, at the age of about 94. They rest for eternity in the local Dry Ridge Cemetery, also known as Trinity United Church of Christ Cemetery. [Find-a-Grave]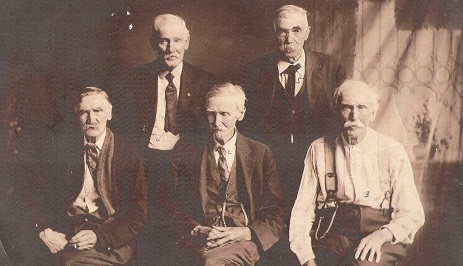 Sons of Leonard and Catherine (Younkin) May, 4 of whom were Civil War veterans. Front: L-R: Samuel, Daniel, Marcus. Back, L-R: Hiram, Silas.
Courtesy Suzanne Smith Chutis.
~ Daughter Mary Ann "Anna" (May) Kellerman ~
Daughter Mary Ann (1828-1872) was born in 1828.
At the age of 26, in 1854, Mary Ann wedded James Lewis Kellerman (March 22, 1832-1905), also misspelled "Kelman," the son of Lewis O. and Catharine (Kerr) Kellerman of Londonderry Township, Bedford County, PA.
They produced these known offspring -- Leonard L. Kellerman, Catherine Kellerman and Augusta Kellerman. They may also have had a daughter Mary, born in 1857, and a son George, but this is not yet confirmed..
In 1860, when the United States Census was taken, the family resided on a farm in Juniata Township, Bedford County. Boarding in their home was 22-year-old William Kellerman.
James made the decision in 1862 to enlist in the Union Army during the Civil War. He was assigned to the 138th Pennsylvania Volunteer Infantry -- the same unit in which three of his May brothers-in-law served -- and within Company F, commanded by Capt. Lewis A. May.
They relocated at some point to Kansas, and settled in or near Westphalia, Anderson County.
Sadly, Mary Ann is believed to have died in or before 1873.
In 1873, at age 41, the widowed James married for a second time to Carrie Reihl (1845-1912). The couple produced three more sons -- Charles Edward Kellerman, James Harrison Kellerman and Jesse Kellerman.
Later in life, James and Carrie made their home "in the country north of town," said an obituary.
James died on Dec. 1, 1905. Burial was in Cherry Mound Cemetery in Westphania. [Find-a-Grave] Rev. Poole, of the United Brethren Church, preached the funeral sermon. A notice in the Garnett (KS) Journal reported that "George Kellereman was called here from Altoona, Thursday, on account of the death of his father, James Kellerman."
Circa 1870, their supposed 13-year-old daughter Mary resided with aged grandparents in Juniata Township, Bedford County.
Son Leonard L. Kellerman (1855- ? ) was born in about 1855 in Bedford County.
Daughter Catherine Kellerman (1857- ? ) was born in about 1857 in Bedford County.
Daughter Augusta V. Kellerman (1859- ? ) was born in about 1859 in Bedford County.
Copyright © 2016-2017 Mark A. Miner
Research for this page graciously shared by the late Olive (Rowan) Duff and the late Donna (Younkin) Logan. May brothers image courtesy Suzanne (Smith) Chutis.