William Henry Armstrong
(1861-1922)
William Henry Armstrong was born on July 3, 1861 (or 1859) at Cardington, Morrow County, OH, the son of William "Forster" and Elizabeth (Miner) Armstrong. He was an entrepreneuer, founding his own business, and was once called "one of Piqua [Ohio's] most progressive business men."
As a 10-year-old boy, William and his parents moved to Piqua, Miami County. It was there, said the Miami Union, that:
He attended the public schools and was graduated from high school. He left here to accept a traveling position, later engaged in business in Detroit, and in 1896, returned to Piqua and purchased the wholesale business then being conducted by McWilliams & Hollinger. [His] steady devotion in his business was rewarded by unusual success and in 1903, he found it necessary to build a new and larger business house....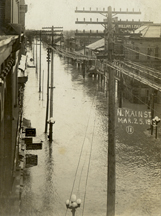 High water in Piqua, OH
On Sept. 18, 1883, in Vermillion County, IN, the 22-year-old William married 20-year-old Theodora Venable "Dorothy" Malone (June 8, 1863-1917), a native of Decatur, Macon County, IL and the daughter of Samuel G. and Selina J. Malone.
They produced three children -- Gwendolyn "Elisabeth" Armstrong and Harry Forrester Armstrong in addition to one who died in infancy.
In the early years of their marriage, the Armstrongs lived in Vermillion County, where at least two of their children were born between 1883 and 1887. Later, they returned to Piqua, where they purchased a house at 325 Riverside Drive, and were members of the St. James Episcopal Church.
The 1900 federal census shows William working as a paper hanger. By 1910, he had expanded the business to wholesale merchandising, specializing in candy and tobacco, known as W.H. Armstrong and Company.
The family enjoyed spending vacations at the Macatawa summer resort along Lake Michigan, near Grand Rapids. They traveled there by train, with William staying for perhaps a week or 10 days while the family remained "during the hay fever season," reported the Daily Call. While there, father and son took in a baseball game between Grand Rapids and South Bend, watching their favorite player, named Gilligan.
Of Dorothy, the Piqua Daily Call once said that she was a "woman whose education continued throughout her entire life. Possessed of exceptional intellectual endowments, she was a close student and deep thinker, in the Fortnightly Club, of this city, her work, until failing health deprived her of the privilege, was thorough and scholarly, and although for several years she has been unable to be present at its meetings except upon rare occasions, she has always remained an esteemed and appreciated member.... Although reared in the Presbyterian faith, she was confirmed in St. James Episcopal church upon coming to Piqua..."
Sadly, Dorothy died of "an attack of heart failure" on Oct. 3, 1917 at Piqua. The Piqua Call said that she "had been in poor health but her last illness was practically only of 10 days' duration. Even then it was not of a character to cause apprehension to the members of her immediate family, only at the very last. For this reason the announcement of her death came as a severe shock to her friends."

The Armstrongs' obituaries

Dorothy was buried in Forest Hill Cemetery in Piqua.
In 1919, now age 58, William married his second wife, Anna B. Hanlon ( ? - ? ). She was a resident of Louisville, Jefferson County, KY.
William's health began to fail in his early 60s. In January 1922, at the age of 61, he moved to Miami Beach, Dade County, FL "to regain his health," said a newspaper. "Within the last week, he seemed to be greatly improved, and physicians thought him well on the road to recovery." Sadly, however, he died there on May 6, 1922. His remains were returned to Piqua for interment..
Anna outlived her husband by a number of years. Circa 1930, she is known to have toured Yellowstone National Park in company with her sister May Hanlon.
She relocated to Louisville, KY during the 1930s and grieved at the death of her sister May in April 1937.
~ Daughter Gwendolyn "Elisabeth" Armstrong ~
Daughter Gwendolyn "Elisabeth" Armstrong (1887-1963) was born in 1887 in Indiana. She grew up in Piqua, Miami County, OH.
She is believed to have been a student at the Knickerbocker School in 1903.
Unmarried at the age of 21, in 1910, she lived at home with her parents in Piqua.
She and Alice "Marie" Bowdle (1885-1943) were the closest of friends. A voracious reader and writer, Marie was a graduate of the Chicago Art Institute and taught art in the Wapakoneta (OH) Schools. They shared a home in New York, with Elisabeth studying and teaching music and Marie working as an artist. The pair built a house on Oak Lane in Pelham Manor in the New York City suburbs. They remained togetherthere until about 1933, when they moved back to Piqua. There, they lived together at 814 North Downing Street. Grief blanketed Elisabeth's world when Marie died in June 1943.
Elisabeth died on April 24, 1963 in the Piqua area. She rests for all time in Forest Hill Cemetery in Piqua.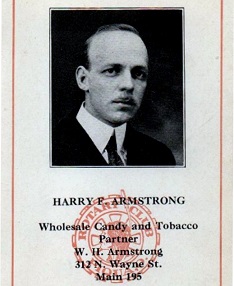 Harry's promotional card
Courtesy "HistoryAnne" - Find-a-Grave

~ Son Harry Forrester Armstrong ~

Son Harry Forrester Armstrong (1891-1958) was born on March 29 or in June 1891 in Indiana but grew up in Piqua, Miami County, OH.

He was united in wedlock with Mary Frances Curtis (Aug. 11, 1889-1966), a native of Middle Point, Van Wert County, OH.

Their known children were William Henry Armstrong, Mary Elizabeth "Betty" Armstrong and Joan Curtis Armstrong.

Circa 1920-1931, he was proprietor of the W.H. Armstrong and Company store in Piqua. The firm, located at 312 North Wayne Street, was a wholesale dealer of candy and tobacco products.

Their address in the 1940s was 429 North Downing Street. Harry is known to have taken medical treatments at the Battle Creek Sanitarium in Michigan in the spring of 1942.

Harry succumbed to death in Jujne 1958 at the age of 67. Burial was in Forest Hill Cemetery in Piqua.

Mary Frances followed him to the grave on Dec. 6, 1966.

Son William Henry Armstrong (1915- ? ) was born in about 1915. He assisted his father in the mid-1930s in running the family business, W.H. Armstrong and Company of Piqua. He served in the U.S. Army during World War II and trained at Camp Shelby, MS. On Oct. 8, 1935, he married Guinevere Tomb ( ? - ? ), daughter of Rex L. and Evva (Skelton) Tomb of Toledo. The wedding was performed by Rev. Maxfield Dowell at St. James Episcopal Church. A related story in the Piqua Daily Call said that the "bride, who possesses unusual beauty, was lovely in a costume of olivine silk crepe, a two-piece model with quaint full sleeves and severe neckline, finished with two black velvet flowers. Her hat, slippers and accessories matched her frock and she wore gardenias." At the time, Guinevere was employed as a bookkeeper with Wurlitzer Company in Piqua. They were the parents of a son, William Henry Armstrong III. The Armstrongs were in Piqua circa 1973.
Grandson

William Henry Armstrong III
Daughter Mary Elizabeth "Betty" Armstrong (1917-1971) was born in about 1917 in Ohio. She spent an extended time in New York City in the spring of 1932 and in 1934 was a student at the Conservatory of Music. She is known to have studied journalism at Purdue University. She was employed in 1939-1941 in Cincinanti in advertising for the Shillito Department Store and worked in advertising and radio in Springfield, OH and Denver. Then after the outbreak of World War II, Betty joined the Women's Army Auxiliary Corps (WAAC).She trained in Fort Des Moines and then handled recruiting duties in Passaic, NJ. From there she was assigned in 1943 to the WAAC's public relations division in New York City, writing radio scripts. On May 29, 1943, in a wedding ceremony held in the First Methodist Church of Arcola, NJ, she was united in matrimony with Ernest Worden Massey Jr. ( ? - ? ). Rev. L.C. Hamilton officiated, and news of their nuptials was printed in the Piqua Daily Call. Ernest was the son of Ernest Massey Sr. of Hackensack, NJ. The couple lived in New York in 1945, where he was employed in advertising by the Passaic Herald-News and formerly advertising manager of the Englewood Press. A graduate of New York University and Grand Central School of Art, he served a term as president of the Advertising Club of North Jersey. The pair made a longtime home in Paramus, Bergen County, NJ and produced two children, William E. Massey and Margaret Massey. Ernest eventually retired from the Herald-News. Sadly, at the age of 55, Mary passed away at Bergen Pines County Hospital on Dec. 29, 1971. Ernest survived as a widower for nine years. He died at the age of 74 on Feb. 24, 1980 as a patient in Somerset Medical Center, NJ. His obituary was published in the Ridgewood News, and interment took place in George Washington Memorial Park in Paramus.
Grandson

William E. Massey

was in Hackensack in 1971. He relocated to Corinth, VT.
Daughter Joan Curtis Armstrong (1925- ? ) was born in about 1925. She graduated from Stephens College in Columbia, MO with an associate of art degree. She lived in Ohio circa 1971.
Copyright © 2001, 2005, 2009, 2020 Mark A. Miner