Joshua V. Armstrong
(1843-1862)
Joshua V. Armstrong was born in 1843 in Ohio, the son of William Forster and Mary (Denmon) Armstrong.
He was but a boy when his mother died, followed by the passing of his stepmother Clarissa in 1856 when he was age 13. Then in 1857, when he was age 14, his father married a third time, to Elizabeth (Miner) Wilson.
Joshua grew up in Cardington, Morrow County, OH.
The federal census enumeration of 1860 shows that he lived under the roof of carriage maker G.R. Cunningham in Cardington, where he was one of four apprentices.
Joshua is believed to have wed Lucretia ( ? - ? ), but this needs to be confirmed.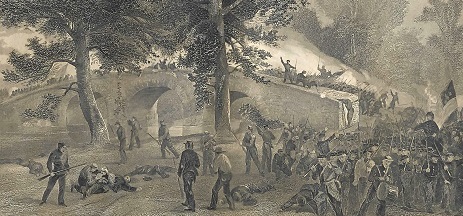 Battle action at Antietam. Below, the battlefield today.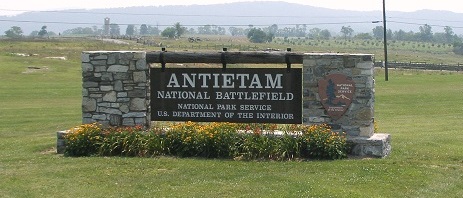 Upon the eruption of the Civil War, Joshua joined the Union Army. He was placed in the 23rd Ohio Infantry, Company F and attained the rank of sergeant.
Joshua took part in the Battle of Antietam in Sharpsburg, MD and was killed in action on Sept. 17, 1862. The body was interred in grave 1326 in Antietam National Cemetery.
The widowed Lucretia petitioned the federal government for a pension as compensation for her loss. It was granted on Jan. 8, 1863. [Widow App. #10.054 - Cert. #976.]
For reasons not yet known, their child then became entitled to the monthly pension payments as of June 16, 1864 [Minor App. #54364 - Cert. #34239].
More will be added when learned.
Copyright © 2001, 2005, 2009, 2020, 2022 Mark A. Miner