Clara (Behme)
Kiggins Jensen Young
(1876-1950)

Clara
Clara (Behme) Jensen Kiggins Young was born on May 8, 1876 near Tontogany, Wood County, OH, the daughter of Nathaniel A. and Rebecca (Minerd) Behme. She was a pioneer settler of Iowa and Washington State.
When Clara was a girl, she moved with her parents to Iowa.
In about 1895, at the age of 19, Clara married Edgar Kiggins ( ? - ? ). They had no children and eventually separated.
After her parents ended their marriage in Iowa, in about 1898, Clara's mother moved west to Washington State, and Clara followed at some point before 1903.
Circa 1907, Clara resided with her mother in Everett, Snohomish County, WA. In a letter home to Ohio relatives, the mother wrote: "Clara is with me... Clara does not like it [here] so very well yet but she will when she stays a while longer." The census of 1910 shows Clara making her home with her mother and brother Samuel H. Behme on North 63rd Street in Seattle. The census taker marked that Clara had been married for 15 years but that she had no children.
Clara's mother wrote several letters home to relatives in 1906. In one of them, she said:
Clara is still under the Dr. care. Has been for nearly six months. Do not know if she will be cured or not & it goes hard with us all.
In another letter, Clara's mother wrote that Clara suffered from:
... terrible head aches which is growing worse all the time. It takes all we can make for the Dr. Bills but I don't care for that if she only gets well... Her Dr. tells her she must have a change of Climate. I do wish we were able to come back there for a change for I think it would do her good but when one is poor what can they do."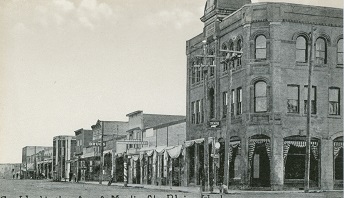 Corner of Washington Avenue and Martin Street in Blaine
In 1914, Clara made her home with her mother in Custer, Whatcom County. The two women hosted a meeting of the Daughters of Rebekah Lodge at their home on the last of March 1914, the day before Clara was to be married. The gossip columns of the Lynden (WA) Tribune reported that the the "evening passed pleasantly with conversation, luncheon being served about ten o'clock. A set of silver fruit knives was presented to Miss Behme...." Among the attendees were Mmes. Arndt, Bannister, Hale, Porter, F. Tarte, Marsh, Ed Jones, Ed Long, Otly, Parrish, Benedict, Brownell, Mundal, H. Brown and Claude Behme and Misses Bethen, Amy and Edna Behme.
On April 1, 1914, at the age of 40, Clara was united in marriage with her second husband, James Jensen ( ? - ? ). The Tribune noted that they "were quietly married at New Westminster Wednesday. They will reside in Blaine, where Mr. Jensen is in business." The marriage did not last long. Years later, Clara's mother recalled that the marriage "was a sad one indeed."
Clara apparently married for a third time to Edgar Kiggins. In 1930, when the federal census was taken, Clara and Edgar were enumerated in Seattle's District 19. Clara was employed there as a housekeeper in hotels, and Edgar worked as a gardener. The Kigginses separated but apparently reconciled after some point in time.
She used the name "Kiggins" at least as late as 1940.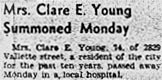 News obituary, 1950
Later in life, in about 1940, Clara moved to Bellingham, Whatcom County. There, she resided at 2829 Vallette Street. Her final husband was William Young ( ? - ? ), apparently wed after the move to Bellingham. They also had no children together.
Clara passed away in a local hospital on May 1, 1950. At her death, said a local newspaper, she was "survived by four nieces, Mrs. Mabel Caughell, Mrs. Maude Elliott and Mrs. Helen Lang, all of Bellingham, and Mrs. Isabelle Hyle, of Yakima; and two nephews, Thornton Behme, Ferndale and Gordon Behme, of Rainier, Ore."
Clara's remains were cremated, and it's unknown if she has a burial site.
Clara was mentioned in an Oct. 3, 2011 article headlined "Whatcom County Linked to 'Deep Secret' About Lt. Col. George Custer's Brother," published by the Bellingham (WA) Herald. It tells the story of local man Phil Dyer's efforts to know more about Clara's mother and half brother Thomas C. Custer. The story includes a link to her mother's biography on Minerd.com and quotes from the award-winning article, "Tontogany's Deep Secret," authored by the founder of this website and published in 2005 by the Little Big Horn Associates.
Copyright © 2002, 2004-2005, 2011, 2016 Mark A. Miner