He was a successful entrepreneur whose products were used in the cotton, energy and shipping industries, and on the battlefields of World War I. He also was a civic leader in his community in Michigan.
As a boy and young man, Harvey worked for his father in a sawmill at Ropertown on the banks of Little Fish Lake in Cass County, MI. Said the Berrien County (MI) Record, "he became a journeyman pattern maker, following that trade in several states, during the remainder of his active life." He also joined the Constantine Methodist Church as a youth.
Ellen, born in Constantine, had spent her early teenage years with her parents and siblings in Nebraska. The federal census of 1870, shows the 14-year-old Ellen on a farm in Town 9, Range 9 of Pawnee County, NE, near the post office of Tipps Branch.
The Fergusons must have returned to Michigan within a year or two, because on the Fourth of July 1872, the 15-year-old Harvey married married 16-year-old Ella in Battle Creek, Calhoun County, MI.
The Bristols had four children -- H. Earl Bristol, Clyde Dio Bristol, Frank Bristol and Pearl Hamilton.
In 1883, Harvey and Ella moved to Sherman, Grayson County, TX, "where he started independently plying his trade, the first pattern being for a cotton seed huller," said the Record. "In 1891 he moved to Chicago where he was employed for 21 years as pattern maker for the Charles S. Elmes Engineering Works, fashioning, among other things, the patterns for the turbines in the Roosevelt Dam in Arizona, and for the engines for the boats of the Goodrich lines on the Great Lakes."
In 1905, they lived in Chicago at 122 Walnut Street. Continuing to follow his entrepreneurial fire, said the Record, Harvey and family then relocated to Buchanan, Berrien County, MI, where they boarded with his ailing, widowed mother.
Earl Bristol (standing, right) with family and friends -- standing, l-r: employee Paul Schuler, Frank Miller, Bud and Lee Miller, Vera and Fred Miller, Lottie Bristol and employee Garner. Seated, l-r: Eleanor and Millie Miller, Ruth Bristol.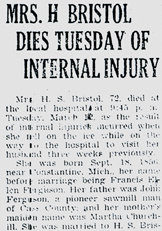 Obituary, 1929
The pattern works site was on the east side of South Oak Street, just one block off Front Street. The building originally had been constructed in 1866-1867, and was born down in 1957. Today, the Buchanan Senior Center is located there.
Harvey took an active interest in community affairs and served on the Buchanan village council at one time. Said the Record, "he was extremely active and never confined his energies entirely to one business."


In 1921, when Harvey was age 64, he acquired a financial interest in the Pioneer Chief gold mine in California. "He made a number of trips into that section of the west pursuing the gold mining business," reported the Record.
His last prospecting trip was made at the age of eighty in Arizona. He entered partnership with a veteran prospector. They traveled prospecting through the Mohave desert, locating a "prospect" almost on the brink of the Grand Canyon on the Colorado river. There [he] built a placer mining machine, powering it with a motor cycle engine to operate the mine. Here they ran onto a vein of ore assaying $60 per ton in gold, silver and lead. While his health and strength lasted he took an immense and enthusiastic interest in the mining business, although his ventures were not ultimately profitable. In 1936 he sold his pattern shop to his son, Earl, and retired.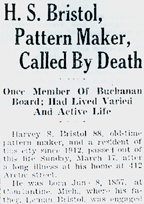 Obituary, 1946
Sadly, Ella died at the age of 70 or 72 on March 12, 1929, the result of a fractured femur. She had slipped and fallen on the ice while en route to the hospital to visit Harvey, and died three weeks later. She was buried at Oak Ridge Cemetery. At the time of her passing, Harvey and Ella had 11 grandchildren and three great-grandchildren.
Just a little under four months after Ella's death, Harvey married again, to Ruth E. Harrison ( ? - ? ) of Buchanan. The newlyweds moved to a new home at 412 Arctic Street.
Said the Record: "In the past few years and particularly since he passed his 85th birthday failing health and strength progressively limited his activity. Until that time he had been a frequent visitor at the Record office, always enjoyed because of his enthusiastic interest in life and his varied store of experience and memory."
The grim reaper of death shook Harvey's world when he lost both of the sons who had been his business partners -- Clyde, who died in 1935, and Earl, in 1941.
Harvey died at age 88 in Buchanan on St. Patrick's Day 1946, of a cerebral hemorrhage.
~ Daughter Pearl (Bristol) Hamilton ~
Daughter Pearl Bristol (1895- ? ) was born in 1895.
She married Ralph Hamilton (1890- ? ), the son of Clifton and (?) (Pratt) Hamilton, on Nov. 29, 1911, when she was age 19 and he 24. The wedding took place in St. Joseph, by the hand of justice of the peace John W. Fletcher.
Ralph was a machinist.
They resided in Niles, MI circa 1946.
~ Son Clyde Bristol ~
Son Clyde Bristol (1884-1935) was born in 1884.
He married Ella Clara Mai (1886-1960), the daughter of Oscar and Clara Mai. Their wedding took place on Sept. 7, 1905, in Hammond, IN. They had six children -- Ellsworth "Bus" Clyde Bristol, Myrtle Dokey, Bernice Rollf, Mrs. Glenn Hushower, Shirley Benson and Betty Jane Bauch.
Clyde and his father and brother Earl were partners in the family pattern-making firm until Earl's untimely death in 1935.
Ella was a member of the Sylvia Chapter of the Eastern Star and the Bayleaf Rebekah Lodge.
She outlived her husband by 25 years. She died at the home of her married daughter, Mrs. Glenn Hushower, at the age of 74 on Sept. 26, 1960. She was buried in Oak Ridge Cemetery. At the time of her death, she had 15 grandchildren and 22 great-grandchildren.
Son Ellsworth "Bus" Clyde Bristol (1909-1987) was born in Chicago but came to Buchanan as a three-year-old in 1912. Said the Record, "He retired from Clark Equipment as a foreman in 1970 after 34½ years of service. He was a member of the Clark Management Club." Ellsworth was married twice. His first wife was Donna Margaret Schaffer (1912-1963), the daughter of Samuel and Bessie Schaffer of Kalamazoo, MI. They were married on Feb. 25, 1931 in South Bend, IN. They had one daughter, Nancy Artemik and one son, Larry Bristol. Donna was a member of the Navy Mothers Club and the local Women of the Moose. Sadly, Donna died at the age of 51 in Pawating Hospital on Sept. 23, 1963, with burial at Oak Ridge Cemetery. After about seven months as a widower, Ellsworth married his second wife, Lucille (Cordray) Perryman (1910-2004), on April 17, 1964. Ellsworth died at the age of 77, after a long battle with cancer, on April 12, 1987. At the time, he four grandchildren. Lucille died on April 30, 2004, with burial in Shelbyville, IL.
~ Son H. Earl Bristol ~
Son H. Earl Bristol (1878-1941) was born in 1878 in Cass County. He moved as a baby with his family to Mishawaka, IN and thence to Texas and Arkansas.
At the age of 10, in about 1888, they all moved again to Chicago, where he grew up and reached manhood.
Earl married Lottie Bishop ( ? - ? ) in Springfield, OH on Aug. 1, 1906. They had two children -- Ruth Bristol and Arnold Bristol.
Said the Berrien County (MI) Record, "He learned his trade as a patternmaker in the Charles F. Elmes Engineering Works. He followed his trade in and about Chicago until 1912, when he entered into a partnership with his father and brother [Clyde] and they started the Buchanan Pattern Works in Buchanan. In 1926 he sold his interest to his father and brother, and went to Battle Creek, where he went into partnership with Paul Schuler and he came to Buchanan and bought out his father in the Buchanan Pattern Works, his brother, Clyde, having died previously."
In his 50s, Earl began to lose his health, and after a long illness, he died on Feb. 13, 1941. He was laid to rest in the Oak Ridge Cemetery. The fate of Lottie is not yet known.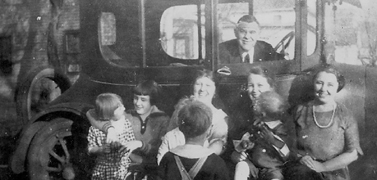 Earl Bristol behind
~ Son Frank Bristol ~
Son Frank Bristol ( ? - ? ) lived in Southgate and Whittier, CA, but may have been estranged from his father.
A 1946 article in the Record said he "is believed to be living in California but has not been heard from for several years."
~ More ~
The photographs and newspaper articles are courtesy of the East Collection at the Buchanan District Library. The Goodrich docks postcard is courtesy of the Minerd-Minard-Miner-Minor Archives.
Copyright © 2007-2008, 2014 Mark A. Miner