Ella (Brown) Young
(1863-1944?)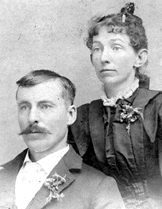 William and Ella Young
Ella (Brown) Young was born on May 2, 1863, near Cardington, Morrow County, OH, the daughter of James R. and Lydia (Miner) Brown. As a girl, she was a pioneer of the west, moving frequently to settlements in Iowa, Kansas and Oklahoma.
At about age five, Ella and her parents migrated to DeSoto, Dallas County, IA, where they stayed for nine years. In 1877, they relocated again, to Montezuma, Poweshiek County, IA, remaining two years.
The Browns moved to Medicine Lodge, Barber County, KS in 1879. While in Kansas, Ella is believed to have met her future husband.
In about 1884, when she would have been 21 years of age, Ella married William Young ( ? - ? ).
They had five children -- Nellie Richie Stewart, Harry Young, Fred Young and Mabel Phelps. A fifth child died young. It's possible that she also had an additional four offspring who did not survive childhood.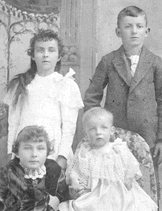 The Youngs' 4 children
Their four children are seen here in a studio portrait.
The Youngs lived in Kansas in the early part of their marriage, where their son Harry (1885) and daughters Nellie (1887) and Mabel (1889) were born. From there they relocated to Oregon, where son Fred was born in 1889.
On the move again, they headed south into Southern California around the turn of the 20th century. They found a home in San Diego, San Diego County, CA, where they apparently spent the remaining years of their lives. Ella's parents relocated there in about 1900, and remained for five years.
When the federal census enumeration was made in 1900, Ella was marked as "married" and headed a household with her four children. The whereabouts of her husband are not known, but he may have been working away at a distance. Their San Diego home was located on H Street. Dressmaker Mossie Langdon, a 25-year-old unmarried California native, lived under their roof as a boarder.
By 1910, census records show that Ella remained as head of her household with William absent. At that time, she was 48 years of age and had been married for 26 years. She supported herself by dressmaking, while son Harry was a cook in a local hotel and son Fred earned income as a newspaper delivery boy. Their dwelling was on 7th Street.
Ella and William eventually divorced during the decade of the 1910s. The census of 1920 shows her at age 53, marked as divorced and residing with her son Fred on Cleveland Street in San Diego. Also marked in the family was a 14-year-old daughter, Angela (or "Angelo") Nesobol. Ella continued to operate her own dressmaking business, working from home.
In 1923, at the time her father died, Ella resided in San Diego. She gave up dressmaking and in 1930 was engaged as an art teacher giving private lessons. In her home in 1930 were 42-year-old widowed son Harry and 36-year-old single son Fred, remaining at Cleveland Street.
Ella retired and gave up her home in the 1930s. By 1940, she boarded on Idaho Street in San Diego with 60-year-old pie maker Lucy E. Earnest. Boarded Troy Hawkins, a dispenser of soda in a malt shop, lived under their roof as well.
She is believed to have died in San Diego on Jan. 16, 1944.
Sons Harry and Fred Young "were very interested in new development of the airplane industry," according to an old family manuscript.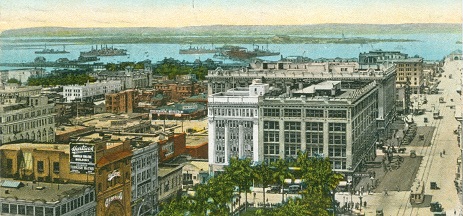 Bird's-eye view of old San Diego
~ Son Harry R. Young ~
Son Harry R. Young (1884-1967?) was born on June 13, 1885 in Kansas.
In about 1908, Harry became married, but the identity of his wife is not yet known. When census records were made in 1910, the 25-year-old lived at home with his mother and was employed as a cook by a local hotel in San Diego.
He may have served in the U.S. military during World War I.
During the decade of the 1920s, Harry apparently lost his wife and was considered her widower. The 1930 census shows him living with his mother and single, 36-year-old brother Fred in San Diego. That year, Harry worked as a mechanic in an automobile repair shop.
Harry lived in North Hollywood in 1935 and was admitted later in the 1930s to the Veterans Administration Facility in Beverly Hills. There, he made his home when the census was taken in 1940.
He is believed to have died in San Diego on Feb. 2, 1967. More will be added when learned.
~ Daughter Nellie (Young) Richie Stewart ~
Daughter Nellie Young (1887- ? ) was born in April 1887 in Kansas. Her childhood took her to Oregon and thence to San Diego where she put down some roots.
As a teenager, she married (?) Richie. Little about him is known except that he did not live with her four years later, in 1900, when the federal census count was made. That year, Nellie lived at home with her mother in San Diego and worked as a nurse in a local hospital.
Later, in 1904, Nellie married J.E. Stewart ( ? - ? ). Nothing more is known, and notes of this couple compiled by cousin Ella (McGirk) Kristensen Peck are incomplete.
~ Daughter Mabel (Young) Phelps ~
Daughter Mabel Young (1889- ? ) was born in April 1889 in Kansas.
Mabel was united in matrimony with Bailey Phelps ( ? - ? ).
This couple seems to be lost to history.
~ Son Fred Young ~
Son Fred "Freddie" Young (1895- ? ) was born in January 1895 in Oregon.
He relocated with his mother and siblings to San Diego in the late 1890s. He helped generate income for the family in 1910 by working as a delivery boy for a local newspaper.
He may have served in the U.S. military during World War I.
By 1920, unmarried at age 25 and residing at home, he earned a living as an automobile mechanic at a nearby shop.
Very interested in the possibilities of aviation, he became a transport pilot with the United States Army and in 1930 worked in this field. That year, he lived under his mother's roof in San Diego.
His paper trail ends here for now.
~ Daughter Angela Nesobol ~
Daughter Angela Nesobol (1906- ? ) was born in about 1906, most likely in San Diego. Her father's name is lost to us for now.
At the age of 14, she lived with her divorce mother and 25-year-old half brother Fred Young in a home on Cleveland Street in San Diego.
Copyright © 2000, 2002, 2005, 2010, 2015 Mark A. Miner