Bertha B. Davidson
(1864-1949)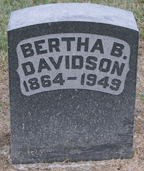 Oak Hill Cemetery
Bertha B. Davidson was born in 1864 in Lewistown, Fulton County, IL, the daughter of William Taylor and Lucinda (Miner) Davidson. She never married, but was a prominent newspaper publisher with her half-brother in Fulton County, continuing the legacy of their father.
Growing up in a family where her father was a publisher and editor, Bertha would have listened to conversation about newspapering, politics and economic development on a daily basis.
Upon her graduation from high school in Lewistown, in the early 1880s, Bertha "took a course in a school of dramatics in Chicago," said the family newspaper, the Fulton Democrat, "and for a number of years toured the country in stock productions."
Retiring from show business, she established a millinery business in Wheeling, Ohio County, WV, circa 1917. How or why she selected such a faraway home is a mystery, but perhaps it involved a friendship she had struck with Myra X. Collins (1880- ? ). At the time, Bertha was age 53, and Myra was 37.
The 1917-1918 Wheeling City Directory shows Bertha and Myra residing together at 66 15th Street in Wheeling. Together, they were partners in "Collins & Davidson," an enterprise located at 119 16th Street. By the time the city directory was published for 1919-1920, however, the business no longer was in operation, but Bertha and Myra continued to make their home at the same address. Bertha is listed as a saleslady at G.M. Snook Co., while Myra was listed with no occupation.
Bustling Wheeling, WV in the early 1900s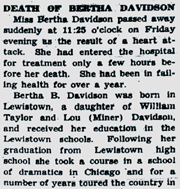 For whatever reason, the friendship dissolved, and Bertha returned to Lewistown. The 1920 census shows Myra residing alone at age 40 on 15th Street in Wheeling. Bertha's whereabouts have not yet been found on the 1920 census.
Having thus been a failed entrepreneur, Bertha assisted her half-brother William Gilman Davidson for decades in publishing the Democrat, a business she would have known much better than selling hats. She continued in this role "until failing health made it no longer possible for her to continue." She was a member of the Christian Science Church.
Circa 1930, Bertha lodged in the home of James M. and Mary Lowe in Lewistown. At age 53, her occupation was listed as "proof reader" at the newspaper.
Bertha died of a heart attack at the age of 85 on June 24, 1949, in a hospital in nearby Canton, Fulton County. She was laid to rest in the Oak Hill Cemetery in Lewistown in the Davidson plot of graves.
Pall bearers at her funeral were Karl Whitehead, Earl Coleman, Clyde Ewan, John Hughes, Erle Pitman and Robert Martin. Flower bearers were Ruth Shaw, Hilda Ewan, Carrie Gose, Beatrice Martin, Irene Moorhouse, Nelle Gustine, Anna Hughes and Mrs. Karl Whitehead.
Copyright © 2007, 2012, 2020 Mark A. Miner