Harold Lee 'Harry' Davidson
(1860-1917)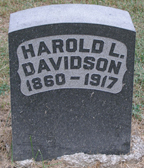 Harold Lee "Harry" Davidson was born on Dec. 13, 1860 in Lewistown, Fulton County, IL, the son of William Taylor and Lucinda (Miner) Davidson.
Harold grew up as an editor's son in a home environment where newspapering and current political events would have been discussed every day. He was sickly as a child, and although "an unusual bright and promising boy,... during his high school years was obliged to give up school in account of ill health," said his father's newspaper, the Fulton Democrat.
Harold began working as a teenager in the newspaper office. Said the Democrat, "He was the county representative of the paper for many years, going weekly to the towns and cities keeping up the correspondence and looking after the large subscription list. He was most popular wherever he went and made many friends for himself and the paper."
In about 1891, Harold married Sarah "Edith" Keithley (1864-1926), a native of Wisconsin, and the daughter of Thomas and Amy (Keithley) Burgess. After Edith's father deserted the family, her mother obtained a divorce and went back to using the "Keithley" surname, abandoning the "Burgess" name.
Presbyterian Church, Lewistown
Harold and Edith had two children -- William Taylor Davidson II and an unidentified son or daughter who died in childhood.
The Davidsons were members of the Presbyterian Church in Lewistown, and "while his health permitted was a most regular attendant and greatly enjoyed the services," said the Democrat.
When the federal census was taken in 1900, the Davidsons made their home on North Main Street in Lewistown, with Harold employed as a bookkeeper, and Edith as a milliner. Residing in their home that year was eight-year-old son William and widowed 64-year-old mother in law Amy Keithley.
The couple may have separated in the 1900s, as the 1910 census shows Harold and Edith residing in separate households. Harold (shown as "Harry") was a roomer in the home of Zacheus and Angeline Harmon in Lewistown, working as a newspaper printer. Edith, age 45, and son William (19), living together in their own home in Lewistown, with Edith employed in her own millinery shop.
Edith's mother, Amy Keithley, died on May 16, 1912.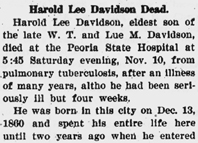 As he entered middle age, Harold's physical health became precarious. "Because of his frail health he was compelled to relinquish little by little the work to which he was devoted," the Democrat said. "What he was able to do he did accurately and most faithfully.
At the age of 55, in 1915, continuing his long suffering from pulmonary tuberculosis, William was admitted to the Peoria State Hospital "with the hope of recuperating." He stayed there for two years, but his health continued to decline.
He died at the hospital at the age of 57 on or about Nov. 10, 1917. His sister Martha and half-brother Gilman accompanied the body back to Lewistown, where Harold's remains were laid to rest in the Davidson plot at Oak Hill Cemetery. Attending the funeral from out of town were Harold's son and daughter in law from Rock Island, IL, as well as his cousins Rev. J.M. Davidson and Mary Davidson, editors of the Carthage Republican newspaper.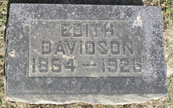 Widowed at the age of 53, Edith remained in Lewistown. She was enumerated there in 1920 when the federal census was taken.
She died nine years after Harold, at the age of 62, in 1926, and is buried beside her mother in Oak Hill Cemetery. The graves are located right across the road from the Davidson grave lot.
~ William Taylor Davidson II ~
Son William Taylor Davidson II (1891- ? ) was born in December 1891.
He married (?). They resided in 1917 in Rock Island, Rock Island County, IL.
They had one known son, William Davidson.
Nothing more about this family is known, but is being researched, and will be reported here when learned.
Copyright © 2007, 2010 Mark A. Miner
Minerd.com thanks Donna Brown for the grave marker photo and biographical material about Edith (Keithley) Davidson. See Donna's Illinois research travel blog.