Maude G. Davidson
(1874- ? )
Maude G. Davidson was born in 1874 in Lewistown, Fulton County, IL, the daughter of William Taylor and Lucinda (Miner) Davidson.
At the age of 36, in 1910, and again at age 46 in 1920, Maude is listed as having no occupation.
In 1920, she resided in a household with her unmarried sisters Frances and Martha, and 22-year-old half brother William "Gilman" Davidson.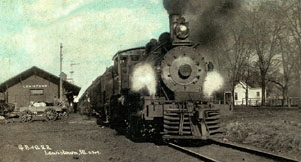 Chicago Burlington & Quincy Railroad depot in Lewistown in the early 1900s
It's possible that she passed away sometime in the 1920s, or got married and changed her name during that time. Her fate is unknown.
More will be reported here when learned.
Copyright © 2007-2008 Mark A. Miner