Dr. Clarence Harvey Dean
(1864-1952)

Dr. Clarence Dean
Dr. Clarence Harvey Dean was born on Dec. 13, 1864 near Terre Haute, Vigo County, IN, the son of James Harvey and Catherine (Van Horn) Dean. He was one of the earliest physicians in our family, and an early pioneer of the newly settled territory of Oklahoma before it became a state.
When Clarence was age five, his father died. Later, his mother married James Dunn.
Clarence graduated from medical school at Indiana University. His tuition was largely financed by his brother, James "Andrew" Dean. Andrew kept a diary, transcribed by descendant Nelson Eddy and published in the typescript, James H. Dean Family. In a diary entry for September 1890, Andrew wrote:
Loaned Clarence Deen thirty dollars to go to ladogoe school. I loaned him another five dollars to go to Terre hut, two dollars another time, and One hundred and fifty dollars to go to indianapolis school.
In January 1892, Andrew added: "I loaned Clarence another one hundred dollars to go to Georgia School."
On April 27, 1888, at Owen County, IN, Clarence married Clara Clark (1867-1949). She was a native of Coal City, Clay County, IN. They had one son, Harry Harold Dean, born in Indiana on Sept. 3, 1889.
In the 1890s, when the Oklahoma Territory was opened for residential settlement, the Deans migrated there, near the towns of Arapahoe (later shortened to "Arapaho") and Custer City, in Custer County. Clarence set up a medical office in Arapaho, and practiced for many years. As she aged, Clarence's mother came to live with them.
Boarded-up St. Louis and San Francisco ("Frisco") railroad depot in Arapaho.
The federal census enumeration of 1900 shows Clarence, Clara and son Harry, as well as Clarence's 72-year-old mother, making their home in Grant Township, Custer County. Clarence's occupation was listed as "physician."
Clarence's mother often wrote letters home to Indiana, describing the family's comings and goings. In one, she wrote: "Clarence Said he would go out to John Blackletter and look a round and see if he could teach a scool sesion for pastor it is fifty miles north west out to the boyes clamines... Clarence planted fifty acres of corn last week."
In another letter, she wrote:
wee went over to clarences last friday to get some more close while we was thare a sick man came in and wanted to lay down clarence brought him in the back room and was fixing my bed to put him in when i went out i herd last eveing that the man had the smallpox i dont know if i will take it or not i think i had better go to martons and stay till i see if i get sick or not. They have had the Small pox this spring i never heard from Clarences all the time i was gone, they never came to see wither i was sick or well the neighbors are all talking about the way the treatment i get.
Sadly, Clarence and Clara separated and divorced during the decade between 1900 and 1910. She died in May 1949 in Worthington, Owen County, IN. She was laid to rest in the Farm Cemetery.
In about 1904 or 1908, Clarence married his second wife, Livonia Houston (1878- ? ), the daughter of B.M. and Emma (Huspeth) Houston of Missouri. He was 14 years older than his new bride. They had no children.
The 1910 census shows them making their home on 18th Street in Clinton, Custer County, beside what today is Interstate 40. By 1920, they had moved again, to Spruce Street in Custer City. By 1930, when Clarence was age 65, he and Livonia had separated. He remained in Custer City, continuing his medical practice, while she moved to Arkansas, making her home in Center Township, Polk County. The 1930 census shows her in Polk County, at age 50, with no occupation, and living alone.
Clarence, either with or without Livonia, moved to Southern California. He died in Torrance, Los Angeles County, CA on June 1, 1952, at the age of 88. He was buried in Roosevelt Cemetery.
Livoniaalso migrated to Southern California. She passed away in Gardena, Los Angeles County on Jan. 30, 1960. On her California death certificate, her birthplace was listed as Kansas, although all of the census records show the birthplace to have been Missouri.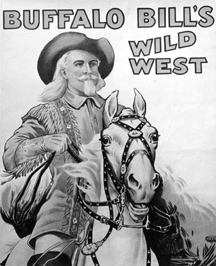 Poster for Buffalo Bill's Wild West show
~ Son Harry Harold Dean ~
Son Harry Harold Dean (1889-1986) was born in 1889.
He toured the country as a young man, playing the trombone in circuses. He spent part of a summer touring season with Buffalo Bill Cody, but quit in a dispute over pay.
He was featured in a 1979 edition of the Daily Californian, entitled "Crest Man Blew His Horn with the Best of Them."
Harry married Emmeline Stout (1892-1980).
They had at least one daughter, Mildred Krueger.
Harry passed away in San Diego County, CA on March 26, 1986, at the age of 97. More about his life is being researched.
~ Daughter Mildred (Dean) Krueger ~
Daughter Mildred Dean ( ? - ? ) was born in (?).
She was Director of the North County branch of the American Heart Association until retirement in 1980.
Her husband, George D. Krueger ( ? - ? ), was a World War II veteran who was wounded in the battle of Tarawa in the South Pacific.
The James H. Dean Family history states that Mildred and George:
... had one of the first homes built by the U.S. Government for paraplegics whose disabilities resulted from the war. The home was completed in 1949. He died in 1963. Major Krueger was a college athlete and is in the Whittier College Football Hall of Fame.
Quoting from Mildred's newspaper obituary:
Mrs. Krueger was a founder of La Mesa Junior Womans Club in 1952, and she became charter president, serving 1952 to 1954, when she was elected president of the San Diego District Junior Membership. She was elected state president of the California Federation of Junior Womens Clubs in 1958.
Copyright © 2003, 2009 Mark A. Miner.
Excerpts from Nelson Eddy's James H. Dean Family manuscript used with permission. Buffalo Bill's Wild West poster courtesy of the Library of Congress American Memory Project.