Home

Florence Etta 'Flora'
(DeMoss) Wake
(1864-1938)
Florence Etta (DeMoss) Wake was born in January 1864 (or 1865) in Van Wert, Van Wert County, OH, the daughter of Charles W. and Eliza (Miner) DeMoss.
When Flora was age three, her father, a Civil War veteran who never truly recovered from his wartime ailments, passed away, leaving her fatherless. Her mother remarried again when Flora was age eight, to William Cornwell.
Shortly afterward, Flora and her mother, stepfather and siblings migrated westward to Nebraska, settling in Columbus, Platte County. When Flora was age 19, in 1883, her mother and stepfather divorced. Her mother later moved again, to Kinsley, Edwards County, KS, but Flora is not thought to have gone with her.
At the age of 17, Etta was a teacher in a school in the Columbus area, and attended the annual teacher's institute. The news was reported in the Columbus Journal.
On March 25, 1885, when Flora was 20, she married 25-year-old Charles William Wake (1859-1932), the son of Charles and Emma (Shefford) Wake, and a native of Omaha. The ceremony was held in Columbus at the home of county judge John J. Sullivan, who officiated. The marriage was announced in the Columbus Journal, which said that "the heartiest congratulations of this young couple are tendered them by their friends."
The Wakes had three children -- Charles Christian Wake, Dora Marguerite Wake and Ethel P. Black.
The Wakes made their home in Schuyler, NE circa 1893. That year, in May, Flora became seriously ill, and her aunt Caroline (Crumrine) Miner traveled from Columbus, NE to provide care, as noted in the gossip columns of the Journal.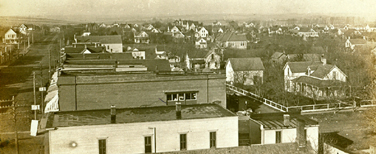 Bird's eye view of the west half of Newman's Grove, Nebraska
When the federal census was taken in 1900, the Wakes lived in the village of Newman Grove, Madison County, NE. Charles was employed that year as a dry goods salesman.
By 1910, the family had migrated to the Beaver Precinct of St. Edward, Boone County, NE. There, Charles continued his longtime work as a salesman in dry goods merchandise. Daughter Dora, age 20, assisted him with sales in the store. Daughter Ethel, age 19, was a teacher in a local school.
The census of 1920 shows the Wakes living on Main Street in St. Edward. Charles' occupation was as manager of general merchandise. Daughter Dora, now age 30 (but stated on the census as 27), was a clerk in the store.
In 1922, residing in St. Edward, Flora wrote to the United States Pension Commissioner in Washington, DC. She said her maiden name had been DeMoss and that she wanted "any information you may have in your dept" about the Civil War service of her father, "Charles Warren DeMoss."
Continuing to move around, Charles and Flora migrated during the 1920s to Fremont, Dodge County, NE. The census of 1930 shows them making their home in West Eighth Street, but with Charles having no occupation. Daughter Dora, now 36 (or 39), was employed by J.C. Penney Company as a sales lady. Photographer L.B. Skoglund, age 45, who ran his own studio, lodged under their roof that year.
Sadly, in 1932, Charles died in Fremont at the age of 73. He was laid to rest in the local Memorial Park Cemetery in Fremont.
Flora outlived her husband by six years. She joined him in death on May 26, 1938. She was age 74 at the time, with an obituary in the St. Edward Advance stating that she was "past 70." Funeral services were conducted by Rev. D.K. Miller of the Presbyterian church of Cedar Bluffs.
~ Son Charles Christian Wake ~


Charles and Cora Wake
Son Charles Christian Wake (1887-1953) was born on July 22, 1887 in Genoa, Nance County, NE.
As a boy or teen, he migrated with his parents and siblings to St. Edward, Boone County, NE.
He was tall and slender, with blue eyes and brown hair.
In about 1909 or '10, Charles married Cora E. Warner (1889-1963).
They together produced a family of at least four children -- Donald L. Wake, Alan Earl Wake, Robert Warner Wake and Kathryn V. Snetzer.
When the federal census was taken in 1910, the Wakes lived in St. Edward, where Charles worked as a printer.
During World War I, in June 1917, Charles was required to register for the military draft. At the time, he stated that he was a self-employed printer in St. Edward, publishing the St. Edward Advance.
The 1920 census shows the Wake family living on Second Street in St. Edward. Charles reported his occupation as editor of the city newspaper. The paper, the Boone County Advance, was Republican in its orientation and published every Friday. Circulation was about 700.
During the 1920s, Charles left the newspaper and was appointed postmaster in St. Edward, with Cora serving as assistant postmistress.
Then in the fall of 1931, they moved from to Omaha, where they remained for a dozen years. Their son Alan remained behind in St. Edward to complete his senior year in high school, "with all indication that he would be chosen valedictorian of the next spring," said the Advance. But senseless tragedy intervened in November 1931 when their son died after suffering a football injury.
Their address in 1940 was 2514 Spencer. In 1947, he and Cora relocated again, to Phoenix AZ.
Charles died at the age of 66 in Phoenix on Dec. 15, 1953. His remains were returned to Nebraska for interment in his wife's family plot in Herman, Washington County. Obituaries were printed in the Omaha World-Herald and St. Edward Advance.
Cora survived him by a decade. She passed away in 1963.
Son Donald Lloyd Wake (1912-1965) was born on Oct. 17, 1912 in St. Edward, Boone County, NE. He was a graduate of the University of Nebraska. Donald's first bride was Jayne Jarjorie Blomberg (1915-1997). They were the parents of Patricia Smith and Carl Kingsley Wake. Their marriage ended in divorce. Donald then entered into marriage with Katherine Marie (Bosler) Gogel (July 12, 1907-1976), who went by the nicknames "Tootsie" and "Tootie." She had been married before to Aloys Anthony Gogel (1902-1960) and brought two stepsons into the second union -- Aloys Francis "Al" Gogel and Anthony Gogel. He followed in his father's footsteps and became a newspaperman. His early assignments were in Nebraska and Texas followed by the St. Louis Star-Times. He joined the staff of the St. Louis Post-Dispatch in 1941. But with World War II aflame, he joined the U.S. Office of War Information in 1943 and remained for the duration of the conflict. He returned to the Post-Dispatch in 1946. In time he was named copy editor of the paper's Everyday Magazine. The family dwelling in the mid-1960s was at 2490 North Waterford Drive in the Florisant section of the city. The Wakes traveled to Texas and Florida on vacation in November 1965, But sadly, en route home, while in Chattanooga, TN, he suffered a heart attack and died instantly at the age of 53 on Nov. 4, 1965. The body was brought back to St. Louis for funeral rites at St. Dismas Catholic Church and interment in Calvary Cemetery. Katherine spent her widowed years at 305 South Florissant Road in Ferguson, MO. She maintained a membership in the Goff-Moll post of the American Legion. She passed away on Dec. 6, 1976 at the age of 69. Former wife Jayne married again to Col. Lloyd Lowndes "L.L." Brown (1898-1965), a career Army officer who had received the Croix de Guerre from France during World War I. At her death on Oct. 25, 1997, she was laid to rest in Arlington National Cemetery.
Granddaughter Patricia Wake married (?) Smith. Circa 1965, the Smiths were in Atlanta.
Grandson Carl Kingsley Wake (1946-1999) was born on May 13, 1946 in St. Louis. He was a 1964 alumnus of Manatee High School and then served in the U.S. Army, with deployment to Seoul, South Korea. At one point he was assigned to the 82nd Airborne Division. In 1971, he graduated from the U.S. Military Academy Preparatory School at Fort Belvoir, VA and then entered U.S. Military Academy at West Point. On Dec. 19, 1971, in nuptials held in the chapel of Andrews Air Force Base, he entered into marriage with Sallie Anne Hester ( ? - ? ), daughter of Lt. Col. Henry Edward Hester. The couple intially dwelled at Fort Benning, GA. In the late 1990s, twice-divorced and without children, he dwelled in Bradenton, FL, although he was known to be part of a sailing community anchored at Fort Lauderdale. In 1998, he purchased a 41-foot-sloop, La Vie en Rose, built in South Africa with highly sophisticated electronic tools. Then in 1999, he sailed the La Vie from Norfolk on a one-man expedition down the East Coast, toward Bermuda and thence to the virgin Islands. Tragically, while in the Virgin Islands on Nov. 17, 1999, he was caught in Hurricane Lenny while trying to pilot a yacht. He and fellow sailor Steve Righby apparently radioed that they were planning to abandon the boat and board a life raft at their position off St. Croix, about 80 miles west of the island of Saba. The two men were overwhelmed in the storm and went missing. In response, the U.S. Coast Guard dispatched air crews on a search and rescue mission. But there was no hope, and after an effort of three-and-a-half days, Carl's body was recovered four miles west of Saba, still wearing a life vest. The remains were transported to South Carolina to sleep for all time in Hester Cemetery in Abbeville County. Rev. David Kotzebue officiated the funeral rites. A sister-in-law from the first marriage said in the Bradenton Herald that Carl was "well loved by everyone and will be sorely missed. He was a true sailor and would have wanted it this way." A friend from the Regatta Pointe Marina called Carl a gentleman and knowledgeable sailor. An obituary also was published in the Atlanta Journal-Constitution. In a Dec. 5, 1999 commentary in the Miami Herald, columnist Fred Grimm wrote:

His friends and envious acquaintances could track his sea journey on his Web site. Except that the dotted line charted across the Web site's map of the western Atlantic intersected the path of a rare, unpredictable and incredibly furious late-season hurricane. And the cheery Web site and e-mail abruptly became dispatches of despair. The vicarious adventure of charting Carl became the vicarious hell of Hurricane Lenny... His Web site became a lengthy chronicle of regrets and prayers. Perhaps unspoken -- or unposted -- was a touch of envy, even of his death. We dreamt it. He lived it.

Step-grandson Aloys Francis "Al" Gogel (1927-1973) was born on June 22, 1927. He married Mary Louise Meehan (1930-2017). The four children they produced together included Janice Smith, Suzanne "Suzy" Green, Mary Beth Hackett and Joseph Gogel. At the age of 45, he surrendered to the spirit of death on Feb. 2, 1973. His funeral mass was sung at St. Angela Merici Church. Burial followed in Calvary Cemetery, St. Louis. As a widow, Mary Louise endured for another 44 years. She passed away in Kirkwood, St. Louis County at the age of 87 on June 14, 2017. An obituary said she was survived by 10 grandchildren and 10 great-grandchildren. Her mass was conducted in St. Peter Catholic Church, with her remains interred in the church cemetery, Kirkwood.

Great-granddaughter Janice Gogel wed Ted Smith.

Great-granddaughter Suzanne "Suzy" Gogel married Robert Green.

Great-granddaughter Mary Beth Gogel was joined in wedlock with Randy Hackett.

Great-grandson Joseph Gogel entered into marriage with Sharon.

Step-grandson Anthony John Gogel ( ? -? ) was born in (?). He received a bachelor's degree from the University of Missouri at Columbia and then a master's degree in finance from the University of Kansas at Lawrence. On Aug. 31, 1968, he was joined in wedlock with fellow student Celeste Ann Cody, daughter of Edward John Cody of Kansas City. At the time, she had studied at Fontbonne College and then was enrolled at UK. The wedding was held in Kansas City's Visitation CAtholic Church, by the hand of Rev. Lawrence Walsh, and announced in the Kansas City Star. The Star reported that the "bride's gown of peau de soie and silk organza featured a bodice of re-embroidered French lace and lace appliques on the A-line skirt and detachable train. Her chapel-length veil was held by a matching Dior bow, and she carried a nosegay of roses, stephanotis, gypscophila and ivy."
Son Alan Earl Wake (1914-1931) was born on Dec. 21, 1914 in St. Edward, Boone County, NE. His nearly 17 years of life were spent in the town. As a Boy Scout in May 1929, he and friends took a 14-mile hike to Boone, NE to fulfill a bdge requirement. He also was active with the local 4-H Club. Tragically, Alan suffered an injury on Oct. 16, 1931 while playing football. It was "diagnosed as an abscess on the bone below the hip," reported the St. Edward Advance. He was admitted to the University Hospital in Omaha, where he underwent several surgeries before developing pneumonia. Friends donated blood on his behalf. The Advance said on Nov. 19 that "the transfusion given Alan ... did not help him as much as the doctors had hoped and that his father, Chas. Wake, had given him another transufusion since the St. Edward boys visited there... The boy is making a game fight for life and all St. Edward and community are anxiously awaiting news from his bedside." He reputedly said that "I'll be back in St. Edward for the big gam eon Thanksgiving." A recovery was not to be. A little more than a month after being hurt, he succumbed to the spectre of death at the age of 16 years, 11 months and one day on Nov. 22, 1931. Rev. Dr. P.M. Simms, assisted by local pastor and Boy Scouts leader Rev. Jackson, jointly conducted the funeral service in Blair Methodist Church. Performing vocals in a quartet were Ray Meyer, Lester Schafer, Carroll Nygren and Allen Bennett. One obituary said he was "the second member of the St. Edward high school football team to die of injuries incurred on the gridiron this season," after fellow player Willie Weed died from a hard fall. In response, the high school canceled the annual Thanksgiving football game, and the Advance opined, "The music of boyish laughter has been stilled, cold icy winds sweep over two fresh mounds in cemeteries far from each other, many, many hearts are aching." The Advanceprovided additional details of his life.
This fall his parents moved to Omaha but he remained here securing a position at the Knudsen Drug Store to work his way through his Senior year at the High School with all indication that he would be chosen valedictorian of the next spring. A glance at last year's record in the "Beaver" gives an idea of what High School meant to Alan and what Alan meant to the St. Edward High School. His name is found int he Boys' Glee Club, The Maroon Pepsters, The Dramatic Club, The Junior Class Play Cast, Football, Basketball, Track, and S.E. Club. As a student he excelled in his work and only a few days before his injury had been chosen as Boone County's representative in the American Legion-World Herald young citizenship contest. When he as notified that he was a winner and would be entertained for several days in Omaha, he was already in Omaha, a patient at the University hospital, although at that time his condition was not regarded as critical. Before long, however, it became a fight and death was the victor. St. Edward and the halls of the old High School will hear his voice no more. He too gave his life to hold the score for St. Edward... Services were attende by a large crowd there being more than one hundred in the St. Edward delegation which included many friends of the family as well as large numbers of High School companions, practically all of the Pepsters, all the football boys, the Board of Education, the High School Faculty and Miss Hehnke. Dr. Simms preached on the hereafter, stating practical illustrations to prove the next life. He remarked that heaven was no place to sit with a crown and a long robe, it was a place of love and life and joyous work. "Alan," he said, "would want no sitting with a harp in his hands, he would want work." He pictured heave as it would best appeal to youth... Alan's S.E. pillow bore three service stripes and both were the real letters worn on the sweaters and donated by pals on the squad as personal gifts. Burial was made in the Herman Cemetery, a beautiful spot overlooking the river. The body was laid to rest beside those of his maternal grandparents... All business houses in St. Edward were closed during the funeral hour in Blair.
Son Robert Warner Wake (1917-1976) was born on Jan. 7, 1917 in St. Edward, Boone County, NE. His employer in 1940 was Gibbs and Company of Omaha. He was married and divorced but without reproducing by 1941. He joined the U.S. Army in 1941, the year our nation entered World War II. He trained as a bomber pilot and served in the Asia-Pacific Theatre during the war. After the war ended, he moved into the field of military intelligence and was an early professional in the very young field of U.S. Air Force computing and data processing. He was joined in wedlock with his first bride, Dorothy Louise Norton ( ? - ? ). The nuptials were held in Papillion on May 5, 1934. One daughter of the couple was Barbara Louise Wake. The pair divorced,. Robert's second spouse was Betty Jane Wehr (1918-1971). They tied the knot in Dallas, TX on Sept. 4, 1943. An only son of this union was Richard Hampden Wake Buckley. The second marriage also terminated in divorce, citing indignities, in Sheridan County, WY on Sept. 2, 1947. While in the Panama Canal Zone in 1949, at Albrook Air Force Base, Robert met and married his third wife, Esther Jeannette Schreiber (1921-1998). They had two sons. Esther was a 1938 graduate of East Detroit High School and a 1943 alumna of Western State Teachers College, today known as Western Michigan University. He re-enlisted on the Air Force on Nov. 18, 1950. Their postings over the years include stints in Honolulu (1950), Maryland/Washington, DC (1953) and the Philippine Islands. While in Hawaii, at Wheeler Field Air Force Base, Esther earned income as a secretary with the Justice Department. In 1962, he retired from the Air Force and the brood moved to California, with him working in the aerospace industry. Esther enjoyed duplicate bridge and was a member of the American Contract Bridge League (ACBL). Their final home together was in Escondido near San Diego, CA. He died on Sept. 5, 1976. His remains were buried at sea, although a marker stands in his memory in Herman (NE) Cemetery. Esther joined him in eternity in Escondido on Oct. 16, 1998. In all, from two marriages, Robert had three sons and a daughter.
Granddaughter Barbara Louise Wake (1935-2016) was born on May 18, 1935 in Omaha. Evidence suggests that she was wed twice and bore one child. Barbara spent many years in the Monterey Peninsula of northern California. She enjoyed gardening and traveling. For the last 35 years of her life, she was a companion of Chris Kuhlken. Death enveloped her in Seaside, Monterey County, CA on March 4, 2016. An obituary appeared in the Monterey Herald.
Grandson Richard Hampden Wake (1944- ? ) was born on Aug. 4, 1944 in Sheridan, WY. He was very young when his parents divorced. He was a high school graduate and six years of college study. His first marriage was to Jane E. Buckley ( ? - ? ). The union was dissolved in Gallatin County on Oct. 1, 1973. Circa 1979, he was living in Billings, Yellowstone County, MT. On May 19, 1979, he was joined in wedlock with Jeanne Kay Larson (1950- ? ), also of Billings, and the daughter of Arnold Vernon and Dorothy Louise Larson and stepdaughter of Dearl Harold Buckley. Rev. Terrence Rudd presided over the wedding ceremony.
Daughter Kathryn V. "Kay" Wake (1918-1996) was born on July 15, 1918 in Nebraska. She married Robert E. Snetzer (Jan. 1, 1917-1981). They made a home in Omaha in the mid-1930s. The pair's only child was Virginia "Gini" Terpening. Both Kay and Robert served in the U.S. Armed Forces. Kay served as a first lieutenant in the Army Air Forces, while Robert rose to become a lieutenant colonel, commanding the 2nd Engineer Battalion. His service record included World War II, from Jan. 17, 1945 to Sept. 8, 1945, and later the Korean War and Vietnam War. Grief blanketed the family when Robert passed away at the age of 64 on March 7, 1981. She died at the age of 77, on May 28, 1996. Burial was in Fort Sam Houston National Cemetery.
Andrew Terpening at New Mexico
1953 Football Illustrated

Granddaughter Virginia "Gini" Snetzer (1936-2010) was born on Jan. 3, 1936 in Omaha. She grew up as an Army "brat" with both of her parents serving in the military. She was joined in wedlock with Andrew L. "Andy" Terpening (June 2, 1933-2018), son of J. Henry and Rita (Stanley) Terpening and a native of Artesia, NM. They bore a brood of four -- Kathryn Terpening-Hejl, Kristin "Krissy" Terpening, John Ellis Terpening and Kelly Gurley. Andrew was a 1951 graduate of Artesia High School, where he played football and earned a spot on the All-District team as a fullback and punter. He went on to study at the University of New Mexico on a football scholarship, and was pictured in the 1953 Football Illustrated Pictorial Annual. Andrew then received an award as having the best punting average in 1954 from the National Collegiate Athletic Association (NCAA). He was commissioned in 1955 as a second lieutenant in the U.S. Air Force and spent 22 years in the service of our nation. He became a licensed pilot in 1957, logging more than 3,500 hours of airtime at the helm of aircraft such as the T-33, F-84, F-100 and F-4 Phantom jet fighter. The family relocated over the years to military sites in Montgomery, AL, Turkey, Germany, Florida and Arizina. They made their final move in the mid-1970s to Austin, TX, with an address of 6909 Grove Crest Drive. Among his commendations were the Distinguished Flying Cross, Air Medal, Meritorious Service Medal, Bronze Star, Air Force Commendation Medal, Vietnam Service Medal and Vietnam Campaign Medal. Andrew retired from the Air Force on New Year's Day 1977 with the rank of lieutenant colonel. He then began a second career with HEB Grocery Company and continued until retiring in 1996 as a store director. By 1982, the couple divorced, with Virginia staying in Austin and Andrew moving to Round Rock. Said an obituary, Virginia was "a lifelong student, a voracious reader, and lover of travel, movies, and meeting new people. Exceptionally generous with her time, Gini was a hospice volunteer for nearly 20 years, a grief counselor, Stephens minister, scout leader, the most vocal fan at any of her kid's or grandkid's sporting events (with a cowbell, no less!), a self-described arts and crafts addict, and a wonderful writer and correspondent. Gini warmed the heart of everyone she met, and [one] always felt better for having spent time with her." Grief descended upon the family at the death of daughter Kathryn in 1986, at the age of 29. Virginia surrendered to the angel of death at the age of 74, in Austin, on Feb. 25, 2010. Her ashes are said to be scattered in the Riverbend Church grounds in Austin. Former husband Andrew married again to Johanna (Bouillon) Shugart ( ? - ? ). Their union endured for 36 years, including a move in 2000 to Fairfield Bay, AR. Their final home together was in White Hall, AR. There, he died on Nov. 14, 2018. An obituary in the Arkansas Democrat Gazette said that he "loved and enjoyed life and was a fiercely patriotic American. He lived his life with integrity and honesty."

Great-granddaughter Kathryn Ann Terpening (1957-1986) was born on Jan. 24, 1957. Said the Austin (TX) American-Statesman, she grew up in "many places of this earth. Places that most of us only dream of. Her dreams were never limited." In the mid-1970s, she moved with her family to Austin, Travis County, TX. During a brief first marriage, she produced a son, Bryan. Then on July 17, 1982, she entered into marriage with Paul Scott Hejl ( ? - ? ), son of Walter and Peggy (Rice) Hejl of Austin, TX. He was an alumnus of Stephen F. Austin High School and Southwest Texas State University. In young manhood he managed Rylanders supermarket in Austin. Sadly, their union only lasted for four years until cleaved apart by death. After what the family termed "a very brave fight," she passed away at the age of 29 on Aug. 19, 1986. A memorial service was held in the Westminster Presbyterian Church, with an obituary appearing in the American-Statesman. Her remains sleep for all time in Cook Walden Forest Oaks Memorial Park in Austin.

Great-granddaughter Kristin "Krissy" Terpening ( ? - ? ) was born on (?). She grew up in Montgomery, AL, Turkey, Germany, Florida and Arizona before settling in Austin when she was a teenager. She was a 1978 graduate of Crockett High School, where she was a member of the track and field team, running hurdles, throwing the discus and shot put. She then attended Auburn University. She competed in javelin in 1981 in the Association for Intercollegiate Athletics for Women (AIAW) track and field championship in Austin, and was pictured in a related story in the Austin American-Statesman. At that time, the best throw of her career measures 157 ft. That same year, she led the entire Southeastern Conference in discus with a throw of 152 ft., 6 inches, with her name enshrined in the SEC's Outdoor Track & Field Record Book. She went on to earn a master of science in wildlife biology at Texas State University. In 2004-2005, she spent a year at the Center for Furniture Craftsmanship. Her career has included roles as a biologist, woodworker for sailboats, yachts and furniture, and from 2011 to 2022 as a habitat specialist with the Arizona Game and Fish Department, She is married to Shannon Breslin ( ? - ? ), daughter of Leo Harold and Mac Jeanett (Jones) Breslin. In recent years, Kristin is known to have served as president of the Tucson chapter of the Ostomy Support Group.

Great-grandson John Ellis Terpening ( ? - ? ) was a private in the U.S. Army circa 1986, training at Fort Benning, GA. On June 24, 1989, in nuptials held at First Baptist Church of Eddy, TX, he was joined in wedlock with Kristi Diane Price ( ? - ? ), daughter of Bruce B. Price of Eddy. Rev. Mike Paschall led the rites, with the marriage announced in the Austin American-Statesman. The newlyweds' first residence was in Waco, TX. Their marriage ended. and he wed again to Sebrina (Fitzpatrick) Fowler ( ? - ? ), daughter of Bobby Joe Fitzpatrick.

Great-granddaughter Kelly Terpening ( ? - ? ) was born on (?). She was an alumnus of Crockett High School and attended Southwest Texas State University. She went on to employment with Capitol of Texas Title Company. On Aug. 10, 1985, she wed Greg Gurley ( ? - ? ). The ceremony was held at the Woodlawn Baptist Church of Austin, with Kelly's bridal portrait published in the Austin American-Statesman. Greg also was a Crockett graduate and earned a living with Carlson & Dippel Surveying Company, and attended Austin Community College.
~ Daughter Dora Marguerite Wake ~
Daughter Dora Marguerite Wake (1889- ? ) was born in August 1889 in Columbus, NE.
By 1910, at the age of 19, Dora lived with her parents in the Beaver Precinct of St. Edward, Boone County, NE. There, she assisted her father in a dry goods merchandise store.
Dora remained in her parents' household during the 1910s. The census of 1920 shows the home to be on Main Street in St. Edward. Dora continued her work as a clerk in the store managed by her father.
Dora appears not to have married. She moved with her parents during the 1920s to Fremont, Dodge County, NE. There, she was employed as a sales lady by the local J.C. Penney Company. She continued to make a home with her widowed mother to the end.
Airplane view of Fremont, NE, home of the Wakes and daughter Dora
Circa 1947, now on her own, she continued to make her residence in Fremont. At the death of her brother Charles in 1953, Dora was in Omaha and named in the obituary in the St. Edward (NE) Advance.
She eventually moved to Denver. In about 1963, she came to Iowa when admitted to reside in Davenport's Royal Neighbors of America Home. She died in the city's Mercy Hospital on July 8, 1969 at the age of 79. Burial was in the local Fairmount Cemetery, with an obituary appearing in the Davenport Quad-City Times.
~ Daughter Ethel P. (Wake) Black ~
Daughter Ethel P. Wake (1891-1974) was born on Jan. 11, 1891 in Schuyler, NE.
When she was 21 years of age, in about 1912, she entered into marriage with 20-year-old Harris Delbert "Harry" Black (April 10, 1890-1969), a Nebraska native.
Together, the pair produced two known children -- Jean Petersen and H. Duane Black.
The Blacks made a living as farmers in 1920 in Creston, Platte County, NE.
Their residence in 1930-1953 was in Cedar Bluffs, Saunders County, NE, and they held a membership in the local Presbyterian church. Harris was employed there as manager of the Farmers Union Elevator. He continued this occupation into 1940, also handling grain, coal and lumber.
By 1969, the Blacks migrated to Lakewood, Jefferson County, CO.
Sadly, at the age of 78, Harris died in Lakewood in March 1969. His remains were lowered into the soil of Fremont Memorial Cemetery in Dodge County, NE.
Ethel survived her husband by five years and moved to Fremont. Toward the end she entered a nursing home in Fremont. Death carried her away on Jan. 14, 1974. Rev. John Swearingin led the funeral service, with an obituary published in the Fremont Tribune. Her pallbearers included Donald Gaeth, Robert Gaeth, Donald J. Launer, Henry Lubker, Harold Pearson and Robert L. Williams.
Son H. Duane Black (1914-1993) was born on Jan. 19, 1914 in Creston, Platte County, NE. He was an alumnus of Cedar Bluffs High School and a 1931 graduate of Midland Lutheran College in Fremont with a business degree. On June 12, 1935, he was united in matrimony with Doris Searl (Dec. 3, 1916-1994), a native of Morse Bluff, NE, and the daughter of Thomas A. and Nora (Denney) Searl and stepdaughter of Ina L. (Girten) Searl. Their nuptails were held in Papillion, NE. Two children borne by the couple were Adrian Black and Judith Wilson. For two decades, from about 1935 to 1955, he was employed by Omaha's Cargill Grain Company. The young family initially dwelled in Cedar Bluffs, where in 1936 Duane was appointed village treasurer following the resignation of C.E. Beebe. They moved from Cedar Bluffs to Omaha in June 1937 and were named in a "Newcomers to Omaha" column in the city's World-Herald newspaper. Then in 1955 they relocated to Denver, with Duane hired as an auditor by the United Bank of Denver. He was promoted to assistant auditor of the bank in 1963, then known as Denver United States National Bank, and pictured in the Fremont Tribune. He was a member of the American Institute of Banking and attended the Colorado School of Banking. Duane was active with the Benson Presbyterian Church of Omaha and in about 1950 was ordained as a lifetime deacon of the congregation, a role in which he served for the remaining 42 years of his life. The family also kept a summer cottage at Kings Lake where they held summertime reunions. Circa 1974, they made their residence at Grand Lake, CO, and Duane retired in 1976. The Blacks' spent their retirement years in Loveland, CO. They celebrated their golden wedding anniversary in 1985 with a family reunion and were pictured in a story in the Tribune. Duane died at McKee Medical Center in Loveland on Jan. 15, 1993, at the age of 78. His obituary appeared in the Tribune, which said that the headcount of his survivors was five grandchildren and nine great-grandchildren. His remains were lowered into repose in Resthaven Memory Gardens in Loveland. Doris lived for another year-and-a-half as a widow. Death swept her away at age 77, at home, on Aug. 20, 1994.
Grandson Adrian Black wed Tammy ( ? - ? ). They made a residence in Lakewood, CO in the 1980s and early 1990s.
Granddaughter Judith Black married Richard Wilson. They lived in Galt, CA in 1993.
Daughter Jean Black (1918-2007) was born on Feb. 16, 1918 in Dodge, Dodge County, NE. She grew up in Nickerson, Fremont and Cedar Bluffs. She was a graduate of Cedar Bluffs High School. On Aug. 1, 1937, in Cedar Bluffs, NE, she married Louis J. Petersen (1912-2000), son of P.H. Peterson. Rev. Miller presided at the wedding. They became the parents of a daughter, Dixie Pearson. At the time of marriage, Louis earned a living in Cedar Bluffs, NE with Loudon Oil Company. He is known to have served in the U.S. Army during World War II. The Petersens moved to Fremont, NE in 1945, at the end of the war, and stayed for good. He worked there for three decades with the U.S. Postal Service as a clerk and letter deliveryman. Jean earned a living as a young woman as a beautician. The family belonged to the Presbyterian Church. For over 25 years, the pair were active with the Fremont Rough Riders, an organization which Louis co-founded. Sadly, Louis died in Fremont at the age of 88 on Oct. 24, 2000. Jean survived him by nearly seven years. She died at the age of 89, in Fremont Medical Center on July 28, 2007. Rev. William Lewis officiated the funeral rites, held in the family church, with an obituary published in the Fremont Tribune. Their remains sleep for the ages in Fremont's Memorial Cemetery.
Granddaughter Dixie Petersen ( ? - ? ) was born on (?). She entered into marriage with Larry Pearson ( ? - ? ). Circa 2007, they made a home in rural Fremont, NE.
Copyright © 2006, 2008, 2011, 2015, 2023 Mark A. Miner