Tobias Sutton 'Toby' Devan
(1854-1923)

Toby Devan
Tobias "Sutton" Devan, nicknamed "Toby," was born on July 17, 1854 in Hopwood, Fayette County, the son of John and Mary Ann (Minerd) Devan. He apparently never married.
He was rendered fatherless just a few months before his 12th birthday, in May 1865. The following year, on Nov. 12, 1866, he was enrolled in the Soldiers' Orphan School in Uniontown, with a post office of Hopwood. He and his younger brothers David and George all lived at the school circa 1870, with the post office of Fayette Springs. He was discharged from the school upon reaching his 16th birthday on July 17, 1870.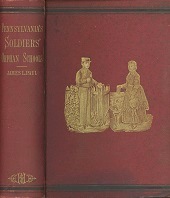 Soldier's Orphans School history
Tobias is named in the 1877 book Pennsylvania Soldier's Orphan Schools, by James Laughery Paul.
After leaving the school, Sutton lived in Hopwood and earned a living as a coal mining laborer. He never married. The Uniontown Morning Herald once said he "spent his entire life" in Hopwood and was "kindly of disposition and sympathetic with all in distress 'Toby' as he was familiarly known endeared himself to all who knew him... [He] was engaged in mining in the plants about Hopwood the greater part of his life."
In 1880, when the federal census was taken, he boarded with his married brother William in Hopwood.
In 1910, at age 55, he lived with his widowed sister in law Arthella (Fell) Devan, widowed sister Hester Logston and nephew John Devan in the old family home on Coolspring Street in Hopwood.
Afflicted with kidney and bladder ailments, Sutton died at the age of 69 on Aug. 21, 1923. In an obituary the Morning Herald noted that "Although his death was not unexpected it came as a severe shock to his many friends." Arrangements were handled by the Edward E. Minerd Funeral Home, and services were held at the Hopwood Methodist Protestant Church. At the funeral, the church choir sung "Abide with Me," "Rock of Ages" and "Crossing the Bar." Burial was in Hopwood Cemetery. Mrs. Lawson of Hopwood provided details for his official Pennsylvania certificate of death.
Copyright © 2014-2015 Mark A. Miner