Carrie 'Livona' (Dillow) Bothwell
(1876-1966)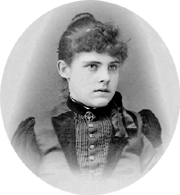 Carrie Livona Bothwell
Carrie "Livona" (Dillow) Bothwell was born on Jan. 28, 1876, in or near Madison County, OH, the daughter of William and Elizabeth (Houser) Dillow.
As a girl, sometime prior to 1881, Livonia and her parents and siblings migrated westward to Central Illinois. They settled in the town of Weldon near Clinton, DeWitt County.
On Sept. 22, 1897, when Livona was age 21, she married 25-year-old John Edward Bothwell (1871-1958), the son of James E. and Margaret "Maggie" (Rice) Bothwell, and a native of Montreal, Quebec Province, Canada. The wedding ceremony was performed by B.F. Shipp, pastor of the Methodist Episcopal Church of LeRoy, McLean County, IL, in the home of the bride's parents near Clinton, eight miles south of LeRoy. Their best man was Livona's brother David "Alfred" Dillow with their sister Sylvia C. Dillow attending.
At the time of marriage, Livona was residing at Solomon, DeWitt County, and John was a farmer residing in Iowa, making his home near the village of Gilmore City, Pocahontas County.
According to a Bothwell family website, John "was born in Canada and traveled with his parents as a baby to Iowa in 1873. After staying a few years in Fort Dodge, his Father 'Jim' moved to the prairie and bought the land to farm, where eventually Gilmore City would be founded."
John's tract of 80 acres is marked in the 1896 Atlas of Humboldt County, in the plat of Weaver Township 91 North, Range 30 West (North West Publishing Co.).
John and Livona together produced a family of five children -- Gerald Bothwell, Jessie Bothwell, Merle Edward Bothwell, Rollin Earl Bothwell and Irma Potter Winbenbach.
Sadly, daughter Jessie died at the age of 14, on Aug. 28, 1916, in Garfield, IA. The cause of her untimely passing is not yet known. Her remains were laid to rest in Marble Valley Cemetery north of Gilmore City.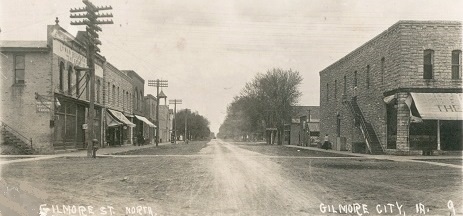 Gilmore Street looking north in Gilmore City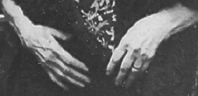 Livona's weathered hand
s, reflecting a lifetime of hard work
When the federal censuses were taken in 1910 and 1920, the Bothwells made their home in Lake Township, Pocahontas County, IA. During that period of time, John's occupation was listed as "farmer."
The United States Census of 1930 lists the couple in Weaver, Humboldt County, IA, living in a rented farmhouse. In 1935, they were back in Pocahontas County, IA and by 1940 had returned to Gilmore City. Their nest was empty in 1940.
Livona and John chose to mark their golden wedding anniversary in 1947 with travel to Tacoma, WA, where their son Rollin was living. The couple renewed their wedding vows, led by Rev. Earl Gosa of the First Baptist Church. They were pictured in a related story in the Tacoma News Tribune, which said that "Attending the couple were the original best man, Alph Dillon [David "Alfred" Dillow], brother of Mrs. Bothwell, and their daughter, Mrs. Irma B. Potter... A tiered cake, trimmed in gold centered the lace-covered dining table, and a floral arrangement of talisman roses and pompon dahlias was set on the main table." Their son Gerald flew in from San Jose, CA to be part of the celebration, and son Alfred and his wife came in from Oregon City, OR.
The Bothwells eventually left Gilmore City for good and relocated to Tacoma.
John died in Tacoma on May 31, 1958, at the age of 86.
Livona survived her spouse by eight years.
She passed away at the age of 90 on July 15, 1966, in Tacoma. Her first name, as spelled in the Social Security Death Index, was "Livonne." Their remains both were returned to Iowa for burial at Marble Valley Cemetery, Gilmore City.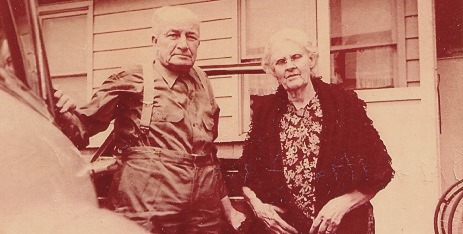 John and Livona, summer of 1954
~ Son Gerald Elwood Bothwell ~
Son Gerald Elwood Bothwell (1899-1974) was born on Nov. 3, 1899 in Gilmore City, Pocahontas County, IA. He grew up on his parents' farm near Gilmore City.
At the age of 22, he resided in Fort Dodge, IA and was employed as a fireman with the Illinois Central Railroad. He was tall and of medium build, with blue eyes and dark hair.
On June 21, 1921, the 22-year-old Gerald entered into marriage with 22-year-old Mae Elizabeth Anderson (1899-1986), also of Fort Dodge and the daughter of Peter and Christine (Youngberg) Anderson. The nuptials were held in Webster City, IA, by the hand of Methodist minister Rev. R.T. Chipperfield, and witnessed by Cyril and Mary Woodson.
Two children born to this pair were Donald Bothwell and Lois Erma Klapper.
Gerald sued Mae for divorce in October 1931, but their case was dismissed. Eventually the couple secured a divorce.
In May 1935, Gerald made news in the Humboldt Reporter when he badly lacerated a hand and was treated in a hospital in Fort Dodge. He relocated to California in about 1939 in the waning years of the Great Depression. By 1940, he appears to have spent part of the time in Klamath Falls, OR.
Gerald earned a living in California as a civil engineer with the Ferguson Construction Company. He was a member of the Ben Ali Temple of the Solano Shrine, the Masons and Elks lodges and the Knights Templar Eye Foundation. Circa 1947, he resided in San Jose, and flew to Tacoma to be part of his parents' 50th wedding anniversaryparty that year. Then in 1951, he dwelled in Newhall, CA.
Gerald's second wife was Katherine Edith (Peterson) Waynick (1902-1991). They were wed in Los Angeles on Oct. 21, 1951. In announcing the marriage, the Santa Clarita Signal said that the reception was held "at their home, with the patio and garden tastefully decorated." Their marriage lasted for 17 years, and the pair divorced in July 1968.
John in 1970 dwelled in Tacoma at the address of 159 South 136th Street.
At the age of 70, circa May 1970, John wed a third time to 66-year-old Frances M. (Humke) Rolstad ( ? - ? ), daughter of George and Emma (Kurdelmeyer) Rolstad. Their home in 1974 was 108 Lemon Tree Place in Vacaville, CA.
He died in a hospital in Fairfield, CA on July 27, 1974. His remains were placed into eternal sleep in the mausoleum of Fairmont Memorial Park in Fairfield. An obituary in the Vallejo Times-Herald noted that he "lived in Solano County 20 years and in the state for 45 years."
Daughter Lois Erma Bothwell (1922-2010) was born on Aug. 28, 1922 in Fort Dodge, Webster County, IA. Dr. Allie Hoyt Wakeman attended at the birth. Lois relocated to California. When she was 22 years of age, on Dec. 10, 1946, Lois was joined in wedlock with Malcolm Lee Klapper (Sept. 23, 1918-2006), a native of Collin, TX. They resided in Santa Clara County, CA. Sadly, Malcolm surrendered to death in Santa Clara on May 24, 2006. Lois lived for another four years as a widow. She died on June 7, 2010, also in Santa Clara.
Son Donald Bothwell (1924- ? ) was born in 1924 in Fort Dodge, Webster County, IA. In adulthood in 1974, he made his home in Cupertino, Santa Clara County, CA.
~ Son Merle Edward Bothwell ~
Son Merle E. Bothwell (1907-2002) was born on Jan. 18, 1907 in Gilmore City, Pocahontas County, IA. The only record of his birth was an inscription in the family Bible.
In 1941, when he was 34 years of age, he dwelled in Los Angeles at the address of 1436 West 60th Street. To prove his citizenship, he furnished a certified copy of the family Bible record.
He migrated to California. On July 23, 1949, in a wedding held in Ventura, CA, he entered into marriage with 41-year-old Freda Lucille (Lemon) Corley (Feb. 28, 1908-1991), a native of Oklahoma. News of their nuptials was published in the Humboldt (IA) Independent.
They resided in 1982 in Lakehead, CA.
Sadly, Freda died in Los Angeles on Jan. 18, 1991.
He surrendered to the spirit of death in Buena Park, CA on Jan. 20, 2002.
~ Son Rollin Earl Bothwell ~
Son Rollin Earl Bothwell (1912- ? ) was born on March 22, 1912 in Lake Township, Pocahontas County, IA.
Circa 1930, he is known to have lived with his parents at the age of 18 in Weaver, Humboldt County, IA.
He learned the trade of carpentry, which provided his means of income over the years.
Rollin and his brother Gerald made their way to the West Coast in 1939.
On May 25, 1940, in a wedding held at the Sts. Peter and Paul Church in Tacoma, WA, he was united in holy matrimony with 23-year-old Eva Helen Karwoski (May 13, 1916-1999), daughter of Polish immigrants Frank ad Tillie Karwoski Sr. of Pallyup, Pierce County, WA. Rev. Henry Roczycki officiated. In announcing the marriage, the Tacoma News-Tribune said that Eva "was gowned in white satin styled with a lace yoke and stand-up collar. She carried a bouquet of Cecil Brunner roses, white staphanotis and white feathers." A wedding breakfast was served for 150 guests in the parish hall.
Their union endured for 42 years until cleaved apart by death. They did not reproduce.
The newlyweds made their first home together in Pallyup. They belonged to Our Lady Queen of Heaven Catholic Church.
In 1947, Rollin's parents traveled for a visit from their home in Gilmore City and used the occasion to celebrate their golden wedding anniversary.
The couple both received serious injuries in October 1953 when involved in a two-car collision near Tacoma which killed his uncle and aunt, David "Alfred and Lissie (Russell) Dillow and their daughter Tina Jackson. The tragedy was reported in the Spokane (WA) Spokesman-Review and Corvallis (OR) Gazette-Times.
The Bothwells fortunately survived their ordeal and lived for several more decades. Their address in 1982 was 1921 208th Street East in Spanaway, WA.
Rollin died at the age of 70 on July 2, 1982. Interment of the remains was in Fir Lane Memorial Park in Spanaway. His obituary was printed in the Tacoma News Tribune.
Eva outlived her spouse by 17 years. She died on June 4, 1999. An obituary in the News Tribune noted that she was survived by a son, James Edick.
~ Daughter Irma Elizabeth (Bothwell) Potter Wingenbach ~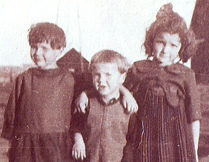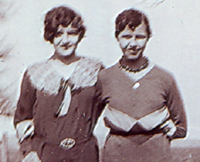 Left: Irma (at right) with her cousins Marion and Robert, circa 1923. Right: Irma and cousin Marion, in about 1935.
Daughter Irma Elizabeth Bothwell (1916-1993) was born on July 12, 1916 in Gilmore City.
She was close with her cousin Marion (Bothwell) Bracht.
Irma was joined in wedlock with (?) Potter ( ? - ? ).
Their two sons were James Edward Potter and Gary Rollin Potter.
The Potters lived in Muncie, IN at the birth of at least one son. At some point in time they or she moved to Oak Harbor, WA.
By 1982, Irma had married again to (?) Wingenbach ( ? - ? ) and was in Longwood, FL.
Irma's final years were filled with pain. She was afflicted with lung cancer, and in 1989 endured the untimely death of her son James.
She passed away on Dec. 21, 1993. Her remains were laid to rest in Florida National Cemetery in Bushnell.
Son James Edward Potter (1941?-1989) is believed to have been born on April 16, 1941 in Muncie, IN. He was a veteran of the U.S. Navy and belonged to the Veterans of Foreign Wars. James was married and the father of Patricia Elizabeth Potter, James Eugene Potter and Christopher Lee Potter. The family dwelled in Oak Harbor, WA and in 1979 relocated to Longwood, Seminole County, FL. The couple divorced, and James' mother helped raise the children. James was employed in Lake Mary, FL by National Cash Register. His address in the late 1980s was 825 East Seminole Avenue, Longwood. Sadly, at the age of 47, he died on March 4, 1989. His obituary was published in the Orlando Sentinel.
Granddaughter

Patricia Elizabeth Potter

lived in Longwood, FL in 1989.
Grandson James Eugene Potter

made a home in Longwood.
Grandson

Christopher Lee Potter

relocated to Blue Lake, CA by 1989.
Son Gary Rollin Potter made his residence in 1989 in Winter Springs, FL.
Copyright © 2000, 2007, 2008, 2011, 2014, 2021 Mark A. Miner