James Madison Dillow
(1860-1943)


James and Mandy Dillow
James Madison Dillow was born on March 3, 1860 in Round Head, Hardin County, OH, the son of William Baker and Evaline (Summers) Dillow. His mother died when Charles was age two, and his father married again, to Elizabeth Houser.
As a young man, sometime prior to 1881, James and his parents and siblings migrated westward to Central Illinois. They settled in the town of Weldon near Clinton, DeWitt County.
On Dec. 17, 1883, when James was age 23, he married Amanda Nancy "Mandy" Williams (1865-1941), the daughter of Henry and Sarah (Brown) Williams. The ceremony was performed at Storm Lake, Iowa.
The Dillows returned to Illinois for several years, where some of their children were born, but were back in Manson, Iowa in 1892 when daughter Edna was born.
They had five children in all -- Clarence Elmer Dillow, Bertha Ethel Dillow, Willard Allen Dillow, Sylvia Edna Stillman, and one unknown. Sadly, Bertha and the unidentified child died young, sometime between 1900 and 1910.
Like his father, James labored as a teamster. The 1900 federal census shows him working at this occupation in Clinton.
At some point in time, James tragically lost a hand in an accident involving a corn picker. He was hospitalized for an extended period of time, the mangled hand was amputated, and he was fitted with a hook. Over time, the stump caused him great pain, and according to family legend, a friend asked where the hand had been buried, and whether facing palm up, or palm down?. James replied that it was buried in a nice box, palm up. The friend advised that James should dig up the box, turn the hand down, and re-bury it, and the stump would quit hurting. He did so, and the pain subsided.
By 1910, the family had moved to Macon County, IL, in Oakley Township, where James had found work as a farmer.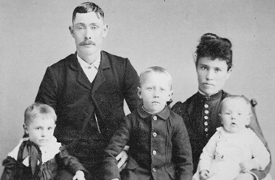 James, Nancy and children, circa 1887-1890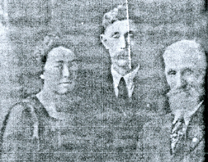 James, center, with daughter
Edna and aged father William
The Dillows moved again by 1920, and when the census was taken that year, they resided in Crystal Township, Hancock County, IA. A 12-year-old nephew, Robert Dillow, who had been born in Missouri in 1908, was living with them at the time. Their next-door neighbor was their son Willard and his wife Bessie and their sons Lester and Willard.
By 1930, James and Mandy had returned to DeWitt Township, DeWitt County, IL, where they were listed as farmers. Living under their roof that year was 18-year-old grandson Lester Dillow.
In mid-August 1937, at age 77, James attended the 14th annual reunion of the Shinneman family, held at Nelson Park, Decatur, IL. (His sister Sarah Etta Dillow married into the Shinneman family, and several of James' nieces were organizers of the annual event.) He received an award as the oldest person present. The following year, when his niece Nellie (Shinneman) Krantz was elected president, he again attended and again won the oldest person award.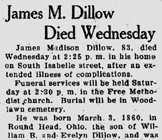 Obituary, 1943
The Dillows endured the extended illness and eventual death of their 56-year-old son Clarence in May 1940. At the time, their residence was 114 South Isabelle Street in Clinton.
Mandy died at the age of 76 in Clinton on May 17, 1941, on the eve of our nation's plunge into World War II. She was laid to rest in Clinton.
James passed away in his home on South Isabelle Street in Clinton at the age of 83 in March 1943. He was laid to rest at Woodlawn Cemetery. At the time of his death, he and Amanda had eight grandchildren and eight great-grandchildren.
~ Son Clarence Elmer Dillow ~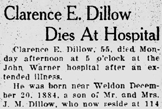 Clinton Daily Journal, 1940
Son Clarence Elmer Dillow (1884-1940) was born in 1884.
He married Lena Mae Redman (1897-1981), the daughter of Charles Allen and Millie Ann (Binkley) Dillow. Their wedding took place on May 17, 1915 in Normal, McLean County, IL.
They bore two daughters -- Irene Dillow and Mrs. James Wilson.
Clarence was a farmer, saw mill operator and trucker.
He passed away in Clinton on May 16, 1940 at the age of 56 after suffering "an extended illness," reported the Clinton Daily Journal & Public. He is buried in Cerro Gordo, Piatt County, IL.
Lena outlived her husband by more than four decades. She moved to Sun City, AZ, and died there at the age of 83 on Jan. 14, 1981. Her remains were brought back to Illinois for burial in Bloomington, McLean County.
~ Son Willard Allen Dillow ~
Son Willard Allen Dillow (1889-1948) was born in 1889.
He wedded his first wife Carrie Rucker (1893-1913) on Dec. 20, 1910, in Decatur, Macon County, IL. She was the daughter of Charles Rucker of Hancock, MO.
They were the parents of one son, Lester Eugene Dillow.
Tragically, Carrie died after just three years of marriage, at the age of 20, on Sept. 2, 1913, in DeWitt County, and was laid to rest in North Fork Cemetery in Decatur. Reported the Clinton Register, "Tuberculosis, from which she had been suffering for several months, was the cause of death."
Willard married his second wife -- Bessie (Harrold) Potter (1896-1948) after three years as a widower. Their marriage took place on Oct. 25, 1916, probably on Rosehill, Mahaska County, IA.
They produced five more children -- Willard Dillow, Harold Dillow, Patricia Dillow, Betty Lou Aman and Wanda Jean Schliep.
Bessie was a member of the Clinton Methodist church and was employed at the Alvey drug store," said the Weldon Record. The Dillows became estranged for about a year, but reconciled, and lived on the Miller farm just north of the old fair grounds, said the Record.
Tragically, they both died at home on April 5, 1948. Details are not yet known.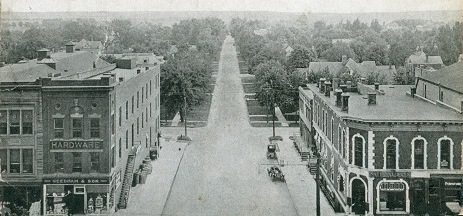 Clinton's South Center Street in the early 1900s
~ Daughter Bertha Ethel Dillow ~
Daughter Bertha Ethel Dillow (1886-1908) was born in 1886 in DeWitt County.
She never married.
She was gathered in by the Angel of Death at the age of 18 on June 28, 1908, of unknown causes. More will be reported here when learned.
~ Daughter Sylvia "Edna" (Dillow) Stillman ~
Daughter Sylvia "Edna" Dillow (1892-1986) was born in 1892.
She was joined in wedlock with Herbert William Stillman (1888-1965) on May 31, 1916 in Normal, McLean County, IL. Herbert was the son of Herschel and Helen "Martha" (Brock) Stillman, and a native of Heyworth, McLean County.
Herbert brought one daughter to the marriage, Helen Wright.

Obituary, 1986
The Stillmans resided in Clinton. Herbert was a retired Illinois Central Railroad employee, said the Clinton Daily Journal & Public, and "was a member of the Methodist Church and the Odd Fellows Lodge of Forest City, Iowa."
Herbert died at the age of 77 on July 21, 1965, in Decatur, with burial in Clinton.
Edna outlived him by more than two decades and made her home at 100 South Railroad Street. She passed away at the age of 94 at Dr. John Warner Hospital on Dec. 14, 1986. She and Herbert are buried in the Woodlawn Cemetery memorial park in Clinton.
Daughter Helen Stillman ( ? - ? ) married Kenneth E. Wright and resided in Decatur.
Copyright © 2007-2008, 2019, 2021Mark A. Miner
The photograph of James and news obituaries courtesy of the DeWitt County Genealogical Society, Vespasian Warner Public Library, Clinton, DeWitt County.