Minnie (Dillow) Wey Emenhiser
(1874-1923)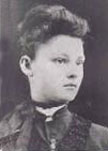 Minnie Dillow
Minnie (Dillow) Wey Emenhister was born on March 8 or 22, 1874 in or near Madison County, OH, the daughter of William and Elizabeth (Houser) Dillow.
As a girl, sometime prior to 1881, Minnie and her parents and siblings migrated westward to Central Illinois. They settled in the town of Weldon near Clinton, DeWitt County.
Minnie first married Otis Wey ( ? - ? ). They resided in Texas, in Beaumont, Jefferson County, the heart of oil refining country along the Gulf Coast.
Minnie and Otis had at least four children, including Ruby Way, Lottie Wey, Fern Wey and a son whose name is not known.
Sadly, little daughter Ruby died at age 7 on Aug. 13, 1909. A local newspaper published this eulogy:
Little Ruby's obituary
With noiseless tread the death angel enters our homes and ofttimes takes from us our fairest flower, and so it was on the night of Aug. 13, 1909 when little Ruby way ... was taken from the loving care of a fond mother. [She] was sick only two days with congestion. But let the bleeding hearts be comforted, for the Savior said, "Suffer the little children to come unto me, for of such is the kingdom of God." And King David said when his darling boy was taken from him, "He can not come back to me, but I can go to him" Your little angel has escaped the sorrows and disappointments of this world, dear parents; and let his thought console you, that she is now "safe in the arms of Jesus."
Sometime between 1902 and 1907, in Texas, Minnie married her second husband, William Wood Emenhiser (1860?-1941). William was the son of Joseph and Nancy Adeline (Clark) Emenhiser, and was employed as a railroader. He had been married two times before, and had two children with his first spouse, Isobell McKeeman (1864-1888) (married Jan. 17, 1884). The first family resided in Allen County, IN, and the children's names were Nancy Delilah Dager of New Haven, IN; and William W. Emenhiser. After Isobell's death in February 1888, he married his second wife, Susie Lentz on July 6, 1888. William and Susie had eight children, one of whom died in infancy. The second group of children were Harvey Emenhiser of Muncie; Mearl Emenhiser of Muncie; Irene Runyan of Muncie; Ruth Stella Mitchell of Kenosha, WI; Bertha Emma Richter of Lansing, MI; and Alma Fisher of Saugus, CA; and Joseph W. Emenhiser. When William was transferred in his work from Indiana to Texas, he begged Susie to come with the children, but she refused. Apparently they then divorced, with at least one of the younger children adopted out of the family.
Minnie and William Emenhiser went on to have five sons of their own -- Floyd Elwood Emenhiser, Orville Owen Emenhiser, William Watson Emenhiser, Joseph Wesley Emenhiser and Delmar Lavon Emenhiser. Over the years in Texas, the family is thought to have lived in Beaumont, Kennedy and Yorktown.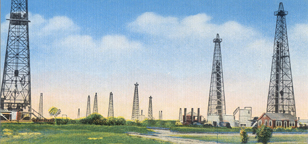 Typical Texas oilfield of the era, which would have heavily depended on railroads for shipping products to customers across the country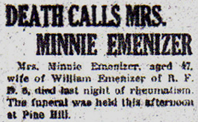 Obituary, 1923
Tragically, their eldest son Floyd Elwood Emenhiser died in a housefire as a boy, perhaps with one of his Wey half brothers. It is said he accidentally started the fire while trying to start a small fire while his father was away at work. The incident is suspected to have taken place in Beaumont.
The Emenhisers moved from Texas to Arkansas in about 1918, a year or two after their youngest son was born. They made their home along Route 6 near Jonesboro.
Minnie passed away on April 10, 1923, at the age of 47. The local newspaper reported the cause of her death as rheumatism. She was laid to rest in Pine Hill Cemetery in Jonesboro, following a funeral ceremony led by Rev. Leach.
William outlived Minnie by 18 years, and got married again, to Annie Pierce. Many said the marriage would not last, and in fact it did not. Annie apparently did not like country living in Arkansas, and he disliked residing in town.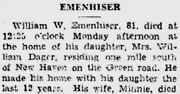 Obituary, 1941
Widowed, William moved back to Indiana in about 1929 to live with his eldest daughter, "one mile south of New Haven on the Green road," said a local newspaper.
He died there in 1941, at the age of 81. At the time of William's death, he had a combined 37 grandchildren and 19 great-grandchildren. William is buried at the Antioch Lutheran Cemetery at Hoagland, near Fort Wayne, Allen County, IN.
Confusing many family historians and genealogists, William used the same names for several of his children -- William and Joseph. The older Joseph, from the second marriage, who lived in Muncie, IN, was known as "Joe of Muncie" to differentiate him from his younger half-brother, "Joe of Lansing," who resided in Lansing, MI.
~ Son Orville Owen Emenhiser ~
Son Orville Owen Emenhiser (1908-1970) was born in 1908.
He resided in Lansing, MI and was an electrician.
He married Eula and had five children -- Carl Emenhiser, William Emenhiser, Don Emenhiser, Judy Emenhiser and Patty Emenhiser.
Orville passed away on Aug. 31, 1970, in Charlotte, MI.
~ Son William Watson Emenhiser ~
Son William Watson Emenhiser (1910- ? ) was born in 1910.
He dwelled in Hankamer, TX, and had one child.
He passed away on March 28, 1992, in Louisiana.
~ Son Joseph Wesley Emenhiser ~
Son Joseph Wesley Emenhiser (1913-2002) was born in 1913.
He made a home in Lansing, MI and Elkhart, IN.
He was married twice, and had five children.
Joseph died on Oct. 31, 2002 in Elkhart.
~ Son Delmar Lavon Emenhiser ~
Son Delmar Lavon Emenhiser (1916- 1984) was born in 1916.
He lived in St. Louis, MO and Charlotte, MI.
He was married and had six children.
He died on July 29, 1984, in Charlotte.
Copyright © 2005-2008, 2019 Mark A. Miner.
Many thanks to Naomi Jean Spence for sharing her research findings.