Alice (Evans) Virtue
(1872-1961)
Alice Mae (Evans) Virtue was born on Aug. 16, 1872 in Pittsburgh, Allegheny County, PA, the daughter of William John and Eva (McKinney) Evans Sr. At the age of three months, she was baptized in the St. Theresa of Avila Roman Catholic Church in the Perrysville suburb of Pittsburgh, with Arthur and Katharine Evans serving as sponsors.
When she was a girl, her father died, and when Alice was in her teens, her mother married George Henry Minerd.
On Nov. 30, 1891, 19-year-old Alice married 19-year-old Samuel E. Virtue (1872-1936), the son of Jane Virtue and a native of Washington County, PA. At the time of marriage, Samuel resided at Eldersville, and worked as an engineer, perhaps an outdated term for electrical worker. Because both Alice and Samuel were 19-year-olds, they were considered underage, and their mothers had to sign consent forms. News of their marriage license was published in the Pittsburg Dispatch.
The Virtues had five known children -- William Warden Virtue, Agatha McClellan, Edmond McKinney Virtue, George Ellsworth Virtue and Harold Francis Virtue.
Circa 1888, when son William was born, they lived in Eldersville, PA. In some family documents, Eldersville is listed as a Kentucky town.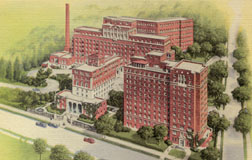 Montefiore Hospital, 1930s
From 1893 to 1896, the family resided on Blair Street in Pittsburgh, just a few blocks from the Monongahela River. Their home in 1900 was on Bluff Street in Pittsburgh.
The federal census enumeration of 1910 shows Alice and Samuel in Taylor Township, Lawrence County, PA, where he worked as an electrical engineer for a power and light company.
The Virtues moved again and in 1919 were in Detroit, MI, where Samuel continued his longtime occupation as an electrical engineer. By 1920, they had returned to Pittsburgh and lived in Alice's old home on Anaheim Street.
They must have shared a residence in West Pittsburg, near New Castle, Lawrence County, as Samuel worked there for Garland Corporation, apparently a local power plant. He was a member of the Lodge of the Craft of the Masons in New Castle.
They left Lawrence County in about 1921 and returned to Pittsburgh for good, establishing a home in Avalon. A tragic incident occurred in 1921 which ended his primary working career. He cut his hand, and it led to blood poisoning. The infection spread to the full arm, and in January 1922 it had to be amputated at the shoulder, in Pittsburgh's Mercy Hospital, said the New Castle News.
In the 1930s, Samuel was employed as an engineer at Montefiore Hospital, where his son Harold was employed as a fireman. Son Edmond also was an electrician.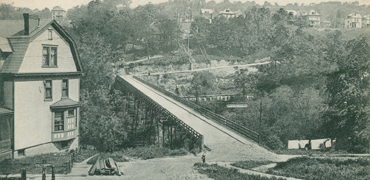 Birmingham Avenue Bridge in Avalon, spanning the well-known hills in the Ohio River valley northwest of Pittsburgh
Peace sculpture, Allegheny Cemetery, near Alice's grave
Samuel died at home on Harrison Avenue in Avalon on Feb. 10, 1936.
In her later years, Alice resided with her son Edmond at 309 Harrison Avenue in Avalon. She was a member of the United Presbyterian Church of Avalon, in the northern section of Pittsburgh.
At the age of 84, Alice passed away in Kane Hospital on Jan. 5, 1961. She had suffered from heart disease and hardening of the arteries. She was buried in the prestigious Allegheny Cemetery in Pittsburgh, the same cemetery where her mother is buried, although they rest in different locations. While her grave is not marked, it is within about 100 yards of the cemetery's landmark "Peace" sculpture.
~ Son William Warden Virtue ~
Son William Warden Virtue (1888- ? ) was born on July 9, 1888 in Eldersville, PA. He was of medium height and slender build, with grey eyes and dark brown hair, and seemed to have a penchant for trouble with the law.
In 1917, William registered for the military draft during World War I. Age 29 at the time, he disclosed that he lived at 426 Croton in New Castle, Lawrence County, PA and worked there as an electrician for General Electric Company.
In 1919, he resided in Harrisburg, Dauphin County, PA, at 1020 Market Street. There, his occupation was electrical engineer, following his father's longtime calling.
In Harrisburg on Feb. 19, 1919, William married Katherine Elizabeth Culp (1898- ?), daughter of Franklin and Katherine E. (Houser) Culp of Lebanon, Lebanon County, PA. William was age 31, and Elizabeth 21, at the time. Charles Emmet Murray, an alderman in Harrisburg, officiated.
Unfortunately, the marriage began to fall apart shortly after it began. Katherine claimed that her husband "was guilty of cruel and barbarous treatment and subjected her to indignities of the person five weeks after their marriage," reported the Lebanon (PA) Daily News. " She alleged that he cursed her, struck and choked her repeatedly, and threatened her life, and so shamefully used her that her health was broken down and she left him in a feeble condition." She left him on March 28, 1921 and sued for divorce. The formal decree of divorce was not handed down by the Court of Common Pleas of Lebanon County until March 1928.
William's name was in the news in 1920 when he purportedly altered a check from an electric light company in Williamsport, PA. Initially he was exonerated, but apparently the case heated up again. While eluding law enforcement for six months or more on charges of forgery, a tipster led police to pursue him at the home of his mother in law in Lebanon in March 1921. He evaded capture after exiting the home through a second story window, but was caught the next day hiding under a potato bin in the basement of the same house. He was incarcerated in the Eastern Penitentiary, and the Oldsmobile touring car he had been driving was sold by the local sheriff. He was paroled in autumn 1922 and found work at Keystone Engineering Company in Lebanon, located at Scull and Eighth Streets. But he disappeared again on what newspapers called "french leave" -- an unauthorized absence" -- taking with him an REO truck, $17 in cash, two Willard batteries and two radio sets.
~ Son George Ellsworth Virtue ~
Son George Ellsworth Virtue (1895- ? ) was born on Nov. 22, 1895, in Pittsburgh. He was of medium build and height, with brown eyes and dark brown hair.
George married Gunda E. Allison of Monaca, Beaver County in 1916.
Circa May 1917, when he registered for the military draft in World War I, he was employed as a fireman by the Pennsylvania Railroad, and was based in New Castle, Lawrence County. He was married at the time and counted his wife as his next of kin. He eventually saw 18 months of active service in France operating military rail trains. During that time, he wrote articles sent back home for publication in the New Castle News.
He was married at least three times. His first divorce occurred in 1922, and the second on June 5, 1947.
Circa December 1947, he worked as a locomotive engineer and resided in the Lincoln Hotel in Youngstown, Mahoning County, OH.
At the age of 52, on Jan. 26, 1948, he married for the third time, to 50-year-old Alma (Wahl) Metz (1897- ? ). She was a native of Beaver County, PA, and the daughter of Jacob and Mary L. (Gudekunst) Wahl. At the time of marriage, she was a sales clerk living in Avalon.
~ Son Edmond McKinney Virtue ~
Son Edmond McKinney Virtue (1897- ? ) was born on Feb. 2, 1897 in Pittsburgh. As a young man, he was of medium height and build, with grey eyes and dark hair.
He registered for the military draft during World War I and served in the U.S. Armed Forces.
At the age of 21, in 1918, he lived with his mother at 53 Park View Avenue in Pittsburgh, and was employed with Grazellin Chemical Company of New Castle, Lawrence County, PA.
He divorced his first wife, apparently having had no children.
In 1930, he married widow Anna (Jessup) Cawley, and they resided in Avalon. He was employed for many years as electrician at the Farmers Bank Building, and was a member of the Electrical Union Local No. 5.
Anna's children to a previous marriage were Anna Staats, Marion Daily and Harry P. Cawley.
Edmond died in Harlansburg, PA on June 2, 1970 and Anna passed away on June 5, 1971, and they are buried at Allegheny County Memorial Park in Allison Park.
A step-step grandson, Theodore Winowich, was killed in Vietnam.
~ Daughter Agatha (Virtue) McClellan ~
Daughter Agatha Virtue (1899- ? ) was born in June 1898.
She wed Charles R. McClellan ( ? - ? ) and resided at 2853 Lonesome Avenue in the Dormont section of Pittsburgh.
Tragically, Agatha was afflicted with tubercular meningitis in the mid-summer of 1925. She received medical care, including an analysis of her spinal fluid, but did not rally. She died at age 26 on July 27, 1925, at St. Francis Hospital. Burial was in Mt. Lebanon Cemetery. On her death certificate, her mother's maiden name understandably was given as "Minard" instead of "Evans" by the informant, C.P. Clark of Dormont.
~ Son Harold Francis Virtue ~
Son Harold Francis Virtue (1905- ? ) was born on Nov. 13, 1905, in Pittsburgh.
Circa 1950, at age 45, he was a mechanic and lived at 1518 Laketon Road in the Wilkinsburg section of Pittsburgh.
On July 21, 1950, he married Freda (Wagner) Strasser (1905- ? ), daughter of Louis and Annie (Wahl) Wagner of Pittsburgh. Freda was divorced from her previous husband, Nelson C. Strasser, and at the time of marriage to our Harold was a typist in Pittsburgh.
He resided in Homestead, near Pittsburgh, circa 1970.
Copyright © 2003-2004, 2008, 2010, 2012-2013 Mark A. Miner