On June 23, 1910, at Fairchance, Fayette County, Mary married Fred M. Bryner (1887-1943), the son of Charles and Ella Bryner. She was age 19 at the time, and he was 23.
Their three known children were Jessie Lopotosky, Edgar Gibson Bryner Sr. and Eleanor Mary Gossett.
Fred was a longtime coal mine laborer, working at Continental No. 3 in Fairchance during the decade of the 1910s. In 1920, he was employed as a driver at No. 3.
In December 1921, as Christmas approached, the Bryners' marriage ended. Mary moved out of their home. Fred purchased a classified advertisement in the Uniontown Morning Herald, reading:
The couple divorced. Fred spent his final years in Oliphant Furnace near Uniontown, and died at the age of 58 on Sept. 28, 1943.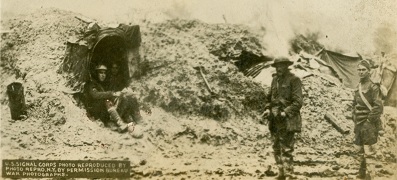 Dugouts in the Argonne Forest protected troops day and night from German artillery fire. Photo by U.S. Signal Corps
By 1930, Mary had remarried, to George Edward Rhome (1893-1982) of Bitner, Fayette County. George was a veteran of World War I and served with the 320th Infantry. He saw service at St. Mihiel and the Argonne Forest, and was wounded with poison gas in the Argonne battle on Sept. 26, 1918.
George had been married once before, to Mary (?), and brought a son to the marriage with our Mary, George Elmer Rhome.
When the federal census was taken in 1930, the family lived in Menallen Township, near Uniontown, where George was employed as a truck driver for a moving company. They lived next door that year to Mary's aged parents, George and Barbara Ellen Firestone. Their house was No. 29, Bitner coal works.
Afflicted with stomach cancer, Mary died at home at the age of 47 on Nov. 2, 1939, "after a lingering illness of complications," said the Connellsville Daily Courier. Rev. Martin King officiated at her funeral, followed by interment in the Walnut Hill Church cemetery.
George survived Mary by more than four decades. He died in September 1982, most likely in Bitner, Fayette County.
~ Daughter Jessie (Bryner) Lopotosky ~
Daughter Jessie Bryner (1913-1985) was born in 1913.
She married Stephen Lopotosky (1913-1976), a native of Smock (Perryopolis), Fayette County, the son of Joseph and Theresa (Hilovsky) Lopotosky. The ceremony took place on July 8, 1939 at the office of Uniontown alderman M.R. Gregg. Reported the Connellsville Daily Courier, "Mr. and Mrs. John Edwards of Bitner were the only attendants." They were both age 26 at the time.
The couple had one daughter, Marian Lu Rankin.
Stephen served in the Coast Artillery of the U.S. Army in Hawaii circa 1936. Later, he was employed at the National Works of the United States Steel Company in McKeesport, near Pittsburgh, and must have worked there while maintaining a residence in Bitner. In 1939, Jessie lived with her mother and unmarried brother Edgar Bryner in Bitner, Fayette County.
They eventually made their home in R.D. 1, Dunbar, Fayette County. Stephen was a member of the Juniata Sportsmen's Club.
At the age of 62, Stephen died in Pittsburgh's Veterans Administration Hospital, on Valentine's Day 1976.
Jessie lived for another nine years and joined her husband in eternity in February 1985. They rest together in Mount Washington Cemetery in Perryopolis, Fayette County.
Daughter Marian Lu Lopotosky ( ? - ? ) was born in (?). She married Paul Eugene Rankin Sr. of Dunbar. They had one son, Paul Rankin Jr., and lived in Dunbar in 1976. The couple divorced sometime after 1995.
~ Son Edgar Gibson Bryner Sr. ~
Son Edgar Gibson Bryner Sr. (1915-1993), also known as "Edward," was born in 1915 in or near the Thompson No. 3 mining community in Fairchance, Fayette County.
He made his home with his mother in 1939 in Bitner, Fayette County. He was a coal miner and operated mining machinery.
In October 1942, during World War II, Edgar enlisted in the U.S. Army Air Force and was assigned to the 368th Engineer's Regiment, Company A. He initially was stationed in Oregon. On what appears to have been a furlough home, on July 16, 1943, he was united in matrimony with Ozella Aldridge ( ? - ? ) of Brownsville, Fayette County. He was sent overseas again on Jan. 8, 1944 and admonished his bride to be faithful.
During his time away, Ozella lived in Brownsville. She wrote to him saying: "You remember what you told me not to do, well, Ed, that's just what I done and I'm in trouble." He did not return again until Nov. 3, 1945, and Ozella gave birth on Jan. 25, 1946. Furious, and making his home near Dunbar where he worked as a coal miner, he filed for divorce. His complaint cited that her adultery had occurred in May 1945 -- while he was away at away -- and that he had been subjected to other indignities. Ozella's letter was printed in the Uniontown Morning Herald. The divorce was granted in May 1946 by Fayette County President Judge W. Russell Carr.
After a time, Edgar wed again, to Jessie Marie Teets (1923-1974), daughter of Arthur A. and Alverta Loretta (Lynch) Teets of Bethelboro, Fayette County. She is believed to have brought a son to the union, Thomas Eugene "Tom" Teets.
They resided in House 63 in Bitner and went on to produce eight offspring of their own -- Walter Bryner, Edgar Gibson Bryner Jr., Frederick Bryner, Robert Bryner, Bonnie Lou Buzzelli, Kenneth R. Bryner, Tammy Sue Bryner and Shirley May McNair. Sadly, son Frederick died shortly after birth on Dec. 4, 1949, with interment in the Babyland section of Sylvan Heights Cemetery, and son Kenneth died on Dec. 2, 1960 at age five and a half months.

Uniontown, PA
Jessie passed away at the age of 50 on Feb. 4, 1974, with funeral arrangements handled by the Edward E. Minerd Funeral Home.
Now widowed, Edgar lived for another 19 years after his wife's passing, with a residence in Smock. He is believed to have married again to Henrietta ( ? - ? ), with the couple living in Uniontown in 1984.
Edgar died on Feb. 5, 1993, at the age of 78. Interment was in Walnut Hill United Methodist Church Cemetery.
Son Thomas Eugene Teets (1944-living) was born in about 1944. He may have used both the "Teets" and "Bryner" names over the years. He married Emma Grace Ross (1942- ? ). Together, they bore a brood of six children, including Elizabeth M. "Libby" Metcalf, Thomas Eugene Teets Jr., Patty Hixson Jones, Susan D. Beal Floyd, Marty Lee Teets and Frederick R. Teets. The couple eventually divorced. Afterward, Emma relocated to Azle, TX and was remarried to (?) Faust. Thomas again entered into marriage with Janet ( ? -living).
Son Edgar Gibson Bryner Jr. (1947-2021) was born on July 28, 1947 in Uniontown. In June 1975, Edgar made news in the Connellsville Daily Courier when he was injured in a fight with his brother Walter and was treated for head injuries at Uniontown Hospital. On May 22, 1976, at the age of 29, he married Nola R. Lowery (1955- ? ), daughter of Russell Lowery of Morrell, Fayette County. At the time of marriage, he was employed by Joe Valigore Coal and Trucking Company, and she worked at Anchor Hocking Glass Corporation in South Connellsville. Later, he earned a living as a truck driver for Wicker Trucking. Edgar was the father of Russell Bryner and Rodney Bryner. Sadly, as a resident of Mt. Macrina Manor in Uniontown, Edgar succumbed to death at the age of 73 on March 13, 2021. His funeral service was performed by the Dawson Volunteer Fire Company, and also by a distant cousin, Pastor Lee Maley, of the family of Lewis and Martha Ellen (Mayle) Mayle of Philippi, WV. The remains were lowered into honored rest in Walnut Hill Methodist Church Cemetery, and his obituary was published in the Daily Courier.
Grandson

Russell Bryner

married Amanda.
Grandson Rodney Bryner

wedded Eileen.
Daughter Shirley May Bryner (1948- ? ) was born in about 1948. She was wedded to Franklin T. McNair (1943-2008). They resided in Dunbar, Fayette County, and their children were Charles "Chuck" Bryner and Stephen McNair. Franklin passed away on Oct. 13, 2008.
Son Walter Henry Bryner Sr. (1953-2000) was born on Jan. 22, 1953 in Uniontown. Circa 1971, he was united in wedlock with Lavon T. O'Connor (1955- ? ), daughter of James B. O'Connor Sr. and Eleanor Miller Dickens. Their children were Shawandalynn Chubb and Walter Henry Bryner Jr. The couple eventually divorced. Walter married again to Bonnie Savage (Feb. 21, 1947- ? ). They lived in or around Harrisburg, Dauphin County, PA. Walter appears to have wedded a third time to Christine D'Happart ( ? - ? ), daughter of William and Katherine D'Happart of Carlisle. Circa 1984, Walter and Christine dwelled at 6615 Carlisle Pike in Mechanicsburg. Sadness blanketed the family when infant son Joshua died at birth in Polyclinic Hospital on March 3, 1984, with burial in St. Patrick's Cemetery in Carlisle. Walter Sr. succumbed to death in Cumberland County, PA on Nov. 21, 2000. His remains were brought back to Fayette County to rest in the Mount Nebo Cemetery in Indian Head. Inscribed on his headstone are these words: "We Shall Meet Again Who Have Loved Each Other."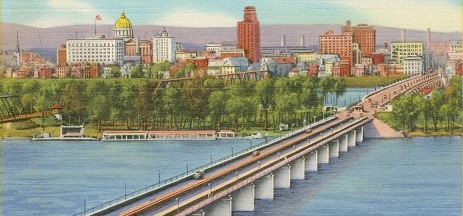 Harrisburg, PA, home of the Walter Bryner family
Granddaughter

Shawandalynn Bryner lived in Carlisle in 1984. She married (?) Chubb

.
Grandson

Walter Henry "Bill" Bryner Jr.

( ? - ? ) made his home in Newville, PA in 2000. In time he wedded co-worker Rhonda A. Wilson ( ? - ? ), daughter of Richard and Margaret Wilson of Plainfield, Cumberland County, PA. At the time, both were employed as field system support analysts by Rite Aid. At the couple's engagement, they were pictured in an announcement in the

Carlisle Sentinel

. They bore at least one child, Jordan Ashley Bryner, born at only one lb., 11 oz. They considered Jordan a "miracle baby" who spent months in Harrisburg Hospital and was pictured in the

Sentinel

as she neared her second birthday in 2002.
Son Robert L. Bryner (1957- ? ) was born on June 25, 1957 in Uniontown. He and Vicki Haney were the parents of Robert L. Bryner Jr. He was at one time in a relationship with Dawn M. Ringel and produced daughters Jennifer L. Bryner and April M. Bryner. His third wife was Barbara A. Halderman ( ? - ? ). PA. Sadly, he endured the untimely death of his son Robert in 2020.
Grandson Robert L. Bryner Jr. (1978-2020) was born on New Year's Day 1978 in Connellsville. At the age of 16, circa 1994, he became a volunteer firefighter, giving of his time with a number of community fire departments in Cumberland and Fayette Counties. At the age of 21, on July 31, 1999, he was joined in the bonds of wedlock with his Brownsville High School girlfriend, Kimberly Burnor ( ? -living). Their marriage license was issued in Cumberland County. His children were Anthony Bryner, Deacon Bryner and Syvanna Bryner, with each of their births announced on the pages of the Harrisburg Patriot News. The last fire company with which he was affiliated was Morrell near Dunbar and Leisenring, Fayette County. In his free time, Robert rooted for the Dallas Cowboys football team and enjoyed fishing and working on automobiles. Grief blanketed the family when Robert died unexpectedly at home at the age of 42 on May 24, 2020. An obituary was published in the Connellsville Daily Courier, which said that due to the coronavirus quarantine, no public visitation was held.
Daughter Bonnie Lou Bryner (1959- ? ) was born on Jan. 30, 1959 in Uniontown Hospital. Her first husband was Allen Penwell (1957-2008). Together, they bore two daughters -- Dawn Marie Penwell and Jill Penwell. They grieved at the passing of their daughter Dawn at the tender age of three months on March 26, 1977. After a divorce, she married a second time to Roger William Kephart (March 11, 1949-1984). One son was born to this union, William Roger Kephart. Sadly, Rogert passed away on Jan. 15, 1984. Bonnie's third spouse was Mark A. Buzzelli (1956- ? ). The Buzzellis divorced in 2011.
Granddaughter

Jill Penwell

(1977-living) was born in 1977.
Grandson William Roger Kephart

(1980-living) was born in 1980.
Daughter Tammy Sue Bryner (1965- ? ) was born on Jan. 21, 1965 in Uniontown. She married Kenneth L. Sumner (1960- ? ) and had two sons -- Christopher L. Sumner and David W. Sumner. Later, they divorced. She married again to James Paul "Jim" Sparks (1962- ? ).
Grandson

Christopher L. Sumner

(1985- ? ) was born in 1985.
Grandson

David W. Sumner

(1987- ? ) was born in 1987.
~ Daughter Eleanor Mary (Bryner) Gossett ~
Daughter Eleanor Mary Bryner (1911-1994) was born on Jan. 13, 1911 in Georges Township, Fayette County.
In about 1927, when she was 16 years of age, Eleanor married Roy Eldon Gossett (1908-1980), a native of Fredericktown, Washington County. He was a longtime building engineer.
The Gossetts produced three children -- Betty Mae Dubach (often misspelled as "Dubeck " and "Debach"), Roy Eldon Gossett Jr. and William F. Gossett.
They resided in the coal mine patch town of Morgan, west of Bridgeville in South Fayette Township, Allegheny County, PA in 1928-1939. Their residence was located in the Sygam No. 1 Blocks, and Roy was a driver in a local coal mine.
The couple eventually relocated to Cleveland, Cuyahoga County, OH, and thence in 1972 to nearby Mentor, Lake County. Their address in Mentor was 4851 Forest Road.
Roy died in Lake County Memorial Hospital East at the age of 72 three days after Christmas in 1980. The Painesville Telegraph printed an obituary.
Eleanor lived for another 13-plus years. She passed away at the age of 82 on Jan. 2, 1994 in a long-term care facility in Painesville, Lake County. Funeral services were conducted by Rev. Gerald D. Kalb of the Painesville United Methodist Church, with interment in the Old Rugged Cross Garden of the Western Reserve Memorial Gardens. An obituary was published in the Willoughby (OH) News-Herald.
Son Roy Eldon Gossett Jr. (1928- ? ) was born on May 27, 1928 in Morgan, Allegheny County. He was married and divorced. Whether or not he had any children is unknown. He was a construction laborer and resided in Mentor/Painesville, Lake County, OH. He passed into eternity at home at the age of 69 on Dec. 11, 1997.
Daughter Betty Mae Gossett (1929-1972) was born on Dec. 3, 1929 in Morgan, Allegheny County. She married (?) Dubach. The couple eventually divorced. She died at the age of 42 at Lake County memorial Hospital in Painesville on Aug. 25, 1972. The Painesville Telegraph is believed to have published an obituary, but this needs to be confirmed and examined.
Son William Frederick "Lobo" Gossett (1932-2003) was born on Feb. 18, 1932 at Morgan, Allegheny County. During the Korean War, he served in the U.S. Army's Indian Head Infantry, 2nd Division. He was twice married. His first bride was Jean L. Small (1935-2000). The marriage fell apart and the couple divorced before March 1981. On March 10, 1981, he married his second wife, 27-year-old Debra J. White (1954- ? ). In all, his known children were Quentin William Piotrowski, Cheri Mann, Richard Allen "Rick" Gossett, William Gossett II, Cindy Gossett and Deborah Louise "Debbie" Gossett. For 31 years, William worked for Republic Steel Corporation in Cleveland, and then for nine years as a boiler engineer for the City of Painesville until retirement. William was active in the community as a commissioner with the Boy Scouts Pack 62, Troop 165 and a member of the Masons lodge in Painesville and the Veterans of Foreign Wars post in Fairport Harbor. They made their home in Fairport Harbor, OH in the 1990s. He died at home at 409 Orchard Street in Lake, Lake County at the age of 71 on Sept. 19, 2003. An obituary was printed in the Willoughby News-Herald.
Grandson Richard Allen "Ricky A." Gossett (1957-2011) was born on Oct. 20, 1957 in Cuyahoga County, OH. He married Beatrice Ann "Bea" Russell. Their children were Danielle Gossett, Sandie Gossett, John Paul Gossett, Heather Santiago and Rikki Gossett. Sadly, Rick died in Spokane County, WA on Oct. 26, 2011. An obituary with his photo appeared in the Cleveland Plain Dealer.
Granddaughter Deborah Louise Gossett (1960-2007) was born on Feb. 8, 1960 in Cuyahoga County. She married John M. Csehek (1964- ? ). She had one son, Derek John Gossett. They lived on Washington Park Boulevard in Newburgh Heights, OH. Deborah died in Cuyahoga County on Aug. 8, 2007. The Cleveland Plain Dealer carried her obituary.
~ Stepson George Elmer Rhome ~
Son George Elmer Rhome (1913- ? ) was born in 1913. He was George Rhome's son to an earlier marriage.
He lived at Bitner, Fayette County circa 1939.
Copyright © 2001, 2013, 2016, 2020 Mark A. Miner
Minerd.com extends its appreciation to Tammy (Bryner) Sparks and Denny Shirer of Shirer Family Genealogy Project for graciously sharing content for this biography.