Home

Michael Ansell Firestone
(1834-1919)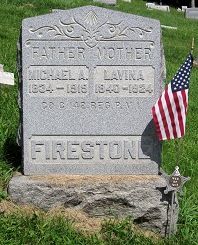 Hill Grove Cemetery
Michael Ansell Firestone was born on March 2, 1834 in or near Kingwood, Somerset County, PA, the son of Hannah Ansell and George Firestone, who were not married.
He grew up in the household of his mother, and apparently originally carried his mother's surname of "Ansell," but when joining the Army went by his father's surname of "Firestone." As two of Michael's aunts married into the Minerd family (Sarah to John Minerd and Rachel to Jacob Minerd III), Michael would have known his cousins intimately over the years, and later was wounded in action in the Civil War battle of Fredericksburg fighting side by side with a few.
Michael's father, George Firestone (1812-1884), later married Catherine "Katie" Younkin (1813-1883), daughter of Jacob and Eleanor Younkin. For many years it was conveniently disguised that Catherine -- and not Hannah -- was Michael's actual birth mother. Michael had five known half-siblings, among them Ellen Firestone, Simon Firestone, Harriet (Firestone) Burkholder, Jacob Ross Firestone and Norman Firestone.
Much later in life, Michael's mother Hannah finally married, to her widowed brother in law John Minerd. Michael was so much a part of the Minerd clan that when cousin Agnes (Miner) Miller hand-drew several family trees, she included his name on both.
Michael grew up in the Hexebarger farming community near Kingwood. In 1850, when he was age 15 and the census was taken, he resided there with his mother and grandparents Michael and Catherine Ansell. Adjacent neighbors included the households of his cousins Henry A. and Matilda (Rose) Miner and Charles and Catherine (Minerd) Rose, cousin Jacob J. and Dorcas (Hartzell) Younkin and uncle and aunt John and Sarah (Ansell) Minerd.
As a young adult, Michael stood 5 feet 10 inches tall, with a dark complexion, blue eyes and black hair. In the years before the Civil War, Michael held an account at the John McMillan tannery in Listonville, and his lone entry from the year 1857 is recorded in the tannery's business ledger which is preserved today. The entry reads as follows: "(son of Hanna Ancil) – to 3½ lbs. of SL (pr. John Ancil's sons), cost $1.16, May 11, 1857."
A year before the war broke out, Michael married Lavina Nicklow (1840-1924), daughter of Jacob and Catherine (Ansell) Nicklow (also spelled "Nichola"), on Dec. 13, 1860. Jacob Gerhard, a justice of the peace, performed the nuptials at Kingwood. Lavina's brother Freeman Nicola is known to have attended. Michael was age 26, and Lavina 20, at the time of marriage.
The couple produced four children, born between 1866 and 1874 -- Louisa Ann Firestone, Ulysses S. Grant Firestone, William Willis Firestone and Savannah Lorena McManis. Sadly, their firstborn, Louisa Ann, died at the age of 19 months on April 23, 1868, as recorded in the family Bible (published 1871).
~ Michael's Civil War Tribulations ~
After the eruption of the war, Michael enlisted in the army at Kingwood on Aug. 14, 1862. He was assigned to the 142nd Pennsylvania Volunteer Infantry. Also joining the 142nd Pennsylvania at that time were his cousins Martin Miner and Andrew Jackson Rose (husband of Susanna Minerd).
He is not to be confused with another Michael Ansell (1839- ? ), also a soldier with the 142nd Pennsylvania, an inconvenience which may have led our Michael to formally adopt "Firestone" to avoid confusion. The "other" Michael was married to Barbara Henry and Helen Zigler and resided in Upper Turkeyfoot. See more on the "other" Michael in the 1906 book History of Bedford and Somerset Counties, Volume III, by E. Howard Blackburn and William H. Welfley.
After some early training in Harrisburg, PA, the 142nd Pennsylvania marched to Washington, DC. In December 1862, the regiment moved again to Fredericksburg, where is was part of the left wing of General Ambrose Burnside's attack on the heavily fortified town, under the Confederate command of Robert E. Lee, Thomas "Stonewall" Jackson and A.P. Hill. Michael and his mates took part in the portion of the battle known as the "Slaughter Pen," and were among a few Pennsylvania regiments led by General George Meade that actually penetrated the enemy lines and nearly turned the battle in the Union's favor.
During that action in Fredericksburg, a Confederate minie ball struck Michael in the back of his right thigh. The bullet did not strike any bone, and passed downward and forward for four inches, exiting from the front part of the thigh. Although wounded and bleeding, Michael was able to join the retreat and seek medical care.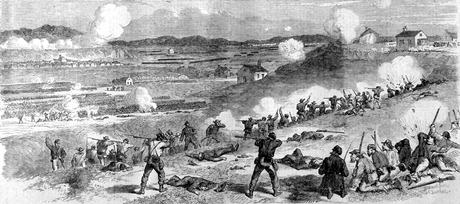 Deadly Confederate fire at Fredericksburg, where Michael was wounded in the leg
[For more about Michael's activity at the Battle of Fredericksburg, and the wartime story of the 142nd Pennsylvania, be sure to obtain your copy of the newly published book about Michael's kin, Well At This Time: The Civil War Diaries and Army Convalescence Saga of Ephraim Miner of the 142nd Pennsylvania Infantry and 22nd Veterans Reserve Corps. More >>>]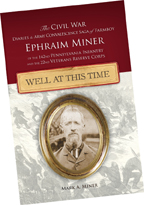 Book naming Michael
Two days before Christmas 1862, Michael was sent for treatment to Lincoln Hospital in Washington, DC. At Lincoln, in Ward One, he "took very sick with the yellow jaundice, treated by Doctor Wisel." He remained there for about four months, and upon getting better received a 60-day furlough. When he returned to Washington in June 1863, he was sent to the Satterlee Hospital in West Philadelphia. In November 1863, he was transferred to the Veterans Reserve Corps Camp 95, Second Battalion.
Michael's health did not entirely improve upon his transfer to the 22nd VRC. In his words (with misspellings):
I got fever and ague some time in the fall of sixty three after i was transfered to the twenty second regtment first batlion vet reserve corps. we were doing duty in harisburg at the court house the time they were enforsing the draft. after we left there we were encampt at different plases a long the susquehannah river. there took fever and ague. could not stand, drill nor guard duty was excused from drill and ordered to report to the second batalion. thee ordered to report to the doctor. got some medisine and was excused from duty some time after i was examined and transferred to the ninety 5th company, 2nd battalion veteran Corps. then went to mckims hospital. from there to cliffburn barrax Washington D.C. there some times done guard duty, some times excused on acount of ague and fever. some time in the spring of sixty four we were sent to patterson park baltimore M D there resulting disease, liver and stomach. part time done my duty, part time not able. treated by doctors fay and Corkrel at that plase and others i cannot name.
Michael received an honorable discharge in Baltimore on Aug. 24, 1865. He returned home to his wife and mother in Kingwood. The following month, they moved to nearby Normalville, Fayette County, then known as "Elm" and later as "Springfield."
~ Return to Farming Life at Home ~
The postwar years were filled with growing, experimenting and progress, but always with the lingering pain of his war wounds which limited his ability to work. Ludwick "Lud" Kimmel, who lived a half mile from the Firestones, wrote that he saw Michael "two or three times a week" and often heard Michael talk about his pain and night chills. Said Kimmel: "He worked for me and often he would have to quit and layoff for several days on account of his stomach and liver disease. I have seen him bent nearly double with pain..." William Ott, who lived on an adjoining farm, wrote (with misspellings) that:
I often heard him complaining with trouble in his back and stomach trouble. I have saw him with a bandage around his waist. He claimed to support his back and stomach. I also heard him complain of having chils wich he sed came from having Feaver and ague wich he ses he had wile he was in the army.
Physicians examining Michael as he aged commented that his thigh was painful and tender down to the knee, with some shortening of the leg. He also shrunk in height, losing as much as four inches from his stature.
The federal census of July 1870 shows Michael, Lavina and one-year-old son Ulysses making their home near Normalville. Boarding in the household was 14-year-old Catherine Nicklo, relationship unknown, but likely a niece of Lavina's.
In May 1879, the Uniontown Republican Standard reported that Michael was "building an addition to his house 14 x 30 feet. Allen Hyatte is doing the work." That fall, in November 1879, Michael's stepfather died in Normalville. When an estate sale was held at the Minerd farm near Normalville, Michael attended, and purchased one pot for 80 cents.
When the federal census was taken in 1880, Michael, Lavina and their three children lived together in Normalville, with his widowed 68-year-old mother Hannah also residing under their roof.
Michael's father, George Firestone, died on Oct. 30, 1884, at the age of 72.
Michael's mother passed away in or about August 1885. Her final resting place is unknown, but may be in the old section of the Methodist Church in Normalville, where others in the family are buried. Under the terms of her will, on file today in the Fayette County Courthouse, Michael was to receive "absolutely and forever all my estate, real, personal and mixed of any and of every kind whatsoever..." This included four head of cattle; all household and kitchen furniture, including one cupboard and dishes; three bedsteads and bedding; one wood cooking stove; one sink; and one bureau. He also was to receive payment of debts owed to the estate by Henry Ansell ($300, as decreed by the Court of Common Pleas of Somerset County); by the estate of her late husband ($50); and by her brother in law Jacob Minerd III ($40).
By the fall of 1885, no longer having the ties of his mother keeping him close by, and with his mind filled with all the possibilities of opportunity in the midwest, Michael moved the family to Kansas. But to his dismay, the reality quickly failed to meet his expectations. Within a few months, they returned to Fayette County. The Connellsville Keytone Courier said that he "couldn't stand the flatness and dryness of the western country," and in another story reported that "Michael says the west with all its inducements can not compete with the mountains yet."
To re-establish themselves in Normalville, Michael rented a tenant house on the property of Rev. McClay in early December 1885, and by Christmas had purchased a farm from Jacob Sanner in Saltlick Township. The farm, of 130 acres, cost $1,575. But the sale fell through, and Michael then bought John Sanner's farm west of town. When that arrangement did not work out, he moved again, to "one of David Hoover's farms," reported the Courier in March 1886. The farm is believed to have been in the Pleasant Hill section of Normalville.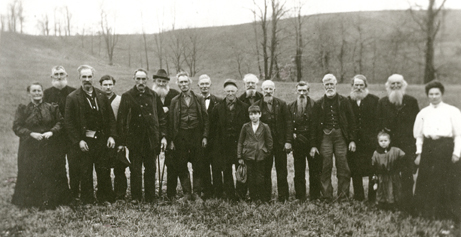 Michael may well appear in this image of Civil War veterans in Normalville. His step-brother Martin Miner stands at center, with a cap beside the small boy.
One of the few stories to emerge from that era of their lives that they shopped at the general store of George W. Campbell, who later sold the business to Michael's step-nephew, John Walter Miner.
When the special federal census of Civil War veterans was taken of Springfield Township in 1890, Michael was counted among his neighbors who also had served. The record simply shows that he served for three years and suffered a "Gun shot."
In August 1895, Michael's wagon, parked at Squire J.S. McCaleb's office on Connellsville's Main Street, and filled with window frames, was caught in a chain reaction of collisions when struck by a runaway horse and wagon driven by Bessie Bowman of Uniontown. The young driver "was thrown from the seat," reported the Connellsville Courier, "falling under the wheels of Firestone's wagon. She was picked up in an unconscious condition and carried into Dr. S.S. Stahl's office, where Doctors Stahl and McClenathan made an examination. The young lady had sustained a bad bruise and a cut on the side of her face." In turn, the runaway horse broke loose from the tangle of wrecked wagons and continued running freely on the street, until it fell and was caught.
In the early 1900s, they moved from Normalville to the Snydertown section of the bustling, brawling coal and coke town of Connellsville, Fayette County. Their home was at 608 East Murphy Avenue.
Michael passed away in Snydertown on July 8, 1919, at the age of 85. He was buried in the Hill Grove Cemetery in Connellsville, following a funeral led by Rev. J.S. Showers of the United Brethren Church. The Daily Courier said it "was the largest held in that community in recent years." The pallbearers included John Barnes, Jesse Barnes, George Adams, George Blackstone and Civil War veterans John Robinson and Hiram Richter.
To cover up his illegitimate birth, the family had printed in the Daily Courier obituary that he was the son of "George and Catherine Younkin Firestone." A few days later, Lavina published a "Card of Thanks" in the newspaper, which said: "Lavina Firestone and family wish to extend their heart felt thanks for the help and kindness shown them in the sad death of husband and father ... especially Rev. Showers and the choir."
Lavina survived her husband by five years. In May 1923, she was one of a handful of Snyder Street property owners who objected to having the street paved by the city, for fear it would cause damage to her home. She refused to sign a petition releasing the city from liability.
Suffering at age 83 from hardening of the arteries, Lavina died in Connellsville on Feb. 7, 1924.


Grant and Ada Firestone
~ Son Ulysses "Grant" Firestone ~
Son Ulysses S. Grant Firestone (1869-1933) was born on Feb. 8, 1869, near Normalville.
At the age of 26, Grant married 23-year-old Ada McMillen (1872-1965) on Sept. 13, 1895. She was the daughter of Freeman and Roseann (Porterfield) McMillen. At the time of marriage, Ada was employed as a laborer.
They went on to bear four children together -- Ella Elizabeth Brooks, Edgar Harry Firestone, Merrill Charles "Taby" Firestone and Clarence Firestone.
The Firestones resided early in marriage in Rogers Mill, Fayette County, where their son Edgar was born. Later, they made their home for many years on a farm near Normalville, about one mile from Pleasant Hill. Grant was an early teacher in local one-room schools, spending seven years in the occupation..
In the summer of 1895, Grant was awarded a teaching position at Clay Run School and received a salary of $27 for the term. In the fall of 1896, he taught at the Pritts School in Springfield Township. Two years later, he attended the teachers' institute at Middlefork, and led a discussion on geography. Among the other teachers in attendance was Joseph E. "Bert" Mountain, husband of cousin Viola (Younkin) Mountain.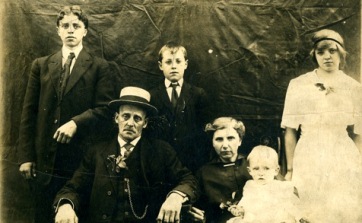 Grant and Ella (holding baby Clarence), seated, with their children, left to right: Edgar, Merrill and Ella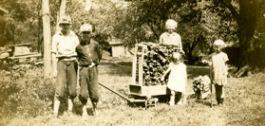 Collecting firewood on the Firestone farm
In about 1900 the family moved to Main Street in Connellsville, where Grant found work as a day laborer. He earned a living as a car inspector for four years with the Baltimore and Ohio Railroad.
Ada did not enjoy the city lifestyle, and felt her children would be better off if raised in the country. So they moved "back up to the mountain" to the farm in Pleasant Hill, according to a great-granddaughter. Grant was not a farmer at heart, so was not happy about the relocation. Rather, he enjoyed politics and spent a lot of evenings in the barn listening to the radio.
The federal census of 1920 shows the family making its home in Springfield Township, alongside the Springfield Pike.
Circa the mid-1930s, Ada was president of the Friendship Class of the Pleasant Hill United Brethren Church and organized its devotional exercises as a teacher. She and Grant were members of the Mill Run Grange. She actively managed the labors of the hired farm hands, and was a quilter.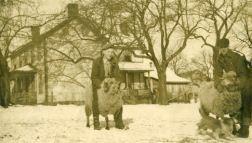 Playing with sheep in wintertime
The children Clarence, Raymond, Gladys and Madeline often helped Ada collect firewood on their farm.
Seen here, the Firestone boys with sheep at the family farmhouse, in wintertime.
Suffering from pneumonia, Grant died at his home in March 1933, at the age of 64. His funeral, said by the Daily Courier to have been "one of the largest funeral services ever held in the Normalville United Brethren Church," was led by Rev. Frank S. Wortman of the Indian Creek Baptist Church of Mill Run. Among the hymns sung were "The Unclouded Day," "Sometime We'll Understand," and "No Night There."
He was laid to rest in the Normalville Cemetery, with his casket escorted to the grave by pallbearers Albert McManus, Wilbur McManus, Daniel McMillen, Earl McMillen, Russell McMillen and Russell Dove.
When the widowed Ada reached her 65th birthday, in 1937, she was thrown a surprise party by her daughter in law, Mrs. Edgar Firestone, and daughter Ella Brooks. In reporting on the event, the Daily Courier said that "The evening was spent at bingo and other games. Prizes were awarded to Carl Bauer, Mrs. E.E. Cox, Virginia Eicher and Mrs. Alvie Eicher. Mrs. Firestone was the recipient of many beautiful gifts."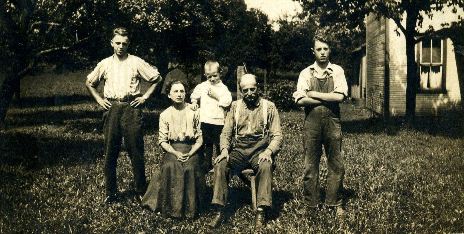 Ada and Grant Firestone, seated, with sons, L-R: Edgar, Clarence, Merrill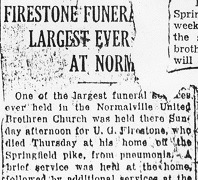 Obituary, 1933
When the nation began experimenting with Daylight Savings Time, in an effort to help farmers, Ada opposed the move. She penned a series of letters to the editor of the Daily Courier. In one such letter printed on March 26, 1947, she wrote:
We all hate their daylight saving time. There's not one in Fayette county (the reference being to the farmer folks). They hate changing meal time. they hate changing milking time. If those who caused this would get up at 5 o'clock, go out and bring the cows from pasture, milk them and then work all day until after dark, see if they would glory so in their saving time. There is nothing to it, if we have to burn electric lights in the morning. If they want to open their offices earlier, let them regulate themselves. Don't worry the farmers. Let them live up to their saving time. It's a curse to farmers. I do hope that somebody in authority will see to it that they don't turn the clock up. Everyone I have talked to is opposed to daylight saving time. I am trusting God will answer our prayers.
She took great pride in the quality her cattle farming, and in January 1940 placed first at the annual State Farm Show in Harrisburg in the milk competition. The award was base on testing of raw milk for tuberculosis under Pennsylvania regulations. Later that year, in December, one of her cows "gave birth to twin calves," said the Connellsville newspaper, "the first double births here in 37 years. Mrs. Firestone recently installed a hot water heating system on her farm." In July 1948, her farm was entered into a local "Green Pastures Contest" sponsored by the Fayette County-United States Department of Agriculture Council. Winners were selected based on the quality and quantity of production and management of pasture land.



Three quilts fashioned by Ada in the 1930s or '40s. Click on each image to view it in greater detail in our Online Quilt Museum.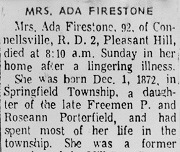 Obituary, 1965
Ada also was a talented quilter and crafted several quilts that today are lovingly preserved as family heirlooms. The ones shown on this page were made in the 1930s or '40s. She loved to fashion her patchwork quilts from scraps of clothing, mostly cotton dresses and shirts. Many were fabricated in recognizably similar ways -- working patchwork outward from a center strip, and in straight diagonal line. Several were preserved by a loving great-granddaughter, Deborah Brooks Thomas.
Sadly, Ada suffered the agony of the death of her adult daughter Ella Brooks in 1954, when the daughter was just 54 years of age.
Ada endured her late husband by more than three decades. She is known to have been burdened with fibroids of the uterus in her later years as well as hardening of the arteries.
Sadly, she died at home on April 11, 1965, at the age of 92. The Daily Courier reported that she was the last of a family of seven brothers and sisters. Rev. Samuel Weible officiated at her funeral service, at the Pleasant Hill Evangelical United Brethren Church, followed by interment at the Normalville Cemetery. Her survivors included 13 grandchildren and nine great-grandchildren.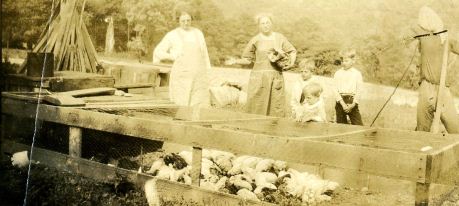 Ella Brooks and relatives at the family's chicken coop

Edgar Firestone
Son Edgar Harry Firestone (1898-1969) was born on May 8, 1897 in Rogers Mill, Fayette County. He was united in the bonds of holy matrimony with a cousin, Ethel Johnson (Aug. 11, 1911-1993), daughter of Benton M. and Minnie (Ansell) Johnson. The groom was about 14 years older than his bride. Together, they produced one son, Emory Firestone. Edgar served in the U.S. Armed Forces during World War I, training at Camp Forrest, GA as an engineer in a provisional replacement company. He was a lifelong farmer and timberman, and spent 35 years helping other local farmers as a hired thresherman. Following in her mother in law's footsteps, Ethel was a longtime Sunday School teacher and in April 1953 was elected president of the Friendship Class of the Pleasant Hill Evangelical United Brethren Church (later United Methodist). Her name regularly was published in the gossip columns of the Connellsville Daily Courier for her Sunday School activities. She was employed in the cafeteria of Connellsville Junior High East, and served as a Republican Committee Woman for a decade. Sadly, with his health in decline, Edgar was admitted on March 7, 1969 to Connellsville State Hospital. He remained for nearly two months, but without improvement. At the age of 71, he surrendered to the angel of death on May 6, 1969. His obituary was published in the Daily Courier. As a widow, Ethel pursued her interest in political affairs. In 1971, she was elected for the audit committee of the Fayette County School Foods Association. Then in March 1973, she ran for the office of tax collector of Springfield Township. When she retired from the school in May 1976, a surprise dinner party was held in her honor at the Twin Coaches. She received a monogrammed silver bracelet as a gift along with many cards from fellow workers. After 24 years as a widow, Ethel passed away in November 1993.
Grandson Emory H. Firestone (1935- ? ) was born in about 1935. He joined the U.S. Air Force on April 7, 1953. He trained at Sampson Air Force Base in New York and in July 1953 was sent to Kessler Air Force Base in Biloxi, MS, to learn the fundamentals of electronics. He is known to have been stationed in Japan in 1956, Manila, the Philippines in 1958 and in Honolulu, HI in 1969. He sent his mother a clipping from Stars and Stripes in 1958 about the extensive practice of headhunting in the Philippines, with the fresh trophies used by men of the Ilongot tribe in the Luzon mountains to woo young women for mating.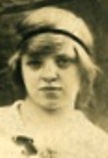 Ella Brooks
Daughter Ella Elizabeth Firestone (1899-1954) was born on July 16, 1899 in Connellsville. She married Hess Lewis Brooks (1896-1965), son of Elmer Ellsworth and Amelia (Ott) Brooks. They raised a family of four children -- Ray Eugene Brooks, Jack Brooks, Madeline McDowell and Gladys Thomas. The couple relocated to Connellsville in about 1921. Their home was at 434 Ogden Street. Said the Daily Courier, she "lived nearly all her life in Connellsville. She was a member of the Dames of Malta, W.C.T.U. and the Assembly of God Church, South Connellsville." Hess was employed for four decades with West Penn Power Company. He retired in 1961 at the age of 65. Active in his own right, Hess was a member of the General Worth lodge of the Independent Order of Odd Fellows and once held the position of noble grand. He also was a member of the Junior Order of United American Mechanics and the First Evangelical United Brethren Church. Sadly, the 54-year-old Ella was stricken and rushed to Connellsville State Hospital, where she died after a stay of only 21 hours on May 14, 1954. Rev. Edward J. Hatcher, of the Assembly of God, officiated at her funeral, followed by burial in the Normalville Cemetery. Hess survived her by 11 years and continue to dwell in the Ogden Street residence. He passed away in Connellsville on Oct. 29, 1965. They are mentioned in the book, Brooks Family History, preserved in the Minerd.com Archives.
Grand

son Ray Eugene Brooks (1917-2001) was born on Oct. 19, 1917 in Connellsville, Fayette County. He was a member of the 1935 graduating class of Connellsville High School. He went on to earn a degree from West Virginia University. Ray was joined in matrimony with Verna Grace Allshouse (April 19, 1917-1991), a native of Belle Vernon, PA and the daughter of Herman Harry and Elsie Janet (Albright) Allshouse. The pair became the parents of two daughters, Jan R. Barnett and Bonne Gurzenda. During World War II, Ray served with the U.S. Air Force. After the war's end, he opened his own business, Ray E. Brooks Company, located in Somerset, PA. He ran the enterprise for 52 years. Verna held a bachelor's degree from Duquesne University and a master's degree from the University of Pittsburgh. She was active with Children's Aid Society of Somerset County and at one time was elected vice president of its board of directors. She also belonged to the Somerset Welfare League and the Somerset Garden Club. The family were members of St. Paul's Presbyterian Church. Verna and daughter Bonne were pictured in a September 1985 edition of the

Somerset Daily American

for their work to organize an annual tea for the Welfare League. Sadly, Verna passed away on March 27, 1991, at the age of 73, as a patient in Somerset Hospital. Her obituary appeared in the

Daily American

. Rev. Dr. William T. Doncaster Jr. presided over the funeral service. The widowed Ray survived his wife by a decade and resided in Somerset during that time. The spectre of death carried him away at the age of 83 on May 13, 2001. An obituary was published in the

Pittsburgh Post-Gazette

. Funeral services were led by Rev. Keith M. Filk at the family church, with interment following in Somerset County Memorial Park.
Great-granddaughter Jan R. Brooks wedded (?) Barnett. The daughter born to this couple was Heather Brooks Barnett. Jan's home in 1991-2001 was in Somerset.
Great-granddaughter Bonne Brooks married William V. Gurzenda. Together they bore two daughters, Susan Brooks Gurzenda and Frances Gurzenda. They dwelled in Somerset in 1991-2001.
McDowell graves, Arlington National Cemetery

Granddaughter

Madeline Brooks (1919-1998) was born on Dec. 13, 1919. She was united in wedlock with Robert E. McDowell (Sept. 22, 1919-2005), a native of Dunbar, Fayette County and the son of John and Eva McDowell. The couple's two offspring were Carolyn McCormick and Robert McDowell. Robert spent his career in the U.S. Army Air Corps, later the Air Force, attaining the rank of colonel. He saw service during World War II, enlisting in 1942. He remained in the the Air Force during the Korean War and the Vietnam War. He received training as a navigator and became a personnel officer, receiving decorations and awards including the Distinguished Flying Cross. Over the years, their travels took them to Alabama, Arizona, California, Colorado, Florida, Kansas, Maryland, Missouri, Nevada Pennsylvania, Texas, Utah and Virginia in addition to Korea, Iceland and India. He retired in 1971. "Despite his travel far and wide," said an obituary, "Colonel McDowell valued his home and frequently visited Dunbar and Connellsville to maintain contact with family and friends." Robert often credited Madeline for any of his accomplishments. Sadly, at the age of 78, Madeline passed away on Feb. 1, 1998. Interment was in Arlington National Cemetery (Section 60, Grave 6780). Robert survived her by seven years and dwelled in Laurel, MD. He continued to travel and follow thoroughbread horse racing. Just two weeks before what would have been his 87th birthday, he succumbed to death on Sept. 8, 2005. His remains joined his bride's at Arlington.
Great-granddaughter Carolyn McDowell wedded Michael McCormick. Their home in 2005 was in McLean, VA.
Great-grandson Robert McDowell established a home in San Leandro, CA.
Granddaughter Gladys Brooks (1923-2004) was born on Aug. 22, 1923. She attended Connellsville High School, and was a classmate and friend of Sarah "Sally" Minerd, daughter of Connellsville mayor and dentist Dr. Harold Daniel Minerd. Gladys married Joseph Warren Thomas III (1920-2009), the son of Joseph Warren and Frances Jeane (Crawford) Thomas of New Brighton, Beaver County, PA. They together bore one daughter, Deborah Brooks Thomas. The Thomases resided in Detroit and later returned to Upper St. Clair in the south hills of Pittsburgh. Gladys was a graduate of Bethany College and a member of Zeta Tau Alpha Sorority. For half a century, she was a member of the Order of the Eastern Star, and also was a member of the Daughters of the American Revolution. In 1942, Joseph obtained his bachelor of science degree in civil engineering from the Carnegie Institute of Technology. During World War II, he served in the U.S. Navy and was posted to the Aleutian Islands. He received an honorable discharge when the war ended, and obtained employment as an engineer for Pittsburgh Coke & Chemical. He also served as a project engineer for Great Lakes Steel in Detroit and Shenango Steel in Pittsburgh and retired in 1985. Active in the community, he was a member of Kappa Sigma fraternity, the Masons, Syria Shrine Temple and Westminster Presbyterian Church of Upper St. Clair. His hobbies included golf, travel, local history and genealogy. Joseph was an active scholar of the Younkin family genealogy in the 1970s and '80s, and he and Gladys graciously hosted the founder of this website several times as a visitor in their home. Gladys passed away on Nov. 9, 2004. An obituary was printed in the Pittsburgh Tribune-Review. She was placed into eternal rest in the Grove Cemetery in New Brighton. Now widowed, Joseph suffered a stroke in 2005 and relocated to the home of his daughter in Pasadena, CA. He died in Pasadena on July 5, 2009, and his remains were returned to New Brighton to join his wife in repose. The Pittsburgh Post-Gazette published his obituary.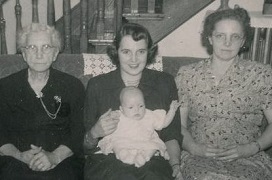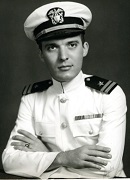 Left: 4 generations, from left: Ada Firestone, Gladys Thomas and Deborah, Ella Brooks. Right: Joseph Warren Thomas III.
Courtesy Deborah Thomas
Great-granddaughter Deborah Brooks Thomas (1951-2012) was born on Sept. 25, 1951 in Pittsburgh. She was married and had a daughter Olivia Thomas Sullivan. Reported the Los Angeles Times, Deborah was "was an artist, professor and independent curator. She was a graduate of the University of Michigan, with honors and distinction in American culture and music and received a master's degree in American civilization from the University of Pennsylvania. She taught English literature at the Universities of Geneva and Bern in Switzerland. After returning to the United States she earnestly pursued painting while teaching art history at Vassar. She taught art history and contemporary art and theory at Pasadena City College, Glendale College and the Los Angeles Academy of Figurative Art. She was a longtime member of the Eco-Art Collective sponsored by the Southern California chapter of the Women's Caucus for Art (SCWCA) and one of the chairs of the Women's Caucus for Art (WCA) national Eco-art Caucus." When in Philadelphia in April 1977, she assisted her father's genealogy research by driving to Bucks County to photograph and sketch the grave marker of the Younkin family's immigrant ancestor, Johannes Heinrich Junghen. In 2012, during the last year of her life, she provided photographs for the "Online Quilt Museum" on this website, featuring creations by Ada (McMillen) Firestone. [See examples 01 - 02 - 03.] Sadly, she died peacefully of complications at age 61 in Altadena, CA while being treated for brain tumors. An obituary ran in the Los Angeles Times.
~ Joseph W. Thomas's Younkin/Nicola Research Correspondents ~
1971-1986
Blanche (Tedrow) Bowman, Rockwood, PA, 1971- family of David Younkin

Loree (Morrison) Cross, Anderson, IN, 1974 - family of Isaac Younkin

Historical and Genealogical Society of
Somerset County, 1974 (Carole Schreckengost)

Robert O. Slagle, McLean, VA, 1975 - family of Abraham Younkin

Marguerite (Lepley) Cockley, Meyersdale, PA, 1975

Mrs. Lonnie Currie, Indiana, PA, 1976 - family of Eleanor (Younkins) Huey

Elaine (Lauter) Murphy, Brunswick, OH, 1976 - family of Eliza (Younken) Finnegan

Janice (Cale) Sisler, Uniontown, PA, 1976

Elaine (Younkin) Clark, Oregon, 1977 - family of "Devil Jake" Younkin

Isabelle Tilton, Washington, DC, 1978

Gertrude Soles, Monongahela, PA, 1977 - certified genealogist

Isabelle White, California, PA, 1977

Dora L. Gillilan, Kingfisher, OK, 1980

John W. Briggs, Gurnee, IL, 1981

Maj. Carl Hoge, Mt. Laurel, NJ, 1982 - family of Jefferson Younken

Marian (Smith) Posey and Laurel Posey, Granada Hills, CA, 1982 - family of Col. John C. Younkin

Glenneda D. King, Acme, PA, 1982

Virginia (Simms) Toney, Houston, TX, 1983 - family of Nancy (Younken) Barnett

Beverly (Hartzell) Palarino, Apollo, PA, 1983 - family of Jonas Hartzell

Gail Ann Stanley, Salt Lake City, UT, 1985 - professional genealogist

Della M. Shafer, Haysville, KS, 1985 - family of Elizabeth (Shafer) Youngkin
Grand

son Jack L. Brooks (1934- ? ) was born in about 1934. He grew up in Connellsville. Jack entered into marriage with Miriam "Mimi" (Abercrombie) Welch (July 9, 1933-2001), daughter of Fred B. and Martha (Whitworth) Abercrombie and a native of Alabama. Miriam is believed to have brought two stepchildren into the union, Larry Scott Welch and Melinda Anderson. In 2001, they resided in Silver Spring, MD. Sadly, Miriam died at the age of 67 on May 20, 2001 as a patient at Laurel (MD) Regional Hospital. Her memorial service was conducted at St. John's Episcopal Church, Olney, MD, and an obituary was published in the

Frederick (MD) News-Post

. Jack survived his bride by a number of years.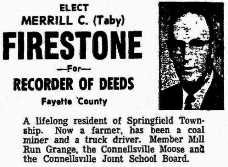 Daily Courier, 1963
Son Merrill Charles "Taby" Firestone (1905-1979) was born in 1905. He married Hazel McBeth ( ? -1996), with her maiden name sometimes mistaken as "Wells." She was the daughter of Henry Thomas McBeth. They had four known children -- Robert Firestone, Connie DeBolt, Keith Allen Firestone and Terry Firestone. He resided in 1954 in Pleasant Hill, Fayette County. He followed in his mother's footsteps of maintaining high quality farming methods, and in early life he worked as a laborer, coal miner and truck driver. He was a longtime member of the Mill Run Grange and Connellsville Moose. In May 1949, he entered a cow in the Fayette County Dairy Herd Improvement Association Award, and took third place. He also was active politically, and in November 1957 ran for the office of supervisor of Springfield Township. In March 1961, Merrill was named to a committee of the board of trustees of the Carnegie Free Library in Connellsville, serving on the library committee. He also served as vice president on the Connellsville Joint School System in 1963, and ran for the Fayette County Recorder of Deeds office the same year. He died in 1979 and is buried at Normalville Cemetery. Hazel remarried, to widower Raymond O. Ritenour (1913-2009), son of Scott E. and Mary J. (Shaffer) Ritenour. They lived in South Connellsville until Hazel's death in 1996. Raymond survived her by 13 years and passed into eternity on June 3, 2009.
Grandson Keith Allen Firestone married Susan Rebecca Schroyer in 1975. At the time, he was employed by Overhead Door Company of Uniontown, and she was about to graduate from Washington Hospital School of Nursing.
Grandson Robert C. "Bob" Firestone (1942-1983) was born on March 22, 1942. He married Marcia L. (?) (1943- ? ). Circa 1963, he resided in Arlington, VA. Bob was a production manager for National Geographic in Washington, DC. Tragically, at the age of 41, he was killed in a boating accident in July 1983. His remains were returned to Normalville for interment.
Daughter Connie Firestone married Robert Alan DeBolt in September 1963. They made their home in Suitland, MD. At the time, he was an airman second class serving with the U.S. Air Force, and she was a typist working for the U.S. Department of Agriculture in Washington, DC. Later, they moved back to Connellsville, and divorced. Robert is said to have died while jogging.

Aerial view of Indian Head, Fayette County, PA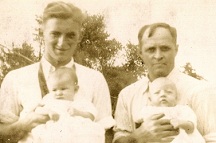 Clarence (left) and brother in law
Hess Brooks hold their babies
Son Clarence Firestone (1915-1996) was born on Sept. 16, 1914 in Connellsville. He was married three times. He had four children. When he was age 18, on July 22, 1933, he wed his first wife, Fern ( ? - ? ). They resided at Indian Head, Fayette County and produced two children, Edna "Jean" Maust and Sydney Gosnell. In 1938, after five years of marriage, Clarence left the family and moved to Radford, VA. Now working as a maid to support herself, Fern filed for divorce, with the news published in the Connellsville Daily Courier in March 1941. After the divorce was granted, Clarence married his second bride, Mary (?), but they did not reproduce. Clarence and Mary resided in Somerset, where he built a house on Harrison Avenue. He and his third wife Grace Louise Sager (1922-2001) were wed in about 1950 and remained together for 46 years. She was a native of Dodson, MD and was the daughter of Harry Vincent and Lydia (Pill) Sager. Their two children were Sandra Kay Griffith and Blaine T. Firestone. Clarence served in the U.S. Army air corps during World War II, and was said to have been a navigator who flew bombers from England to Germany. He received the Distinguished Service Cross "for knocking out one enemy tank and causing another to flee from the soldier's accurate bazooka fire," reported the Daily Courier. He also won the Silver Star "for knocking out two machine guns nests at Worms, Germany, with bazooka fire." When they returned home from the war, Clarence and his cousin Raymond Brooks decided to go into business together, handling machinery. They decided to locate the business in Somerset, which had access to the Pennsylvania Turnpike for transporting their materials. The partnership ultimately did not last long, and both men went their separate ways. Clarence later owned his own company outright, Firestone Heavy Equipment and Repair. Clarence and Grace made their home in Somerset for the remainder of their lives. He was a member of Trinity Lutheran Church, the local Veterans of Foreign Wars post, and the Travelers Protective Association. Clarence died on June 3, 1996, in their Somerset home, at the age of 81. Burial was in Somerset County Memorial Park. At death, Clarence was survived by 13 grandchildren and seven great-grandchildren. Grace outlived him by five years and passed away on March 10, 2001.
Granddaughter Edna "Jean" Firestone married Henry Maust Jr. (1930-1983) and lived in Greensburg, Westmoreland County, PA. They had at least two sons -- Keith Devon Maust and Kent Maust. Sadly, their son Kent died young.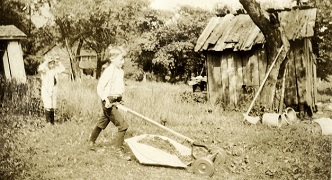 Clarence Firestone mowing while cousin Ray Brooks
watches. They went into the machinery business together
~ Son William Willis Firestone ~
Son William Willis Firestone (1872-1942) was born on April 1, 1872.
At the age of 22, on Dec. 6, 1904, William married 22-year-old Lucinda Fosbrink (1872- ? ), daughter of Herman and Susanna Fosbrink of Bullskin Township near Connellsville. The couple united themselves in marriage in Fayette County. They are not known to have reproduced.
Circa 1919, William made his home in Springfield Township. He was a coal miner for many years and retired with a pension.
In about 1930, he moved from the township to Greensburg, Westmoreland County, PA.
William died of a heart attack in Greensburg, at the age of 70, on Aug. 25, 1942. His obituary in the Connellsville Daily Courier reported that his remains were returned to Connellsville for burial in Hill Grove Cemetery, following a funeral led by Rev. Harry R. Roach of the First Presbyterian Church.
Lucinda's fate is not yet learned.
~ Daughter Savannah Lorena (Firestone) McManis ~
Daughter Savannah Lorena Firestone (1874-1955) was born Aug. 4, 1874 in Normalville. She may have been given her middle name after the famed Civil War song Lorena.
In July 1895, when she was age 21, she married James Moore McManis (April 14, 1870-1955), the son of James and Martha (Young) McManis, also spelled "McManus." He was a native of Parkersburg, Wood County, WV, but a resident of Connellsville at the time of marriage. The ceremony was performed at her parents' home in Normalville by Rev. McClay. (The family name has been misspelled often as "McManis" and "McMannis.")
They resided at 608 East Murphy Avenue in Connellsville and produced three children -- Albert C. McManis, Wilbur E. McManis and Edna A. McManis.
James was a longtime laborer for the Baltimore & Ohio Railroad. He may be the same "James McManis" who was an engineer caught in a railroad wreck in Confluence, Somerset County in May 1905, and was reported killed in the Connellsville Weekly Courier. "A local shifting engine was pushing cars about in the yards and had shoved a portion of the train out on the main line. A double-header freight dashed down the main track and collided with the freight cars. The freigh twas coming at a rapid speed and when the collision occurred cars were crushed and broken and big slivers of wood were hurled over one hundred feet. In all there were fifty-nine loaded cars and the impact of the freight train and the cars of the local was terrific. The cars were piled twenty-five feet high." If this is the same man, he survived and retired in 1939 as a railroad engineer.
Savannah and James were married for 60 years, and passed away within six hours of each other, on Jan. 17, 1955. He died first, from the effects of hardening of the arteries and heart disease, at Connellsville State Hospital, at the age of 84.
She expired at home later that day, due to heart issues, at the age of 80. In an obituary, the Connellsville Daily Courier said she was "the last member of her immediate family" and was "a native of Normalville." Rev. Robert Cameron of First Presbyterian Church officiated at the double funeral, followed by interment in Hill Grove Cemetery. Additional services were furnished by the Brotherhood of Locomotive Engineers that evening.
Son Albert C. McManis (1895-1955) was born on Aug. 5, 1895 in Normalville. Albert was joined in marriage with Minnie Bixler ( ? - ? ), daughter of George Bixler. He served our nation in military service during World War I as a corporal and member of the Army's Motor Transportation Company 705. He served for 18 months, including 12 months overseas, and saw action in the Battle of the Argonne Forest in France. Circa March 1919, he was stationed at Camp DeCoetsquidan, St. Nazaire, France, and one of his letters home was paraphrased in the Connellsville Daily Courier. After the war's end, he returned to Connellsville in August 1919. He earned a living over the years as a laborer in Connellsville, and they made their home with his parents at 608 East Murphy Avenue. Suffering from bronchial pneumonia, at the age of 60, he suffered for a week and was admitted to the Veterans Affairs Hospital in Pittsburgh and died the same day, Oct. 11, 1955. Burial was in Hill Grove Cemetery.
Son Wilbur E. McManis (1902-1960) was born on June 27, 1902 in Connellsville. He never married. Wilbur earned a living as an auto-body mechanic and was a member of the Fairview Aid Society. Following the deaths of his parents and brother, all in 1955, he resided with his sister in the family home at 608 East Murphy Avenue. He was stricken with cancer and suffered bleeding of the brain, and was admitted to Connellsville State General Hospital. He passed away in the institution three weeks later at the age of 58 on July 19, 1960. His remains were placed into eternal repose in Hill Grove Cemetery, following funeral services led by Rev. Dr. Francis G. Stewart. An obituary was printed in the Connellsville Daily Courier.
Daughter Edna McManis (1905-1968) was born on Sept. 16, 1905 in Connellsville. She never married. She was employed as a telephone operator for more than a quarter of a century by West Penn Power Company in Connellsville. In 1953, now chief operator, she was honored for achieving 25 years of service. Circa 1955, she and her unmarried brother Wilbur shared a home at 608 East Murphy Avenue. Edna was a member of the Connellsville United Presbyterian Church. She died in Connellsville State General Hospital at the age of 62 on July 29, 1968. In an obituary, the Connellsville Daily Courier noted that "Cousins survive."
Copyright © 2011, 2012-2018, 2021 Mark A. Miner
Bonne Gurzenda, the late Deborah Thomas and to Firestone researcher Denny Shirer graciously have shared content for this page.