Home

Jacob H. 'Devil Jake' Younkin
(1808-1868?)
Jacob H. "Devil Jake" Younkin was born on April 6, 1808 in Turkeyfoot Township, the son of "Yankee John" and Nancy (Hartzell) Younkin.
He married Sarah A. Tannehill (1827-1887), daughter of Zachariah and Mary A. (Lanning) Tannehill.
They had seven children -- Andrew J. Younkin, Messmore Younkin, John T. Younkin, Eli Younkin, Orphelia Younkin, George B. "McClellan" Younkin and Sarah "Sadie" Younkin.
Jake received his nickname from his erratic behavior, which was related in a letter written by Younkin researcher Charles Arthur Younkin in the 1930s:
Now your grandfather Jacob Younkin better known as (Devil) Jake Younkin am told that he derived this name in this way. That he lived near the Jersey Church in Somerset Co. and was in the habit of getting drunk quite frequently, and on these sprees would cut some great capers. On one occasion am told he climbed on top of barn roof and had a great time. Also that there were several Jacob Younkin of his day and each had a distinguishing nickname.
In about 1863, during the Civil War, the Younkins moved from Somerset County to near Pennsville, Fayette County, north of Connellsville. There, Jake is believed to have died in 1868, but the details are not known.
As a widow, Sarah married again, to John Metcalf, and moved into the city of Connellsville in about 1872. John Metcalf died a few years later. Widowed again, she was known throughout Connellsville as "Johnny Younkin's mother," given his standing in the community as a railroad engineer of "high repute."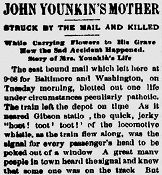 Keystone Courier, 1887
Tragedy rocked Sarah's world in January 1887, when she was 60 years of age. At that time, three of her adult sons were railroaders, while the other two sons were stone masons. Son John T., who was married and had children, and was employed as an engineer with the Baltimore and Ohio Railroad, was killed in an accident in the yards of Hyndman, Somerset County. His remains were brought back to Connellsville for burial in Hill Grove Cemetery. The Connellsville Keystone Courier reported that John had had:
... several hairbreadth escapes on the Connellsville division, but his usual luck deserted this time. A westbound freight, due at Hyndman at 2 o'clock last Friday morning, arrived behind time, expecting to run into the siding there and clear the track for the eastbound Baltimore express. But the east end of the siding was blocked with cars and the freight train was compelled to run on and back in at the other end. This consumed all its margin of time. The train had barely gotten into the siding when the express came thundering down the mountain at the rate of thirty miles per hour. In the hurry and excitement the flagman either neglected to close the switch or did not have time to do so, and the flying passenger train ran into the siding and collided with the freight. The occupants of the freight engine jumped and escaped. Those on the passenger locomotive were not so lucky.... Younkin, the engineer, attempted to get off his engine, and had swung himself to the steps, but he was too late. Before he could jump, the engines came together with a tremendous crash, throwing him violently between his engine and the tender. While in that position, the rebound of the cars crushed his hip and injured him internally.
The fates of John T.'s widow Minnie Nancy (Carothers) Younkin and their children Elizabeth "Bessie" Younkin, Harry Murphy Younkin, John T. Younkin Jr. and Lulu Pearl Younkin are unknown.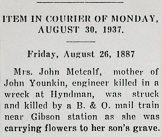 YFNB, 50 years later
Eight months after the accident, while on her way to place flowers on her sonís grave in August 1887, she decided to take the walking route near Gibson Station, rather than climb a steep hillside near the track. Tragically, she too was struck and killed by a moving locomotive, which was transporting the U.S. Mail to Baltimore and Washington, DC. She was struck near Trimble's store, where the curve of the track kept the train hidden until it was too late.
Reported the Keystone Courier, "The train left the depot on time. As it neared Gibson station, the quick, jerky 'hoot! hoot! hoot! of the locomotive whistle, as the train flew along, was the signal for every passenger's head to be poked out of a window. A great many people in town heard the signal and knew that some one was on the track. But those on the train and at the station soon knew that an old lady had been struck and killed."
Her broken remains were placed at rest in Hill Grove Cemetery, and a coroner's inquiry pronounced the senseless death as an accident. A search of Hill Grove records shows that while the son has a stone, she does not, and sleeps anonymously.
The tragedy so touched the publicís interest that for years afterward, at 10-year-anniversary increments, a short summary was reprinted in the Connellsville Daily Courier and also in 1937 in the Younkin Family News Bulletin. Many decades later, Jacob and Sally and their eight children were mentioned by name in the February 1963 edition of the Laurel Messenger newsletter of the Somerset Historical and Genealogical Society.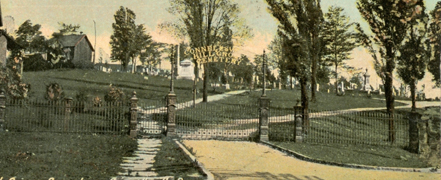 Connellsville's Hill Grove Cemetery
~ Son Andrew Jackson Younkin ~

Younkin Family News Bulletin
Son Andrew Jackson Younkin (1847-1916) was born in September 1847 in Lower Turkeyfoot Township. He was twice married, perhaps more.
He and his first wife -- name unknown -- divorced in Fayette County under a decree of the September Term of Court 1888.
A few months later, he obtained a marriage license to wed 23-year-old Sadie J. Spiker ( ? - ? ), daughter of Adam and Mary M. Spiker of Connellsville, but there is no record that the the nuptials took place. But a short article in the Connellsville Courier shows that in November 1892, he was charged by Adam Spiker with "assault and battery."
He was joined in matrimony with his second bride, widow Phoebe "Ann" (Burkholder) Younkin (1855-1937), on March 5, 1895, when he was 47 and she 36. Her first husband, James Dempsey "Demp" Younkin, had died a few years earlier, in 1892. Thus Phoebe Ann brought five children to her marriage with Andrew -- John J. Younkin, Daniel Garfield Younkin, Daisy Catharine Younkin, James G. "Blaine" Younkin and Bessie "Grace" Shannon.
The family made its home in Fort Hill, Somerset County, PA. Andrew and Phoebe Ann went on to have two more daughters of their own, Lydia F. "Edna" Lang Arndt Osberg and Martha Mefford.
In an interesting twist, Phoebe's sister Ida was married to James Franklin Younkin, -- brother Daniel McKinley to Kathryn Miner -- and sister Rebecca Jane to Otis "Freed" Minerd.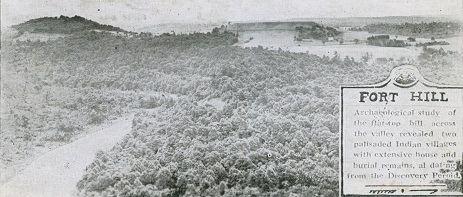 Above: Fort Hill, Somerset County. Below:
Andrew's 2nd wife, Phoebe Ann (Burkholder) Younkin, is buried with her 1st husband James Dempsey Younkin at Imel Cemetery near Clay Run
.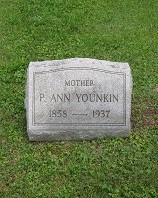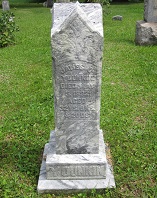 But the second marriage apparently did not last, and Andrew and Phoebe Ann separated. By 1900, the federal census-taker recorded Andrew residing as a single man and boarder in the home of Henry J. Leichliter. In March 1903, the Connellsville newspaper reported that he had been "in Pittsburg for some time" and was visiting in South Connellsville, "calling on his brother Eli." Family notes show that his daughter Martha "was raised by Jackson Case." In April 1911, at the death of his brother Eli, Andrew was named in the Daily Courier obituary, which said he lived in Connellsville at the time.
Nothing more about him is known. It's possible, although certainly not proven, that he was the same "Andrew Jackson Younkin" who was a coal miner and died in or near Moundsville, Marshall County, WV on June 9, 1913, of stomach cancer. It's more likely, however, that he was the "Andy Younkin" (born in 1847) who died at the age of 69 in the Fayette County Home in Uninotown on Feb. 12, 1916. Cause of death was emphysema and bronchial pneumonia. Burial was in -- of all places -- Philadelphia, as per the Pennsylvania death certificate signed by county home steward Richard "Dick" Sherrick, whose wife Nora Catherine (Younkin) Sherrick (of the family of Franklin B. Younkin) was a distant cousin of Andrew's.

Imel Cemetery
Daughter Lydia "Edna" Younkin (1895-1960) was born on June 12, 1895 in Draketown, Somerset County. She was married perhaps a total of four times. Her first spouse is believed to have been (?) Lang ( ? - ? ), with whom she tied the knot at age 20. The couple produced a son, Fred Lang. Later, by 1930, she wedded automobile salesman Wilfred Arndt (1888- ? ), a native of Nebraska. The federal census enumeration of 1930 shows Edna and Wilfred as lodgers in the Chicago household of Herman Meyer on Melrose. She made her home under the "Arndt" name in Chicago in 1935 and was mentioned in the Connellsville Daily Courier obituary of her sister Daisy Fosbrink. By 1940, using the name "Edna Eschenburg," she lived on Chicago's Sacramento Avenue and kept a boarder, 38-year-old divorcee Victor H. Ostberg (1902?- ? ), an employee with the Works Progress Administration (WPA). Later, by the late 1940s, she had married Ostberg, and they remained in the Windy City. She died in Chicago in July 1960, at the age of 65. A death notice in the Chicago Tribune referred to her as "beloved wife of Victor; fond mother of Fred Lang; grandmother of Carol and Melinda Lang; dear sister of Blaine Younkin and Grace Shannon." Her remains were cremated and transported back to southwestern Pennsylvania, where they were placed into eternal rest in the Imel Cemetery. Victor only survived his wife by two months. He succumbed to the spectre of death in Sept. 1960. His death notice also was published in the Tribune, which named his surviving siblings as Alfrield Collins, John T. Ostberg, Astrid Ostberg and Dorothy Kronenburger. His remains likewise were cremated by Chicago's Graceland.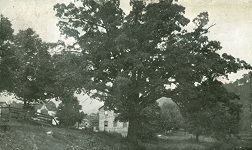 Ursina's "Charter Oak" tree on Water Street
Daughter Martha Younkin ( ? -1928), raised by Jackson Case, married coal miner Lee McKnight Mefford (1887-1951). He was the son of Milton and Elizabeth (Cameron) Mefford. The ceremony took place in Fort Hill, Somerset County, on Jan. 19, 1913, and was reported in the Connellsville Weekly Courier. They resided in Washington, Washington County, PA and had five children. She died in a Washington hospital on Christmas Eve 1928. Her remains were returned to Ursina for burial in Ursina Cemetery. Her obituary in the Daily Courier reported that she was survived by "her step mother, Mrs. Mary Younkin; one half sister, Mrs. Albert Robinson, both of Connellsville, and one half brother, John Younkin of South Connellsville." Lee moved to Follansbee, Brooke County, WV, where he died on March 31, 1951, followed by burial in Ursina Cemetery. Mrs. Wylie McBride was the informant on his death certificate.
~ Son Messmore Younkin ~
Son Messmore Younkin (1850-1923) was born in February 1850 in Lower Turkeyfoot Township. As an adult he resided at Gibsonville near Connellsville.
He married West Virginia native Rebecca Josephine Collins (1856-1921) in about 1873, when he was age 21 and she 17.
All told, they had an extraordinary count of 17 children over a 27-year span, of whom 13 survived to adulthood -- Mary Cropp, James Younkin, John Younkin, Myrtle Soisson, Albert Younkin, Daisy Bungard, Clara Turns, Ernest Younkin Johnson, Ina Brown, Rhoda Greer, Edna F. Parker, Carl Hobert Younkin and Ethel Marie Hartman. Sadly, one of their infant children is known to have died on March 18, 1880, with a short obituary published in the Connellsville Keystone Courier.
They are shown together on the 1880 and 1900 censuses of Connellsville Township, and resided on Painter Street in South Connellsville. They were members of the South Connellsville Evangelical Church. Messmore was a longtime employee on the Baltimore and Ohio Railroad. Sometime in the 1890s, reported the Courier, he was working in and around the B&O railcars and "while making a coupling was knocked down and ran over by a caboose ... and his left side has been partially useless since then, although he is now working on the road again."
Messmore moved into the position of railroad conductor, a position from which he retired, and was a member of the Brotherhood of Railroad Trainmen. Later, he became health officer of South Connellsville.
His name was printed in the final edition of the Younkin Family News Bulletin (June 30, 1941).
Having suffered a stroke, Josephine passed away in South Connellsville at the age of 65 on Nov. 18, 1921. Her obituary in the Daily Courier said she was survived by 40 grandchildren and four great-grandchildren. Burial was in Hill Grove Cemetery.
Messmore only outlived his wife by two years. He died on Sunday, Nov. 13, 1926. He is believed to be buried in an unmarked grave plot in Hill Grove, near the marked grave of his daughter Clara Turns.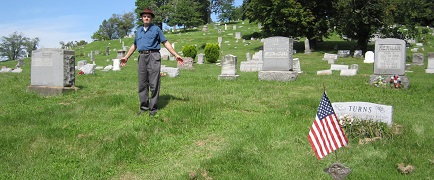 Great-great grandson Ralph Lincoln stands where he believes Messmore and Josephine rest in unmarked graves, Hill Grove Cemetery, 2013
Daughter Mary Younkin (1881-1917) was born in 1881. She married John M. Cropp ( ? - ? ), son of Orton Cropp of Braddock. They resided at Braddock, near Pittsburgh. They were the parents of eight children. In May 1917, at the age of 36, Mary was preparing to visit her parents in South Connellsville, but suffered a heart attack at home. Said the Weekly Courier, "While at various times she had suffered weak spells, her condition was not considered serious. Following her attack Saturday night a physician was immediately summoned but despite the best medical attention death resulted." Her remains were returned to Connellsville for a funeral in the First Presbyterian Church.
Son James Younkin (1873- ? ) was born in 1873 in Connellsville. On May 8, 1911, in Ottumwa, Iowa, the 38-year-old James was united in marriage with 27-year-old Edna Belle Murphy ( ? - ? ), daughter of Craig and Alice (Simmerman) Murphy of Trenton, MO. Circa 1921-1922, his home was in Trenton.
Son John Younkin (1875-1898) was born in 1875. At the age of 23, in 1898, he resided at home with his parents at Gibson. He was considered a "well-known B. & O. brakeman." Tragedy on the rails claimed his life as it had with his uncle John Younkin and grandmother Sarah (Tannehill) Younkin. On Oct. 28, 1898, the Connellsville Courier reported under the headline "A Terrible Death" that he was:
...instantly killed ... as the result of the failure to work of a patent car coupler, a device designed to prevent just such tragedies. Younkin was at work in the upper B. & O. yards, and at switch No. 11, directly in front of the "D" office, he went in between two cars to make a coupling. The patent coupler failed to work and Younkin stepped in front of it to adjust it. At this instant the engineer backed the train up, catching Younkin, it is thought, and killing him instantly. The accident was not known until ten minutes later, when the dead man was found between the cars. His watch had stopped when he was squeezed to death, showing the time when the accident had occurred. There are other theories concerning the death. The ties and rails were slippery and some think that Younkin was not standing in front of the coupler, but accidentally slipped between the bumpers just as the cars came together.
Added the Courier, "Younkin was one of the popular young men on the road and his sad end is much regretted." His mangled remains were laid to rest in Hill Grove Cemetery, with members of the Brotherhood of Railroad Trainmen and Ladies Auxiliary attending.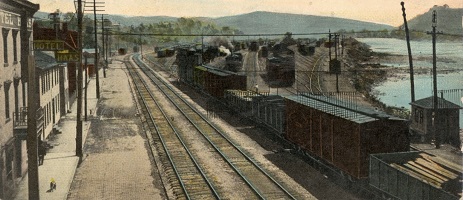 Deadly B&O Railroad yards at Connellsville
Daughter Myrtle Younkin (1876-1952) was born on Jan. 12, 1876 in South Connellsville. When she was age 22, on June 27, 1898, she wed laborer William Frederick Soisson (1873-1946), son of Leon and Rebecca Soisson. They made their home in South Connellsville. The couple had nine children -- among them William Russell Soisson, George F. Soisson, Helen Cross, Loretta McClintock, Rose Corvin, Ruth Beatty, Paul R. Soisson, James Lawrence Soisson and Fred Soisson. In 1936-1937, they held an annual reunion at Meadowbrook Park, with some 41 individuals attending. Reported the Daily Courier: "After a basket picnic was enjoyed, a short business session was held and the following officers were elected for next year: President, James Soisson; vice-president, George Soisson; secretary, Rose Corbin, and treasurer, Paul Soisson. An amateur show was then presented. Maxine Soisson sang "Plantation Star," Buster Soisson, "Little Old Lady," Maxine Soisson and Dolly Corbin, "Sail Boat in the Moonlight," Bobby Beatty, "Coming Round the Mountain," and Norma Soisson, "Boo Hoo." Little Mendon Corvin gave a baby recitation, Donald Corvin sang "Cherry Blossom Lane," and mouth organ solos were played by William Soisson and his son, George, and Kelly Corvin. The oldest grandchild in attendance was Eleanor McClintock Myers and the youngest was Kathleen Patricia Soisson. Announcement was made that Mr. Soisson's grandson, William Gross, and Evelyn Turney of South Connellsville, were to be married...." William died on Nov. 11, 1946. Myrtle outlived him by six years, enduring the consecutive-year deaths of her adult sons Paul (1949), James (1950) and Fred (1951). She passed away from the effects of organic heart disease on Sept. 19, 1952, with burial in Green Ridge Memorial Park near Connellsville.
Grandson

William Russell Soisson

(1905-1977) was born on July 25, 1905 in South Connellsville. He married Ella Walk ( ? - ? ). Their offspring were William Russell Soisson Jr., Marlene Joyce DuShaw and Norma Bernard. . As with many in his family, William earned income with Anchor Hocking Glass Corporation, retiring in 1968 as a group leader in the upkeep department. He served as president of the local Glass Bottle Blowers Association. The couple were members of the St. Johns Evangelical Lutheran Church, with William holding a seat on the church council. Their address in 1977 was 1309 Sun Street. Sadly, William passed away in Uniontown Hospital at the age of 71 on Dec. 4, 1977. He left behind 14 grandchildren and four great-grandchildren.
Grandson George F. Soisson ( ? - ? ) was born on (?). He made a home in South Connellsville at 1813 Second Street. He was employed for four decades with Anchor Hocking Corporation of South Connellsville, retiring on May 1, 1974 as a foreman.
Granddaughter

Helen Soisson married Willis Cross and made a home in South Connellsville.
Granddaughter Loretta Soisson ( ? - ? ) married (?) McClintock. She also worked at Anchor Hocking, for 23 years, in the packaging department.
Ganddaughter Rose Marie Soisson (1904-1999) was born on Sept. 17, 1904 in South Connellsville. On May 14, 1922, the 17-year-old Rose Marie eloped to Cumberland, MD to be joined in wedlock with James Kelley Corvin Sr. (1895-1979), a native of Radford, VA and the son of Ann E. Corvin. Rev. Frank Fields was the officiant. The couple stayed together for 57 years until cleaved apart by death. The family resided in South Connellsville for years at the address of 129 West Painter Street. They were the parents of nine known offspring -- Arlene Corvin, Donald Corvin, William S. Corvin, M. Paul Corvin, Thomas "Tom" Corvin, James K. Corvin Jr., Dolores Malik, Wanda Donner and Priscilla Rae Smiley. James was employed for 50 years by the Baltimore and Ohio Railroad and retired in 1963. Rose Marie belonged to the Lee Etta Lodge of the Ladies Auxiliary to the United Transportation Union in Connellsville. When the Corvins reached their golden wedding anniversary in May 1972, a special dinner was held at Bratton's Restaurant in Hopwood near Uniontown, PA, followed by a tea the next day for more than 100 guests. A story about the celebration in the Connellsville Daily Courier reported that the "buffet table was covered with white linen and an overlay of gold lace. The centerpiece was composed of yellow snapdragons, gladioli and carnatinos. A large yellow, gold and white tulip lamp was above the table. On an auxiliary table was a three-tier anniversary cake, flanked by white tapers in flower decorated holders." James died in 1979, with the remains placed into eternal sleep in Green Ridge Memorial Park. Rose Marie outlived him by two decades. She was swept away by the Angel of Death at the age of 94 on Sept. 3, 1999.
Great-granddaughter Arlene Corvin was united in matrmony with Charles P. Ferguson. They established a residence in New Orleans.
Great-grandson Donald E. Corvin lived in Bristol, VA in 1972.
Great-grandson William S. Corvin relocated to Cleveland, OH.
Great-grandson M. Paul Corvin lived in Scottdale, Fayette County.
Great-grandson Thomas "Tom" Corvin (1945-2010) was born on Aug. 11, 1945 in South Connellsville. He was united in the bonds of marriage with Lynne Peterson ( ? - ? ), daughter of Betty Ann Peterson. The couple were the parents of Timothy Corvin and Brittany Shroyer. Thomas spent his working career with the Fayette County Housing Authority. The family were members of Albright United Methodist Church, and he held a membership in the South Connellsville Volunteer Fire Department and the Fayette Fireman's Association. Grief cascaded over the family when Thomas passed away at the age of 64 on July 29, 2010. He reposes in Green Ridge Memorial Park, with Rev. Beverly Gross having presided over the funeral service. An obituary was printed in the Connellsville Daily Courier. Their daughter Brittany is married to Shawn Shroyer, son of Gilbert and Joyce (Workman) Shroyer of the family of Jacob Adam and Laura Belle (Younkin) Shroyer.
Great-grandson James K. Corvin Jr. (1928-2020) was born on Sept. 15, 1928 in Connellsville. He enlisted in the U.S. Army Air Force in March 1946 following the end of World War II, and was sent to Okinawa with the 229th Aircraft Control Squadron. He otherwise spent his entire life in the Connellsville. James married Sue Milam (1933-living). The couple's marriage lasted for an extraordinary 69 years. The children born to this union were James K. Corvin III and Sally Kalix. James served in the U.S. Army Air Corps during World War II. After the war, he went to work for Anchor Hocking Glass Corporation in South Connellsville, employed as a maintenance superintendent. He stayed at Anchor Hocking until retirement. He also is believed to have spent many years on Connellsville City Council. The family belonged to the Albright United Methodist Church, and he was a member of the King Solomon's lodge of the Masons, the South Connellsville Volunteer Fire Department and the South Connellsville Rod and Gun Club. In 1967, their son James III received a God and Country Award from the Boy Scouts. The Corvins' address in 1972 was 1922 Pittsburgh Street. At the age of 91, as a resident of Scottdale Manor, in East Huntingtdon Township, he died on Aug. 21, 2020. An obituary in the Connellsville Daily Courier said that his survivors numbered five grandchildren, nine great-grandchildren and four great-great grandchildren. Pastor Steven Lamb preached the funeral sermon, with interment in Green Ridge Memorial Park.
Great-granddaughter Dolores Corvin wedded Melvin Malik. She was in Scottdale, PA in 2010-2020.
Great-granddaughter Wanda Corvin was united in marriage with Kenneth C. Donner. She dwelled in 1972-2020 in the Siesta Key section of Sarasota, FL.
Great-granddaughter Priscilla Rae Corvin was joined in wedlock with Charles "Chuck" Smiley. Their home in 1972-2020 was in South Connellsville.
Connellsville Courier
Son Albert Younkin (1877-1903) was born in 1877. He never married. In October 1901, he worked in Cleveland, OH in a polishing company, but left the job and returned home to South Connellsville. Circa 1903, Albert was employed by the Crescent Manufacturing Company in South Connellsville and boarded a short distance away in the home of Grant Shoemaker on Gibson Avenue. That year, drinking heavily, and appearing to others to be despondent, he decided to end his own life. On the night of May 12, 1903, he swallowed carbolic acid "and suffered intense pain before death relieved him." His body was found under a tree in an open field near his dwelling. Reported the Connellsville Courier, "A note he had written last night was scribbled on a sheet of paper. It said that a wasted life was about to give up, and the writer 'expected to land in hell'." He is believed to be buried in Hill Grove Cemetery, but there is no marker today, if ever one was placed.
Daughter Daisy Younkin (1878-1964) was born in May 1878. During her life of heartbreak, she outlived her husband and nine of her children, including one sacrificed at war. At the age of 23, she married 22-year-old laborer Milton Bungard (1879-1927), son of J.P. and Mary Bungard, on Aug. 14, 1901. They had a dozen children, among them James " Donald" Bungard, Harry Bungard, Merle Bungard, Wade Bungard, Mabel Cox, Wilbur O. Bungard, Eleanor Bungard, Wayne E. Bungard, Gail Bungard, Melvin Oliver Bungard, Clyde Bungard and R.M. Bungard. Circa 1902, Milton moved the family to a company house in the coal and coke community owned by Pennsville Coke Co. Their home in 1921 was the coal mining patch town of Monarch, Fayette County and in 1922 was in Leisenring No. 3 near Uniontown. Milton died in 1927. Tragically, during World War II, married son Melvin Oliver Bungard was killed in military action in eastern France, on Oct. 25, 1944. In September 1952, Daisy resided at Fort Belvoir, VA. She died in Alexandria, VA on Jan. 28, 1964. At her death, reported the Daily Courier, she was survived by 18 grandchildren and 26 great-grandchildren. Burial was in Chalk Hill Lutheran Cemetery near Uniontown.
Son Ernest Younkin (1882-1952) was born in November 1882 in Connellsville and went by the name "Johnson" as an adult. At the age of 24, he resided at home with his parents in South Connellsville, and was employed as a laborer in a local tin mill. At the age of 28, on June 16, 1911, he married 17-year-old Myrtle May Ringer (1894- ? ), daughter of John M. and Olive Ringer. Because Myrtle was underage, her mother had to provide her legal consent. Justice of the peace P.M. Buttermore officiated at the wedding, held in Connellsville. The marital union did not last, and the couple was divorced in or about 1915. In a story published in the Connellsville Courier, Myrtle testified in court that Ernest was "out tramping around" and that "he frequently went tramping." He made his home in Cleveland, Cuyahoga County, OH in 1921. He returned to South Connellsville and was there in the early 1950s, earning a living as a common laborer. Suffering from hardening of the arteries and heart disease, he was admitted in 1948 to the Torrance State Hospital in Derry, Westmoreland County. He remained there for four years as his health worsened. He died in the hospital at the age of 68 on July 26, 1952. His remains were donated to the State Anatomical Board in Philadelphia for medical study.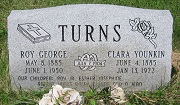 Hill Grove Cemetery
Daughter Clara Younkin (1885-1922) was born on June 4, 1885. She married Roy George Turns (1885-1950) on July 7, 1904, when both were age 19. They resided on Painter Street in South Connellsville. They had nine children -- Roy George Turns Jr., Esther Turns, Josephine Collins Darby, Robert Turns, James Turns, Ralph Turns, C. June Darby and Dorothy "Jean" Trump. Heartache rocked the young family in mid-January 1922, when Clara, age 36, suffered a heart attack and "died within the hour," said the Weekly Courier. "She had previously been in apparently good health." A physician arrived just five minutes too late to help. She was laid to rest in Hill Grove Cemetery. Roy died on June 1, 1950, joining her in eternal rest.
Grandddaughter C. June Turns (1917-2010) was born on June 18, 2017 in Mount Pleasant, Westmoreland County, PA. She married Frank C. Darby ( ? - ? ). They produced four offspring -- Ralph Darby, Judy Hughes, Richard Darby and Roy Darby. They were members of the Calvary Assembly of God Church in Connellsville. Later, they relocated to Indiana. There, they lived in Farmland and were members of Farmland Friends Church. June also was known locally as "The Picture Lady." They outlived their son Ralph. She died at Park Health Care in Parker City, IN at the age of 92 on June 1, 2010. Her remains were returned to Fayette County to rest in Normalville Cemetery. An obituary in the Connellsville Daily Courier reported that her survivors included nine grandchildren, 14 great-grandchildren and four great-great grandchildren.
Great-granddaughter Lois Joan Turns ( ? -2017) was born in (?). She was married three times to David C. Malone Sr, (?) Dingle and (?) Humbert. Over the years, she resided in Carmichaels, Greene County, PA and died on Oct. 8, 2017. The Malones produced two sons -- Douglas E. Malone and David C. Malone Jr. Lois Joan also produced a son in her second marriage, Lee Dingle. Douglas E. Malone (July 15, 1960-2017) made his home in Dilliner and over the years worked for East Dunkard Water, Monongahela Township, Bruno's Service Station and as a self-employed scrap metal dealer. Doug died at age 56 on July 3, 2017.
Daughter Ina Younkin (1888-1974) was born in May 1888. On Feb. 21, 1909, she wed railroad brakeman Edward G. Brown ( ? - ? ) of Dawson, Fayette County. He was the son of Edward Brown Sr. Rev. W.E. Bassett performed the ceremony. The couple had five children -- Edward E. Brown, Eva DiMaggio, Thelma ("Capodanno") Cappy, Carl Brown and Glen Brown. In 1921, their home was in McKees Rocks in Pittsburgh. They remained in McKees Rocks for the balance of their lives. Ina died no Dec. 12, 1974. A death notice was printed in the Pittsburgh Press.
Grandson Edward Brown (1910-1966) graduated from the Carnegie Institute of Technology (today's Carnegie Mellon University) and was a chemist with Vanadium Corporation of America in Pittsburgh and Cambridge, Ohio. Later, he was chief chemist for Interstate Steel Corporation of Beverly, OH.
Daughter Rhoda Younkin (1889- ? ) was born in November 1889. She married Elmer N. Greer, son of Isaac N. and Ida A. Greer, on Jan. 11, 1908 in Connellsville. Elmer was a railroader and based at the time in Youngwood, Westmoreland County, PA.
Daughter Edna Younkin (1892- ? ) was born in March 1892. She resided with her parents in 1921 on Painter Street in South Connellsville and worked as a sales lady in a local candy factory. By 1952, she had married (?) Parker and migrated to Alexandria, VA, where her widowed sister Daisy Bungard also lived. She was still alive in 1974 when named in the Pittsburgh Press death notice of her sister Ina Brown.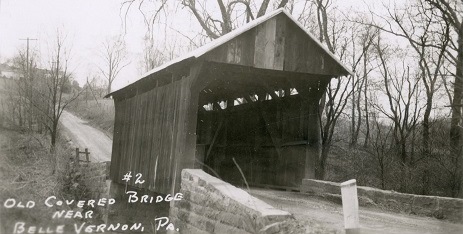 Above: old landmark in Belle Vernon, where Carl and Henrietta Younkin resided. Below: Carl's name, South Connellsville war memorial. Leslie (Fuoss) Younkin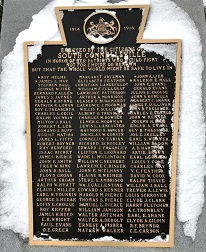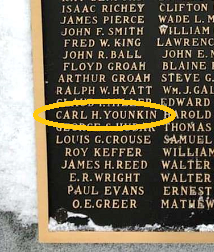 Son Carl Hobert Younkin (1894-1980) was born on May 28, 1894. He reputedly was married 10 or 12 times, but this needs to be confirmed. In young manhood, Carl dwelled on Hymand Street in South Connellsville. He stood 5 feet, 6 inches tall and weighed 137 lbs., with blue eyes and a ruddy complexion. He joined the U.S. Army at the age of 20, traveling to Fort Slocum, NY to begin basic training. He served from Nov. 1, 1914 to June 11, 1920, covering the period before, during and after World War I. At the age of 22, in 1916, he is believed to have wed his first wife. Her name is not known. Then he married again to Nelle Maxwell (1902- ? ), and they lived in South Connellsville. Carl allegedly deserted her, and they divorced on Nov. 12, 1919. News of Carl's and Nelle's divorce was published in the Connellsville Daily Courier. Within a few months, Nell gave birth in Ohio to their son, Carl Edward Hobert Younkin. Two years later, in 1921, he dwelled at home and made a living with his brother Ernest as a laborer in a tin mill. On Dec. 30, 1922, he married again to Henrietta June Hendrickson (1905- ? ), daughter of Edward and Susan Hendrickson. That year, they resided in Rostraver Township, Westmoreland County, where Carl earned a living as a cutter in a steel mill. By 1934, Carl and Henrietta made their home in North Belle Vernon, Westmoreland County, with Carl continuing to provide labor for Pittsburgh Steel. Their address at that time was 312 Graham Street. In February 1936, Carl was named in a letter by Younkin Family News Bulletin publisher Charles Arthur Younkin who was active with the Younkin National Home-coming Reunion. The 1940 census shows this couple in Belle Vernon, and they remained there at least into 1942, at which time their home was at 382 Fell Street. His work at Pittsburgh Steel in 1942 was as a hoist operator. Circa 1964, his residence was St. Petersburg, FL, with his home located in Causeway Isles. Evidence suggests that his final years were spent in Plant City, Hillsborough County, FL and that he succumbed on Aug. 15, 1980 at the age of 86. Former wife Nell married again to (?) Plumb.
Grandson Carl Edward Hobert Younkin (1920-2003) was born on Sept. 5, 1920 in Connellsville, after his parents had divorced. He relocated to Columbus, Franklin County, OH, where he was a machinist. Carl was thrice married. His first marriage was on April 26, 1941, when he wedded Doris Irene Price ( ? - ? ). On Jan. 26, 1948, at the age of 27, he was joined in wedlock with his second wife, Marguerite Shirley (Pendergast) Hughes (Jan. 23, 1923- ? ), daughter of John and Lurena (Orders) Pendergast of Columbus. Their marriage did not last long. Circa 1951, he lived in the Columbus area and earned a living as an engineering aid. On July 4, 1951, at the age of 30, he wedded his third bride, Ruth "Irene" (Hazelbaker) Irvine ( ? - ? ), daughter of Elvin and Pearl (Koch) Hazelbaker of McDermott, OH. The Younkins lived in or around Grove City, OH. Their offspring were Carl Robert "Bob" Younkin, Edward Younkin, Timothy Younkin and Carla Boring. Carl served in the U.S. Army during World War II. He spent 20 years working for the Ohio Department of Transportation prior to retirement. He was a member of the Elks Club in Delaware. In 1996, he married again to Sadie Elizabeth (Holbein) Bittner Scott (1938-2001), daughter of Frederick S. and Beatrice Holbein. Sadie passed into eternity on Oct. 1, 2001. Carl only outlived his second bride by two years. As his health declined, he went to live in Columbus Colony in Columbus, Franklin County, OH. He died there at the age of 83 on Oct. 1, 2003. Rev. David Meredith officiated at the funeral service, followed by interment in Galena Cemetery. Their son Carl Robert Younkin (1942-2018) married Ann Irwin -- produced children Heather Younkin and Heath Younkin-- and died in Grove City, OH on Aug. 27, 2018.
Daughter Ethel Marie Younkin (1896-1917) was born in March 1896. On Aug. 29, 1915, she married John Albert Hartman ( ? - ? ), son of R.C. and Ellen (Hall) Hartman, in South Connellsville. A native of Franklin, VA, John was a glass worker at the time of marriage. They resided on First Street in South Connellsville. Tragedy struck this family twice in January 1917. Ethel, age 20, gave birth to a baby daughter, but the delivery was perilous, and the infant died shortly afterward. Then, just a few days later, afflicted with an infection of her birth canal, Ethel herself passed away at home. Rev. W.J. Everhart of the United Presbyterian Church officiated at the funeral held in the Hartman home, followed by burial in Hill Grove Cemetery. The Daily Courier reported that the funeral was "largely attended" including "a number of handsome floral tributes."
One of the daughters married W.O. Smith and lived in Kingmont, WV.


Eli Younkin and 2nd wife Mary Ellen
~ Son Eli Younkin ~
Son Eli Younkin (1853-1911) was born on March 11, 1853 (or 1857) in Lower Turkeyfoot Township.
He was married twice. He first was united in the bonds of holy matrimony with Anna Elizabeth Addis ( ? -1890 ).
Their six children were Filmore Younkin, Barnett Younkin, George Younkin, Charles Younkin, Nora McElhaney and William B. Younkin.
Sadly, Ann died at home in Gibson near Connellsville on March 12, 1890, at the age of 32. The Connellsville Courier reported that "She leaves a husband and six children, the youngest being 14 months old." Her remains were laid to rest in Hill Grove Cemetery.
Eli's second wife was Mary Ellen Garlitz (1871-1960), also spelled "Garletts." They were wedded three days after Christmas 1892, when Eli was age 39 and Mary Ellen 21.
The couple went on to produce six more children: Arthur Younkin, John Eli Younkin, Florence M. Robinson, Albert B. Younkin, Louis (or "Lewis") McCormick Younkin and Elly V. Younkin.
Eli was a house carpenter and "block maker" working in and around South Connellsville. When the federal census of 1900 was taken, Eli, Mary and their nine children of the combined family lived under one roof. Just a few houses away were the families of his married sister and brother in law, William and Myrtle Soisson, and future son in law Charles McElhaney.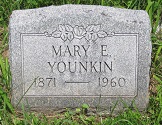 Hill Grove Cemetery
In his later life, Eli suffered for two years from a lingering case of heart valve disease added to chronic asthma. He died in Connellsville on April 9, 1911, when he was 58 years of age. His obituary in the Daily Courier erroneously gave his age as 54 and his parents' names as Jacob and Sara Tannehill "Murphy." The Courier also said he had "followed the occupation of a block up until he commenced to fail in health."
Mary Ellen outlived her husband by almost a half of a century, making her home at 222 Pittsburg Street in South Connellsville. She was a member of the Albright Evangelical United Brethren Church. At the age of 89, Mary Ellen died at home on Aug. 21, 1960, with burial in Hill Grove.
Son Filmore Younkin (1880- ? ) was born in January 1880. He resided at White Rock, Fayette County in 1898, at the age of 18. He and a number of his relatives and friends were arrested in February 1898 "on a charge of disorderly conduct and disturbing a church festival held at the Methodist Protestant Church in White Rock," reported the Courier. The others involved in the incident were Henry Snyder, William Ream, Samuel Pierce, Clark Trump, James Younkin, John Younkin and Bert Younkin, all residents of White Rock. Then in September 1905, he was accused of stealing $21 from the pocket of Thomas Kelly of Youth Chemical Company in Connellsville. Without sufficient evidence to convict him, he was found innocent.
Son Barnett Younkin (1881- ? ) was born in February 1881. At the age of 19, he made a living as a day laborer and lived at home with his parents. He may have died during the decade between 1900 and 1910, as his name does not seem to appear on the federal census enumeration of 1910. Nothing more is known.

Obituary, 1948
Son George Younkin (1882-1948) was born on July 24, 1882 in Connellsville. As an adult, he made his home in the Wayne County Home in rural Ohio. At the age of 61, in the early 1940s, he began suffering from pulmonary tuberculosis. George died of the ailment in Wayne County Hospital in Wooster, OH at the age of 66 on Sept. 23, 1948. He was interred in the Wayne County Cemetery. The informant on his death certificate, from the County Home, did not know the names of George's parents. A brief newspaper obituary noted that he had died "after a long illness" and was "survived by one brother" but mentioned no spouses or offspring.
Son Charles Younkin (1884-1975?) was born on Sept. 8, 1884. Little about his life is known, other than that he eventually became estranged from his younger half-brothers. When in his 70s, circa 1960, he lived in Aliquippa, Beaver County, PA and was mentioned in the Connellsville newspaper obituary of his step-mother. In late 1966, at the age of 83, he traveled to the home of Mrs. John Burns in Negley, OH with plans to stay for "a week or two," said the Courier. On his behalf, Mrs. Burns sent a letter to the editor of the Courier, saying he was "very lonely and would like to hear from his brothers or receive news about them." The letter, printed in the newspaper, mentioned Eli and Mary as his parents, and commented that his brothers were "John, Arthur and Lewis Younkin." He is believed to have died in Ohio in 1975, at the age of 91.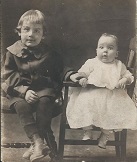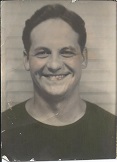 Paul and June Helen, left, and Paul at age 26
Daughter Nora Younkin (1886-1922) was born in April 1886. On Leap Day 1908, at the age of 22, she married 27-year-old mill worker Charles Roy McElhaney (1881-1926), son of John Daniel and Belle McElhaney. The wedding took place in Fairmont, Marion County, WV, led by Rev. H.G. Stoetzer of the Presbyterian Church. Charles once had worked at the tin plate mill in South Connellsville, and later moved with Nora in about 1911 to Woodlawn, in what is now Aliquippa, Beaver County. They rented a home at 1212 Main Street in Plan 12, a model company housing neighborhood built by Charles' employer, Jones & Laughlin Steel Co. Using his experience, Charles worked as a roller in the plant's tin mill along the Ohio River. They were members of the Free Methodist Church. Their five children were Albert McElhaney, Roy McElhaney, Paul Eli McElhaney, June Helen Bower and Virginia Lappin. Nora was said to have been of large build, and to have baked delicious bread with the aroma spread throughout the house. Sadly, suffering from colon cancer and intestinal obstruction, Nora was admitted to Beaver Valley General Hospital in New Brighton, and in being taken from her home, she was carried down a flight of steps seated in a chair. She died on Nov. 15, 1922, at age 36, at the hospital. Said the Beaver Falls Tribune, the funeral was held in the McElhaney home, with burial in Woodlawn Cemetery in Aliquippa. Tragedy compounded he heartache when Charles only lived for a few more years. Fate struck him down a age 45 when he was crushed in the rollers at the tin mill, on Feb. 13, 1926. He died of internal bleeding while in an ambulance being rushed to a hospital. The Connellsville Weekly Courier reported that "his clothing was caught in a manner which pulled him into the machinery." Of the five orphaned children, the eldest three were left to fend for themselves but were taken in by a neighbor family, the Coombs.
Grandson Albert McElhaney (1902-1961), moved to Freedom, Beaver County in about 1943. Disabled, Albert was killed in a boarding house fire in Freedom, Beaver County on May 31, 1961, making front-page news in the Beaver County Times. Paul, orphaned at age 14, never spoke about his parents to his own children. He married Etta and remained in Aliquippa, raising a family. After his death in 1972, with burial beside his parents, his remaining adult siblings placed a bronze marker at Nora and Charles' final resting place.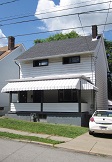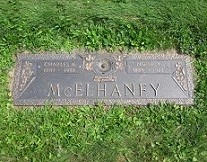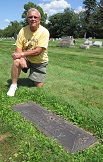 Above: the McElhaney house in Plan 12; Nora and Charles' grave; and grandson Paul "Keith" McElhaney. Below: Aliquippa's Jones & Laughlin Steel works

Son William B. Younkin (1891-1903) was born in October 1891, either the youngest son of the first marriage, or the eldest son of the second. He died at the age of 11 on Sept. 7, 1903. The funeral was held at the Evangelical Church in South Connellsville, followed by burial in Hill Grove Cemetery. An obituary was printed in the Courier.
Son Arthur Younkin (1893-1930) was born in 1893. He married Anna Lancaster ( ? - ? ). They had three daughters, Madeline Younkin, Anastasia Panone and Veronica Owens. The family established a home near the furnace in Dunbar, Fayette County, in about 1910. There, Arthur was employed as a shovel operator in a quarry of the Dunbar Corporation sand mill. Sadly, their daughter Madeline died at the tender age of 13 months on April 17, 1917, with burial in New St. Aloysius Cemetery in Dunbar. Tragically, while sitting under a tree at his lunch break, on Nov. 18, 1930, Arthur was mortally injured when hit on the head "by a two-pound stone which had been hurled a distance of about 700 feet by a blast," reported the Courier. He died at Connellsville State Hospital. His remains were placed at rest in Mount Auburn Cemetery in Dunbar, following a funeral led by Rev. William Hamilton. In the initial news report printed in the Courier, his name mistakenly was given as "Albert B. Younkin," his brother. There was not another fatality at the plant for another nine years, until 1939, when an employee was electrocuted.
Granddaughter Anastasia Younkin married Joseph Panone of Dunbar, in Brooke County, WV on Dec. 4, 1935.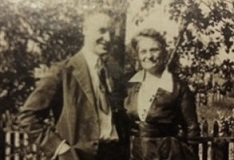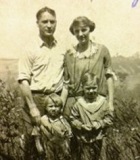 Left: John Eli Younkin Sr. and his mother. Right: John Eli and Henrietta with sons Bob and Jack in Brightwood near Pittsburgh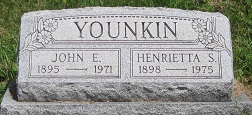 Hill Grove Cemetery, Connellsville
Son John Eli Younkin Sr. (1895-1971) was born in September 1895. Unmarried, he lived in Connellsville with his mother in 1930. He wed Henrietta Shelkey (1898-1975), the daughter of J. Franklin and Rebecca (Henry) Shelkey and granddaughter of Melchi and Annie (Johnson) Hartzell. The couple bore two sons, John Eli Younkin Jr. and Dr. Charles Robert Younkin. Circa 1918, their home was in Morgantown, Monongalia County, WV. From 1920 to 1923, he served as a treating plant supervisor for the Pennsylvania Railroad. Later, he joined Koppers Company, Wood Preserving Division, and was named procurement manager at its office in Marietta, OH. In the mid-1930s, Younkin cousin Charles Arthur "Charleroi Charley" Younkin visited their home in Connellsville, sharing his progress but also asking for donations. Teenage son John Eli Jr. was home at the time and later said that Charley "must have been 300 lbs., or close to it, and I asked my father afterwards what he wanted. Dad said he wanted money to help research the Younkin heritage, then he laughed and said, 'I know enough of Devil Jake, Drunken John, etc., I don't see any reason to check them out but I gave him twenty dollars, at least it will give him something to do'." In April 1950, he was promoted to manager of the division and relocated back to Pittsburgh. News of this appointment was published in the Pittsburgh Press. He moved again, to Delaware, and resided there in New Castle in 1960. He died in Wilmington, DE on March 27, 1971. The remains were shipped to Connellsville for burial in Hill Grove Cemetery. Henrietta died almost four years later, in Charleston, SC, on Jan. 26, 1975.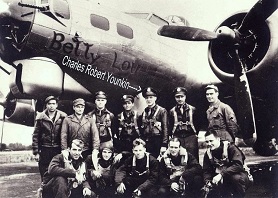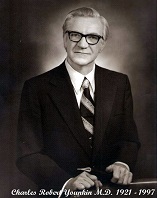 Left: Charles Robert Younkin and the World War II crew of the Betty Lou. Right: Bob as a physician after the war
Grandson Dr. Charles Robert Younkin ( ? -1997) practiced as a physician in Bellaire-Southwest Houston, TX for 39 years. He established Hillcroft Medical Clinic Association and helped found Sharpstown General Hospital.
Grandson John Eli "Jack" Younkin Jr. (1918-1994) was born in 1918. He married Sara Eloise Husband ( ? - ? ). During World War II, he served as a technician grade 5 with the U.S. Army's Headquarters Platoon, 85th Infantry Division. He received an official commendation for his work from July 12, 1944 to Dec. 24, 1944, when he "contributed materially to the recreation and morale of the officers and enlisted men of the 85th Infantry Division Headquarters," wrote his commanding officer, Lt. Col. Charles F. Mudgett. "Daily this soldier procured films from whatever source possible, often from points far distant and at the cost of missing his evening meal. Then he would personally set up, adjust and test the equipment, and operate a motion picture projector for two complete showings of full length motion pictures. The storage of the equipment for the night in order to protect it from the elements and the maintenance of his equipment would require [him] to work late into the night. The untiring efforts and outstanding devotion to these duties, performed voluntarily for the good of the services, and in addition to his regularly assigned duties with the Finance Department, reflect great credit upon himself and the military service." After the war, he was a longtime chemist for Koppers Company in Pittsburgh. Intrigued with the national Younkin research, publishing and reunion being driven by Donna (Younkin) Logan, Jack and his brother Robert paid her a visit in the summer of 1990. (See her

article

in the July-August-September 1990 edition of the

Younkin Family News Bulletin

.) Jack died in Charleston, SC on Feb. 18, 1994. Their daughters Barbara Jump Park and Sari "Elaine" Clark have attended Younkin Reunions East and West.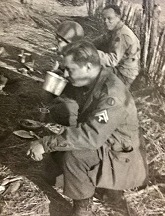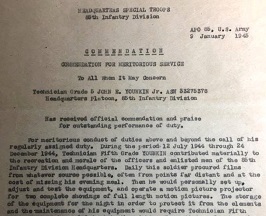 John Eli Younkin in Galliano, Italy in 1943 -- and his commendation letter
Daughter Florence M. Younkin (1898 -1941) was born in May 1898. She married Albert C. Robinson. She was employed at Trautman's Department Store. Later, they relocated to Harrisburg, Dauphin County, PA. They had one daughter, Eleanor Robinson. Florence passed away on Sept. 2, 1941, in a hospital in Harrisburg. Following a funeral led by Rev. J.E. Rudisill, of the Christ Lutheran Church of Harrisburg, she was interred in East Harrisburg Cemetery.
Son Louis McCormick Younkin (1904-1977) was born in 1904. He made his residence in Hagerstown, MD circa 1930. In April 1941, while in Hagerstown, his son fell out of the back door of their moving automobile on U.S. Route 40, west of Cumberland. Said a newspaper, "The boy's father picked him up, took a small stone out of his head and took him to the State Police Barracks nearby." He married Mabel M. Hammer and had three daughters, Mabel L. Younkin, Phyllis M. Barger and Audrey J. Kline. They also had two foster daughters, Cynthia Younkin and Kathy Ann Rhoades. The Younkins moved around the country over the decades. Their home in 1930, when the federal census was taken, was Galveston, Galveston County, TX, where Louis was employed in a machine shop. In 1960, when his mother died, he was in Richmond, VA. He died in Hagerstown, Washington County, MD in April 1977, at the age of 73. Burial was in Rest Haven Cemetery. All three of the Younkin daughters lived in Hagerstown in 1977.
~ Son George B. "McClellan" Younkin ~
Son George B. "McClellan" Younkin (1864-1930?) was born in 1864 in Connellsville and was named for the famous Union Army general of the Civil War.
At the age of 22, on May 12, 1886, McClellan married Lucy Balsley ( ? - ? ), daughter of Christian and Sarah Balsley. At the time, he lived in Connellsville Township, and she in Connellsville Borough.
The couple moved to Pittsburgh. The marriage was troubled, and McClellan left their home sometime in about 1898 or 1899. It's reputed that he joined the army during the Spanish-American War.
Iin October 1899, presumably living as a single woman, the Pittsburgh Gazette-Times reported that Lucy had been elected an officer in the grand lodge of Pythian Sisterhood.
Then in July 1901, the Pittsburgh Daily Post noted that Lucy had sued for divorce in the Allegheny County Court of Common Pleas on grounds of desertion. The court appointed a commissioner to investigate the case, and on Oct. 30, 1902, the Daily Post said that the "commissioner in the divorce case of Lucy A. Younkin against George B. Younkin filed his report. It was alleged the respondent ran away and enlisted in the army under an assumed name, so that if he was killed in Cuba no one would be the wiser."
Their fates after that time are hidden by the misty haze of the past. It's possible that George died in 1930, but more proof is needed as confirmation.
~ Daughter Sarah "Sadie" (Younkin) Mitchell ~
Daughter Sarah "Sadie" Younkin (1865-1937) was born on Oct. 25, 1865 (or 1867) in South Connellsville.
She married William F. Mitchell ( ? - ? ). They had six children: George Mitchell, Roy Mitchell, Noly Mitchell, Earl Mitchell, Grace Bean and Eva Bean.
In about 1891, the Mitchells migrated to Kansas, "occupying a farm northwest of Topeka," reported the Younkin Family News Bulletin (April 30, 1938). "It was in 1914 that 'Dad' Mitchell decided to open a grocery store in St. Marys, better known in those days as the Union Tea Store."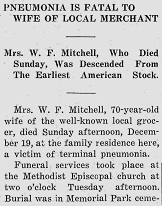 YFNB, April 30, 1938
Sadie was a member of the Daughters of the American Revolution as a descendant of the Drake and Tannehill families of Somerset County. When her brother Eli died in April 1911, she was mentioned by name in the obituary published in her own hometown newspaper, the Connellsville Daily Courier.
They celebrated their 50th wedding anniversary on Thanksgiving 1935. Said the News Bulletin, Sadie "was loved by all who knew her intimately. In recent years particularly was she an inspiring figure to her friends. Illness was a cross she had to bear for five or six years, but nobody ever heard a protest from Sadie Mitchell. She accepted her lot with dignity and courage, and the example she set will not soon be forgotten."
Sadie died in St. Mary's, of pneumonia, on Dec. 19, 1937. She was laid to rest in Topeka's Memorial Park Cemetery, escorted to her grave by pallbearers Clarence Youcum, Nels Hammarlund, David Urbansky, Frank Allen, C.P. Aul and Sam Shannon, and a funeral sermon preached by Rev. Fred Johnson. She was survived by 13 grandchildren and one great-grandchild.
Son George Mitchell lived in Kansas City.
Son Roy Mitchell made his home in Detroit.
Daughter or son (?) Noly Mitchell resided in Auburn.
Son Earl Mitchell lived in Auburn.
Daughter Grace Mitchell wed (?) Bean.
Daughter Eva Mitchell married (?) Bean
Copyright © 2013-2014, 2016-2017, 2020Mark A. Miner
Research for this page graciously shared by Olive (Rowan) Duff, Ralph Lincoln, Donna (Younkin) Logan and Linda Marker. Select obituary images courtesy of Ancestry.com.