Forest 'Fay' France
(1880-1952)


Fay and Kathryn
Forest "Fay" France was born in Groton, Wood County, OH on May 4, 1880 (or 1881), the son of John C. and Rhoda (Van Horn) France.
On Sept. 8, 1904, at the age of 24, Fay was united in the bonds of holy matrimony with 18-year-old Kathryn "Katie" Quinlan (1886-1978), an Ohio native whose parents Mr. and Mrs. John Quinlan were immigrants from Ireland.
They resided for decades in the village of Continental, Putnam County, OH.
The couple produced a family of five children -- Gillea Honora Heidrick, Helen Mamie Roberts, Roscoe Quinlan France, Esther Bernice Clark and Bette Kathryn Patten Rockhold.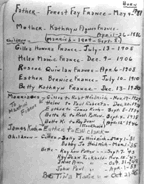 Fay's family Bible notes
In his family Bible, Fay kept a detailed handwritten record of France family births, marriages and deaths. Fortunately, this irreplaceable document has been preserved and provides important details about this branch of our clan.
Fay was a local laborer circa 1910, working for a dray line -- a transportation business for moving goods.
By 1920, when the federal census enumeration again was taken, he earned a living as a taxicab driver in Continental.
Heartache rocked the family on May 11, 1922, when their only son, 14-year-old Roscoe, drowned while swimming with friends in nearby Powell Creek.
During the decade of the 1920s, Fay seized on an opportunity to own and operate a Continental restaurant. He is shown in this occupation in the 1930 United States Census.
The restaurant must have provided sufficient income and satisfaction. Working together, the Frances continued to run the business all throughout the Great Depression of the 1930s, and into 1940, as indicated on the federal census.
The News-Review observed that he was a member of the local lodge of the Independent Order of Odd Fellows.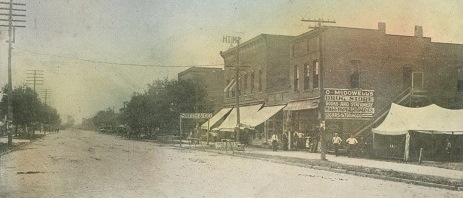 Continental's Main Street, looking south, early 1900s

Obituary, 1952
Fay eventually retired from the restaurant work.
On the fateful day of April 20, 1952, heartache struck again when Fay was killed "in a two-car collision on route 108, five miles south of Holgate," said the News-Review. With massive chest injuries, Fay was rushed to the Lima Memorial Hospital, where he died later in the day.
Kathryn, who was a passenger in their vehicle, was injured, and remained in the hospital for two months. The couple in the other vehicle was treated in Heller Memorial Hospital in Napoleon.
Funeral seervices were held in the Continental Methodist Church, conducted by Rev. Frank Sanderson. Fay's mortal remains were laid to rest in West Monroe Township Cemetery near Continental.
Kathryn survived her husband by more than a quarter of a century.
She died at age 92 on Dec. 14, 1978. She is buried with her husband.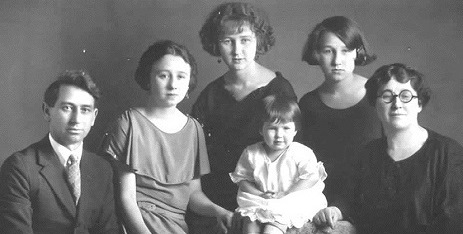 Fay and Kathryn, 1922, with, L-R: Gillea, Helen, Esther. Front: Bettie.
~ Daughter Gillea H. (France) Heidrich ~

Gillea
Daughter Gillea H. France (1905-1998) was born on July 13, 1905.
Gillea in young womanhood moved to Lucas County, OH, where she obtained employment as a stenographer. Her address in the late 1920s was 125 Princeton Drive.
On Nov. 19, 1929, in nuptials held in Lucas County, OH, the 24-year-old Gillea was joined in wedlock with 29-year-old Robert D. Heidrich ( ? - ? ), son of Anthony and Mary (Boaurf) Heidrich. Rev. A.G. Shindler officiated the wedding. A native of Fort Wayne, IN, Robert lived and worked there as a salesman at the time of marriage.
Two children were adopted into this family -- Sarah J. "Sally" Abdalla and Robert J. Heidrich.
The couple made their residence in Fort Wayne, IN. When the federal census enumeration was made in 1940, Robert earned a living as a salesman for a retail typewriter business.
During the 1940s, they relocated to the West Coast, settling in Santa Barbara, CA and appear to have stayed for good.
Sadly, on July 12, 1998, Gillea passed away in Santa Barbara.
Robert's fate is not yet known.
Daughter Sarah J. Heidrich (1931- ? ) was born on Ma 1, 1931 in Indiana. She wedded Joseph Abdalla ( ? - ? ). Circa 1995, they lived in Santa Barbara.
Son Robert Joseph "Bob" Heidrich (1936-1961) was born on March 1, 1936 in Indiana. He served in the U.S. Navy during the early years of the Vietnam War, from March 6, 1957 to discharge on May 16, 1960. Sadly, stricken with incurable cancer at the age of 24, he died in San Diego, CA on Feb. 26, 1961. He sleeps for all time in Calvary Cemetery in Santa Barbara, CA.
~ Daughter Helen M. (France) Roberts ~

Helen
Daughter Helen M. France (1906-2005) was born on Dec. 9, 1906 in Continental, Putnam County, OH.
She migrated to Sandusky, Erie County, OH, where she was employed as a school teacher.
At the age of 32, on Dec. 20, 1938, she wedded 29-year-old Paul H. Roberts (May 10, 1909-1979), also of Sandusky and the son of Edward L. and Mary (Heim) Roberts. Their ceremony was held in Erie County, presided over by Rector Donald Wonders. Paul earned a living at the time as a salesman.
The couple did not reproduce.
The United States Census of 1940 shows the couple in Sandusky, with Paul continuing his work in sales.
Sadly, Paul died in Sandusky at the age of 69 on Feb. 7, 1979. Burial of the remains was in Sandusky's Oakland Cemetery.
Helen outlived her spouse by a quarter of a century and moved to Santa Barbara, CA, where her sister Gillea is known to have lived. Death swept her away at the age of 98 on Jan. 13, 2005. Her remains were transported east to Sandusky for interment in Oakland Cemetery. No stone is known to mark the grave.

Roscoe
~ Son Roscoe Quinlan France ~
Son Roscoe Quinlan France (1908-1922) was born on April 9, 1908 in Continental, Putnam County, OH.
Circa the spring of 1922, he was an eighth grader in the Continental Schools and belonged to "The Upstreamers" Sunday School class at the Methodist Episcopal Church.
Heartache rocked the family on May 11, 1922, when the 14-year-old Roscoe went swimming with friends in nearby Powell Creek. After experiencing cramps, and unable to draw breath, he drowned.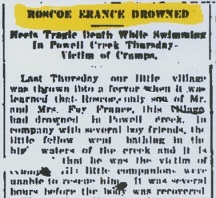 Continental News-Review
In a front-page story, the Continental News-Review reported that his "little companions were unable to rescue him" and that it took "several hours before the body was recovered."
It added that the village had been "thrown into a fervor" when the news of the tragedy became known.
The teenager's viewing was held in the family home, followed by funeral services which were held in the Methodist Episcopal Church, led by Rev. T.J. Carey. Prayers were provided by Rev. Charles D.N. Moore, with the young women's choir furnishing hymns.
Said the News-Review, the services "were attended by the largest gathering ever witnessed in this village, showing the high esteem in which he was held by all."
His remains were lowered under the sod of Monroe Township Cemetery in Continental.
~ Daughter Esther Bernice (France) Clark ~

Esther
Daughter Esther Bernice France (1910- ? ) was born on July 10, 1910 in Continental, Putnam County, OH.
She married E.W. "Bert" Clark ( ? - ? ).
They also relocated to California in the '40s, settling in Santa Ana and South Laguna Beach.
They were in South Laguna in 1952 at the death of Esther's father.
Later, they moved to Arizona.
~ Daughter Bette Kathryn (France) Rockhold ~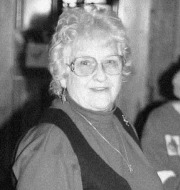 Bette Rockhold, 1996
Daughter Bette Kathryn France (1920-2015) was born on Dec. 13, 1920 in Continental, Putnam County, OH.
In her teenage years she earned income as a waitress and resided in Continental.
She was twice-married. Her first husband was Robert Patten ( ? - ? ), of Defiance, OH, the son of William and Anna Nell Patten. The couple tied the knot on Sept. 4, 1938, when she was 17 and he 21 years of age. Rev. Benjamin F. Hofer, pastor of Christ Lutheran Church of Defiance, presided.
The pair's only child was Kathryn Louise Patten.
They resided in 1940 with Robert's parents in Defiance, with him working as a grocery store clerk. The first union ended in divorce.
In 1946, at the age of about 25, she entered into marriage a second time with Ray Dean Rockhold Sr. (April 8, 1921- ? ), also a resident of Continental and the son of Abram and Clara (Shreve) Rockhold. He was employed at the time of marriage as an inspector.
Together, they produced a family of four offspring of their own -- Ray Dean Rockhold Jr., Janeann Rockhold, John Paul France Rockhold and Bettina Rockhold.
Circa 1952, their address was 1887 West Ernest Street.
Later, they moved to California's San Fernando Valley, where Betty taught school. Circa 1995, she corresponded regarding Van Horn/France genealogy with a cousin, Earl Thomas Steiner, of the family of Presley Twining and Mary Iona (Robinson) France. Copies of their letters are preserved today in the Minerd.com Archives.
She passed away on June 21, 2015. Her remains are interred in Eternal Valley Memorial Park.
Daughter Kathryn Louise Patten (1943- ? ) was born in 1943, with her birth inscribed in the family Bible. After her mother remarried, Kathryn appears to have taken the name of her stepfather, Rockhold. She married Jack R. Potts ( ? - ? ). They are the parents of Alicia Kay Potts.
Son Ray "Dean" Rockhold Jr. (1947- ? ) was born in 1947. He wedded Susan ( ? - ? ). Two sons born to this union were Ray Dean Rockhold III and Daniel Rockhold.
Daughter Janeann Rockhold (1948- ? ) was born in 1948. She entered into marriage with Gary L. Clark ( ? - ? ). They together bore two offspring, Dustin Clark and Wendy Clark.
Son John Paul France Rockhold (1953- ? ) was born in 1953. He has been married with two daughters. He received a degree in engineering and applied science from the University of California. He is known to have served circa 1995 as a water conservationist in Kampala, Uganda. In more recent years he is believed to have led the Vietnam Business Forum's Power and Energy Working Group and been employed as executive director of ABBO Investment Consultancy & Engineering JSC. He gave a tour in January 2017 for U.S. Secretary of State John Kerry to look at the "impact of coal on Vietnam," he wrote in a guest column in the Vietnam Investment Review. Today he is president of PRIM Vietnam and CEO of Chan May JSC Vietnam, as well as vice chairman for the American Chamber of Commerce for Vietnam Hanoi and co-chair of its Vietnam Energy Committee.
Daughter Bettina Marie "Tina" Rockhold (1956- ? ) was born in 1956. On July 17, 1976, she was joined in matrimony with Joseph Teijeira ( ? - ? ). The couple is divorced.
Copyright © 2003, 2013, 2021 Mark A. Miner