James L. Minerd
(1859-1938)

James L. Minerd
James L. Minerd was born in 1859 in Ironton, Lawrence County, OH, the son of John V.S. and Elizabeth (Livingston) Minerd. While his grave marker states his birth year as 1864, it's thought he "fudged" a little so he would appear younger. When he was about seven years old, his family moved back to Fayette County, PA, for good.
James was a longtime coal miner. Circa 1889, he worked in Dunbar, Fayette County, where many of his uncles, aunts and cousins lived over the years, dating back to the 1850s.

Kate's obituary, 1917
On Dec. 2, 1889, 28-year-old James married 22-year-old Catherine "Kate" Whalen (1869-1917). She was a native of Pittsburgh but a resident at the time of Dawson, Fayette County and the daughter of Irish immigrants Peter and Margaret (Gordan) Whalen. The wedding ceremony was conducted at Dunbar by justice of the peace Daniel K. Cameron. A copy of their marriage license is on microfilm today at the Westmoreland County Courthouse in nearby Greensburg.
Their eight children were Clyde Bernard Minerd, Wilbert Regis "Patsy" Minerd, Edna Wilson Johnson, Marie Edwards, Hazel E. Johnson, Margaret Pocci, Catherine Hughes and James Whalen Minerd.
The Minerds later resided at Republic, Redstone Township, Fayette County, which was a community built a coal mining operation. James was said to be "widely known in Republic and this district," said the Uniontown (PA) Standard. He converted to the Roman Catholic faith for his wife.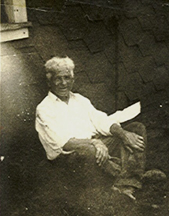 James L. Minerd
When the federal census was taken in 1910, the Minerds and their children made their home at the Mitchell Works in Redstone Township, Fayette County. James' occupation is listed as "fireman" in the "shafts." Son Clyde, age 19, was a teamster in the shafts.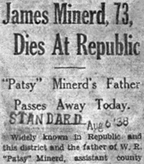 Uniontown Evening
Standard, 1938
Sadly, in the summer of 1917, at the age of 47, Kate was afflicted with chronic gastric catarrh, otherwise known as an infection and inflammation of the stomach. She became gravely ill "due to a complication of diseases," reported a newspaper. She went to stay with her sister, Mrs. Ray L. Sharps of Republic, where she finally died on Aug. 6 of that year. She left behind her husband and eight children, ranging in age from 27 (son Clyde) to 9 (son James).
James outlived his wife by more than two decades.
When the federal census was taken in 1930, the 71-year-old James was retired and made his home in Republic under the roof of his married daughter and son in law, Hazel and John Johnson. Also living under the Johnsons' roof that year was James' 21-year-old unmarried son James W. Minerd, a coal miner.
He died at the age of 73 on Aug. 6, 1938 at the home of his married daughter Hazel Johnson in Republic. His death generated headlines, and he was buried beside his wife at Park Place Cemetery in Uniontown.
For more information on this branch, contact great-granddaughter Sandra (Dennis) Riley.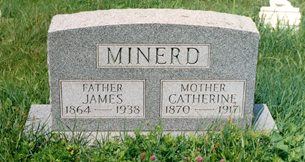 James and Catherine's graves at Park Place Cemetery, Uniontown
Copyright © 2000, 2005, 2007, 2010, 2014, 2016 Mark A. Miner