Johann 'Richard' Gaumer
(1779-1840)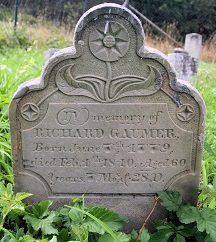 Getz Cemetery, Somerset County
Courtesy Forrest Bosley Hare
Johann "Richard" Gaumer was born on June 7, 1779 or on Dec. 16, 1779 at Oldtown, MD, or in Pennsylvania, the son of Johannes "John" and Albertina Christina (Dean) Gaumer. The later date may be a baptism date. His first name was Americanized to "John."
In about 1808, when he would have been about 28 years of age, John Richard married 26-year-old Mary Ann (?) (1781-1843).
The couple produced two known sons – Samuel Gaumer and Daniel Gaumer.
They resided for years in Southampton Township, Somerset County, PA. When John Richard was age 29 in March 1808, he bought 95 acres of land in Southampton Township from Samuel Riddle for the price of $405.67. The acreage contained stands of maple, chestnut and hickory. The deed may be found in Somerset County Deed Book 13, page 509.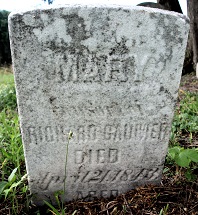 Getz Cemetery, Somerset County
Courtesy Forrest Bosley Hare
Nine years later, on Feb. 27, 1817, for the sum of $295, John Richard acquired another tract of land, comprising 330¾ acres, directly from the leasing office of the federal government. The agreement, filed in Somerset County Deed Book 9, pages 150-151, shows that the land contained red oak, that Nicholas Randel owned an adjacent property and that the land originally had been surveyed in June 1767.
A wedding was held in the Gaumer household in Southampton Township on Jan. 14, 1829, as reported in the Maryland Advocate newspaper in nearby Cumberland. In the ceremony, John Willhelm was united in marriage with Teeny Witt, by the hand of Rev. Fought.
John Richard died in Southampton on Feb. 4, 1840 at the age of 60 years, seven months and 28 days.
Mary outlived him by three years, and passed away on April 21, 1843. Her age at death was 62 years, three months and 11 days.
They are buried at Getz Cemetery in Southampton. Their graves were included in a 1934 survey by the Works Progress Administration [link]. In the 1930s, the cemetery was located on the farm of Irvin Troutman, east of the buildings about 20 rods on top of a knoll in the field." The founder of this website visited Getz in September 2016 to pay his respects.
Their families are spelled out in the 1991 book The Reiber Genealogy: The Descendants of Jacob Reiber, the Immigrant Ancestor of Sandhofen, Germany, 1727-1810, and Later of Lehigh County and York County, Pennsylvania, authored by John Raymond and Edith Fae ( Boyer) Reiber ( 625 pages).
The photographs of the grave markers for Richard and Mary Ann are courtesy Find A Grave and photographer Forrest Bosley Hare, added on July 20, 2018.

Above: John's deed for 95 acres in Southampton, dated 1808. Below: the Gaumers rest beneath the pines on this knoll in Southampton Township

Copyright © 2000, 2015-2018 Mark A. Miner