Caroline A. (Gaumer) Fox Schneck
(1830-1910)
Huff's Church grave in English
Caroline A. Gaumer was born on Nov. 7, 1830 in Lehigh County, PA, the daughter of Johann "Adam" and Christiana (Wesco) Gaumer.
She was first married to William Fuchs (Dec. 9, 1823-1861) -- Americanized to "Fox" -- son of John and Anna (Berger) Fuchs of Hereford Township, Berks County.
The couple produced a brood of these seven children -- Sara J. Fuchs/Fox, Emaline "Emma" Hoffman, Atillia Elisabeth "Tillia" Gehman, Anna Manah "Annie" Yingling Dougherty, Mariah A. Fuchs and John Fox.
The federal census enumeration of 1860 shows this family residing on a farm in Hereford Township, Berks County, near Huff's Church. That year, 14-year-old Nathan Stauffer lived in the household.
Heartache swept over the family when William and two of the daughters became deathly ill in the autumn of 1861. On Oct. 23, he succumbed at the age of 37 years, 10 months and 13 days. Daughter Sara, age 12, passed away nine days later on Nov. 1, and three-year-old daughter Maria two days after that, on Nov. 3.
All three were buried in Huff's Union Church Cemetery -- the daughters side-by-wide -- with their grave markers inscribed in the old German script. John's stone featured a rounded top edge and a carving of an open Bible, resting on top of another Bible, a common motif in this burial yard. On the left-hand page of the Bible sculpture was written the text upon which his funeral sermon was preached, but unfortunately time and the elements have made these letters and numbers virtually illegible. Across the top, on a curved line, is the phrase "Zum Undenten An," which in English means "For the moment" and reflects their belief in the Christian Resurrection.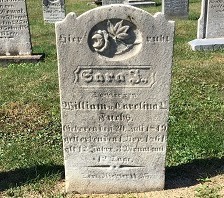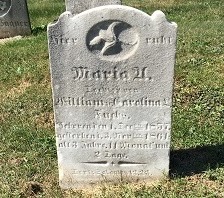 German graves of young Fuchs sisters Sara (left) and Maria who died in 1861


Huff's Church community, Hereford Twp.

Atlas of Berks County, 1876
The girls' graves were adorned at the top with an oval bas relief sculptures of two different types of flowers, petals and stems, sandwiched between the words "Hier ruht" -- translated to "Here lies the body of." At the base of Maria's stone was inscribed a reference to the biblical passage on which her funeral sermon was preached -- Gol. [?] 12:23. Similarly carved at the base of Sara's marker was the funeral sermon text, but the lettering has worn away with time and not readable.
During the 1860s, before 1870, Caroline was joined in marital union with her second spouse, John Schneck (1845- ? ). The groom was 14 years younger than the bride.
They bore at least one daughter of their own, Jane Schneck.
The United States Census of 1870 shows Caroline and John living by themselves in Hereford Township. That year, the 26-year-old John made shoes and boots for a living. Caroline's offspring from the first marriage had been taken into other homes scattered throughout Hereford Township. Daughter Attillia, for example, resided with William and Anna Maria Clemmer.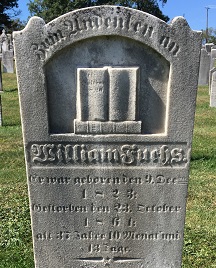 William's German-text grave
When in 1880 the census again was taken, Caroline and John had relocated to Lower Milford, Lehigh County, PA, with John laboring as a farmer. Their newborn daughter Jane was in the household that year as was 13-year-old servant girl Elizabeth Gery.
Sadly, John died prior to 1900, leaving Caroline as a widow for the second time. She outlived him by more than a decade.
In 1900-1910, Caroline made her home with her married daughter and son-in-law, Attillia and Allen Gehman and their family in Clayton, in Hereford Township.
In May 1910, Caroline was stricken by a cerebral apoplexy and suffered for about a month. Her health declined rapidly, and she passed into eternity at the age of 79 on June 22, 1910. Burial was in Huff's Union Church Cemetery, with daughter Attillia of Barto serving as informant for the Pennsylvania death certificate.
She was laid into eternal rest under the surname of her first husband, who had been dead for nearly 50 years at that point. Unlike him, however, her name as inscribed on the grave marker was spelled the English way, "Fox." [Find-a-Grave]
~ Daughter Emmalina "Emma" (Fox) Hoffman ~
Daughter Emmalina "Emma" (or "Emaline") Fox (1851-1940) was born on March 31, 1851. She was 10 years old when her father died.
In 1869, at the age of 18, she was joined in wedlock with 21-year-old John H. Hoffman (Oct. 6, 1847-1911), son of Michael M. and Catharine "Hattie" (Haas) Hoffman and grandson of Michael and Mary (Miller) Hoffman. John's great-grandfather, Casper Hoffman, is said to have survived an ocean voyage from Germany which had claimed the lives of his parents and six siblings.
Emma and John were the parents of James W. Hoffman and Tillie DeLong.

Father-son farms of Michael and John Hoffman near Huff's Church, 1876

Atlas of Berks County
John was profiled in a section about the Hoffman family in the book Historical and Biographical Annals of Berks County, Pennsylvania, by Morton L. Montgomery. The book said that John:
...was reared upon the farm and attended the common schools of his district. He has always been very handy with tools, has worked to some extent at the blacksmith's trade, and does all his own carpenter work, through farming has been his principal occupation through life. In 1870 he began farming on the land where he has since lived, the John Fox place, near Huff's Church, where he has fifty-five acres will improved and cultivated. Mr. Hoffman built the present barn in 1875 and the house in 1888, the new dwelling replacing an old log cabin which was one of the earliest houses in the township; old residents say that it stood fully 150 years.
Mr. Hoffman has taken an active interest in the life of his community, having served nine years as school director of his township, and he was president of the board during the greater part of his incumbency. He has served four years as deacon of Huff's Church, of which he and his family are Lutheran members. Mr. Hoffman is a Democrat in his political views.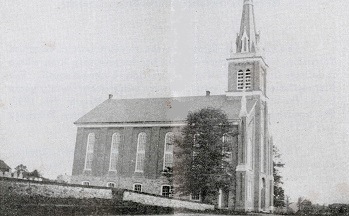 Huff's Church as it looked in 1881.

Historical Souvenir of the Huff's Union Church in Hereford Township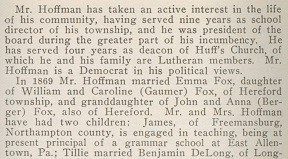 The Hoffmans' profile in the Historical and
Biographical Annals of Berks County, 1876
The family resided on a farm at Huff's Church, Hereford Township in 1880 and in Alburtis, Lehigh County in the early 1910s.
At the age of 64, burdened with a pulmonary abscess and pleurisy, John died on April 26, 1911.
Emma survived him by more than a quarter of a century. In June 1915, she and her daughter Tillie and granddaughter Pearl DeLong are known to have attended a quilting party at the home of Mrs. Alvin V. Albitz.
She made a home in 1939 in Boyertown, Berks County. A dozen days after her 89th birthday, afflicted with hardening of the arteries, Emma died on April 13, 1940. Tillie Fisher of Boyertown provided details for the certificate of death. Burial was beside her husband in Huff's Church Cemetery. [Find-a-Grave]
Son James W. Hoffman (1869-1943) was born on June 20, 1869. James was twice married. His first bride was Ella M. Knappenberger (1868-1927), daughter of Benjamin Knappenberger. They produced two known sons, Walter K. Hoffman and William James Hoffman. Sadness blanketed the family when Ella passed away in 1927 and then the following year their son William died in 1928 at the age of 21. James wedded his second spouse, Minnie Rebecca (Laubach) Erdley (1869-1960), daughter of Sarah (Fulmer) Laubach and the widow of John R. Erdley. James died at the age of 74 on Nov. 20, 1943. He rests in Freemansburg Cemetery in Northampton County. Minnie lived for another 17 years and succumbed in 1960.
Grandson

Walter K. Hoffman
Grandson William James Hoffma

n ( ? -1928)
Daughter Tillie M. Hoffman (1877-1962) was born on Jan. 29, 1877 in Hereford Township. In about 1898, when she would have been age 22, she married Benjamin DeLong (Oct. 1873- ? ) of Longswamp Township. They bore one known daughter, Pearl May DeLong. In 1900 and 1910, the couple lived with her parents on their farm in Hereford Township. By 1922, she married a second time to Horace Fisher ( ? - ? ). They dwelled in Bechtelsville, PA in 1923. Tillie was a talented dressmaker. Tillie is known to have attended the 80th birthday party of her aunt Tillie Gehman in Aug. 1935. Their address in the early 1960s was in Boyertown, Berks County at 132 South Franklin Street. As heart disease caused her health to fail, Tillie died on Feb. 16, 1962, age 84. Interment was at Huff's Union Church Cemetery. Gerald D. Landis of the family home signed the death certificate.
~ Daughter Anna Manah "Annie" (Fox) Yingling Dougherty ~
Daughter Anna Manah "Annie" Fox (1853-1941) was born on June 27, 1853 near Huff's Church, Lehigh County. She was age eight at the death of her father.
She was united in holy matrimony with Milton Yingling (1847- ? ). In about 1874, the young couple relocated into Allentown, Lehigh County, where he obtained work in the railroad car shop.
They produced three known children, Mary Yingling, Harry F. Yingling and William Henry Yingling.
Later, she wed a second time to Thomas Dougherty ( ? - ? ).
Circa 1938, she moved into the home of her grandson Robert T. Hillegass at 1827 Woodlawn Street.
While visiting her son William in July 1941, Annie fractured her left hip and soonafter contracted pneumonia. She was admitted to Allentown Hospital and died after four weeks on Aug. 2, 1941, at the age of 88. An obituary was printed in the Allentown Morning Call, saying that "Trinity Evengelical church lost one of its oldest members Saturday in the death at the Allentown hospital of Mrs. Annie M. Dougherty." She was survived by three grandchildren, five great-grandchildren and five great-great grandchildren. Son William Yingling Allentown provided vital information for the Pennsylvania death certificate. Her pastor Rev. F.R. Cardwell led the funeral service, followed by burial in West End Cemetery in Allentown. Two of her grandsons were Robert T. Hillegass and Claude A. Stocker.
Daughter Mary Yingling (1872- ? ) was born in about 1872.
Son Harry F. Yingling (1874- ? ) was born on June 10, 1874 in Allentown. In March 1891, at the age of 17, he was confirmed in St. John's Lutheran Church. In about 1906, he married Minnie T. Dennis ( ? -1928), daughter of Oswin W. Dennis. News of the marriage license was printed in the Allentown Morning Call. They were the parents of Hazel Blass, Charles Yingling and Madeline Yingling. Circa 1912, they lived at 329 North Fountain Street in Allentown and were members of St. Andrew's Reformed Church. Harry earned a living as a teamster, employed by the contractor Oscar Hoch. But in the winter of 1912, he contracted a deadly case of tuberculosis, and suffered for five months until he succumbed on Aug. 18, 1912, at the age of 38. His remains were placed into eternal rest in Greenwood Cemetery, with an obituary published in the Allentown Leader. On display at the casket were "Gates Ajar of roses, asters, lilies and gladioli," said the Morning Call, in addition to a wreath of galas leaves, roses and asters; a spray of cosmos; asters and ferns; and other bouquets. His pallbearers included his brother and five brothers in law. Minnie outlived her husband by 16 years and endured the untimely death of her son Charles. She became bedfast in February 1928 and died on March 3, 1928. An obituary was published in the Morning Call. Circa 1941, their daughter Madeline resided in New York.
Son William Henry Yingling (1876-1951) was born on May 30, 1876 in Allentown. He appears to have spent his entire life in the city and learned the trade of plumbing, working as an assistant. His address in Allentown in 1941 was 325 North 16th Street. Evidence suggests that he married Amanda J. ( ? - ? ). Stricken with an intestinal obstruction and a strangulated hernia, he died at the age of 75 on July 2, 1951. Burial was in Greenwood Cemetery.
~ Daughter Attillia Elizabeth "Tillie" (Fox) Gehman ~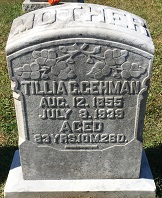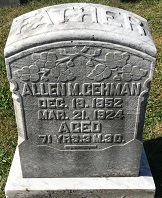 Huff's Church Cemetery
Daughter Attillia Elisabeth "Tillie" Fox (1855-1939) -- also spelled "Ettillia" and "Etillia" -- was born on Aug. 12, 1855. She was only six years old when her father passed away.
As her widowed mother had many mouths to feed, Tillie was taken into the home of William and Anna Maria Clemmer in Hereford Township, Berks County, where at the age of 15 in 1870 she worked as a domestic servant,
When she was 20 years of age, on Dec. 8, 1875, she was united in matrimony with 22-year-old Allen M. Gehman (Dec. 18, 1852-1924), son of Johannes "John" and Lydia (Moyer) Gehman. The marriage ceremony was officiated by Rev. Rev. Eli Keller of Huff's Church in Hereford Township, Berks County. Rev. Keller made a notation of the wedding in his pastoral records.
The Gehmans produced two known sons, Albert Harvey Gehman and John "William" Gehman, born 17 years apart.
The sons each received the ritual of Christian baptism by the hand of the family's pastor, Rev. Eli Keller of Huff's Church. While the usual practice was to baptize in infancy, Albert, born on Feb. 22, 1878, appears not to have undergone the rite until about the age of four in the winter of 1882. The pastor also kept a record of the baptisms in his papers. The original volume of his handwritten records is housed in the Schwenkfelder Library and Heritage Center in Pennsburg, PA. A copy of the typed version, prepared by Raymond E. Hollenbach of Royersford, PA on Dec. 5, 1975, also is maintained in the Minerd.com Archives.
They resided in Barto in Hereford, as shown by the 1880 federal census and other records, and in 1880 dwelled under the roof of Allen's widowed mother.
Sadly, son Albert contracted a deadly case of diphtheria and passed away at the age of 13 on June 3, 1891. His remains were lowered into rest in Huff's Church Cemetery, with Rev. Keller conducting the funeral.
The family lived in Hereford in 1900, with Allen laboring as a farmer, and Tillie's widowed mother in the home. By the 1920s, the Gehmans were in Clayton, Washington Township, Berks County.

Rev. James Blatt, who
led Tillie's funeral
At the age of 71, having borne chronic heart disease, Allen died on March 20, 1924.
The widowed Tillie lived for another 15-plus years. She was felled by a cerebral hemorrhage and died within a few days on July 8, 1939, at the age of 83, in the home of her son William in Barto. The son signed the death certificate. The remains were interred in Huff's Union Church Cemetery, following funeral services led by Rev. James N. Blatt of Huff's Reformed congregation. An obituary appeared in the Allentown Morning Call. [Find-a-Grave]
Son John "William" Gehman (1895-1964) was born on May 13, 1895 in Clayton, Washington Township, Berks County. William married Perma Graber ( ? - ? ). Their six children were Jenny Dries, Annie Updegrove, Mary Wolf, Mildred Yerger, Paul Gehman and William Gehman. He earned a living as a tile setter for Frank Roman of East Greenville, Montgomery County. They were members of Huff's United Church of Christ and lived in Barto/Clayton, Berks County in 1939. They moved to Boyertown, with an address circa 1964 of 116 South Franklin Street. William died in Pottstown Hospital in Montgomery County at the age of 69 on July 28, 1964. Funeral services were conducted in Huff's United Church of Christ. An obituary in the Allentown Morning Call said he was survived by 18 grandchildren and eight great-grandchildren.
Granddaughter

Jenny Gehman married LeRoy Dries. Their home in 1964 was in Macungie.
Granddaughter Annie Gehman wedded Thomas Updegrove. They lived in rural Oley, Berks County in 1964.
Granddaughter Mary Gehman was joined in marriage with Edwin Wolf. Their residence in the mid-1960s was in Quakertown.
Granddaughter Mildred Gehman was united in wedlock with LeRoy Yerger. They dwelled in Boyertown.
Grandson Paul Gehman made a home in Macungie.
Grandson William Gehman

lived in Quakertown.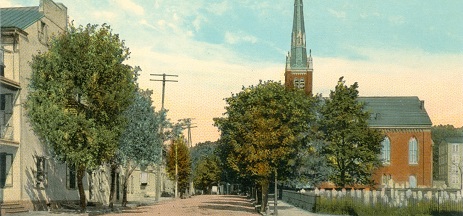 Boyertown's Philadelphia Avenue, looking west
~ Son John Fox ~
Son John Fuchs (1860- ? ) -- Americanized to "Fox" -- was born in about 1860 in Hereford Township, Berks County.
As a 19-year-old, in 1880, he is believed to have lived as a servant with the family of Cyrus and Lucy Miller in Upper Bern, Berks County.
His paper trail ends here.
~ Daughter Jane Schneck ~
Daughter Jane Schneck (1880- ? ) was born in 1880 in Lower Milford Township, Lehigh County.
She is believed to have been deceased by 1939.
Copyright © 2000, 2009, 2017-2019 Mark A. Miner