Home

Anawalt Gribble
(1871-1921)
Anawalt Gribble was born in about March 1871 in or near Pisgah, Preston County, WV, the son of Henry Harrison and Mary Catherine (Fawcett) Gribble. His name also has been spelled "Annawalt" and "Anna Walt."
On Dec. 3, 1896, when he was age 25, Anawalt married 16-year-old Bessie Maud Blaney (1880- ? ), daughter of Jackson and Anna (Shaffer) Blaney of Pisgah. The ceremony took place at the home of Rev. Nathaniel Hart in Preston County.
Their three known children were Osieola "Ocea" Dufford, Bessie Lane and Harry Gribble.
The couple first resided in Pisgah. In the early 1900s, they relocated to Fairchance, Fayette County, where Anawalt obtained employment in the Rand powder mill, about six miles south of the county seat of Uniontown. Near tragedy shook the family on Sept. 11, 1905, when the powder mill exploded and was "entirely wiped out," said local newspapers. The "shock of the explosion was distinctly felt in Connellsville, 20 miles away, buildings being rocked on their foundations. At Uniontown hundreds of panes of glass were broken. In the town of Fairchance there is scarcely a house that did not suffer damage."

Locals sift through the Rand Powder Mill rubble in Fairchance,
Sept. 9, 1905, a close call from which Anawalt escaped injury.
At first, Anawalt's name was published among the dead in news stories, but it was erroneous reporting, and he survived. Other names appearing in the list of casualties were Fred Watershaw Jr., William McIntyre, Albert Woods, Omer Humphries, George Llewellyn, Harry Underwood, Elmer Hughes, Clyde Woods, James Breakiron, George Martin, Charles Barclay, Gilbert Mitchell, Fred Waterstraw Sr., Charles Fritz, William Llewellyn, Isaac Metcalf, Omer Swaney and Frank Ryland.
After 14 years of marriage, Bess filed for divorce in Fayette County court. She alleged "cruel and barbarous treatment and unfaithfulness," as reported in the Connellsville Weekly Courier. The divorce was granted, and Bess remarried to Harry Edward "Pete" Harley.
By 1920, when the federal census was taken, the 48-year-old Anawalt and his three children lived together in the German Township section of Uniontown, with him listed as working as a lamp man in a local coal mine. The census-taker recorded Anawalt as being married.
Anawalt and his adult children moved to New Castle, Lawrence County sometime in late 1920 or early 1921, where he worked as a laborer. Their hone is believed to have been on Neshannock Avenue. He became deathly ill with "acute transverse myelitis" (neurological disorder from spinal cord inflammation) and went to Pittsburgh's Mercy Hospital for treatment.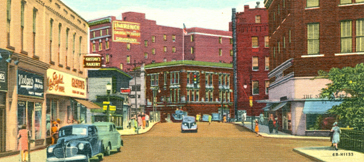 New Castle's East Washington Street
He died there on Oct. 19, 1921. His remains were returned to New Castle for funeral services at Rice's Chapel, led by Rev. Herbert A. Ellis of the First Methodist Church. He then was laid to rest in Oak Park Cemetery, with the following pallbearers carrying his casket to the gravesite: future son-in-law Paul Dufford, Jack Montgomery, Howard Ray, Harold Masters, Dale Lyon and nephew Lacy Friend (son of Alice [Gribble] Friend). An obituary was published in the New Castle News.
Former wife Bess Harley lived in New Castle and in about 1926 moved with her second husband to Warren, Trumbull County, OH. She was a member of the Howland Community Church, with their home on Howland Springs Road. She died at the age of 74 on June 19, 1953, at Green Cross Hospital in Warren. Her remains were brought back to New Castle for entombment in Oak Park Cemetery.
~ Daughter Osieola "Ocea" (Gribble) Dufford ~
Daughter Osieola "Ocea" Gribble (1898-1968) was born on June 27, 1898 in Pisgah, Preston County.
On June 29, 1922, two days after her 24th birthday, Ocea married Paul Rufus Dufford (1894-1953). He was the son of Willard F. and Matilda H. (Rice) Dufford of New Castle. The ceremony took place in Rev. Herbert A. Ellis' study of the First Methodist Church in New Castle. Ocea wore a blue traveling suit.
Paul was a veteran of World War I, having served with the 34th Ambulance Corps of the Seventh Division in France.
The Duffords made their home for many years in New Castle at 133 Park Avenue, and were members of the First Methodist Church. They had no children.
For several decades, Paul was employed in his father's family-owned furniture business, W.F. Dufford and Company, in New Castle. The firm had been founded in 1881, with its retail store located at 318-320 East Washington Street. Later, he worked for Sears Roebuck & Company, and in fact completed a day's work on the day he died. He also was a member of the Elks Club of New Castle and the local American Legion post. Rev. Robert F. Galbreath officiated at the funeral, followed by burial in Oak Park Cemetery.
Paul suffered a heart attack at home and died on Aug. 9, 1953, at the age of 58.
Ocea outlived her husband by 15 years. She later moved to Pasadena, Los Angeles County, CA, making her home on Euclid Avenue.
She died at Golden Age Nursing Nome in Pasadena at the age of 69 on May 17, 1968. Her remains were returned to New Castle for burial at Oak Park Cemetery. Rev. Delbert Jolley, of her home church, officiated at the burial.
~ Daughter Bessie D. (Gribble) Lane ~
Daughter Bessie Gribble (1901-1994) was born on Aug. 27, 1901 in Pennsylvania, presumably Fayette County.
In 1920, when she was age 18, she worked as a sales lady in a store in or near German Township, Fayette County. Later that year, she and her father and brothers migrated to New Castle, Lawrence County, where she secured employment at a cut rate grocery store. She and her sister Ocea Dufford were active in the First Methodist Church of New Castle.
Bessie married Howard Lane ( ? - ? ).
Their home in 1953 was in Warren, Trumbull County, OH. By 1968, they had relocated to Pasadena, Los Angeles County, CA.
Bessie passed away in Pasadena on June 6, 1994, at the age of 93.
~ Son Harry O. Gribble ~
Son Harry O. Gribble (1904- ? ) was born in about 1904 in Fairchance, Fayette County. He migrated to New Castle, Lawrence County, PA with his father and siblings in about 1920.
At age 18, Harry wed Helena Marshall ( ? - ? ) three days after Christmas 1922. Rev. Herbert A. Ellis of the First Methodist Church officiated.
The Gribbles had three children -- Walter "Guy" Gribble, Eugene "Gene" Gribble and Audrene Miller.
They lived on Winter Avenue, Madison Avenue and later at 497 Neshannock Avenue in New Castle and were members of the Mahoning Methodist Church. In the 1930s, Helena played hostess to members of the Jollikousins Club, and her name frequently was published in the New Castle News in connection with her social activities.
On Dec. 28, 1972, they celebrated their 50th wedding anniversary with an open house at the residence of their daughter and son in law, Audrene and John Miller in New Castle.
Daughter Audrene Gribble (1923-2006) was born on July 3, 1923 in New Castle. She was named "Miss Lawrence County" in the summer of 1948. On July 27, 1950, at the Mahoning Methodist Church, she married John E. Miller (1924-2005), son of Edward and Constance Miller of Vandergrift, PA, by the hand of Dr. Jennings B. Reid. They had one son, Scott Miller. The family lived at 203 West Clen-Moore Boulevard in New Castle in the early 1970s. Said the New Castle News, Audrene was "a clerical worker for Penn Power, and worked at the Lawrence County Courthouse and the former Dollar Bank... [She] was an avid painter, showing her work in different art galleries." John also was employed at Penn Power, where he was assigned to the operations power station. He was a member of the National Rifle Association and American Legion and enjoyed hunting and golfing. Audrene and John were members of the Highland Presbyterian Church and Northminster Presbyterian Church, where he served as an elder and deacon. She belonged to the Hoyt Institute of Fine Arts. Sadly, John passed away on Dec. 14, 2005, at the age of 81. Audrene outlived him by about sic months. She passed away in Jameson Care Center on June 10, 2006, with burial in Oak Park Cemetery.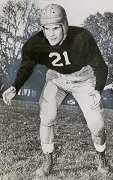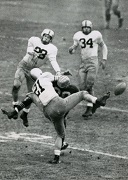 Gene Gribble, Army football player, no. 21
Son Walter "Guy" Gribble (1924-1980) was born on Dec. 5, 1924. He served as a navigator and first lieutenant in the U.S. Air Force in the Pacific Theatre during World War II. Said the New Castle News, he "completed 44 missions and has 400 combat hours to his credit." After his discharge at the war's end, he enrolled at Carnegie Institute of Technology (now Carnegie Mellon University) in Pittsburgh. Guy married Edna Bloom (1925-2009), daughter of Roy Bloom and a native of Titusville, PA on Aug. 17, 1946. Rev. Albert Broadhurst of St. James Episcopal Church presided. Edna was a graduate of Erie's Hamot Hospital School of Nursing. Guy re-entered the Air Force, earned a masters degree in aeronautical and electronic engineering from Wright-Patterson Institute of Technology. In 1947, they made their home at 497 Neshannock Avenue in New Castle. In the 1950s, Guy was stationed in Rapid City, SD and flew on RB-36 aerial photographic reconnaissance missions and served during the Korean War, retiring as a captain. Guy then was employed in aerospace engineering in Florida during what was known as the "Space Race" in the 1960s. He and Edna later moved back to Erie, Erie County, PA. Suffering from cancer for three years, he died in September 1980. Edna outlived him by almost three decades. She passed away on Nov. 16, 2009 in Erie. They rest for eternity in Tidioute, PA.
Son Eugene "Gene" Gribble ( ? - ? ) was a basketball, football and track star in the mid-1940s at New Castle High School. He was accepted into the U.S. Military Academy at West Point, and played football for Army under famed head coach Earl "Red" Blaik. Gene was pictured in newspapers statewide in December 1950, wearing uniform number 21 and playing defensive back during the annual Army-Navy game at Municipal Stadium in Philadelphia. (See the Minerd.com "Photo of the Month" for November 2014.) Said the New Castle News, he also "rapidly became one of the top broadjumpers in the country. A poll of the nation's sports writers rated him No. 4 across the land, an honor which promised an Olympic tryout." But a scandal rocked West Point in 1951, when 90 cadets were expelled for alleged violation of the school's honor code. He then enrolled at the University of Notre Dame. Upon graduation, Gene joined the U.S. Army and trained at Fort Belvoir, VA. He married Alice Mayberry, daughter of William and Eva Margaret (Wellhausen) Mayberry Sr. of Ellwood City, Beaver County, PA, on Thanksgiving, Nov. 26, 1953, in the chapel at Fort Belvoir. At the time of marriage, Alice was employed by the Ellwood Tube mill and was connected with the Mayberry School of Dancing in Ellwood City. She later oversaw the "Alice Mayberry Gribble Dancers" who performed in and around New Castle. Eugene served as engineer in charge of research and development at the Shaw-Perkins Manufacturing Company. He made his home in 1972-2006 in Orlando, FL.
Copyright © 2013, 2015, 2018 Mark A. Miner
International News/Corbis photo of the Army/Navy game by Sonnee Gottlieb used with permission under licensing agreement.