Emma Brown (Gribble)
Rishell Shaw
(1861-1941)
Emma Brown (Gribble) Rishell Shaw was born on Dec. 23, 1861 in Kingwood, Preston County, WV, the daughter of Henry Harrison and Mary Catherine (Fawcett) Gribble.
Emma's first husband was (?) Rishell ( ? - ? ). Research is underway to confirm whether his first name was William (1855- ? ). If so, they dwelled in Union District of Monongalia County, WV, where in 1880 he earned a living as a laborer. Evidence suggests that this couple bore two known children, George A. Rishel (born 1878) and a daughter (born about 1880).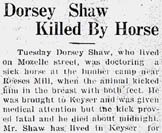 Obituary, 1926
The marriage ended by 1886.
On Nov. 6, 1886, at the age of 25, she wed her second spouse, 19-year-old Dorsey Maurice Shaw (1869-1926), also spelled "Dawsey." He was the son of Harrison and Deborah (Gribble) Shaw of Preston County. L.W. Roberts officiated the wedding, held at the home of Emma's parents.
She was eight years older than her husband. It's not known whether they were related through their respective mothers, both of whom had maiden names of Gribble.
The Shaws had two sons, Edward William Shaw and Alvie H. Shaw. When son Edward son was born, in April 1885, the Shaws were residing at Hopwood, Fayette County, PA.
Later, they moved to Mineral County, WV, where Dorsey was a teamster in and around Keyser.

Vintage panorama of Keyser, corner of Main and East Armstrong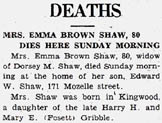 Obituary, 1941
Circa 1908, Emma was named in a Gribble family history published in the Preston County Journal but her whereabouts were not mentioned.
Tragically, in the spring of 1926, Dorsey was kicked in the abdomen while "doctoring a sick horse at the lumber camp near Reeses Mill," said the Mineral Daily News-Tribune, "when the animal kicked him in the breast with both feet." The camp was 15 miles from Keyser, so he was quickly brought back to Keyser, "and was given medical attention but the kicked proven fatal and he died about midnight." His passing occurred on May 4, 1926. He was only 57 years of age at the time.
Emma survived her husband by 15 years. She resided with her son Edward on Mozelle Street in Keyser circa 1941.
On Oct. 5, 1941, Emma passed away of a cerebral hemorrhage, at the age of 79. Her remains were laid to rest at the Queens Point Cemetery in Keyser, after a funeral led by Rev. R.L. Brill of Calvary United Brethren Church. The Daily News-Tribune reported that she was survived by seven grandchildren and two great-grandchildren.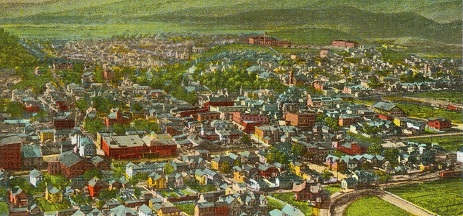 A colorful bird's eye view of Keyser, as seen from Queen's Point.
~ Son Edward William Shaw ~

Double obituary, 1948
Son Edward William Shaw (1885-1948) was born in 1885.
He was employed as a telegraph operator for the Baltimore & Ohio Railroad, and also a lumberman.
He married Blanche Elizabeth Friend (1894-1948), the daughter of Josiah G. and Mary Jane (Swetzer) Friend, and a native of Swanton, Garrett County, MD.
They resided at 171 Mozelle Street in Keyser for many years, and had three children -- Elfreda Shaw, Maurice A. Shaw and Wayne W. Shaw.
They belonged to the Evangelical United Brethren Church in Keyser. Edward was a member of the Woodmen of the World of Terra Alta, Preston County, and of the Brotherhood of Railway Telegraph Operators, an early labor union. Blanche joined the Woodman Circle of Swanton.
Edward and Blanche died within six hours of each other in 1948 -- she at age 53 in the late hours of July 27, of congestive heart failure, and he of heart problems at the age of 63 in the wee morning hours of July 28.
Copyright © 2006, 2018 Mark A. Miner