Emma Brown (Gribble)
Rishell Shaw
(1861-1941)
Emma Brown (Gribble) Rishell Shaw was born on Dec. 23, 1861 in Kingwood, Preston County, WV, the daughter of Henry Harrison and Mary Catherine (Fawcett) Gribble.
Emma's first husband is believed to have been William H. Rishell (1855- ? ).
They first dwelled in Union District of Monongalia County, WV, where in 1880 he earned a living as a laborer.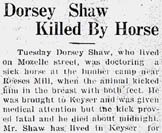 Obituary, 1926

Evidence suggests that this couple bore four known children, Alva H. Rishel, George A. Rishel, Delsie Rishel and Edward William "Eddie" Rishel Shaw, plus two unidentified offspring.

Sadly, son George is believed to have died young, along with two other children, sometime prior to 1900.

When son Edward son was born in April 1883/1885, the Rishels were residing in West Virginia or in Hopwood, Fayette County, PA.

The marriage ended by 1886.

On Nov. 6, 1886, at the age of 25, she wed her second spouse, 19-year-old Dorsey Maurice Shaw (1869-1926), also spelled "Dawsey." He was the son of Harrison and Deborah (Gribble) Shaw of Preston County. L.W. Roberts officiated the wedding, held at the home of Emma's parents.

She was eight years older than her husband. It's not known whether they were related through their respective mothers, both of whom had maiden names of Gribble.

Later, they moved to Mineral County, WV, where Dorsey was a teamster in and around Keyser.

Vintage panorama of Keyser, corner of Main and East Armstrong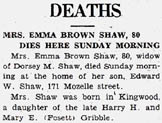 Obituary, 1941
Circa 1908, Emma was named in a Gribble family history published in the Preston County Journal but her whereabouts were not mentioned.
Tragically, in the spring of 1926, Dorsey was kicked in the abdomen while "doctoring a sick horse at the lumber camp near Reeses Mill," said the Mineral Daily News-Tribune, "when the animal kicked him in the breast with both feet." The camp was 15 miles from Keyser, so he was quickly brought back to Keyser, "and was given medical attention but the kicked proven fatal and he died about midnight." His passing occurred on May 4, 1926. He was only 57 years of age at the time.
Emma survived her husband by 15 years. Circa 1940, she shared a residence in Keyser with her son Alva and daughter Delsie Rhodes.
She resided with her son Edward on Mozelle Street in Keyser circa 1941.
On Oct. 5, 1941, Emma passed away of a cerebral hemorrhage, at the age of 79. Her remains were laid to rest at the Queens Point Cemetery in Keyser, after a funeral led by Rev. R.L. Brill of Calvary United Brethren Church. The Daily News-Tribune reported that she was survived by seven grandchildren and two great-grandchildren.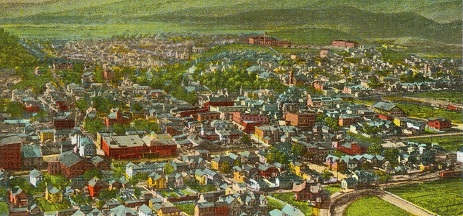 A colorful bird's eye view of Keyser, as seen from Queen's Point.
~ Son Alva H. "Alvie" Rishel Shaw ~
Son Alva H. "Alvie" Rishel (1877- ? ) was born in Nov. 1877 in West Virginia. He later took the surname of his stepfather, "Shaw."
He earned a living in 1900, at age 22, as a railroad brakeman in or near the Portland District of Preston County, WV.
Circa 1940, the federal census enumeration shows Alva living with his widowed mother and widowed sister Delsie Rhodes in Keyser. The census-taker reported him as widowed and working as as a laborer for the Works Progress Administration. The WPA was one of the ways President Franklin Delano Roosevelt and the federal government tried to overcome unemployment during the Great Depression. It's widely considered one of the Roosevelt's largest and most ambitious undertakings of his "New Deal" to get the nation back on sound economic footing. Over the years, the WPA hired millions of out-of-work individuals to build public works projects, such as roads, bridges, retaining walls and buildings.
Alva made his residence in 1948 in Keyser, Mineral County, WV.


~ Daughter Delsie Isura (Rishel) Rhodes ~
Daughter Delsie Isura Rishel (1879- ? ) -- also spelled "Delcie" -- was born in Dec. 1879 in West Virginia, Maryland or in Merrittstown, Fayette County, PA. She also claimed a birthdate of Dec. 4, 1882, and that Dorsey Shaw was her father.
Unmarried at the age of 20, in 1900, she resided with her mother and stepfather in the Portland District of Preston County, WV.
At about age 22, on June 21, 1902, she entered into marriage with 22-year-old John Richard Rhodes ( ? -1906), also known as "John G. Rhodes."
The pair together produced two sons -- Earl R. Rhodes and Harry Rhodes.
During their brief marriage, the Rhodeses lived in the Portland District of Preston County, with John working as a railroad brakeman.
Tragedy cascaded over the family when John at age 26 developed "complications" and surrendered to death in Terra Alta on Aug. 16, 1906.
Delsie in 1910 was marked in the U.S. Census as living with her mother, stepfather and sons in Terra Alta, Preston County. The census-taker marked her marital status as "widowed" and noted that she was the mother of two. By 1920, the same group had migrated to near Keyser, Mineral County, WV. She and her mother lived next door to her brother Edward Shaw in Keyser in 1930.
In the early 1930s, Delsie supported herself as a laborer in a silk mill.
She contracted cancer of the stomach, compounded when she also developed influenza and bronchial pneumonia. She passed away at the age of 57 on May 14, 1940. Her brother Edward, also of Keyser, was the informant for the official West Virginia certificate of death. The remains were lowered under the sod in Terra Alta, Preston County. An obituary appeared in the Cumberland Evening Times.
Son Earl R. Rhodes (1904- ? ) was born in about 1904 in Preston County. He spent his early years in Terra Alta, Preston County and later in his teens in Keyser, Mineral County. In 1930, when the United States Census was made, he lived with his widowed mother in Keyser and was a self-employed teamster. Evidence suggests that at the age of 31, divorced, he was joined in wedlock with 30-year-old divorcee Myrtle Nice ( ? - ? ), also of Mineral County, and the daughter of Fred J. Nice. The wedding was held in Keyser on Sept. 21, 1934, by the hand of Rev. H.S. Coffey. The 1940 federal census enumeration shows the childless couple in Keyser, where Earl now worked as a painting contractor.
Son Harry A. Rhodes (1906-1958) was born on May 18, 1905 in Terra Alta, Preston County. He moved to Keyser circa 1918 and stayed for good. In 1930, census records show that he had no occupation, and evidence suggests he did not work during his adult years. He may have been the same Harry Rhodes of Keyser who, in February 1932, was convicted of drunk and disorderly conduct after throwing a bottle of liquor through a window at the Apollo Studio, a confectionary and dancing facility. He was marked by the 1940 U.S. Census taker as single and working as a concrete finisher in Keyser. As his health declined, due to ashmatic bronchitis, bronchial pneumonia and a bacterial infection, he was admitted to Potomac Valley Hospital. There, he died on March 12, 1958, at the age of 52. Funeral services were led by Rev. S.A.F. Wagner of the Grace Methodist Church, with an obituary appearing in the Cumberland News. His brother Earl signed the death certificate. The remains lie in repose in Queens Point Cemetery, Keyser.
~ Son Edward William "Eddie" Rishel Shaw ~

Double obituary, 1948
Son Edward William "Eddie" Rishel (1885-1948) was born in April 1883 or 1885, either in West Virginia or in Hopwood, Fayette County, PA.
He was three years of age when his mother wed Dorsey Shaw, and appears to have taken the "Shaw" surname at some point. At age 23, in 1910, he dwelled in Terra Alta, WV with his mother, stepfather and married sister Delsie Rhodes. The same group was together under the same roof in 1920, having relocated to near Keyser in Mineral County.
Edward became employed in the 1910s as a telegraph operator for the Baltimore & Ohio Railroad, and also generated a living as a lumberman.
He married Blanche Elizabeth Friend (1894-1948), the daughter of Josiah G. and Mary Jane (Swertzer) Friend, and a native of Swanton, Garrett County, MD.
They resided at 171 Mozelle Street in Keyser for many years, and had three children -- Elfreda Shaw, Maurice A. Shaw and Wayne Wade Shaw.
Circa 1930, when the federal census was taken, the Shaws lived next door to Eddie's widowed mother and widowed sister in Keyser.
They belonged to the Evangelical United Brethren Church in Keyser. Edward was a member of the Woodmen of the World of Terra Alta, Preston County, and of the Brotherhood of Railway Telegraph Operators, an early labor union. Blanche joined the Woodman Circle of Swanton.
Edward and Blanche died within six hours of each other in 1948 -- she first at age 53 in the late hours of July 27, of congestive heart failure, after a year of suffering. Five hours later, he passed away of a heart attack at the age of 63 in the wee morning hours of July 28. An obituary in the Cumberland News said that a joint funeral service would be held at the Keyser Evangelical United Brethren Church, led by Rev. C.W. Fraker of McHenry, PA and Rev. Robert Bridgers of Potomac Park, Cumberland. Their remains were lowered into the sleep of ages in Queens Point Cemetery.
Daughter Elfreda Shaw (1925- ? ) was born in about 1925 in West Virginia. She lived at home with her parents in 1948. She belonged to the Loyal Gems Sunday School Class of Calvary United Brethren Church. By 1951, she had relocated to Washington, DC.
Son Wayne Wade Shaw (1927- ? ) was born in about 1927 in West Virginia. Nothing more about him is known.
Son Maurice A. Shaw (1921-1978) was born in about 1921 in West Virginia. He was an alumnus of Keyser High School and joined the U.S. Navy during World War II. Circa 1949, he was employed by McIntyre's Bakery in Westernport, MD.On June 19, 1949, he entered into marriage with Peggy Anne Raines (May 22, 1931-2008), daughter of Virgil L. and Lela (Ravencroft) Raines of 410 Pratt Street in Luke. Rev. O. Clarence Mitchell led the nuptials, held at Trinity Methodist Church in Piedmont. Offspring born to this couple were Margaret Elizabeth Custer and Maurice A. "Buzz" Shaw Jr. Maurice worked at the bakery for a quarter of a century until it closed. He then accepted employment with the Maryland Department of Juvenile Services as a youth supervisor at its forestry camp on Backbone Mountain. Peggy earned a living with the Westernport Police Department and for 27 years was a crossing guard, "protecting generations of children on their way to school," said the Cumberland Times-News. She was active in Girl Scouts leadership including as a member of the board of directors of the Shawnee Council, and was a recipient of the Nations Capital Council Award. They held a membership in the Trinity Methodist Church, and he in the Victory Post of the American Legion. Peggy held a seat on the executive committee of the Bruce High School Alumni Association and a board seat of the Burlington Children's HOme and Teen Town in Westernport. Her exhaustive resume of public service, said the Times-News, included terms as "Potomac Heights Apartments Secretary and Vice President, Ceramics Instructor, Floral Arranger, Diabetes Education Program Potomac Valley Hospital as Community Representative, Burlington United Methodist Foundation Services as mailing volunteer, and Volunteer Reader Energy Express, Keyser Primary Middle School. If that weren't enough, Peggy was a Weight Watchers lecturer and a member of the Potomac Fire Company Auxiliary. Their address was 220 Front Street, Westernport. In July 1974, they marked their 25th wedding anniversary with a surprise reception at the Westernport post of the American Legion and were pictured in the Cumberland Evening Times. Maurice died in 1978. Burial was in Philos Cemetery in Westernport. Inscribed on his side of their grave marker were the words, "A quiet, gentle man." Peggy Anne outlived her spouse by three decades and dwelled in Keyser at 500 Carskadon Lane. She was gathered away by the angel of death on March 28, 2008. Rev. Bart Thompson presided at the funeral service. Her side of their grave marker inscription read "Love at long last."
Granddaughter Margaret Elizabeth Shaw married (?) Custer. They relocated to Charlottesville, VA. They were the parents of Angela Gail Johnson and Jennifer N. Newman. Mother and infant daughter Angela were named in an Oct. 14, 1969 Cumberland News article as the sixth and seventh generations of their family to be associated with the Trinity United Methodist Church. Margaret relocated to Florida and in 2008 lived in Fort Lauderdale.
Grandson Maurice A. "Buzz" Shaw Jr. graduated from Bruce High School. He served in the U.S. Navy. He was a student at Allegany Community College in 1974 and was awarded an associate of arts degree in quality control. He then enrolled at the University of Maryland, pursuing a bachelor's degree in geology.. On April 15, 1976, he was joined in wedlock with Nancy Miriam Kowalsky ( ? - ? ), daughter of William J. Kowalsky of Joppa, MD. Rev. Walter J. Zabel officiated at their ceremony held in College Park United Methodist Church. Nancy was a graduate of John Carroll High School of Bel Air, MD and received her associate of arts degree at the community college. Their only known son was William Wright K. Shaw In 2008, his home was in Boerne, TX.
Copyright © 2006, 2018, 2022 Mark A. Miner