Annie Elizabeth Harbaugh
(1885-1944)

Annie Harbaugh
and Charles Harlan
Annie Elizabeth Harbaugh was born on Aug. 17, 1885 in or near Mill Run, Springfield Township, Fayette County, PA, the daughter of Allen E. and Margaret (Williams) Harbaugh.She had dark hair and brown eyes.
Annie's birth made news in the newspapers of Uniontown and Connellsville, Fayette County, no surprise since her father was a part-time journalist. The Uniontown Genius of Liberty reported: "Al-Ed-Ha- is in luck. It is a fine daughter. He has received many congratulations." Connellsville's Keystone Courier said, "A.E. Harbaugh smiles broader than ever. It's a girl."
Annie never married but spent many years in her parents' home in Mill Run.
Her "significant other" was Charles D. Harlan (Nov. 7, 1877-1950), a neighbor and the son of George W. and Louise (Wilson) Harlan.
Charles was a carpenter who in 1904 is known to have worked repairing pit wagons for coal mines, employed by the W.J. Rainey Company.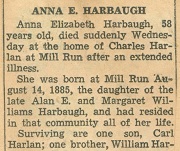 Connellsville Daily Courier
On Nov. 7, 1912, when she was 28 years of age, she gave birth to their son, Carl Wilson Harlan.
When the federal census was taken in 1920, Annie was living with her mother and son.
By 1930, at the age of 45, she had moved in with her unmarried brother Chauncey in Mill Run, and she had no occupation. Her son dwelled his father that year.
Charles earned an income over the years as a blacksmith and as a laborer performing odd jobs.
Annie is known to have attended the annual Harbaugh Reunion in 1936, held in nearby Kingwood, Somerset County, PA. In a large group photo taken that day, she stands near her brother William.

Annie suffered from hypertension, sugar diabetes and heart problems. She died in Charles' home of cardiac failure at age 58 on June 14, 1944, and was buried at Indian Creek Baptist Cemetery.
Charles outlived her by six years. He built a house in Mill Run that still stands, and had a blacksmith shop and flour mill that was operated by steam.
Suffering from chronic heart ailments, Charles' health began to decline rapidly in March 1950. His son Carl and family traveled from Lima, Ohio to be at his side. He died in Mill Run at the age of 72 on March 25, 1950. Carl signed the death certificate. Burial was in the Indian Creek Baptist Church Cemetery, beside his brother "Dubbie." The siblings rest under one stone.
Three years later, Charles' old grist mill building in Mill Run was sold to Glenn Work for $2,300.
~ Son Carl Harlan ~
Son Carl Harlan (1912-1969) was born on Nov. 7, 1912.
He married Elizabeth "Betty" Butler ( ? - ? ).
They resided at Indian Head, Fayette County and later, by 1950, had relocated to Lima, Allen County, OH.
They had five children – James Harlan, Nancy Harlan, Marcia Harlan, Greg Harlan and Becky Sue Harlan.
Carl is believed to have succumbed to death in May 1969.
Son James C. Harlan was born in (?). On Jan. 17, 1965, he was united in holy wedlock with Marjorie Ellen Konst (Jan. 17, 1943-2003), daughter of John Franklin and Betty Jane (Green) Konst of Hamilton, OH. They dwelled in Delphos, OH and were the parents of David A. Harlan and Christina M. Von Holstein. The Harlans belonged to Trinity United Methodist Church. Marjorie was interested in genealogy and researched the family's Harlan roots. Sadly, Marjorie died at home at the age of 60 on Aug. 10, 2003. Rev. David Howell officiated at her funeral service, followed by interment in Woodlawn Cemetery.
Grandson

David A. Harlan married Lisa and lived in Delphos.
Granddaughter Christina M. Harlan wedded Wolfgang Von Holstein

. Their home in 2003 was in Waldoboro, ME.
Daughter Nancy Harlan
Daughter Marcia Harlan
Son Greg Harlan
Daughter Becky Sue Harlan
Copyright © 2004, 2008, 2016 Mark A. Miner