Emma Catherine Harbaugh
(1889-1903)

Emma Catherine Harbaugh was born on July 25, 1889 in Mill Run, Fayette County, PA, the daughter of Allen E. and Margaret (Williams) Harbaugh. She had light hair and blue eyes.
Little is known of Emma's all-too-short life, other than the information published in her newspaper. obituary -- thought to have been written by her father, a part-time journalist for the local Connellsville (PA) Weekly Courier.
She was intelligent and a favorite among her school companions and was loved by all that new her. She was delicate in health, but always showed a sympathetic disposition with kindness to others. She was brought up under religious influences, and was a bright Sabbath school scholar and a member of the Young Peoples' Society of Christian Endeavor.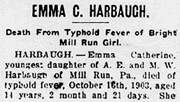 At age 14, in September 1903, Emma came down with a deadly case of typhoid fever. She suffered for five weeks, and passed away on Oct. 16, 1903.
Her late sufferings were born with patience. The tenderest care and medical ministrations were futile. Her end was peaceful… Esteem for her virtue, portrayed by most beautiful flowers, were sent by her Sabbath school and public school teachers and pupils, among whom were Mr. and Mrs. S.B. Dull of Connellsville…. The family return heartfelt thanks for kindness and assistance in the hours of trouble. God bless them all!
Emma was laid to rest at the cemetery of the Indian Creek Baptist Church in Mill Run. Rev. Thomas E. Boord preached "a beautiful funeral sermon" from Ecclestiastes 12:1. "The attendance was large, although the weather was inclement. All that was mortal of the fair young girl was lowered to rest in a sunburst of glory," said the Courier.
Her grave in the Harbaugh family plot is not marked today, and its exact location is not known.
Copyright © 2004 Mark A. Miner