William Albert Johnson
(1866-1946)
William Albert Johnson was born on July 12, 1866 at Sego near Somerset, Perry County, OH, the son of David R. and Mahala (Miner) Johnson. He was a pioneer settler of north-central Kansas.
William grew up on his parents' farm, but as an 10-year-old boy, traveled westward with his parents and became pioneer settlers of Kansas, settling near Concordia, Cloud County in 1876. Said The Kansan newspaper, "The family came as far as Hanover by train and the remainder of the journey was made in a wagon."
The Johnsons homesteaded about seven miles southeast of Concordia, where William helped his parents with farm chores.
At the age of 30, two days before Christmas 1896, William married 26-year-old Mary Ann "Anna" Huscher ( July 16, 1870-1951). She was the daughter of Charles and Elizabeth S. (Stepler) Huscher. They were wed in a double ceremony, with Anna's sister Lydia Huscher marrying Will J. Ott at the Huscher farm house, one-half mile south of the town of Huscher.
Anna was born in Hanover, Canada. Reported The Kansan, "She came to the United States with her parents, when she was six weeks of age and the parents settled in Center Township."

Looking east on Sixth Street in Concordia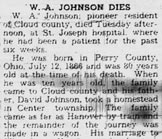 The Kansan obituary, 1946
The newlyweds spent their early years in a farm house west of Huscher.
The Johnsons bore two sons -- Charles David Johnson and Walter Edward Johnson, born four years apart.
Over the years, said the Cloud County History, "Both of the boys enjoyed music. Charlie played the trombone and Walter played the trumpet." The brothers each attended Bethany College at Lindsborg, KS "for a year's schooling." They also later married the Koester sisters.
When the federal census was taken in 1910, the Johnsons lived in Nelson Township, Cloud County. William's occupation was listed as "farmer," with son Charles helping his father with farm labor. The legal description of the location of their farm was Section 13, Townshiop 6 and Range 3. As of 1946, the farm generated annual income of only about $200.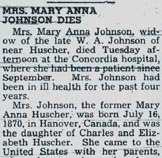 Obituary, 1951
The family was active in the Huscher Evangelical Church. Said the History, "Many times visiting preachers came to Huscher on the train and would come to the Johnson house to eat and sleep."
Despite the fact that his health was failing rapidly, requiring regular house calls from their physician Dr. John McGill Porter, William lived long enough to celebrate with Anna their golden wedding anniversary on Dec. 23, 1946.
Sadly, though, William passed away the very next day after their celebration, on Christmas Eve 1946. Short funeral services were held at the Chaput Funeral Home, followed by burial in the Nelson Cemetery. His death was front page news in The Kansan.
Unfortunately for Anna and their sons, William died without having left a will, meaning the probate court of Cloud County viewed him as "intestate." Son Charles had to hire a lawyer to file all of the proper paperwork to ensure that they all received the appropriate assets from the estate. In addition to the farm real estate, William had personal property worth about $2,300, including a bank account, Chevrolet 1936 touring car and trailer plus an inventory of farm produce.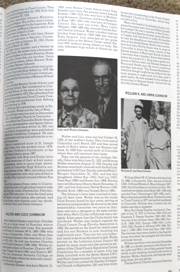 Cloud County History
This included oats left in a bin, 183 bushels of wheat, 93 bushels of corn, 2½ tons of hay in "very poor" condition, alfalfa and 20 acres of g rowing wheat on the homeplace. He also had $1,597 in cash held at the Cloud County Bank. Probate Judge Marvin Brummelt ruled that Anna and the sons should gain possession of the home farm as they had petitioned. Anna received nearly $487 in cash from the estate, and Charles and Walter $243 each.
Anna outlived William by a little more than four years. She went to live with her son Walter in Clyde, KS.
Suffering from poor health during most of her widow years, she died on Jan. 25, 1951, at the age of 80, in the Concordia hospital. Her funeral services were held at the Huscher Evangelical United Brethren Church in Huscher, in charge of Rev. H.A. Iwig, a former pastor of the church who must have been a family favorite, as he traveled to conduct the services from his new community in Longford. In addition to three grandchildren, Anna was survived by her brother, Rev. W.J. Huscher of Concordia; E.S. Huscher of Salina, KS; and Phoebe Stauffer of Phoenix, AZ.
In 1992, some four-plus decades after their deaths, when the Cloud County History was published, William and Anna, and their son Walter and his wife Lulu, were pictured in short biographical profiles written by their son Walter and granddaughter Dorothy. The family's page in the historical volume is seen here.
~ Son Charles David Johnson ~
Son Charles David Johnson (1898-1984) was born on Feb. 17, 1898, near Concordia. Said a local newspaper, "He farmed in the Concordia and Ames communities most of his life... He was a member of the Huscher United Methodist Church."
On Dec. 17, 1924, at the age of 26, Walter wed 24-year-old Mary Luella "Mayme" Koester (1900-1990), the daughter of Frederick and Anna Margaretta (Buss) Koester. The wedding took place at the Koester residence in Nelson Township, southeast of Concordia.

Obituary, 1984
They were the parents of Winifred Ann Johnson and Jerome Koester Johnson. Sadness enveloped the family when daughter Winifred died in infancy in 1931.
The Johnsons apparently lived quietly. Little is known of the half-century of time during their married life together in Ames.
Obituary, 1990
Charles passed away at the age of 85 on Jan. 29, 1984, in St. Joseph Hospital in Concordia. The funeral was conducted at the Huscher United Methodist Church, led by Rev. Harry Graves. Pallbearers included Harold Trost, Clarence Trost, Kenneth Harrington, Harry Trost, Norman Cleveland and Orville Henderson. He was buried in Nelson Cemetery in Huscher.
Mayme lived as a widow for six years.
She died at age 89, on Jan. 11, 1990, also in the St. Joseph Hospital. Rev. Graves, who had officiated at her husband's funeral, also oversaw hers' at the family church. She joined her husband in eternal rest at the Nelson Cemetery.
Son Jerome Koester Johnson married Joan (?) and made their home in Ames. Cloud County. They had four children -- Deanna Leon, Kenneth Johnson, Brenda Johnson and Rhonda Johnson.

The old Missouri Pacific Railroad depot in Concordia
~ Son Walter Edward Johnson ~
Son Walter Edward Johnson (1902-1994) married Lulu Henrietta Koester (1904- ? ) on Oct. 29, 1930. Following his education at Bethany College, Walter was awarded a bachelor of accounts degree. Lulu is said to have "attended all of her grade school days at the Nelson Center school without being absent or tardy," said the Cloud County History. "She also attended high school at Aurora for one year."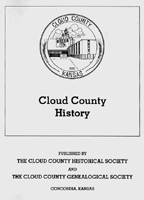 Cloud County History
They went on to have two children, Dorothy Ilene Morgan and Norman Walter Johnson.
They were farmers throughout their lifetimes. For the first seven years of marriage, the Johnsons made their home west of Concordia, and in March 1937 moved to a residence south of the town of Hollis. Circa 1946, at the death of Walter's father, they made their home in Clyde.
They relocated again in 1959 to north of Concordia, where they remained for many years. In a biography of Walter and Lulu, written by their daughter Dorothy, and published in the 1992 Cloud County History, she wrote that Lulu was active with the Better Homes E.H.U. and Rural Improvement Club for many years." Dorothy also wrote:
Walter was on the county Farm bureau board for four years, serving as secretary and president. he served on the state membership committee two years as chairman and was a delegate to the state convention when Herb Clutter of Holcomb was a delegate. A few years later the Clutter family was murdered. Walter also helped organize the Cloud County Co-op Elevator Association in 1950. He served on the board for 12 years and his son Norman is now finishing his 18th year. They are the only father-son team to serve on this board to date. Walter served on the Lowland School District #10 board for many years and also served as secretary of the Cloud County Republican Central Committee for a number of years... He was a member of the Concordia Municipal Band for 13 years. He went to Topeka with this band to notify Alf Landon that he had the Republican nomination for President of the United States. Walter also remembers how John Phillip Sousa was to come to Concordia to direct the mass concert of the Kansas League of Municipal Bands of which Concordia was a member [but that] Sousa died shortly before the concert.

Obituary, 1994
At the age of 91, Walter passed away at St. Joseph Hospital in Concordia, on June 28, 1994. The funeral was held at Trinity United Methodist Church, Concordia, led by Rev. Bill Eisele and Rev. Burr Crickard. He was laid to rest in Pleasant Hill Cemetery. At his death, the local newspaper reported that he was survived by seven grandchildren and 11 great-grandchildren.
Daughter Dorothy Ilene Johnson married Mark C. Morgan and had four daughters -- Debra Sue Morgan, Patti Lou Morgan, Tami Rae Morgan and Susan Ann Morgan.
Son Norman Walter Johnson married Sharlene Smith and had three sons -- Randy Norman Johnson, Ronald Scott Johnson and Russell Kevin Johnson.
Copyright © 2000, 2009-2010 Mark A. Miner