Carrie (Johnston) Hunt
(1866-1951)

Charles Wesley Hunt
Carrie (Johnston) Hunt was born on Jan. 16, 1866 in Brownsville, Licking County, OH, the daughter of Seth R. and Isabel (Minor) Johnston.
On Nov. 21, 1889, at the age of 23, Carrie was united in the bonds of holy matrimony with 34-year-old Charles Wesley Hunt (1855-1928), a native of New Lexington, Perry County, OH and the son of Hixson and Ann Elisa Hunt. There was an 11-year difference in their ages.
The Hunts had three children -- Hazel E. Callaway, Johnston H. Hunt and Charles B. Hunt.
The family first lived in Zanesville, Muskingum County, OH, and later moved to Somerset, Perry County.
Charles operated a successful business in Somerset for nearly 37 years and, said the Somerset Press, "has always been held in highest esteem by his fellow townsmen."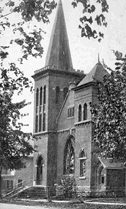 Somerset Methodist Church
Carrie and Charles were very active in the Somerset Methodist Church, seen here in a rare old postcard photograph, dated 1915. Of his church service, the Somerset Press said that Charles:
...gave freely and unselfishly of his time and labor towards the services of the Somerset Methodist church to which he transferred his membership after coming to Somerset. He served for years as a teacher in the Sunday School, as chorister of both Church and Sunday School, treasurer of the Church and on the official board.... [He] loved his home and family, spending all his spare time with its associations, and will always be remembered as a loving husband and father, a priest in his own household.
Sadly, on March 24, 1928, at the age of 73, Charles died at home. The funeral was held in the Methodist Church, where a newspaper reported that he had "served as a devout member for years." The pastor's funeral sermon was based on the text, "And Enoch walked with God; and he was not; for God took him."

Obituary, 1928

Carrie also was "one of Somerset's best loved citizens," said a newspaper, and lived for half a century in her home on East Main Street. She also was a worker in the Methodist Church and in the Order of the Eastern Star.

In her later years, she went to Cincinnati to live with daughter Hazel, but asked to return to Somerset to spend her final years in her home, near her old friends.

When her sister Ada Soliday died in 1944, Carrie hosted a houseful of funeral guests, including daughter Hazel and nephew Fred Soliday.

Carrie passed away on May 26, 1951. She is buried beside her husband in the Somerset Cemetery.

A chapel in the family church is dedicated in their memory.
Cincinnati skyline, with the Union Terminal in the foreground
~ Daughter Hazel (Hunt) Callaway~
Daughter Hazel Hunt ( ? - ? ) was born in (?).
She married (?) Callaway.
Her home in 1970 was in Cincinnati.
~ Son Johnston Hunt ~
Son Johnston Hunt (1892-1953) was born on Nov. 1, 1892 in Somerset, Perry County.
During World War I, he served in the American Expeditionary Forces (AEF).
He married Janet Pond ( ? - ? ), daughter of Myron S. and Lillian (McCray) Pond of Park Street in Lancaster, Fairfield County, OH.
The couple produced two sons -- James Hunt and John Hunt.
Johnston learned the electrical engineer's trade and was employed by Toledo Edison. In about 1949, the couple relocated to Toledo and resided on Fulton Street and later at 2549 Portsmouth Street.
At the age of 58, Johnston was diagnosed with stomach cancer. After a year and a half of suffering, he passed away at home on St. Patrick's Day. His remains were transported to his old hometown for burial in Somerset Cemetery. An obituary was published in the Zanesville Times Recorder.
Janet remained in Toledo for many years. She was still living as of 1974.
Son James Hunt served in the U.S. Armed Forces during the Korean War.
Son John Hunt lived at home with his parents in Toledo circa 1953.
~ Son Charles B. Hunt ~
Son Charles B. Hunt (1894-1970) was born in 1894 in Somerset, Perry County.
He lived in Somerset and later moved to Cincinnati.
Charles wedded Irene Foster ( ? -1960). They did not reproduce.
Sadly, Irene passed into eternity in December 1960.
Charles resided over the years at 2724 Lawndale Avenue in Pleasant Ridge.
He died in Cincinnati at the age of 75 on Feb. 17, 1970. Funeral services were held in the Somerset United Methodist Church, with burial in Somerset Cemetery. An obituary was published in the Zanesville (OH) Recorder and a death notice in the Cincinnati Enquirer.
Copyright © 2000, 2003, 2012, 2018 Mark A. Miner