William 'Harrison' Johnston
(1814-1872) and
Elizabeth 'Betsy' Owen (1816-1899)
Elizabeth (Owen) Johnston

Courtesy Tammy Morris Strickhorn
William "Harrison" Johnston was born in 1814 in or near Morris Township, Washington County, PA, one of 11 children of Andrew and Climena (Conklin) Johnston.
His roots in southwestern Pennsylvania date to the 1780s and before that New Jersey and New York with origins in England, Ireland and Scotland.
Elizabeth "Betsy" Owen was born on Feb. 3, 1816 in New Jersey, the daughter of Benjamin and Mary "Rebecca" (Day) Owen.
As a young girl, Elizabeth migrated with her parents to Greene County, PA. It's believed that her grandparents were John and (?) (Pool) Owen, of New Jersey, although this needs to be confirmed.
The Owenses are mentioned in J.H. Beers & Co.'s 1893 Commemorative Biographical Record of Washington County. The parents of John Owen are known to have "emigrated from Wales in the early part of the eighteenth century, and located in New Jersey," said the Record.
The date of the Johnstons' marriage is not yet known.
The couple resided circa 1850 in Morris Township, Greene County, and together produced eight known children -- Daniel Johnston, Benjamin "Addison" Johnston, Andrew Newland "Nuel" Johnston, Cassius M. "Clay" Johnston, Emily Johnston, Mary Louise Miner, Stephen Johnston and Rebecca Johnston.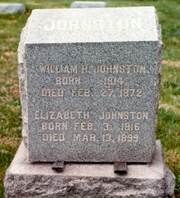 Jacksonville Cemetery, Wind Ridge
When the federal census was taken in 1850, Harrison was married and living next door to his in-laws, Benjamin Owen and Aaron Owen. (Note -- Aaron is believed to have migrated from either Morris or Essex County, NJ circa 1823.)
The Johnstons made their home near Days Store, Greene County, as shown in the 1860 census, and Harrison was marked as a "Tenant Farmer" with his elder sons working as farm laborers. Tax records of the county show that Harrison had 55 acres, but in 1866 transferred the property to Isaac Clutter. By 1866, sons Addison and Newel had left home.
In the fall of 1865, Harrison paid John and Rebecca Iams a total of $2,600 for a tract of 84 acres near Wind Ridge in Rich Hill Township, Greene County. The family is enumerated there in the 1870 census, although Greene County tax assessment records show that ownership of this acreage was transferred in 1870 to W.R. Sickles.
The Waynesburg Democrat once said that the Johnstons resided "for several years on the farm where William Caldwell now resides...."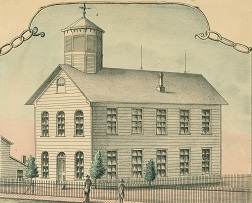 Local landmark, the Odd Fellows
lodge in Jacktown near Wind Ridge
One of the high points of living in the Wind Ridge community in the years right after the Civil War was the annual Jacktown Fair. Formed in October 1866 by the Richhill Agricultural, Horticultural and Mechanical Society, the annual event quickly became what some have called a "cherished institution" in the region. It was held on land at one end of town, near where one George Ryerson had once conducted an Indian trading post. The fair included a horse trader's alley and horse racing along a quarter-mile track in the center of the grounds, at the top of the hill. "In many ways," said a history of the event, "the Jacktown Fair is unique."
It is a holdover from the time of the horse and buggy when every community of any size had a fairgrounds and set aside certain days each summer to bring in prize samples of their produce, livestock, and handiwork. And although concession stands, merry-go-rounds, and acrobats play a bit part in the annual festivities, it's still the pride in winning a blue ribbon and curiosity about who has won what prize which are the big attraction to local people. This close-knit community relationship is also the reason the fair has retained the flavor of an old-fashioned country reunion.
Harrison passed away at the age of 58 on Feb. 27, 1872, of an unknown cause. No newspaper account of his death has been found in Washington or Waynesburg newspapers. His remains were laid to rest in the Jacksonville Cemetery in Wind Ridge, across the road from the Cumberland Presbyterian Church.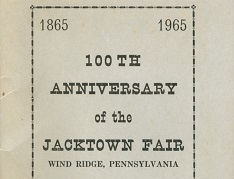 Jacktown Fair anniversary booklet
Elizabeth outlived her husband by more than a quarter of a century, and was close with her aged sister Emily (Owen) Jennings. She was well known locally as "Aunt Betsey" (or "Aunt Bety") and continued to make her home in Wind Ridge. A newspaper said she "was a much respected christian lady and an exemplary member of the C.P. church" and that she "leaves one daughter and four sons...."
Other interrleated families known to have dwelled in the Wind Ridge/Ryerson area around that time were Jefferson and Matilda (Rickey) Younken, Benjamin and Mary Rebecca (Day) Owen, Charles L. and Nancy (Henry) Younken and Cornelius "Neil" and Mary (Younken) Dorsey.
Her whereabouts in 1880, as recorded in the 1880 federal census enumeration, have not yet been located.
In the fall of 1898, Elizabeth suffered the death of her beloved sister Emily Jennings.
After Emily's death, Elizabeth moved into the tenant farmhouse residence of her married daughter Mary Louise Miner on the Alexander Gaston farm near Houston, Washington County, PA.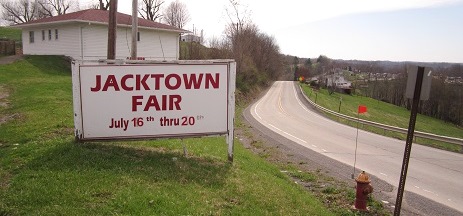 The Jacktown Fair site circa 2014.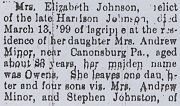 Waynesburg Democrat, 1899
Elizabeth only lived for a few months after becoming part of the Miner household. At the tail end of February 1899, when she was age 83, Elizabeth came down with a fatal case of pneumonia, or "la grippe" as it was then called. She suffered for 13 days, and died in the wee hours of the morning on March 13, 1899. News of her death was telephoned to undertaker S. Knight, according to a Waynesburg Republican article. Her remains were sent by train to Wind Ridge for burial beside her husband.
Also resting for eternity in the same row of graves are Elizabeth's sister and brother in law, Emily (1898) and Samuel Jennings (1882), and presumed Owen relatives Aaron Owen (1888), Maria Owen (1868), Mary Owen (1892), and Mary E. Owen (1895). It is believed that the flowers and plantings at the Johnstons' grave were placed by their great-granddaughter, Jessie (Miner) Schultz, who showed the location to the founder of this website in 1984. The graves were revisited and re-photographed in 2014.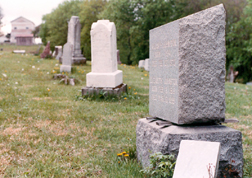 Johnston grave, Wind Ridge, Greene County
Under the terms of Elizabeth's will, on file today at the Washington County Courthouse, Elizabeth selected her son Stephen as executor of the estate, but in turn he asked his nephew William Allen "Will" Miner to serve in this role. An inventory and appraisement of her assets totaled one cow valued at $28, a certificate of deposit worth $325, and cash of $13.60.
In settling the estate, Elizabeth's son in law Andrew Jackson Miner was paid $51.84 for "board and keeping." Also receiving inheritances as their fair share of the estate were sons Anderson B. Johnston, Stephen W. Johnston, Cassius M. Johnston, daughter Mary Louise Miner and grandson Frank W. Johnston.
~ Son Benjamin "Addison" Johnston ~
Son Benjamin "Addison" Johnston (1841-1925), also known as "Add," was born in November 1841.
He married Sarah E. "Sadie" (?) (1849-1910), a West Virginia native, in 1874.
Circa 1880, their home was on a farm in the Liberty District of Marshall County, WV. That year, in addition to their newborn daughter, their eight-year-old nephew Franklin Johnston lived under their roof.
The Johnstons had one daughter, Grace Lawton, who was born in 1880. Census evidence suggests that they lost five offspring to death while in childhood.
The Johnstons must have had the wanderlust, as by 1899, they had migrated to Wyoming, and were living near Laramie City, Albany County, WY, where Add was a ranchman. Living under their roof that year was their 28-year-old nephew, Frank W. Johnston, who worked as a ranch laborer. Back in Pennsylvania that year, Addison's aunt Emily (Johnston) Jennings had died, childless, and under the terms of her will, Addison was named an heir.
In about 1903, it's thought that their nephew Ward C. Miner, suffering from tuberculosos, came to Wyoming to live with them and take advantage of the change in climate to find a cure.
By 1910, the Johnstons had moved again to Colorado, making their home at Louisville, Garfield County, about 21 miles northwest of Denver. Add's occupation was given as farmer on the census that year. Under their roof were daughter Grace and nephew Ward C. Miner, who must have made the move to Colorado with them.
Sadly, Sarah died in 1910 at the age of 61. Burial was in Grandview Cemetery in Fort Collins, CO.
Addison survived his wife by 1915 years. When his brother Cassius died in 1918, the Moundsville newspaper reported that Add was living in Fort Collins, CO.
When the federal census was taken in 1920, the widowed Add made his home with Grace and her husband, lumber store clerk Oakley R. Lawton, in San Diego, San Diego County, CA. Circa 1921, when his sister Mary Louise Miner died, he was mentioned in a Washington newspaper obituary and was living in San Diego at the time.
Add died on June 2, 1925, at the age of 84. He rests beside his wife in Grandview Cemetery. [Find-a-Grave]
Daughter Grace I. Johnston (1879-1970) was born on June (or July) 28, 1879 in the Liberty District of Marshall County, WV. She migrated to Colorado with her parents. In 1915, when Grace was 35, she married 27-year-old Oakley Lawton (1888- ? ). He is believed to have been the son of Russell Lawton of Marshalltown, Iowa. Circa 1916, they lived in Louisville, CO. The U.S. census of 1930 shows the Lawtons living in San Diego, with one son, Russell A. Lawton. Oakley was employed as an order clerk in a lumber yard. Over the years, Grace must have remained in contact with her cousin, William Allen "Will" Miner, a building contractor who had settled in Pomona, CA. In July 1962, some years after his death, Will's widow Laura visited at Grace's home, as noted in the gossip columns of the Chula Vista (CA) Star News. Circa 1962-1969, she resided in Fredericka Manor in Chula Vista. She passed away on Feb. 3, 1970 in San Diego County. She rests in Cypress View Mausoleum and Crematory in San Diego [Find-a-Grave]
Nephew Frank W. Johnston (1873- ? ) was born in Pennsylvania. Who were his parents? He was raised by his uncle Addison in West Virginia in 1880 and Wyoming in 1900. He later move to Colorado, to Garfield County, next-door to Add and another uncle, Clay Johnston. Frank married Cora (?) Giddings in about 1907 -- it was his first marriage, and her second. The census of 1910 shows daughter Alice M. Johnston and Eunice V. Johnston in their household, along with eight-year-old stepson George "Kenneth" Giddings, who may later have been adopted and took the Johnston surname. The 1920 census of Garfield County, CO shows Frank and Cora and their six children -- Kenneth G. Johnston, Alice M. Johnston, Eunice Johnston, Mary Johnston, and twins Edith and Ethel Johnston. That year, Frank's occupation was farmer.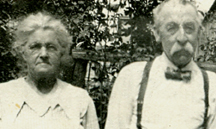 Nuel and Jemima Johnston
~ Son Andrew Newland "Nuel" Johnston ~
Son Andrew Newland "Nuel" Johnston (1842-1925) was born on Feb. 13, 1842.
Nuel was married twice. The identify of the first wife is not known. In about 1879, he married Jemima "Mime" Sampson (1852-1943), daughter of Abraham and Catherine (Plants) Sampson.
In 1899, at the death of his mother, the obituary in the Waynesburg Democrat stated that Nuel lived in Dallas, WV. In about 1912, they relocated to Claysville, Washington County.
Nuel was a longtime farmer and laborer at odd jobs. They had no children, but kept boarders in their home. One lodger, circa 1910, was bridge works laborer Crawford Hand of West Virginia. Another of the boarders, circa 1919-1920, was Jemima's cousin John Leonard Plants. The Johnstons apparently introduced the dapper John to Nuel's grand-niece, Ollie Margaret Miner, and the match was successful, as a marriage took place in 1921.
He is mentioned in the 1921 obituary of his sister Mary Louise Miner.
When the federal census was taken in 1920, Nuel and Jemima were retired and resided in Claysville, providing a home for Jemima's widowed sister, Fannie Jane (Sampson) Plants (1846-1922). The sister died of bronchitis at age 77 on Jan. 8, 1922.
The Johnstons' address in the mid-1920s was White Oak Avenue in Claysville.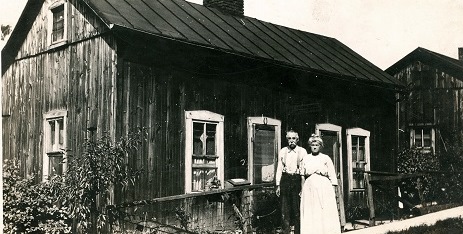 Newell and Jemima in front of their home in Claysville
Stricken with chronic kidney disease leading to uremia infection, Nuel was an invalid for the final two years of his life. He finally died on July 3, 1925, freed from his sufferings. At death, he was 83 years, four months and 20 days of age. Interment was in the Claysville Cemetery.
The U.S. census of 1930 shows Jemima as a 78-year-old widow in Claysville, with her 69-year-old sister Mary Hartley living under her roof. She lived for another 18 years as a widow, and spent her final time on earth at the address of 201 Highland Avenue in Claysville.
During the first week of April 1932, in her early 90s, Jemima contracted a deadly case of influenza added to a uremia infection caused by kidney failure. She died on April 23, 1943, at the age of 91 years, six months and eight days.

Main Street East in Claysville
~ Son Cassius Monroe "Clay" Johnston ~
Son Cassius Monroe "Clay" Johnston (1846- ? ) was born on July 27, 1846 in Greene County. He also was known as "Cash." He apparently was named for Cassius Marcellus Clay, a prominent Kentucky anti-slavery crusader in the 1830s and '40s.
On Dec. 21, 1871, Clay married Caroline Harris (1850-1923), the daughter of Samuel and Nancy (Gosney) Harris of Marshall County. He was age 25 and the time, and she was 21. Caroline was "born near the Universalist church on Fork ridge," noted the Moundsville Daily Echo.
The Johnstons had four children -- Benjamin Addison Johnston, Leasy Elnora Johnston, Ava Hartley and Ward Johnston.
The family first lived in Moundsville, Marshall County, WV, where Clay's occupation was as a carpenter. Then in 1899, when he was named in the last will and testament as an heir of his aunt Emily (Johnston) Jennings, their home was in Cameron, Marshall County.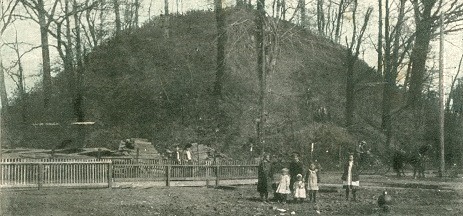 Moundsville's famous landmark, the pre-historic "mound," 79 feet high and 900 feet in circumference at the base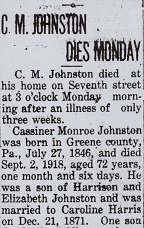 Moundsville Daily Echo
By 1910, perhaps seeking a new start, the Johnstons had migrated west to Colorado, and were living next to his brother Addison in Garfield County.
But the family returned to Moundsville sometime in the early 1910s. Their home in Moundsville was on Seventh Street. Said the Moundsville Daily Echo, "Mr. Johnson was an Odd Fellow of long standing, holding membership in Cameron, having been a long time resident there."
Gossip columns from the Moundsville Daily Echo in August 1915 show that Caroline and her grandson Dale Hartley, along with Sarah Harris and her grandson Blair Watson of Loudenville, near Cameron, visited with Lona McCosh at Beeler Station.
Clay died at home in Moundsville at the age of 72 on Sept. 2, 1918, of Bright's Disease, known today as kidney failure. He was laid to rest in a cemetery in Cameron, Marshall county, "the funeral party going out in automobiles," noted the Daily Echo.
Handwritten notes prepared in the 1960s by Monalea (Ullom) Miner, wife of Clay's grand-nephew Odger Miner, list Clay and confirm that he lived in Moundsville.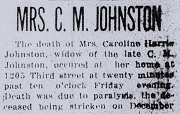 Moundsville Daily Echo
Caroline survived her husband by five years. She lived by herself at 1205 Third Street in Moundsville when the 1920 census was taken.
The day after Christmas 1925, she suffered a stroke, caused by hardening of the arteries. After lingering for a month, she succumbed at the age of 73 on Jan. 26, 1923. She was laid to rest in Cameron.
An obituary in the Daily Echo said that "With the exception of four years in Colorado, she spent her entire life in the county in which she was born." The newspaper also noted that she was survived by a sister Lora McCosh, her daughter Mrs. Ava Hartley... "and numerous other relatives throughout the city and county."
Daughter Ava Johnston (1883- ? ) was born in 1884 in Marshall County. On Jan. 27, 1904, at age 21, she married 23-year-old Wilbert E. Hartley of Moundsville. Rev. William B. King, of the Simpson Methodist Episcopal Church, officiated. She had one known son, Dale C. Hartley, born in West Virginia in 1906. Sadly, she was widowed by the age of 26 in 1910. That year, she and her young son lived in Colorado with her parents. By 1918, they were back in Moundsville.
Son Ward Johnston (1881-1946) was born on June 1, 1881 in Marshall County. Migrating westward as a young man, he married a Colorado girl, Olive S. (?) (1889-1974). They resided in Rifle, Garfield County, CO in 1918-1920 but by 1923 had moved back to Moundsville. They did not reproduce. In 1925, at the death of his mother, Ward was named in the Moundsville Daily Echo obituary which stated that he was now living in Santa Barbara, CA. The federal census enumeration of 1930 shows Ward and Olive residing there on E. Gola Street, with him employed as a salesman in a seed store, and her working as a public school teacher. Later, she worked as a girl's guidance counselor in Santa Barbara High School. In the early 1930s, in his role as a grower and distributor of seed beans, Ward testified before the Railroad Commission of the State of California about transport issues. Ward died in Santa Barbara on Aug. 17, 1946, at age 65. His passing was noted in the 1947 Year Book and Proceedings of the Annual Convention of the American Seed Trade Association, noting he was survived by a sister Mrs. Stuart Whitmore. Olive outlived her husband by almost three decades. She is named in a 1936 publication, The Responsibility of the Secondary School, produced by the University of Colorado. passed into eternity in Santa Barbara on May 28, 1974, at age 85.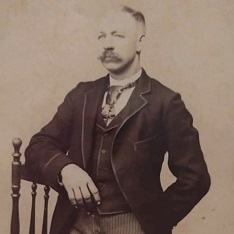 Stephen Johnston
Courtesy Tammy Morris Strickhorn
~ Son Stephen W. Johnston ~
Son Stephen W. "Steve" Johnston (1856-1933) was born on March 27, 1856 in Greene County, PA.
Steve was the youngest child in the family and the son of tenant farmers.
He was a lifelong bachelor and a longtime farm laborer.
At the age of 24, in 1880, Steve is known to have boarded with his uncle and aunt, Samuel M. and Emily (Owen) Jennings in Richhill, Greene County.
Not much is known of his life. In 1899, after the death of his mother, her will stipulated that he be executor of the estate. But Steve renounced the role and in turn he asked his nephew William Allen "Will" Miner to serve in this position.
Circa 1908, when his sister's widowed niece Elizabeth "Lizzie" (Miner) Lindley needed a witness for government paperwork, Steve and his brother-in-law Andrew Jackson Miner jointly signed an affidavit swearing that they both had known her "ever since she was a little girl..."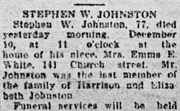 Washington newspaper
Steve has yet to be located on the federal census enumerations for the years 1900, 1910 and 1920. His whereabouts are a mystery.
In 1930, when the census again was taken, the 74-year-old Steve boarded in the Addison Street home of Walter O. and Maria J. Burt in West Washington, Washington County. He had no occupation that year. Eugene G. Taylor, age 46 and a teamster, also was a boarder in the Burt residence at that time.
The photograph portrait used for this biography was taken at T.S. Hawkins' photography studio in Waynesburg, Greene County, located in the Ingram Building. It was passed down in the family of his sister Mary Louise Miner and to her grandchildren and great-great grandchildren.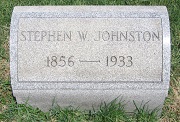 Claysville Cemetery
As his health began to fail in the early 1930s, Steve moved into the home of his widowed niece, Emma (Miner) White, on Church Street in Washington.
He was diagnosed in about August 1933 with cancer which had developed in the base of his bladder.
At the age of 77, Steve died in Emma's home on Dec. 10, 1933. The funeral was held at the White residence, led by Rev. John H. Debolt of the West Washington Methodist Episcopal Church and Rev. E.A. Cole of Second Christian Church.
His remains were laid to rest in the Claysville Cemetery, the last of his siblings to pass away. An obituary was printed in the Washington newspaper.
Steve's grave marker was photographed in April 2014 by the founder of this website.

A rare bird's-eye view of Claysville
~ For Further Reading ~
"150 Years On, Jacktown Fair Endures" - Pittsburgh Post-Gazette, July 14, 2015.
Copyright © 2008, 2014-2017, 2019-2020 Mark A. Miner
Obituaries courtesy of the Citizens Public Library in Washington, PA; Cornerstone Genealogical Society in Waynesburg, PA; and the West Virginia Regional History Collection, West Virginia University, Morgantown, WV