William Allen Miner
(1876-1956)


Will and Osta Miner
William Allen Miner was born on April 13, 1876 near Nineveh, Greene County, PA, the son of Andrew Jackson and Mary Louise (Johnston) Miner. Will was a "character"' and over the years his work as a Methodist preacher and family history buff influenced many people.
As a boy, Will lived near Waynesburg, PA; Hundred, Wetzel County, WV; and Chartiers Twp., Washington County, PA. By 1900, he was residing in the home of his cousin, Elizabeth (Miner) Lindley in Washington, PA and was working as a laborer in the local tin mill, and as a packer in a glass house.
A literate and well-read man, Will received in 1888 a book entitled Little Jackie as a gift from his friend Maggie Smith. It remained in his possession until his death nearly seven decades later. When his grandmother Elizabeth (Owen) Johnston died in 1899, he was asked by his great-uncle Stephen W. Johnston to serve as executor of the estate.
On July 3, 1900, at the age of 23, Will traveled to Cambridge, Guernsey County, OH to marry his childhood friend and sweetheart, Osta Arminta Cain (1880-1946), the daughter of James C. and Margaret Ellen (White) Cain of Hundred, Wetzel County, WV. A copy of their marriage license is on file today in the county courthouse. The Miner and Cain families were close, and Osta's sister Armena married Will's brother Harry.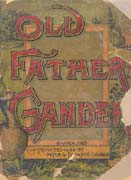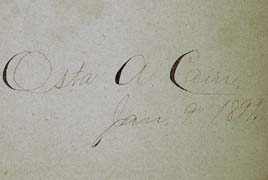 Old Father Gander book that Osta received and inscribed on Jan. 9, 1891, when she would have been age 11, and kept in the family for years.
Sadly, a year later, in 1901, Will and Osta's unnamed infant son died in Washington. The baby boy was buried at Washington Cemetery. Osta never was able to have any other children after that.
Very religious, Will was a lay minister serving the Methodist Church -- but primarily made his income as a carpenter and building contractor. Seen at left, he studies what appears to be a Bible and a dictionary in his home study. The image could well have been taken by his brother Ward, who was a professional photographer. (A larger version of this image was our "Photo of the Month" in February 2004.)
In 1905, the Miners traveled to Denver to visit Will's brother Ward and to attend the Epworth League Convention of the Methodist Church. A year later, they moved to Southern California, where they lived until about 1909.
Will served a number of small congregations in the states of Mississippi, Colorado, Virginia and Pennsylvania. He kept a small journal detailing his moves, expenses and income, and lists of church members. The inside cover of the booklet is seen here. He accepted his first known ministry position in 1909, in the town of Meriden, MS.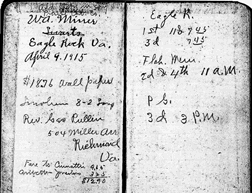 Journal of Will's pastoral assignments
Two years later, in 1911, they moved to Colorado so Will could cover three churches -- Wright's Memorial, Yuma and Otis. They remained until March 1912, with Will preaching 30 times and earning $162.70.
Also making their home in the Denver area during this time were Will's brother Ward, who was suffering from a fatal case of tuberculosis, and two of Will's uncles, Benjamin "Addison" Johnston and Cassius Marcellus "Clay" Johnston, as well as several households of Johnston cousins.
In 1913, Will was back in Western Pennsylvania, working as a preacher in the 'Swarts Circuit' near Waynesburg, PA. (The Swarts United Methodist Church stands today.) After a few months, they left and by Christmas were back in California, in the town of Pomona. He sent his mother several postcards from Pomona, and in reply she sent him a penny postcard, describing her health problems, church activities and the price of food.
In 1915, Will took on a three-church position at Eagle Rock, Piney Grove and Flaherty Memorial, VA. He was paid partly in ham, butter, potatoes, eggs, berries, chicken, meat, apples and beets, along with a cash salary of $472. Later, they moved back to Denver. In 1919 they were back in Washington, PA, and shortly thereafter moved again to California.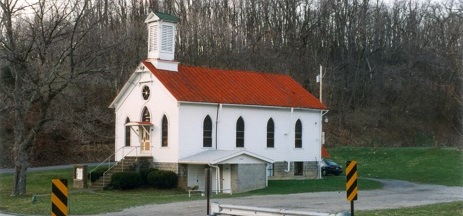 Swarts United Methodist Church, Greene County, PA, 1994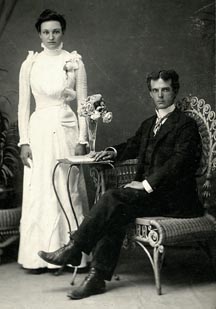 Wedding portrait
Will registered for the military draft during World War I, and listed his occupation as a self-employed carpenter, residing at 260 Fayette Street, Washington.
Tragedy struck in the summer of 1919 when Will's brother Harry suffered two strokes, the second of which was fatal. One story says that Will and Osta offered to take one of the widow's seven children to raise, but were turned down. Another story relates that after Harry's first stroke, when he was visibly sick, Will began to pack to leave for California. "He didn't want to be stuck with his brother's children," a niece later recalled. When Harry died of the second stroke, in July 1919, Will announced at the funeral that they were leaving a few days later.
Will and Osta stayed in California until about 1927, when they returned to Washington. He built a house as their residence at 120 East Catherine Avenue. It stood over top of a spring, where everyone in the district would come for their water, "but he put a stop to that," said a niece. He also built a house on Burton Avenue in 1929 for his sister in law and husband, Liza (Cain) and Edward Marshall.
During this period, in Washington, Will built "California Bungalow" houses on Fayette Street, patterned after some he had admired in California, and which still stand today.
He also drove his wife and her widowed sister Armena Miner to Hundred, WV, pointing to a pile of timbers and remarking that the site was where he lived as a boy. One Christmas, Osta quietly snuck over to Armena's home to leave gifts of fruit for the children.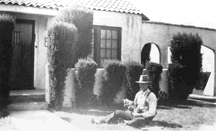 Will and his cats, Rosemead, CA
By 1931, the Miners had settled in El Monte, Los Angeles County, CA. They later moved to nearby Rosemead, joining the First Methodist Church of Alhambra. Seen here circa 1937, Will sits in the grass at their home in Rosemead, petting his cats.
The couple later relocated to Pomona, Los Angeles County, where they remained for the rest of their lives. They belonged to the First Methodist Church of Alhambra.
Will was fascinated by family history, and once commissioned a genealogist to research our clan's past and to write a report. Based on the findings, Will gave remarks at a Miner family picnic at Washington Park (circa 1929) that the family name had once been spelled "Minerd" with the "d," and that it was of "Pennsylvania Dutch" (German) origin. He promised to send his papers to his niece Jessie (Miner) Schultz, but never got around to it. Unfortunately, the report has been lost, said to have been left behind in the Pomona house where he last lived. Inquiries by his nieces and grand-nieces in the 1970s to locate the report proved fruitless.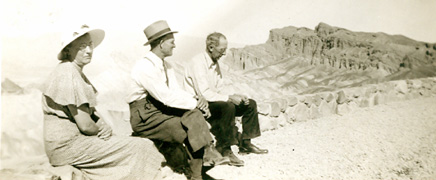 Osta and Will resting with "cousin Burt Gover" at Hoover Dam Lake in 1936 -- a year after the feat of engineering was dedicated by President Roosevelt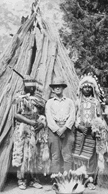 San Diego mission
Over the years, Will and Osta vacationed at Yosemite National Park (1931), Pikes Peak (1929), Hoover Dam Lake and an Indian reservation in San Diego. Hoover Dam Lake, completed in 1935, has been called "the greatest dam of its day" and is still a world renowned landmark today.
At the mission in San Diego circa 1934, Will was photographed with Native Americans, and stands at center.
In the fall of 1945, Osta became ill, and they decided to return to Washington for treatment. Sadly, on Oct. 15, 1945, Osta died in the Hillsview Clinic. She was buried in the Miner family plot at the Washington Cemetery. He also had their infant son's remains relocated to rest with her. While ordering Osta's grave marker, Will also purchased a small stone to mark the graves of his grandparents, Henry and Polly (Younkin) Minerd, who had been dead for some 60 years, and who lay buried on a small private farm cemetery near New Freeport, Greene County, PA.
For some time after Osta's death, Will suffered from a bout with severe depression, and may have suffered an emotional breakdown. During part of that time, he resided with nephew Odger Miner near Aliquippa, Beaver County, PA. Will was so grateful for the loving care provided by the nephew's family that he went to their local bank and paid off the balance of their mortgage.
In 1947, having fully recovered, Will returned to California. On Oct. 2, 1947, he was joined in wedlock with Laura Thompson (1896-1982). Breaking from their Methodist roots, he joined the Baptist Church of Pomona, and was a member of the Sunday School.
In the 1950s, Will and Laura received occasional visits from his nephew OrlanLloyd Miner, who resided in Monrovia, CA, and from grand-nephew Odger "Wayne" Miner, stationed at the Presidio of Monterey during the Korean War.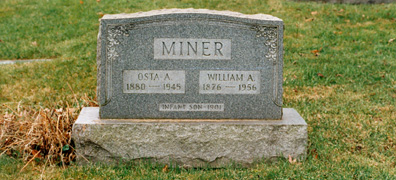 Graves of Will, Osta and their infant son at Washington (PA) Cemetery

Laura Miner, 1978
Will and Laura's final address was 69 East Alvarado Street. There, he died at age 80 on Oct. 2, 1956 at Pomona. An obituary in the Pomona Progress said he "came to California in 1906 from Washington, Pa., and lived in several Southern California communities, including several years in Rosemead. He has resided in Pomona for the last nine years..." Following funeral services led by Rev. Edward B. Cole of the family church, the remains were shipped back to Washington for burial. He rests with Osta and their infant son at Washington Cemetery.
Laura outlived Will by many years. In July 1978, while residing in a nursing home in LaVerne, Los Angeles County, CA, she received a return visit from her husband's grand-nephew, Wayne Miner, and his family from the Pittsburgh area. They visited for a few hours, and she graciously brought out an old photograph album of snapshots to show to her guests. She admitted that she did not know much about Will's family back east, she said, but she did recall Wayne's visits during the Korean War era.
She was photographed that day in front of her residence, in the Southern California sunlight. She passed away fouryears later, at age 86, in January 1982.
Will is mentioned in Rev. Fred Cochran's history, The Swarts United Methodist Church -- 171st Anniversary.
Copyright © 2000, 2002, 2005-2006, 2008, 2010-2011, 2020 Mark A. Miner