The 140th Pennsylvania today is memorialized at Gettysburg with two large monuments in and around Little Round Top. The more prominent of the two is seen here. One of the plaques, dedicated in 1885, reads:
Cyrus' name also appears on the Pennsylvania Monument at Gettysburg, along with the names of all the other members of the 140th PA Infantry and other Pennsylvania regiments who served in action at the bloody battle. Lizzie's uncle, Samuel Birch, also is named on the monument, on the panel honoring the 16th Pennsylvania Cavalry.
He was honorably discharged on May 31, 1865 at Alexandria, VA. Cyrus returned to Washington County, PA, and built carriages for a living. His eyesight improved somewhat, though it began to decline again in about 1896, causing difficulty with the precise work needed of a wagon builder.


Doctor's sketches of Cyrus's battle wounds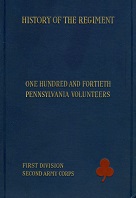 History of Cyrus' regiment
Circa 1865, he married his second wife, Nannie A. (or "Nettie") Reeves ( ? -1884). They had at least seven children, born between the years 1866 and 1880 -- James Hamilton Lindley, Mary "Emma" Huff, Nora May Ebberts, Sarah L. "Sadie" DeUnger, Edward Lindley [later renamed John William Lindley], Charles Benson Lindley and Celesta Lindley.
Heartache and tragedy struck the family in waves in 1883-1884. In 1883, son Oliver died in Prosperity. The following year, wife Nannie passed away in Washington, PA on June 19, 1884, and infant daughter Celesta died in August of that year, age three months. Nannie's brother, B.F. Reeves (1853- ? ) of Deerlick, Greene County, wrote that he "visited her frequently during her last sickness. I saw in her casket and attended her funeral."
Cyrus was left with six motherless children to raise.
Five years later, in 1889, Cyrus married his third wife, our Lizzie Miner. They went on to have eight children of their own -- Isa Reynolds, Homer Randall Lindley, Hazel Anna Headley, Albert Leon Lindley, Wilda Pauline Lindley, Wilma Irene Lindley, Thelma Stella Lindley and William Earl Lindley.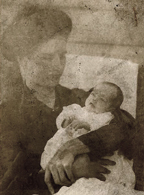 Lizzie and a newborn
Lizzie is pictured here with one of her newborn babies, an image substantially touched up from a very badly faded original photo.
At some point in the 1890s, the Lindleys moved from their small farm near Prosperity into the city of Washington. Perhaps this was due to the increasing urban need for builders of carriages. There they remained for many years, although they apparently retained ownership of the farm.
As he aged, Cyrus began to feel the effects of his wartime illnesses. He applied for and began receiving a pension from the federal government as compensation. Circa 1900, he was receiving $6 per month through the pension agency in Pittsburgh. During an 1892 medical examination, required to maintain his pension, he stood 5 feet, 7 inches tall, weighed 122 lbs., and had a pulse rate of 72. In 1898, a physician wrote: "[His] nutrition is good, muscular development fair, his palms show evidence of hard labor done in the past, at present quite soft." Cyrus's original pension file is held today at the National Archives in Washington, DC, with a copy in the Minerd-Minard-Miner-Minor Archives.

Will Miner
By 1900, when the federal census was taken, the Lindleys had purchased a home at 338 Fayette Street in West Washington, just down the street from where Lizzie's uncle Andrew Jackson Miner and other relatives lived. That year, they provided housing for five boarders who were local laborers, including their son Charley. Another of the boarders was Lizzie's first cousin, William Allen Miner, who was a packer in a glass house. The other boarders were tin mill laborers Thomas King and Lilburn Newland and carpenter David Sprowles.
The shadow of death continued to take its relentless toll on the family in the 1890s. On Jan. 10, 1891, son Homer died in Washington, PA, and twin daughters Wilma (March 13, 1897) and Wilda (Dec. 2, 1898) passed away, also in Washington. Then on Aug. 10, 1904, daughter Thelma died at age two, in Washington. We cannot imagine the enormous emotional burden that Cyrus and Lizzie felt over these deaths. Over the span of 40 years, Cyrus had lost two wives and eight children.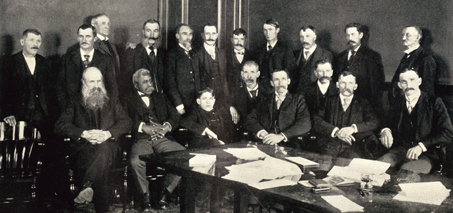 Cyrus at far right, back row, with fellow members of the first grand jury assembled in the new Washington County Courthouse, in 1900. Photograph by Hallam, halftone by Bragdon. From Bench and Bar of Washington County, Pennsylvania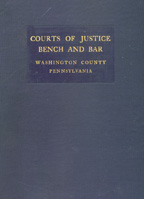 Book mentioning Cyrus
Cyrus achieved immortality of sorts when, on Nov. 12, 1900, following construction of the new Washington County Courthouse, he was named to a grand jury. Said the 1902 book, Courts of Justice: Bench and Bar of Washington County, authored by Boyd Crumrine, the jury "appeared in session in court-room No. 1, to join in the first act of judicial business ever transacted in the new court-house." Cyrus was mentioned in the book, and also pictured in a group photograph of that initial grand jury. The book, seen here, is preserved today in the family archives. [Note -- another cousin mentioned in the book is George Walters Henshaw, who married into the prominent McGiffin family of Washington.]
In 1904, Cyrus became ill and could not attend his annual medical checkup. He wrote that he "was confined to the house for seven weeks - am totally disabled and cannot go before any board for examination unless in a carriage to Washington Pa. which is only three miles to travel." He was pronounced as having a total inability to earn support by manual labor, and his pension payments increased to $12 per month.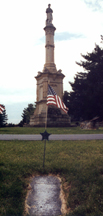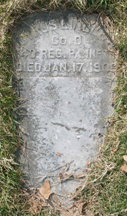 Cyrus' grave, Washington Cemetery
Death finally took Cyrus at age 69 at their Amwell Township home, on Jan. 17, 1908. The Washington Reporter said he was "an old soldier" and that his "death was sudden, as he had been sick only about eight hours."
He was laid to rest in the Washington Cemetery, in the Civil War veterans' section near the large statue, seen here. His marker is in the foreground, directly below the flag. The funeral was overseen by Rev. Cole.
The administrator of Cyrus' estate held an auction to raise funds to pay debts. Held on Feb. 12, 1908, the sale included some 90 items that are typical of what a carriage builder and farmer would have owned at that time. These ranges from a buggy harness and feed cutters to hogs, a shotgun and bedsprings. A full list is in the Minerd-Miner-Minor Archives.

Andrew Birch
Among the purchasers was Lizzie's first cousin, Andrew J. Birch, who bought a wagon and wagon wheels for $1.00. Lizzie's brother in law, Elmas Martin, purchased a square for 35 cents, and Howard Lindley (connection unknown) bought hammers, a clamp and plaster.
As a widow with young children, Lizzie rented a home at 32 East Cherry Avenue in Washington. She was a "faithful member" of the Christian Missionary Alliance Church. When her late late husband's estate was administered, the total assets came to $76.75.
Later in 1908, Lizzie applied for her late husband's federal pension. Among others, testifying on her behalf were her uncle, Andrew Jackson Miner, of Washington, and Andrew's brother in law, Stephen W. Johnston, of nearby Canton Township. They attested that they had "known her ever since she was a little girl and they know the fact that she had not been married previously." In a separate affidavit, Andrew and S.S. Lloyd of Amwell Township confirmed that the Lindleys owned a house and three acres of land in Amwell, valued at $625, and renting for $75 per year -- comprising all the property they owned of any kind. Andrew also witnessed an affidavit with testimony from one of Cyrus's former brothers in law, B.F. Reeves of Deerlick, Greene County. Also signing affidavits of support around that time were Nettie Kelsey (age 19), Parker Clark (age 45) and Emma Shanley (age 54).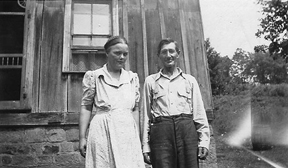 Lizzie and Cyrus, presumably at their farm

Washington Reporter, 1908
Lizzie appears to have been talented as a seamstress and as a baker of pies. When the federal census was taken in 1910, she was listed as a "Dressmaker - Own Shop." She also is said to have "taught many generations of women to bake apple pie a certain way," a tradition which continues in this branch of the family.
In 1912, Cyrus was mentioned by name twice in Robert Laird Stewart's book, History of the One Hundred and Fortieth Pennsylvania Volunteers.

Washington Observer, 1913
Sadly, completing the cycle of tragedy in the family, Lizzie died just five years after her husband. Suddenly infected with peritonitis, she was rushed to Washington Hospital in early October 1913. After just 12 hours of treatment, she passed away just after midnight on Oct. 6, 1913, at the tender age of 44. The Washington Reporter said her death occurred "due to a complication of diseases. She had been ill but a few days, and was in the hospital only since Sunday morning."
Her funeral arrangements were handled by Charles W. Devore of Washington. Lizzie is buried at Washington Cemetery -- far apart from Cyrus. She rests for eternity in an unmarked grave (Block 5, Range I, Grave 22). Stepson Charles Lindley was the informant for her death certificate, but did not know the names of her parents. He also gave her birth year as "1871" rather than the correct "1869" -- a difference in two years.
Seen here is a rare old photographic postcard showing the entrance to the cemetery.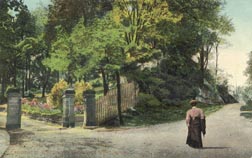 Washington Cemetery entrance
Because her personal estate was insufficient to pay her debts, their tract of two acres, perhaps the farm in Amwell or Prosperity, was sold to Grant Moninger and raised $600 in proceeds.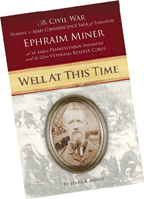 Book naming Lizzie
The Lindleys are memorialized in the book Genealogy of the Farabees in America by Louis Thomas Farabee. The date of publication is unknown but was sometime after Sept. 9, 1917, the most recent date listed in the book. The volume provides a wealth of vital statistics about the various Lindley children.
As well, Cyrus' role on the first jury held in the new county courthouse is mentioned in the 1926 book History of Washington County, Pennsylvania, authored by Earle Robert Forrest (Chicago: S.J. Clarke Publishing Company).
Lizzie and Cyrus are in a lavishly illustrated, 2011 book about her uncle who also was a Civil War veteran -- entitled Well At This Time: the Civil War Diaries and Army Convalescence Saga of Farmboy Ephraim Miner. The book, authored by the founder of this website, is seen here. [More]
~ Daughter Hazel (Lindley) Headley ~
Daughter Hazel Lindley (1892-1991) was born in 1892.
Initially she worked as a "Sales Lady - Dept. Store" in Washington. In 1910, when she was age 18, she married 21-year-old Edward L. Headley (1889- ? ), a native of Greene County, PA. They had one known daughter, Thelma Spear Sprague.
The 1910 census shows the Headleys residing at 299 Addison Street in Washington. They were listed at the same address circa 1916-1917 when named in the book, Genealogy of the Farabees in America.
Because her young brother William was just a boy when their mother died, Hazel was appointed as his guardian on May 5, 1914. The Washington County records contain detailed accounts of expenses she paid to support her brother's welfare between 1914 and 1918. These ranged from shoes and stockings to train fare and legal fees.
By 1917, Hazel and Edward had moved to Akron, Summit County, OH, residing at 196½ South High Street. By the following year, they lived at 231 State Street.
When Edward filled out his World War I military draft application, in about 1917, he listed his occupation as painter for the Miller Rubber Company. He noted on his registration card that he was married and had a child and a brother in law dependent on him for support.

Miller Rubber Co. in Akron, Edward Headley's employer in 1917, later acquired by B.F. Goodrich
Miller Rubber was one of the largest rubber factories in the nation at the time. Its sprawling facilities in Akron covered 1.25 million sq. ft. of space.
The federal census of 1920 shows Edward and Hazel and their daughter Thelma, brother William E. Lindley and cousin Ray F. Headley in the household. That year, Edward ran his own painting business.
When the 1930 census was taken, Edward was continuing his work as a painting contractor, and their married daughter and son in law, Thelma and Elmer Spear, and granddaughter Darlores Spear lived under their roof.
Bird's-eye view of Akron, Ohio
A bird's-eye view of Akron is seen here.
Hazel resided in the Akron area for the remaining years of her life. She passed away at the age of 98 in Akron on March 17, 1991. The Akron Beacon Journal said she had been "an Akron resident most of her life."
Granddaughter Thelma Headley (1911-1992) was born on May 22, 1911 in Washington. As a young girl she moved to Akron with her parents. There, she married Elmer Spear (1904- ? ), a building carpenter. They resided with Thelma's parents in Canton circa 1930. Later, Thelma married (?) Sprague. She had two sons -- Richard and Robert. Thelma passed away on Christmas Eve 1992, at the age of 81, in Akron. She was laid to rest at Rose Hill Burial Park in Akron. At the time of her death, said the Beacon Journal, she had 11 grandchildren and 15 great-grandchildren. Her son Richard lived in Texas, and son Robert in Akron.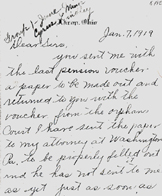 Hazel's letter on William's behalf
~ Son William E. Lindley ~
Son William E. Lindley (1903- ? ) was born in 1903 in Washington.
As an orphan boy of 10, he moved into the home of his married sister, Hazel Headley, in Akron, Summit County, OH. A letter she wrote on his behalf in 1919, to the federal pension commissioner, is seen here. He stopped receiving his father's pension payments upon turning age 16 on Dec. 26, 1919.
When the federal census was taken in 1920, the 16-year-old William was continuing to make his home with the Headleys in Akron.
William married Elizabeth (?) (1913- ? ) in about 1925, when he was age 21, and she 18. The federal census of 1930 shows them residing in Akron, where William was employed as an inspector for an "N.O.P."
Their fates after that are unknown.
~ Daughter Isa (Lindley) Reynolds ~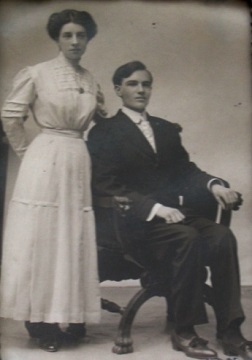 Isa and Bertram
Daughter Isa (Lindley) Reynolds (1888-1967) was born in 1888.
She married Bertram Hoyt Reynolds (1889-1958), a native of Buffalo Township, Washington County. They were wed in 1913, when she was age 25, and he 24, and in the same year as her mother died. He was slender, and of medium build, and had grey eyes and brown hair.
They are seen here in an old studio portrait. While Bertram's parents' names are not yet known, his mother's middle name has been identified as "Blood."
The Reynoldses went on to have four children -- Helen Corinne Walker, Merlin Bertram Reynolds, Beulah L. Windham and Mildred Irene Betts.
Circa 1914, they resided at 208 Brookside Avenue in Washington circa 1914, when Isa was age 25. By June 1917, they had moved to Charleroi, Washington County, making their home at 1005 Crest. That year, when Bertram filled out his World War I military draft registration, he reported that he was employed as a lineman for the West Penn Power Company in Charleroi. (Many cousins in the extended family worked for West Penn over many decades of time.)
In 1920, when the census was taken, they made their home on Knox Avenue in Monessen, Westmoreland County, PA, where Bertram labored as a general electrician.
Unfortunately, not only did Isa suffer from respiratory ailments, but she is said to have contracted a case of the dreaded Spanish Flu epidemic that spread through our nation in 1919. Doctors advised Isa to move to a warm climate, and the family relocated to Southern California early in the 1920s.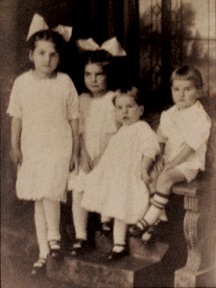 The Reynolds children, l-r: Beulah,
Helen, Mildred and Merlin, 1919
The Reynoldses often spoke of an "Uncle Ward" with great affection and regret, and it's believed they were referring to Isa's cousin, Ward C. Miner, a talented photographer who died in his early 30s of incurable tuberculosis.
By 1930, the address of the family was on 35th Street in San Diego, San Diego County, CA. The census-taker recorded Bertram's employment as "electrical contractor."
The census of 1940 shows Isa and Bertram residing on Utah Street in San Diego, with their married daughter and son in law Helen and Charles Walker living under their roof. Bertram maintained his work that year owning his own electrical business.
They spent the remaining several decades of their lives in San Diego.
Bertram died in San Diego on March 12, 1958, at the age of 69.
Isa outlived him by nine years. She passed away at the age of 79 in San Diego on Jan. 19, 1967.
Daughter Beulah L. Reynolds (1910-1983) married (?) Windham. She died in San Diego on Feb. 23, 1983.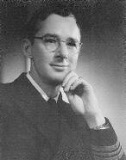 Charles H. Walker
Son Merlin Bertram Reynolds (1914-1986) apparently spent his life in San Diego. He died there at the age of 72 on Feb. 4, 1986.
Daughter Mildred Irene Reynolds (1915-1993) married (?) Betts. She died in San Diego on New Year's Day 1993.
Daughter Helen Corinne (Reynolds) Walker (1913- ? ) was born in 1913. She married Charles Henry Walker (1909- ? ), a native of North Carolina. Circa 1935, the family lived in New Orleans, LA, where their eldest daughter was born. By 1939, they had relocated to San Diego, San Diego County, CA, where Charles served in the United States Navy. Charles is seen here, in his military uniform, and later became a naval commander, a position from which he retired. The federal census of 1940 shows Helen, Charles and their two children living with her parents on Utah Street in San Diego. That year, his employment was marked by the census-taker as "Radio-Man" with the Navy. During World War II, they resided in Hayward, CA. They had three children, all of whom have been educators -- Charlotte Zoe Walker, Marian Stauffer and Stan Walker. The couple is lovingly named and described in the dedication of the book The Art of Seeing Things, authored by their daughter Charlotte.
Marian Stauffer

Granddaughter Marian Louise (Walker) Stauffer (1944-2012) was born on Oct. 6, 1944 in Hayward, CA. She "loved learning throughout her life, and had many interests," said the Florida Times-Union. "In addition to her work in psychology, Marian had a kind and generous spirit, an enthusiastic love of life, history and art, and enjoyed playing the piano." She received her bachelor's degree in political science and history from the University of Denver, and then obtained master's degrees in child development from Virginia Polytechnic Institute and counseling and educational psychology at the University of Houston. She married Thomas Stauffer, and they had three children -- Amity Juliet Stauffer, Winston Thomas Stauffer and Courtney Voskuhl. For many years, Marian was a school psychologist in the public education system in Houston, and took Ph.D. studies at her alma mater. Later, after a divorce, she relocated to Jacksonville, FL in 2004. There, she was a member of the South Jacksonville Presbyterian Church and was active in its social justice ministry. In about 2005, she made contact with the founder of this website, and graciously provided information about her branch of the family. Marian passed away at the age of 68 on Oct. 11, 2012, at Memorial Hospital in Jacksonville

Charlotte Walker
Granddaughter Charlotte Zoe Walker ( ? -living) was born in Louisiana. She has been a longtime English Professor at the State University of New York, College at Oneonta, and has edited two books about the 19th century nature writer John Burroughs. Her volume, The Art of Seeing Things, is pictured here. In her dedication to the book, Charlotte wrote: "...to all our farming ancestors, brought to life again in the writing of Burroughs, and all those who carryon today the natural ways of farming that are so threatened in our time." Her extensive list of publications is online, showing among many others that her writings have been published in Ms. Magazine, Good Housekeeping, the Virginia Woolf Quarterly, the North American Review and Woman's World. Her novel, Condor and Hummingbird, was published with Alice Walker's Wild Trees Press. Her short story, "The Very Pineapple," received an O. Henry Award in 1991, and her "Goat's Milk" short story was named one of the Best American Short Stories of 1993. Among her more recent books is The Furt Coats for All the Ladies Christmas, a family memoir about her grandparents. In an author autobiography, she wrote: "I live on a country hillside with my dear husband, Dutch ironsmith Roland Greefkes-- and, despite my complete lack of talent, I love learning to play the cello."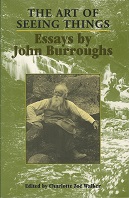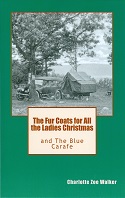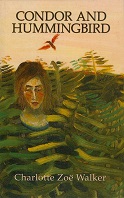 A selection of Charlotte's books
~ Fates of Lizzie Lindley's Step-Children ~
Son James Hamilton Lindley (1866-1929) was born on May 10, 1866. He was a farmer and married Ida (?) ( ? - ? ). He lived at 274 Alice Street in East Palestine, Columbiana County, OH circa 1917. By the late 1920s, he had relocated to a farm in or near Slippery Rock, Butler County, PA. On Sept. 24, 1929, at the age of 63, he suffered a stroke of apoplexy and died the same day. An obituary was printed in the Butler Eagle and Butler County Record. His remains were sent back to Washington County for burial in the Lone Pine Cemetery. His grave is not believed to be marked.
Daughter Nora May Lindley (1868- ? ) was born in 1868. She married (?) Ebberts. She lived in Pittsburgh in 1908 at 1523 Fifth Avenue. Her fate also is not known.
Daughter Sarah L. "Sade" Lindley (1868-1963) was born on Dec. 21, 1868 (or 1870) in Clarktown, PA. She was wedded to John Henry DeUnger ( ? - ? ). She resided at 1226 Jefferson Avenue in Washington in about 1917 and at 1198 West Wylie Avenue in 1963. Suffering from hypertension which led to a heart attack, she died at the age of 94 in the Ankrom Nursing Home on July 2, 1963. Interment was in Washington Cemetery.
Son Edward Lindley (1873- ? ) -- later renamed " John William Lindley" -- was born in 1873. Circa 1917, when the book Genealogy of the Farabees in America was printed, his whereabouts were unknown.
Daughter Mary "Emma" Lindley (1875- ? ) was born in 1875. She married (?) Huff. Circa 1908, she resided in 1908 in New York and after 1917 was in Montreal, Canada. Her fate is unknown.
Son Charles Benson Lindley (1879-1949) was born on Oct. 2 or 9, 1879 at Jollytown, Greene County. On April 30, 1904, when he was age 25, he married 19-year-old Catherine M. Dornberger (1885- ? ), daughter of John Dornberger. Justice of the peace James A. Magill officiated. Charles was tall, of medium build, and had brown eyes and brown hair. At the time of marriage, he resided in Washington and earned a living as a steel worker. In 1917 they lived at 6 Grove Street in the Bellvue section of Washington, PA. When he filled out his World War I military draft registration card in 1917, Charles listed his occupation as laborer at the Washington Brewery. When the federal census of 1920 was taken, Charles and Catherine were recorded on Grove Street, in North Franklin Township in Washington. His occupation was listed as general teamster. In 1948, the Lindleys lived on Jennings Lane in Washington, where he earned a living as a gardener. Charles became stricken with cancer of the jaw in 1945 and suffered for four years. He succumbed from the illness at the age of 69 on March 22, 1949. His remains were lowered into repose in Washington Cemetery. On his death certificate, his father's first name was spelled as "Siras."
Copyright © 1994, 2000-2006, 2008-2010, 2013, 2016, 2018 Mark A. Miner
Little Round Top photos courtesy of the Library of Congress' American Memory Project