William Seth Johnston
(1863-1926)
William Seth Johnston was born in 1863 in Millersport, Licking County, OH, the son of Seth Reed and Isabel (Minor) Johnston.
At a young age, Will moved with his parents to nearby Glenford, Perry County, OH. There, he owned the first automobile in the town, and later became partners with his father in the family store. In 1896, the New Lexington Tribune reported that "S.R. Johnston & Co. is a firm of the past; it now reads S.R. Johnston & Son."
He was employed as a railroad agent in 1914.
On April 25, 1914, at the age of 51, Will married 33-year-old bank cashier Freda M. Neel (1882-1960), daughter of William and Viola (Alspach) Neel of Thornville. Rev. E.E. Naragon officiated.
The Johnstons had three children, all of whom died young within the sweep of three years -- an unnamed daughter, Margaret I. Johnston and William S. Johnston Jr. The unnamed daughter was stillborn on June 17, 1915. Stricken with ilio-colitis, Margaret died at the age of eight months, 20 days on April 20, 1917. William Jr., suffering from cholera, succumbed at the age of seven months, seven days on Oct. 13, 1918. All of their remains rest together in the Lutheran Reformed Cemetery in Thornville.
The couple eventually adopted Merle "Katherine" Johnston (born 1920).

Glenford, as seen from a nearby hill in the early 1900s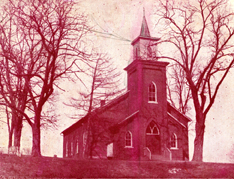 St. Paul's Reformed Church
The online Book of Perry County states that Will was vice president of the Glenford Manufacturing Company. The enterprise, founded in 1904, served as "dealers of lumber and coal and manufacturers of crates, boxes, flooring, siding and planing-mill line... They have a modern and well-equipped plant, give steady employment to twenty hands, and enjoy a large trade which is constantly expanding." His partners in the venture were George E. Ice, D.H. King and George Swinehart.
The Johnstons were members of the St. Paul's Reformed Church in Glenford, seen here in an unusual red-ink postcard image.
William passed away in 1926. At his death, the Somerset Press eulogized that:
...Some men live for a while and then when they die they are soon forgotten, people seldom mention their names. But long after he is gone from us people are going to remember William S. Johnston for his sterling qualities.
...After the death of his father he took over the business himself. Many a fine young man took his apprenticeship in the grocery business in the Johnston store at Glenford.
...Despite a weak constitution and a physical handicap, Mr. Johnston developed a remarkable activity in church and community affairs. He was a member of the local Parent-Teacher association. During the Forward Movement in the Reformed church he served as the local treasurer.
...People will remember him as a patient sufferer and a kind husband. His generous, fatherly spirit was shown in the adoption of little Katherine into the home. His desire to be of further help to the unfortunate was evidenced when he and his good wife decided to make a home for two little orphaned boys. This project was however nipped in the bud by his death.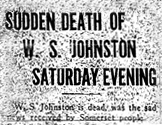 Somerset Press, 1926
After William died, an inventory of his entire general store was taken, encompassing more than 360 separate items. A complete copy of the inventory is now in the Minerd.com Archives. It provides a fascinating window into the wide variety of staples needed by the rural citizens of Perry County on the eve of the Great Depression.
Freda outlived her husband for more than three decades.
When the federal census enumeration was taken in 1930, she and daughter Katherine dwelled in Glenford but had no occupation.
She adopted another daughter, Norma J. Lynn Johnston (born 1930) and one other local orphan boy.
The 1940 United States Census shows Freda and Norman living in Thornville, with Freda marked as the proprietor of an automobile sales service business.
Freda died on Jan. 16, 1960, at the age of 78.
~ Daughter Merle "Katherine" (Johnston) Jones ~
Adopted daughter Merle "Katherine" Johnston (1920- ? ) was born in 1920 in Ohio. She grew up in Glenford.
She wedded (?) Jones ( ? - ? ).
They lived out of state as of 1960.
~ Daughter Norma J. Lynn Johnston ~
Adopted daughter Norma J. Lynn Johnston (1930- ? ) was born in 1930. By 1935, she had been adopted by Freda Johnston and they lived under the same roof in Thornville.
~ Fate of the Other Orphan Boy ~
The identity and fate of the orphaned boy in in their home is not known, but will be reported here when learned.
Copyright © 2000, 2002, 2006, 2008, 2018 Mark A. Miner