Kathleen (Laughery) Martin
(1891-1956)

Kathleen (Laughery) Martin was born on Sept. 29, 1891 in Dunbar, Fayette County, PA, the eldest daughter of David Leander and Martha Jane "Mattie" (Harbaugh) Laughery.
At the age of 19, Kathleen was the only one of her siblings to remain in Western Pennsylvania when her parents and family relocated from Vanderbilt, Fayette County to Delaware in about 1910.
Kathleen married Percy Leon Martin (1888-1962).
Their seven children were David L. "D.L." Martin, Leona May Martin, Walter A. Martin, Ruth Mangus, Percy Clarence Martin, Francis Martin and Earl Martin.
Sadly, little Leona May contracted a deadly case of cholera as an infant and was unable to recover. She died at age one year, 11 months and three days on July 6, 1912. Her tender remains were placed into repose in the Dickerson Run Union Cemetery.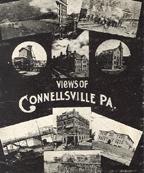 They resided in Vanderbilt circa 1909. In October 1914, Kathleen and Percy made a driving trip to the mountains of Somerset County, PA, where they visited with two sets of uncles and aunts, Ephraim and Rosetta (Harbaugh) Miner and Amos and Nora (Cramer) Harbaugh. The news was reported in the gossip columns of the Uniontown Morning Herald.
Later, they moved to the Bullskin Township area of Connellsville, Fayette County. The federal census enumeration of 1940 shows the family in Bullskin Township, in a house along Route 241. Circa the 1950s, they made their home in Morrell, near Connellsville.
Percy was employed by the Baltimore and Ohio Railroad as a machinist.
In June 1953, the Connellsville Daily Courier reported that Kathleen and Percy had "left Tuesday night for a week's visit with two of Mrs. Martin's brothers and sisters, all residing in Delaware." The article named the brothers as Arthur of Greenwood and Willis of Farmington, and the sisters as Mrs. William C. Wilkerson of Greenwood and Mrs. Charles Thompson of Harrington. Added the Courier, "Mrs. Martin is a daughter of the late D.L. Laughery, postmaster at Vanderbilt for 16 years."
Kathleen suffered from diabetes. She passed away at the age of 64 at Connellsville State Hospital on Jan. 12, 1956. Her funeral was held at the Burhans Funeral Home in Dunbar, followed by burial at Dickerson Run Union Cemetery. At the time of her death, she and Percy were survived by 11 grandchildren.
Percy outlived her by six years. He died in 1962.
~ Son David L. "E.L." Martin ~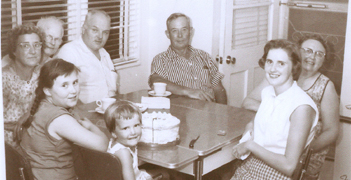 D.L. Martin, back row, 3rd from left, visiting with his uncle and aunt, Art and Kathryn Laughery and cousins in Delaware

Son David L. "D.L." Martin (1909-1968) -- seen here -- was a television repairman, and rode a motorcycle. He lived in Morrell, near Connellsville. He apparently never married and had no children.
In August 1959, D.L. traveled to Delaware to visit with his Laughery cousins.
He passed away at the age of 58 on Jan. 25, 1968. Burial was in Dickerson Run Union Cemetery near Vanderbilt.
~ Son Walter A. Martin ~
Son Walter A. Martin (1913-2006) married Sarah Elizabeth "Sally" Spaugy.
The Connellsville Daily Courier said that Walter was "employed at Gatlings Auto Stores and at Agway. He was a charter member of the Bullskin Township Lions Club and a member of the NRA and the Pleasant Valley Grange. [He] was a member and former president of the Bullskin Township School Board and he served with the Pennsylvania Army National Guard. He was an avid outdoorsman and loved hunting, fishing and gardening."
Sarah worked in the cafeteria at Connellsville High School.
Circa 1999, in talking with his Laughery cousins in Delaware, Walter agreed to help erect a small grave marker for his aunt, Mary Lou Laughery, who died in infancy in 1894.
Walter died in 2006, at the age of 93.
~ Daughter Ruth Janet (Martin) Mangus ~
Daughter Ruth Janet Martin (1921-2004) married Alfred W. "Pete" Mangus ( ? -1996). The Manguses resided in Morrell near Connellsville.
They had four children -- Alfred W. Mangus Jr., Henry Mangus, Brenda Wells and Kenneth P. Mangus.
Sadly, son Kenneth died in 1965. See further below.
Pete passed away on May 10, 1996.
Ruth survived her husband by eight years. She died at the age of 82 on Jan. 7, 2004. Her obituary in the Greensburg Tribune-Review said she had been a "homemaker." She was laid to rest in Dickerson Union Run Cemetery.
Tragically, son Kenneth P. Mangus (1956-1965), a fourth grader at Monarch School, and a junior solider in the Salvation Army's Connellsville Citadel, was killed on Sept. 23, 1965 after a fall while riding his bicycle. In a top headline story, the Courier reported that the "boy reportedly was turning his bicycle around in a neighbor's yard when he fell, striking his head. He was first taken to Connellsville State General Hospital, then taken to Children's Hospital, Pittsburgh," by Morrell firemen's ambulance." Burial was in Dickerson Run Union Cemetery.
Son Henry Mangus is said to have run projection cameras for local movie theatres.
~ Son Percy Clarence Martin ~
Son Percy Clarence Martin ( ? - ? ) married Mary Baughman ( ? - ? ).
They had at least two children -- Carol Lynn Martin and Craig W. Martin.
The Martins initially lived in Bullskin Township near Connellsville. During World War II, he served in the U.S. Army as a corporal, and received training at Camp Wallace in Texas and at Camp Joseph T. Robinson in Arkansas.
Heartache rocked the family in June 1954 when their four-day-old son Craig W. Martin died in Childrens Hospital in Pittsburgh. Burial was in Chestnut Hill Cemetery near Connellsville.
In 1968-1973, the Martins made their home in Detroit. They traveled to Delaware in late August 1973 to attend the annual reunion of Percy's cousins, the Laugherys, and are named in a related local Delaware newspaper article. They returned to the Laughery Reunion in 1984, for the 20th annual gathering, held at the home of Jeannette (Laughery) Passwaters in Milford, DE.
~ Son Earl Martin ~
Son Earl Martin ( ? - ? ) lived in R.D. 2, Dunbar circa 1968.
~ Son Francis Martin ~
Son Francis Martin made his home in Connellsville in 1956.
Copyright © 2009-2010 Mark A. Miner