Ruth Elizabeth (Luckey) Evans
(1908-2006)

Ruth Evans
Ruth Elizabeth (Luckey) Evans was born on Nov. 2, 1908 near Dawson, Fayette County, PA, the youngest daughter of Joseph M. and Sarah Catherine (Minerd) Luckey.
At age 24, on Aug. 11, 1932, Ruth married 25-year-old divorcee Elvert Charles "Chick" Evans (June 26, 1907-1975), son of Ellsworth and Ida Mae (Rush) Evans of Dawson. The ceremony took place in Morgantown, Monongalia County, WV, led by Rev. W. Roy Hasinger of the Lutheran Church.
At the time of marriage, Chick was an office clerk working in Connellsville, and Ruth was a clerk living in Dawson.
Chick brought a son to the marriage, John K. Evans.
Chick was employed for more than 40 years with the Stores Department of West Penn Power Company. He also belonged to King Solomon's Lodge of the Masons.
The 1940 United States Census shows that the couple lived in Connellsville in 1935 and in Bullskin Township north of the city in 1940.
Circa 1954, Ruth and Charles resided at Bellview, near Poplar Grove, Fayette County. Later, they moved to 505 East Patterson Avenue in Connellsville. They were members of the Wesley United Methodist Church.

Above: Ruth's entry in the 1928 Dunbar Township High School yearbook. Below: West Penn Power Company in Dunbar Township near Dawson, 1928.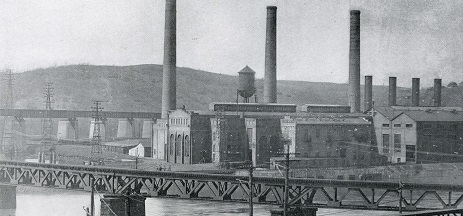 Ruth was a longtime employee of West Penn Power Company, and a member of the Wesley United Methodist Church.
Chick passed away of cancer at the age of 68 on Dec. 19, 1975. Rev. David E. Youngdahl officiated at the funeral, followed by burial in Green Ridge Memorial Park near Connellsville.
Known for her spunk, Ruth outlived Chick by more than three decades. She eventually moved into the South Connellsville Personal Care Home. She died there on April 29, 2006, at the age of 97. Following a committal service, she was interred in Green Ridge Memorial Park.
~ Stepson John K. Evans ~
Stepson John K. Evans ( ? - ? ) was born in (?)
He resided in Monroeville near Pittsburgh in 1975 at the time of death of his father.
Copyright © 2012, 2018 Mark A. Miner