Home

Mary Magdalene
(Meinert) Bohm
(1740s?-1770s?)
Mary Magdalene (Meinert) Bohm was born likely in the late 1740s in Oley Township, Philadelphia County (now Berks County), PA, the daughter of Friedrich and Eva Maria (Weber) Meinert Sr. Little is known of her life.
She married Johann "Baltasar" Bohm (1739-1814), also spelled "Balthasar" -- "Baltzer" -- "Baltus" -- and "Baltdaser Boehm" -- the son of Conrad and Maria Sophia (Burchard) Bohm, said to have been immigrants from Fehrfield, Baden-Württemberg, Germany. Their surname also has been spelled "Bähm" and "Boehm" in old church records.
They produced at least one daughter, Magdalena Bohm, born in 1768, and possibly a second daughter, Catherine Meyer Boehm, born in 1769.
Sadly, while in her late 20s or early 30s, Mary passed away by the year 1775. She not only was survived by her husband and children but by her mother as well. When the mother wrote a last will and testament, in April 1774, she stated that among her bequests was "an other share of five Shillings to the lawful Ifsue of my Daughter Mary Begotten by Balzer Bohn Deceased who was her first Husband."
Baltasar outlived his wife by decades and apparently married again to Barbara ( ? - ? ). Evidence suggests that they had a son of their own, Abraham Behm.
At the death of his father in 1888, Baltasar was named in the will, with the inheritance to pass to his offspring.
He is reputed to have died on Dec. 4, 1814 in Berks County. Having not written a last will and testament, his estate was administered by a team of co-executors including son Abraham Behm, son-in-law Jacob Gehres and Casper Brenzinger and David Johnson.
Among the household items inventoried were an eight-day clock, poplar table, bed, writing desk, old feather bed, six chair, one oval table, mortar and pestle, two cows, three sheep, waffle iron, spinning wheel, butter tub, milk pots, earthen pots, a large family Bible and nine other books, and other items. Among the papers in the estate file is a petition to the judges of the Berks County Orphans Court, by Maria Goucker, stating that she was Baltaser's granddaughter. She asked that her husband John Goucker be given a choice of an item to be inherited.
~ Daughter Magdalena (Bohm) Gehris ~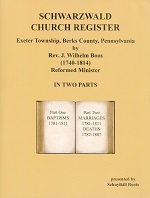 Record of the Gehris marriage

Daughter Magdalena Bohm (1768-1859) -- also spelled "Behm" -- was born on Dec. 13, 1768. As an infant just a few weeks old, she was baptized January 7, 1769, at St. Joseph's Church in Colebrookdale in what today is Berks County.

The rest of her biography presented here needs to be confirmed.

On Oct. 13, 1789, when she would have been 20, she united in the bonds of matrimony with 23-year-old John "Jacob" Gehris (Oct. 3, 1766-1836), also spelled in old church records as "Gehres" and "Gery," and a native of District Township. Officiating at their wedding ceremony was Rev. Johann "Wilhelm" Boos of the Schwartzwalt (Schwarzwald) Church in Exeter Township, Berks County. The pastor kept a record of the event which was published two centuries later in 1997 in a book entitled Schwarzwald Church Register.

Magdalena and John Jacob produced a family of at least seven known children -- Peter Gehris, Johann Georg Gehres, Daniel Gehris, Jacob Gehris, Elizabeth Hiestand, Nancy Gehris and Esther Moll.

The Gehris farm was in Hereford Township. Circa 1814-1818, Jacob is known to have been active in the development and construction of a formal building for the Hereford-Huff's Union Church as it grew beyond a small school house. Located next to his farm, at what today is the intersection of Conrad Road and Huffs Church Road, it served both the Reformed and Lutheran congregations. A 1915 history booklet , entitled Historical Souvenir of the Hereford-Huffs Union Church, published at the centennial anniversary of the building, reports the following:

Jacob named in the Hereford-Huffs Union Church history, 1915
Huffs Church history, 1915

A better day dawned when the congregations grew strong enough to erect their first Church in 1815. In a sense this was really their second house of worship, for they had also preaching services in their school house. During this period records were kept, which are still well preserved. An account of the corner-stone laying of the first Church and the Articles of Agreement then drawn up are still available. This document ends with the words: "Done in Hereford Township the 30th of May, 1914. Signed only by Rev. Jacob William Dechant, although the paper speaks as though the pastors and the Building Committee had all signed it. We learned, however, from other reliable sources that the following were the Building Committe: David Raugh, then living on the Rauch farm, north of the Church; Conrad Fegely, living on the present Jacob B. Moyer farm, west of the Church; Jacob Gehris, living on the present Jacob Hartlein farm, south of the Church; Jacob Frey, living on the Frey farm, lately occupied by Irwin Rohrbach, south of the Church. The Trustees of the congregations then were: Conrad Fegely and Jacob Gehris, to whom the deed was made on December 30th, 1818, more than four years after the corner-stone was laid.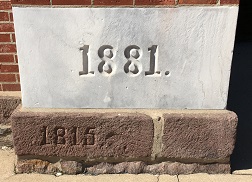 Huffs Church cornerstones, 1815 and 1881

Sadly, John Jacob died on Feb. 15, 1836, at the age of about 69. Interment was in Huff's Church Cemetery.

Magdalena lived as a widow for another 23 years.

At the age of 90, she passed away on Nov. 8, 1859. Her remains were placed into repose in Huff's Union Church Cemetery. Her grave marker is inscribed in German. [Find-a-Grave]

Many distant nephews and nieces of Magdalena's -- of the Gaumer family -- also rest at Huff's Church, with a number of their grave markers inscribed in German and still legible today.

Huffs Church was rebuilt in 1881, with a new cornerstone placed on top of the 1815 one.

In 1915, Gehris descendants along with the Gackenbach family gathered together to celebrate their seventh annual family reunion, known as a "Friendschaft" celebration. It was held at the home of Allen Stephen in East Texas, "where old acquaintances were renewed and new ones made," said the Allentown Morning Call. "Everybody present enjoyed themselves especially when dinner was announced by the ladies. The table fairly groaned under the weight of the good things and everybody did ample justice."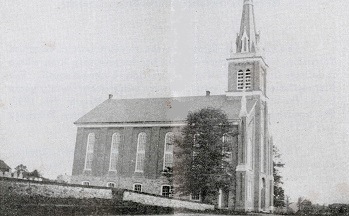 Old Huff's Church, then and today

Historical Souvenir of the Huff's Union Church in Hereford Township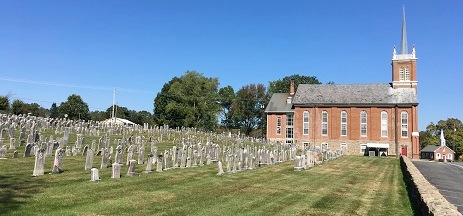 Presumed son Peter Gehris (1793-1830) was born on Feb. 15, 1793. He was joined in wedlock with Catharina Huff (1794-1877). The couple produced one known child, Eliza Shankweiler. Peter died an untimely death at the age of 37 on Aug. 2, 1830. He is said to rest in Huff's Union Church Cemetery. Catharina outlived him by nearly half a century. She died in 1877 at the age of 83.
Presumed son Johann "Georg" Gehris (1795-1858) was born on Jan. 8, 1795. He was united in holy matrimony with Susanna Johnson (1796-1873). The couple produced one known son -- Reuben Gehris. He learned the trade of masonry and earned a living with this skill over the years. In 1850, when the federal census was taken, the family resided in Hereford Township, Berks County. Living under their roof was 43-year-old day laborer Jacob Gehris, his presumed wife Lydia and children Maria and Evan. At the age of 63, Georg succumbed on Jan. 21, 1858. His remains are in eternal repose in Huff's Union Church Cemetery, with his grave marker inscribed in German. [Find-a-Grave]
Grandson

Reuben Gehris

(1837-1920) was born on Dec. 19, 1837. Evidence suggests that he wedded Catharine (1838- ? ) and produced a son, Obediah Gehris. They were longtime farmers. In 1860, this family unit dwelled in Upper Macungie, Lehigh County, PA. As a widower late in life, Reuben made a home in Lower Milford, Lehigh County. He is known to have attended the seventh annual reunion of the Gehris and Gackenbach family in June 1915 and was the oldest man present. Suffering from congestive heart failure and chronic kidney disease, he succumbed to the Grim Reaper on Aug. 3, 1920. Burial was in Shamrock Cemetery. Charles Gehris of Coopersburg, PA was the informant for the official Pennsylvania certificate of death. All of this needs to be confirmed.
Presumed son Daniel Gehris (1797-1881) was born on Aug. 8, 1797. He first married Julia/Judith Miller ( ? - ? ). They reputedly were the parents of five known children -- John Gehris, Nathaniel "Nathan" Gehris, Charles Gehris, Benjamin J. Gehris and Sarah Gehris. During the 1820s or early 1830s, they relocated from Hereford Township into Reading. Then in March 1850, he married again to Catherine "Kate" Savage ( ? - ? ). News of their wedding was announced in the Montgomery County Der Liberale Beobachter und Berks. The pair bore at least one daughter of their own, Emma Esther Wentzel. Daniel died on May 13, 1881. A death notice was published in the Reading Eagle, saying: "On the 13th inst., in this city, Daniel Gehris, aged 85 years. The relatives and friends are respectfully invited to attend the funeral without further notice from his late residence, Jefferson street below Kissinger, on Tuesday morning at 9 o'clock. Services at the house. Interment at Alsace Cemetery." No sooner was his burial complete than controvery arose. The Reading Times reported on May 21, 1881 that:
L.C.D. Yorgey, of Pottstown, and A. DeHaven, of Monocacy, were arrested yesterday, on the charge of conspiracy to insure the life of the late Daniel Gehris, aged eighty five, on his deathbed. The insurance was effected two days before Gehris died, the policy being taken out for $5,000 in the "State Capital." The warrants were issued by Alderman Brownwell, and given to Constable Lash, who left yesterday for Pottstown. As regards Dr. Yorgey's denial as to his connection without filling out an examiner's certificate, Mr. Acker produced before the alderman the application, upon the back of which was endorsed the examining physician's certificate, all alleged to be in the handwriting of Dr. Yorgey, from which it would seem that Mr. Gehris was a man in the vigor of a hale and hearty old age.
A grand jury in August 1881 found true bills against Yorgey and DeHaven, said the Times, "charging them with false pretense in obtaining the insurance from the State Capital Insurance Company by making false representations as to the condition of the health of Gehris in the application for the insurance."
Grandson John Gehris (1820-1890) was born in 1820 in Hereford Township. He married Mary Snyder (1829-1879). Together, they produced four known children -- James Gehris, Allan H. Gehris, Mrs. D. Wentzel and Mary C. Gehris. John is known to have relocated to Reading in about 1850 and remained for good. Said the Reading Eagle in 1890, John "was a blacksmith by occupation and was employed at the Reading iron works for the past 17 years. [He] was a member of the Reformed congregation of Alsace church..." Their address was 142 Carpenter Street, Reading. At the age of 69, he passed away on Feb. 13, 1890. The Eagle reported in an obituary that he "had been in ill health during the past 18 weeks, suffering with a complication of diseases." His mortal remains sleep for the ages in the Alsace Lutheran Church Cemetery near Reading. He was survived by 17 grandchildren.

Great-grandson James Gehris

Great-grandson Allan H. Gehris lived at 117 North 7th Street in Reading in the mid-1870s. Circa 1876, he was employed at the Scott Foundry. He was badly hurt in an accident in February 1876 as described by the Reading Times: "[He] had his right hand badly mashed and lacerated while at work. He was engaged with a number of others in hoisting a heavy weight of eight hundred pounds, and was on a ladder directing its course. A rope broke, when the weight descended with force, and caughth is hand on a brick wall, tearing through the flesh, and causing a frightful looking wound. Mr. Gehris will be unable to resume his position at the Scott Works for some time."

Great-granddaughter (?) Gehris married D. Wentzel

Great-granddaughter Mary C. Gehris

Grandson Nathaniel "Nathan" Gehris (1832-1906) was born on April 24, 1832. He was joined in matrimony with Mary M./Ella (April 28, 1850-1928). In about 1851, he migrated to Indiana and settled in Warren County. The Gehrises were farmers. Nathan is known to have returned to his home region of Berks County in October 1876. During that visit, with relatives, said the Reading Times, he "brought with him several apples of the Mammoth Pound variety, one of which weighed over a pound and measured 13 inches by 12 inches." At the age of 74, suffering from kidney disease and uremic poisoning, Nathaniel passed away in Prairie Township, Warren County on July 21, 1906. Burial was in Locust Grove. Ella lived for another 22 years. Death swept her away on April 16, 1928.
Grandson Charles Gehris ( ? - ? ) dwelled at Leisz's Bridge in 1890.
Grandson Benjamin J. Gehris (1821-1911) was born the day after Christmas 1821 in Hereford Township, Berks County. He is known to have been one of four brothers. In boyhood, he moved with his parents into Reading and began to prepare for what became a lifelong blacksmith and wheelwright.. Said a newspaper, "In a few years he started in business for himself. He was located in different sections of the city. At one time he conducted a shop where the Academy of Music now stands. Later he moved to Bingaman and Carpenter streets, where he had a shop for 30 years." Benjamin was joined in wedlock with Rebecca Hoyer (1824-1904). Their two daughters were Rosa Siegel and Emma Gehris. They belonged to the First Reformed Church. Sadly, Rebecca died in 1904. Benjamin outlived her by seven years. His final residence was in Reading at 717 Madison Avenue. Sadly, at the age of 89, he contracted what a newspaper called "a severe cold" and died from cardiac asthma and hardening of the arteries on June 5, 1911. An obituary said "The family physician was summoned, but age was against him, and his condition gradually grew worse until the end." His remains are interred in Charles Evans Cemetery in Reading.
Granddaughter Sarah Gehris ( ? - ? ) wed (?) Stirl. Her home in 1890 was in Reading.
Granddaughter Emma Esther Gehris (1855-1948) was born on Oct. 30, 1855 in Spring Township, Berks County, a product of her father's second marriage. She entered into marriage with Andrew Wentzel ( ? - ? ). Eight children born into this family were Catharine Gaul, Andrew S. Wentzel Jr., Harry F. Wentzel, Daniel J. Wentzel, Aaron C. Wentzel, Leo T. Wentzel, John C. Wentzel and Bernard G. Wentzel. Their address in the 1940s was 113 Reading Avenue in Shillington. As Emma's mind failed, with increasing senility, she was admitted to the Berks County Institution District Hospital. After a stay of five months and five days, she died there at age 92 on Jan. 2, 1948. Burial was in Gethsemane, Berks County. An obituary in the Reading Eagle said the headcount of her survivors was 27 grandchildren, 31 great-grandchildren and one great-grandchild.

Great-granddaughter Catharine Wentzel married John R. Gaul. They were in Reading in 1948.

Great-grandson Andrew S. Wentzel Jr. dwelled in Reading circa 1948.

Great-grandson Harry F. Wentzel made his home in 1948 in Reading.

Great-grandson Daniel J. Wentzel settled in Reading.

Great-grandson Aaron C. Wentzel resided in 1948 in Reading.

Great-grandson Leo T. Wentzel lived in Reading in the late 1940s.

Great-grandson John C. Wentzel put down roots in Reading.

Great-grandson Bernard G. Wentzel established a home in Hyde Park, PA(?).
Presumed son Jacob Gehris (1798-1855) was born on Nov. 20, 1798. On Sept. 14, 1855, at the age of 56, Jacob died. Burial was in Huff's Union Cemetery. His grave marker was written in German. [Find-a-Grave]
Presumed daughter Elizabeth Gehris (1803-1879) was born on March 13, 1803. She wedded Jacob Hiestand ( ? - ? ). Elizabeth passed away at the age of 76 on Oct. 31, 1879. Burial was in Huff's Union Church Cemetery, with her grave marker inscribed in German. [Find-a-Grave].
Rev. Eli Keller, pastor to Nancy and Esther Gehris

Presumed daughter Nancy Gehris (1805-1887) was born on April 18, 1805. She never married. Her home in 1860 was with her married sister Esther Moll and her husband Jacob in Hereford Township, Berks County. She died in Reading at the age of 82 on July 17, 1887. Her remains were lowered into rest in Huff's Union Church Cemetery. Her funeral service was led by Rev. Dr.. Eli Keller, pastor of Huff's Church. In the record of the event which he kept in his papers, he spelled her name "Geris" and noted that she had "died in Reading." The original volume of his handwritten records is housed in the Schwenkfelder Library and Heritage Center in Pennsburg, PA. A copy of the typed version, prepared by Raymond E. Hollenbach of Royersford, PA in 1975, is maintained in the Minerd.com Archives. Her grave marker was inscribed in English. [Find-a-Grave]

Daughter Esther Geris (1809-1876) was born on Oct. 23, 1809 in Hereford Township, Berks County. She was joined in holy wedlock in 1850 to Jacob Moll ( ? - ? ). The couple did not reproduce. Jacob earned his income over the years as a laborer. The 1860 federal census shows the couple living in Hereford Township, Berks County, with Esther's 51-year-old sister Nancy Gehris living under their roof. Sadly, Jacob died in about 1862. Esther outlived her husband as a widow for the final 14 years of her life. Stricken with cancer, she succumbed to death on March 25, 1876. Rev. Dr. Eli Keller of Huff's Church preached the funeral sermon and recorded the event in his papers, spelling her first name "Ester."

~ Daughter Catherine Meyer Bohm ~

Presumed daughter Catherine Meyer Bohm (1769- ? ) was born in about 1769.

Copyright © 2000, 2019-2020, 2022 Mark A. Miner and Eugene F. Podraza