Mary Magdalene
(Meinert) Bohm
(1740s?-1770s?)
Mary Magdalene (Meinert) Bohm was born likely in the late 1740s in Oley Township, Philadelphia County (now Berks County), PA, the daughter of Friedrich and Eva Maria (Weber) Meinert Sr. Little is known of her life.
She married Johann "Baltasar" Bohm (1739-1814), also spelled "Balthasar" -- "Baltzer" -- "Baltus" -- and "Baltdaser Boehm" -- the son of Conrad and Maria Sophia (Burchard) Bohm, said to have been immigrants from Fehrfield, Baden-Württemberg, Germany. Their surname also has been spelled "Bähm" and "Boehm" in old church records.
They produced at least one daughter, Magdalena Bohm, born in 1768, and possibly a second daughter, Catherine Meyer Boehm, born in 1769.
Sadly, while in her late 20s or early 30s, Mary passed away by the year 1775. She not only was survived by her husband and children but by her mother as well. When the mother wrote a last will and testament, in April 1774, she stated that among her bequests was "an other share of five Shillings to the lawful Ifsue of my Daughter Mary Begotten by Balzer Bohn Deceased who was her first Husband."
Baltasar outlived his wife by decades and apparently married again to Barbara ( ? - ? ). Evidence suggests that they had a son of their own, Abraham Behm.
At the death of his father in 1888, Baltasar was named in the will, with the inheritance to pass to his offspring.
He is reputed to have died on Dec. 4, 1814 in Berks County. Having not written a last will and testament, his estate was administered by a team of co-executors including son Abraham Behm, son-in-law Jacob Gehres and Casper Brenzinger and David Johnson.
Among the household items inventoried were an eight-day clock, poplar table, bed, writing desk, old feather bed, six chair, one oval table, mortar and pestle, two cows, three sheep, waffle iron, spinning wheel, butter tub, milk pots, earthen pots, a large family Bible and nine other books, and other items. Among the papers in the estate file is a petition to the judges of the Berks County Orphans Court, by Maria Goucker, stating that she was Baltaser's granddaughter. She asked that her husband John Goucker be given a choice of an item to be inherited.
~ Daughter Magdalena (Bohm) Gehris ~
Daughter Magdalena Bohm (1768- ? ) -- also spelled "Behm" -- was born on Dec. 13, 1768. As an infant just a few weeks old, she was baptized January 7, 1769, at St. Joseph's Church in Colebrookdale in what today is Berks County.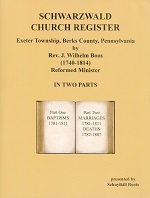 Record of the Gehris marriage
The rest of her biography presented here needs to be confirmed.
On Oct. 13, 1789, when she would have been 20, she united in the bonds of matrimony with 23-year-old John Jacob Gehris (Oct. 3, 1766-1836), also spelled in old church records as "Gehres" and "Gery," and a native of District Township. Officiating at their wedding ceremony was Rev. Johann "Wilhelm" Boos of the Schwartzwalt (Schwarzwald) Church in Exeter Township, Berks County. The pastor kept a record of the event which was published two centuries later in 1997 in a book entitled Schwarzwald Church Register.
Magdalena and John Jacob produced at least seven known children -- Peter Gehris, Johann Georg Gehres, Daniel Gehris, Jacob Gehris, Elizabeth Hiestand, Nancy Gehris and Esther Moll.
Sadly, John Jacob died on Feb. 15, 1836, at the age of about 69. Interment was in Huff's Church Cemetery.
Magdalena lived as a widow for another 23 years. At the age of 90, she passed away on Nov. 8, 1859. Her remains were placed into repose in Huff's Union Church Cemetery. Her grave marker is inscribed in German. [Find-a-Grave]
Many distant nephews and nieces of Magdalena's -- of the Gaumer family -- also rest at Huff's Church.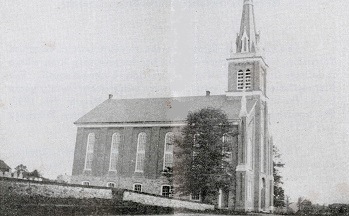 Old Huff's Church

Historical Souvenir of the Huff's Union Church in Hereford Township
In 1915, Gehris descendants along with the Gackenbach family celebrated their seventh annual family reunion, known as a "Friendschaft" celebration. It was held at the home of Allen Stephen in East Texas, "where old acquaintances were renewed and new ones made," said the Allentown Morning Call. "Everybody present enjoyed themselves especially when dinner was announced by the ladies. The table fairly groaned under the weight of the good things and everybody did ample justice."
Presumed son Peter Gehris (1793-1830) was born on Feb. 15, 1793. He was joined in wedlock with Catharina Huff (1794-1877). The couple produced one known child, Eliza Shankweiler. Peter died an untimely death at the ae of 37 on Aug. 2, 1830. He is said to rest in Huff's Union Church Cemetery. Catharina outlived him by nearly half a century. She died in 1877 at the age of 83.
Presumed son Johann "Georg" Gehris (1795-1858) was born on Jan. 8, 1795. He was united in holy matrimony with Susanna Johnson (1796-1873). The couple produced one known son -- Reuben Gehris. He learned the trade of masonry and earned a living with this skill over the years. In 1850, when the federal census was taken, the family resided in Hereford Township, Berks County. Living under their roof was 43-year-old day laborer Jacob Gehris, his presumed wife Lydia and children Maria and Evan. At the age of 63, Georg succumbed on Jan. 21, 1858. His remains are in eternal repose in Huff's Union Church Cemetery, with his grave marker inscribed in German. [Find-a-Grave]
Grandson

Reuben Gehris

(1837-1920) was born on Dec. 19, 1837. Evidence suggests that he wedded Catharine (1838- ? ) and produced a son, Obediah Gehris. They were longtime farmers. In 1860, this family unit dwelled in Upper Macungie, Lehigh County, PA. As a widower late in life, Reuben made a home in Lower Milford, Lehigh County. He is known to have attended the seventh annual reunion of the Gehris and Gackenbach family in June 1915 and was the oldest man present. Suffering from congestive heart failure and chronic kidney disease, he succumbed to the Grim Reaper on Aug. 3, 1920. Burial was in Shamrock Cemetery. Charles Gehris of Coopersburg, PA was the informant for the official Pennsylvania certificate of death. All of this needs to be confirmed.
Presumed son Daniel Gehris (1797-1881) was born on Aug. 8, 1797. He married Judith Miller ( ? - ? ). They reputedly were the parents of six known children -- John Gehris, Nathaniel "Nathan" Gehris, Indiana Gehris, Charles Gehris, Benjamin J. Gehris and Sarah Gehris. Daniel died at the age of 83 on May 13, 1881. Interment was in Alsace Lutheran Church Cemetery in Reading.
Presumed son Jacob Gehris (1798-1855) was born on Nov. 20, 1798. On Sept. 14, 1855, at the age of 56, Jacob died. Burial was in Huff's Union Cemetery. His grave marker was written in German. [Find-a-Grave]
Presumed daughter Elizabeth Gehris (1803-1879) was born on March 13, 1803. She wedded Jacob Hiestand ( ? - ? ). Elizabeth passed away at the age of 76 on Oct. 31, 1879. Burial was in Huff's Union Church Cemetery, with her grave marker inscribed in German. [Find-a-Grave].
Presumed daughter Nancy Gehris (1805-1887) was born on April 18, 1805. She never married. Her home in 1860 was with her married sister Esther Moll and her husband Jacob in Hereford Township, Berks County. She died in Reading at the age of 82 on July 17, 1887. Her remains were lowered into rest in Huff's Union Church Cemetery. Her funeral service was led by Rev. Eli Keller, pastor of Huff's Church. In the record of the event which he kept in his papers, he spelled her name "Geris" and noted that she had "died in Reading." The original volume of his handwritten records is housed in the Schwenkfelder Library and Heritage Center in Pennsburg, PA. A copy of the typed version, prepared by Raymond E. Hollenbach of Royersford, PA in 1975, is maintained in the Minerd.com Archives. Her grave marker was inscribed in English. [Find-a-Grave]
Daughter Esther Geris (1809-1876) was born on Oct. 23, 1809 in Hereford Township, Berks County. She was joined in holy wedlock in 1850 to Jacob Moll ( ? - ? ). The couple did not reproduce. Jacob earned his income over the years as a laborer. The 1860 federal census shows the couple living in Hereford Township, Berks County, with Esther's 51-year-old sister Nancy Gehris living under their roof. Sadly, Jacob died in about 1862. Esther outlived her husband as a widow for the final 14 years of her life. Stricken with cancer, she succumbed to death on March 25, 1876. Rev. Eli Keller of Huff's Church preached the funeral sermon and recorded the event in his papers, spelling her first name "Ester."
~ Daughter Catherine Meyer Bohm ~
Presumed daughter Catherine Meyer Bohm (1769- ? ) was born in about 1769.
Copyright © 2000, 2019-2020 Mark A. Miner and Eugene F. Podraza