Calvin M. Minarde
(1857-1916)
Calvin M. Minarde was born on Nov. 11, 1857 near Gambier, Knox County, OH, the son of Thomas G. and Elizabeth (Glasner) Minard. Born under the name "Minard," he added a final "e" to the name as an adult.
On May 11, 1879, when he was age 21, Calvin married 35-year-old Mathilda A. Haire (1844-1917), a native Pennsylvanian and the daughter of John and Margaret (Dunbar) Haire of Ireland. The ceremony was performed by W. Thompson in Knox County. The bride was 13 years older than the groom.
Calvin and Mathilda produced one known son, John A. Minarde, who also spelled the name with the final "e."

The Baltimore & Ohio Railroad depot in Mt. Vernon
The couple resided at Mt. Vernon, Knox County and at 445 Talbot Avenue in Akron, Summit County, OH circa 1916. His occupation was as a brick mason.
Calvin died at the age of 59 on Dec. 13, 1916, of pneumothorax problems. He was buried in East Akron.
Matilda died the following year at the age of 72, of heart problems, on June 11, 1917. She was buried in East Akron.
A reference exists in family papers that Calvin also may have married Rosa F. (?).
~ Son John A. Minarde ~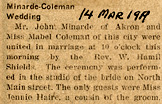 Wedding announcement, 1919
Son John A. Minarde (1882?-1962) was born in about 1882 in Mt. Vernon.
As an adult, he worked as a millwright with National Harvester in Akron, and spelled his name "Minarde." He is known to have moved to Akron in about 1897 and to have remained there for the next 65 years.
On or about March 14, 1919, he married Mabel Coleman ( ? -1957), a native of Tiffin, OH. The wedding was performed in her studio on North Main Street. A newspaper reported the marriage.
She was a music teacher who "not only had a large private class of piano pupils, but was organist at the M.P. church."
They resided in Akron immediately after the marriage. The couple were members of the First Presbyterian Church.
Later, John was employed by Arlington Lumber Company. their final address was 445 Talbot Avenue, Akron.
Mabel endured a serious illness for the last six months of her life. She died at home at the age of 71 on Dec. 7, 1957. Her funeral service was led by the hand of Rev. Morrow L. Witherspoon. Interment was in East Akron Cemetery, and an obituary appearing in the Akron Beacon Journal.
Sadly, John surrendered to death at the age of 80, at home, on Sept. 23, 1962. An obituary in the Beacon Journal said that "There are no immediate survivors." Dr. Earl C. Morgan led the funeral service, with burial following in Hillside Cemetery.
Copyright © 2005, 2008, 2022 Mark A. Miner