Catherine Ann Minard
(1830- ? )
Catherine Ann Minard was born in about 1830 near New Rumley, Harrison County, OH, the daughter of George and Susannah (Smith) Minard.
Precious little is known about her life. She never learned how to read or write.
When the federal census of 1860 was taken, Catherine and her unmarried sister Mary (age 20) resided with their parents near Scio and Connotton, Harrison County. Her occupation was identified as "domestic."
After the death of her mother, Catherine remained in her father's household. She is shown with him in the United States Census of 1870, functioning as a housekeeper.
In 1880, when the census enumeration again was made, Catherine was age 55 and residing with her aged father and unmarried sister Mary (46).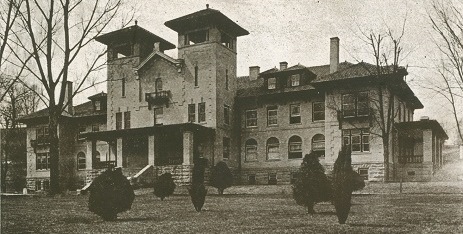 Harrison County Infirmary
In May 1885, Catherine and her father both were admitted to the Harrison County Infirmary. After a stay of nearly two years, she was released on March 7, 1887. Unfortunately, her father remained there for good and died in 1891.
Nothing more about Catherine's life is known, but will be reported here when learned.
Copyright © 2002, 2007, 2019, 2021 Mark A. Miner