Clarence 'Clyde' Minard
(1883-1967)

C.C. Minard
Clarence "Clyde" (or "C.C.") Minard was born the day after Christmas 1883, in Hepburn, Page County, IA, the son of Albert Everett and Mary Ellen (Knepple) Minard.
Rather than a career in farming, Clyde desired to pursue a career as an educator. It was said that he had to leave home because his father thought higher education was a waste of time and money. He graduated in 1911 from Coe College in Cedar Rapids and went on to study at the Iowa State Normal School in Cedar Falls and the Western Normal School in Shenandoah, IA.
He made his way to Wisconsin as a young man and appears to have initially made a home in Sturgeon Bay.
When he was about 27 years of age, on Aug. 19, 1911, Clyde was joined in holy wedlock with 30-year-old Carrie Bertine Nelson (Feb. 7, 1881-1934), a native of Ingallston, Menominee County, MI and daughter of John B. and Sophia Nelson. The nuptials were held in Sturgeon Bay.
They were the parents of two children -- Frances Alberta Shumate and Frederick Nelson Minard.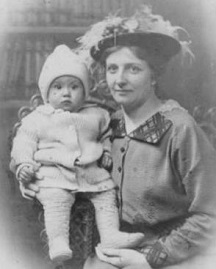 Carrie and Alberta
The education paid off for Clyde, however, as he became employed as a teacher in Marshalltown, IA in 1913. Then in June 1914, he was named principal of the Van Buren School near Davenport at a monthly salary of $140. He moved to the Buchanan School in 1916. In 1918, he was named principal of the West Intermediate High School, then under construction. News of his appointments were published in the Davenport Quad-City Times.
Then in May 1922, he was offered a renewal of the principalship, but refused. Instead, effective July 1, 1922, he agreed to join White-Phillips Company of Davenport as a bond salesman. In reporting on this development, the Times said he was "popular among the business men of the city."
He was a member of the First Presbyterian Church and, when a school of religion was established in the congregation, he chaired the committee. He also taught classes in the school and lectured widely in the community. It was not uncommon for him to speak at local churches, oftentimes "in place of the customary evening sermon," said the Times. He was elected a trustee of his church in January 1923.
Carrie was talented musically and often performed at church and community gatherings. She also was a member of the church's Ladies Aid Society. She was active with the Lillian Stevens chapter of the Women's Christian Temperance Union in 1930 with responsibility for providing music for meetings. Her name often was published in local newspapers.
Clyde ran for election to the Davenport school board in 1924 and received the backing of the Ku Klux Klan. The community, however, elected his opponents. Reported the Davenport Daily Times, "The fiery cross has been extinguished. By a vote of 3 to 1 the citizens of Davenport in the school election yesterday buried candidates backed by the Ku Klux Klan under an avalanche of votes."
Their home address in the late 1920s was 2805 Jefferson Avenue.
Clyde left White-Phillips to accept a new position as manager of the bond department of First National Bank of Davenport. In 1926, he then joined the local office of Chicago-based bond house of Lawrence Stern & Company. He spent four years with Lawrence Stern and in 1930 was tapped by the directors of Peoples' Trust & Savings Bank as a vice president, with responsibility for creating an investment department. He was pictured in a related story in the Times.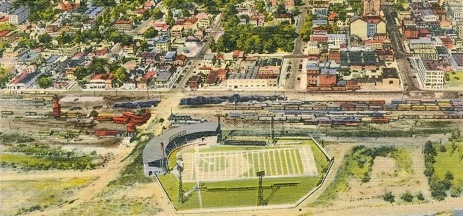 Bird's-eye view of Davenport, including railroad lines and baseball/football park
The grip of the Great Depression in the 1930s created new opportunities. In February 1933, after Peoples Trust apparently failed, Clyde was "appointed successor trustee for a trust estate of the bank formerly held with the American Trust Co., now in receivership," reported the Daily Times. "Minard's appointment was authorized today by District Judge W.W. Scott." In this legally complex matter, he was responsible for nearly $6,200 owed to the trust estate by American Trust. He also was approved a month later to succeed American Trust as trustee under several other indentures of a failed investment firm valued at $279,500.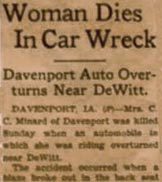 Carrie's obituary
Tragically, on the fateful day of July 29, 1934, Carrie instantly was killed in a freak automobile accident in which Clyde was driving and friends were passengers. The group was en route to a Girl Scouts camp near Maquoketa, IA, where their daughter was a counselor, but overturned near the town of DeWitt. The Davenport newspaper reported that:
The accident occurred when a blaze broke out in the back seat of the car and the driver stopped so quickly the car upset. Mr. Minard suffered a burn on his hand and their son Frederick was unhurt. Mr. and Mrs. A.I. Naumann, the former the principal of Davenport High school, also were riding in the car but were uninjured.
The news also was published in the Des Moines Register. The Daily Times said that "The death of Mrs. Minard will come as a shock to her many friends in the tri-cities. The family is well-known here, Mr. Minard having been a former principal at the West Intermediate school and generally active in educational circles. Mrs. Minard possessed a pleasing personality and had attracted a large circle of friends."
Rev. Oscar L. Gustafson officiated at the local funeral service. Pallbearers included H.B. Betty. T.J. Cowan, O.E. Johnson, E.C. Heuck Jr., L.W. McKown and R.P. Redfield. Arthur E. Casseling performed two hymns. The remains were transported to Sturgeon Bay, with additional services led by Rev. Leroy M. Coffman and burial in Bayside Cemetery. She was survived by her mother, five sisters and a brother.
Clyde outlived his wife by more than three decades. He continued to teach men's Bible classes at the church. Circa 1937, he served as trustee of the National Union Loan Society and in 1939 chaired the educational division of the annual Davenport Community Chest campaign.
When the federal census enumeration again was made in 1940, he was employed as an insurance salesman in Davenport, with both unmarried children in the household, as well as a 38-year-old black maid.
He eventually remarried. He loved to read and was a member of the Great Books Club. A landscape painting by Kuno Struck of Davenport hung in his home. He retired in 1959.
Sadly, Clyde passed away in 1967 at the age of 84. Rev. Warren Sautebin led the funeral service, held in Pittenger Memorial Chapel at Bayside Cemetery in Sturgeon Bay.
He was remembered in 2019 in a Times story about the painting and quoting his granddaughter, Carol Breuch of Maquoketa, IA.
~ Daughter Frances Alberta (Minard) Shumate ~
Daughter Frances Alberta Minard (1914-2005) was born on April 10, 1914 in Ackley, Hardin County, IA.
Interested in classical music, raised by a mother who was musically talented, Frances as a teenager received lessons from Etta Gabbert and was a member of the Chopin Music Club. She graduated in 1935 from Augustana College.
At the age of 20, during the summer of 1934, she worked as a counselor at a Girl Scouts camp near Maquoketa, IA.
She became an educator. Unmarried in 1940, at the age of 26, she lived with her widowed father and taught English in the local public school in Clarinda.
Later that year, on Oct. 5, 1940, she married 33-year-old Jack L. Shumate (May 26, 1908-1974), a native of Dallas County, IA and the son of Samuel T. and Charlie (Hurt) Shumate of Davenport.
Jack was an advertising man. They established a home in Mason City, IA and in 1957 moved to Forest Road in Davenport, remaining there for the balance of their lives.
The couple produced two children, Carol Breuch and Craig Shumate.
Frances taught French and American literature in Davenport at the Sudlow and Davenport High School. An active member of the First Presbyterian Church, she served as an elder, Sunday School teacher and women's association member. She also belonkged to the Tuesday Club, Putnam Museum Guild and Friends of Art, and loved to travel throughout the United States and Europe. She also mastered the art of knitting afghans and sweaters and enjoyed gathering with friends to discuss books.
Sadly, Jack died at the age of 66 on Nov. 5, 1974.
In about 1985, macular degeneration in her eyes rendered Frances legally blind. But, reported a newspaper, "he was admired by her many friends for her amazingly effective use of the Davenport bus system and vision aids like binoculars, a monocular and a reading machine to make use of her remaining sight. This handicap did not prevent her from traveling, enjoying life and helping others."
Frances spent her final years as a resident of Ridgecrest Village. She passed into eternity at the age of 91, in Davenport, on Dec. 2, 2005. Interment was in Davenport Memorial Park.
Daughter Carol Shumate married Thomas Breuch. They made a home in Maquoketa, IA.
Son Craig Shumate wedded Nancy. In 2005, they dwelled in New York City.
~ Son Frederick Nelson Minard ~
Son Frederick Nelson Minard (1922-2008) was born on July 2, 1922 in Davenport.
He was a 1943 graduate of Iowa State College and in his early career became a research chemist with Abbott Laboratories in North Chicago, IL.
On June 2, 1944, when he was age 21, he wedded Kathleen Kildee (Feb. 24, 1921-2016), daughter of Henry Herbert and Ruth (Sweney) Kildee, Dean of Agriculture at Iowa State College. The wedding was held in the John Timothy Stone Chapel of Chicago's Fourth Presbyterian Church, with Rev. Kenneth N. Hildebrand officiating. Kathleen was "attired in a street length dress of white shantung with insets of lace," said the Davenport Daily Times. "She wore a white half-hat, and a corsage of white orchids. Her only jewelry was a strand of pearls given to her by the bridegroom." She was pictured in a related story in the Daily Times.
Kathleen was a native of Ames, IL and attended Iowa State College before graduating from the University of Iowa. At the time of marriage, she was a high school teacher in Mason City, IL.
The newlyweds established a home in Waukegan, IL but spent the majority of their married lives in Lake Bluff, IL.
The couple produced two children -- Sarah Gordy and John Minard.
In 1949, pursuing his doctoral degree in chemistry at Iowa State University, he wrote his thesis, Synthesis of Some Valine Derivatives as Potential Antibacterial Agents. His graduate studies were underwritten by Upjohn Company, with graduation in June 1949.
Frederick remained with Abbott for many years in the department of general pharmacology. Circa 1967, they resided in Epson Downs, Surrey, England. He was a member of the International Society of Biochemistry and the American Society for Biochemistry and Molecular Biology.
Kathleen was on the teaching faculty at Iowa State and Lake Forest (IL) High School. Later, she became employed by the Veterans Administration Hospital in North Chicago as an educational therapist.
They spent their retirement years in Troy Estates in Columbus, NC. There, Kathleen joined the American Association of University Women and was president of the Lanier Library.
Frederick died in Tryon Estates Medical Facility at the age of 86 on July 14, 2008. His cremains are placed in the Tryon Presbyterian Church Memorial Garden.
Kathleen survived as a widow for another eight years. She succumbed to the Angel of Death in Columbus on Sept. 6, 2016.
Daughter Sarah Minard married Thomas Gordy. Circa 2008-2016, they resided in Burnet, TX.
Son John Minard wedded Maureen. They established a home in Milwaukee and are the parents of three offspring, Elizabeth Minard, Laura Minard and Charlie Minard.
Copyright © 2005-2006, 2020 Mark A. Miner