Ervin M. Minard
(1857-1923)
Ervin M. Minard was born on the Fourth of July 1857 in Scio, Harrison County, OH, the son of Daniel and Rebecca (Knouff) Minard. He inherited the farm of his pioneer grandfather, and a local newspaper once said that he gave out "good council to all those about him in time of need." His life is profiled at length in the History of Carroll and Harrison Counties, Ohio.

Chapter about Ervin in the 1921 History
of Carroll and Harrison Counties
The month after his birth, Ervin was baptized at the Zion Lutheran Church in Germano, German Township, Harrison County.
On Nov. 22, 1883, when he was about 26 years of age, Ervin married 32-year-old Margaret "Maggie" Buxton (1851-1935), a native of Washington County, PA. She was the daughter of Haddon and Julia (McCrea) Buxton of Stock Township, Harrison County. Their vows were solemnized by the hand of Rev. T.W. Anderson. Ervin was six years younger than his bride.
The Minards produced three children -- Pearl McClain, Julia R. Law and Grace Minard.
Said the History of Carroll and Harrison: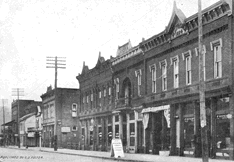 Main Street in Scio, 1910
For four years after his marriage Mr. Minard was engaged in farming in Stock Township, and he then, in 1892, assumed ownership of his present attractive homestead farm in North Township, where he is the owner of a valuable and well improved estate of 240 acres, besides which he retains one-fourth interest in his father's old home farm of 200 acres. It is thus to be readily understood that he stands as one of the representative exponents of farm industry in his native county, where his loyalty has been shown in his ready support of measures and projects advanced for the civic and material good of the community.
The next-closest town to the Minard homeplace was Scio. A rare old postcard view of Scio's Main Street is seen here, postmarked 1910.
Over the years, they are known to have enjoyed attending the Carrollton Fair in nearby Carroll County, OH. Ervin once traveled to Burgettstown, Washington County, PA to visit relatives. Then, a newspaper said, he planned to "go on east, expecting to buy live stock before returning."
The History of Carroll and Harrison said he had "found ample opportunity for successful achievement as an agriculturist and stock-grower, with which important lines of industrial activity the family name has been associated in North Township since the pioneer period in the history of the county."

Oilwells sprouting up all around Scio, circa 1899. Courtesy Library of Congress.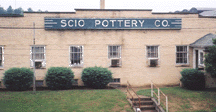 The famed Scio Pottery, a mile
from the old Minard farm
The Minards' farm was located less than a mile from the famed factory of Scio China.
Oil later was discovered on their farm. An 1899 Cadiz Republican article said "The Minard heirs have a nice production of oil on the Daniel Minard farm a mile west of town, in which E.M. holds a good interest."
In 1923, plagued by an enlarged prostate, leading to uremic poisoning, Ervin went to Presbyterian Hospital in Pittsburgh for treatment. There, said a Cadiz newspaper, he "suffered intensely … more than tongue can tell or mind conceive and all with patience and without murmur to those near and dear to him. He had said to those about him on Sunday evening previous to leaving 'that he would get all right, and if I don't it will be all right'."
Obituary, 1935
He died from the disease at the hospital on April 12, 1923, and was buried at Grandview Cemetery at Scio. Lloyd E. McClain of Scio was the informant for his Pennsylvania certificate of death.
Margaret outlived him by 13 years. She suffered from heart disease and hardening of the arteries. She died of their effects at the age of 83 on April 8, 1935.
See the full-text version of the History of Carroll and Harrison Counties on Google Books.
~ Daughter Julia R. (Minard) Law ~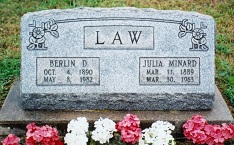 The Laws' grave, Scio, circa 2001
Daughter Julia R. Minard (1889-1963) was born on March 11, 1889 in Scio, Harrison County.
At the age of 23, she married 21-year-old Berlin Donaldson Law (1890-1982), son of William B. and Florence (Donaldson) Law and a native of Conotton, Harrison County. Rev. F.S. Montgomery, pastor of the Scio Presbyterian Church, performed the nuptials, held on April 2, 1912.
Berlin was of medium height and slender build, with grey eyes and brown hair. In June 1917, as the nation entered World War I, he filled out paperwork to register for the military draft. At the time, he was age 26 and a self-employed farmer, and provided support for his father, wife and son.
They had one known son, Clifford M. Law.

Entry about Berlin in the 1921 History
of Carroll and Harrison Counties
Berlin was a longtime farmer. He, his father in law and brother in law Everett Othello McClain all are profiled in the History of Carroll and Harrison Counties. The book said that Berlin was "one of the progressive farmers of the younger generation in North Township, where he maintains his residence upon his excellent farm of 120 acres and is vigorously directing his attention to diversified agriculture and stock-growing."
Julia died at the age of 74 on March 30, 1963. She was laid to rest in Scio.
Berlin outlived his wife by almost two decades. He passed away on May 8, 1982.
Son Clifford M. Law (1913- ? ) was born on Nov. 25, 1913.
~ Daughter Pearl (Minard) McClain ~
Daughter Pearl Minard (1886-1973) was born on May 3, 1886.
At the age of 20, in 1886, she married 23-year-old Everett Othello McClain (1883-1956), son of Harrison Township farmer Charles S. McClain. Everett was of medium height and build, and had light blue eyes and brown hair.

1921 History of Carroll and Harrison Counties
The McClains had four children -- Elbert Haddon McClain, Margaret C. Walter, Charles Minard McClain and Harry E. McClain.
Everett was "a student of the literary department of Scio College" circa 1903, said the Cadiz Republican. From 1906 to 1912, he was employed in the construction of oil and gas tanks throughout the region, and also assisted in bridge construction for the Pennsylvania Railroad. But ultimately he became a farmer, operating and expanding the family owned farm.
Everett was required to register for the military draft during World War I, in September 1918. He reported that Scio was his home, his occupation as self-employed farmer, his age as 35 and that his Pearl was his next of kin.
As were his father in law and brother in law, Everett was profiled in the 1921 book, History of Carroll and Harrison Counties. The profile said this about him:
...with experience gained in connection with the operations of the old home farm, [he] has gone forward with confidence and resourcefulness in his independent activities as an agriculturist and stock-grower, and his well improved farm of 138 acres in North Township ... is but a short distance on which his parents still reside.... [He] merits classification as one of the progressive and popular farmers of the younger generation in North Township.... In 1912 he established himself upon a farm of sixty acres, which was a part of the old homestead where he remained until the fall of 1920, when he bought his present farm, which is known to the present generation as the Whittaker farm.
Active in the life of the community, the Scio Herald reported that Everett was "a member of the Scio Presbyterian church for 60 years and served as an elder. He was a seventh degree member of Grange and master of the Mt. Hope Grange for years."
Everett succumbed in 1956.
Pearl died in Bowerston, Harrison County in November 1973, when she was 87 years of age.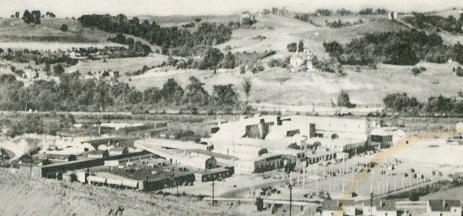 Bird's-eye view of the famed Scio Pottery
Son Elbert Haddon McClain (1908-2003) was born on July 25, 1908 in Scio. He wedded Emma "Marie" Foutz (July 28, 1916-2004), daughter of George W. and A. Bessie Foutz. Their three known children were Sharon Kay Copeland, Robert McClain and Edward McClain. Elbert died at the age of 94 on May 10, 2003 in Harrison County. Marie survived another one-and-a-half years and passed on Nov. 1, 2004. They rest side by side in Conotton Cemetery.
Granddaughter Sharon Kay McClain (1948-2006) was born on March 27, 1948 in Dennison, OH. On Sept. 11, 1970, she married Leonard "Lenny" Copeland ( ? - ? ). They produced three offspring -- Am McLeod, Timothy Copeland and Tyler Copeland. Sadly, she passed away at the untimely age of 59 on July 14, 2006. Interment was in Conotton Cemetery. An obituary in the Dover (OH) Times Reporter noted that her survivors included seven grandchildren.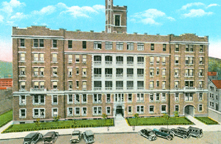 Ohio Valley Hospital, where
Margaret Walter was a nurse.
Daughter Margaret "Mac" McClain (1910-2008) was born on Oct. 8, 1910 in Harrison County. She was married to Dr. Robert Daniel Walter (1909-1994) for 58 years. He was the son of Albert Henry and Emma Elizabeth (Wichterman) Walter. They resided in Calhoun, GA and produced three children -- Larry Walter, Lynn Walter and Louise Baxley. Said a newspaper, "She was a member of the Calhoun First Presbyterian Church and was an Elder serving in other activities, Sunday School, kindergarten, the Idabelle Hillhouse Circle Bible Class and Adult Sunday School Class. She was active in the Ladies Medical Auxiliary and seventh district medical group serving as president. She gave immunizations to school children. She was a Voluntary Action Service member for 33 years, did hospital work by teaching LPNs and organizing the Candy Stripers and serving as a Pink Lady. She organized the Sequoyah Garden Club and was the first president. She was active in the PTA and other school activities and was an R.N. graduating from Ohio Valley Hospital in Wheeling, West Virginia." Margaret passed away on July 16, 2008, at the age of 97, in Gordon Hospital in Calhoun. Burial was in Fain Cemetery in Calhoun.
Grandson

Larry Walter ( ? - ? ) was united in wedlock with Rebecca "Becky." Circa 2014, their home was in Virginia Beach, VA.
Grandson Lynn Walter ( ? - ? ) wedded Linda. They live in Calhoun, GA.
Granddaughter Louise Walter (1942-2014) was born on June 24, 1942 in Gordon County, GA. She wedded Wilson Baxley ( ? -living). They made their home in Calhoun, GA. The couple produced three offspring -- Walter Baxley, Kim Harvey and Pam Gentry. The Baxleys were members of the Calhoun First Baptist Church. Louise was employed over the years as a secretary with the Cahloun City School System. Sadly, Louise passed away at home in Calhoun at the age of 72 on Nov. 24, 2014. Funeral services were officiated by Dr. John Barber at the family church. Her grandsons served as pallbearers -- Robbie Gentry, Ryan Gentry, Van Harvey, McClain Baxley, Jack Brown and J.B. Rickett. In an obituary, the family asked that any memorial donations be made to the Harris Radiation Therapy Center at Gordon Hospital. Their son Walter was joined in wedlock with Charlene and dwell in Cumming; GA; daughter Kim married Ashley Harvey and live in Goose Creek, SC; and daughter Pam wedded Kevin Gentry and reside in Lakeland, FL.
Son Charles Minard McClain (1913-1990) was born on March 21, 1913. In 1933, at the age of 20, he was united in holy wedlock with Bernice Avis Crabtree (May 17, 1912-1995), a native of Nebraska. She was the daughter of Edmond M. and Grace (Simpson) Crabtree. They bore two sons -- Charles Bernard "Pete" McClain and Darryl Gene McClain. The family resided in Scio in the 1930s. Charles passed into eternityin Dover, Tuscarawas County, OH on March 12, 1990, just eight days shy of his 77th birthday. Bernice survived her spouse by a little under five years. She joined him in death on Jan. 13, 1995 in Canton, Stark County, OH. Burial was in Conotton Cemetery in Harrison County.
Grandson Charles Bernard "Pete" or "C.B." McClain (1936-2017) was born on Leap Day 1936 in Scio, Harrison County. He served in the U.S. Army during the early years of the Vietnam War from 1958 to 1961. On June 2, 1961, he was joined in matrimony with Margaret A. "Peggy" McCreary ( ? -living). They were the parents of David McClain and Denise Pedersen. The McClains resided in Leesville, OH. Charles spent three decades as an inspector with the Ohio Department of Transportation and retired in 1996. At the age of 81, as a patient at Community Hosice Truman House in New Philadelphia, Tuscarawas County, he died on the Fourth of July 2017. His remains were cremated, and no grave is known. Son David dwelled in Sherodsville, OH in 2017, and daughter Denise, married to Jeffrey Pedersen, resided in Dennison, OH.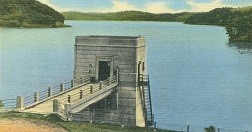 Piedmont Dam, which Harry helped build
Son Harry E. McClain (1915-2007) was born on March 10, 1915 in North Township near Conotton, Harrison County. As a young man, he was employed at Scio Pottery. In 1938, at the age of 23, he married Mabel Virginia Adams (1915-1994), whom had met while working at the pottery. She was the daughter of Charles W. and Bertha Viola (Birney) Adams. The couple's marriage endured for 56 years. Their four children were Carol Johnson, Roy E. McClain, Ruth Ann Lowmiller and Doris Westphal. Over the years, he labored for the Works Progress Administration (WPA) helping to inspect cement construction at the Tappan and Piedmont Dams. For a quarter of a century, he was a fire warden and trustee for Archer Township. Said the New Philadelphia Times Reporter:
He was a dedicated dairy farmer for over 40 years. After retiring he sold Palco Farm Equipment where he was honored as a salesman of the year. For several years he worked at the Scio Auction weighing livestock. He was also active in the Harrison, Jefferson and Carroll County 4-H livestock sales. For 14 years he was a Stitch and Hitch 4-H adviser, and for 20 years he was a member of the Harrison County Fair Board, serving as president for four years. He served on the Jewett High School Board of Education and Harrison County Republican Central Committee where he served as chairman. Harry was also a member of the Jewett Ruritan Club for many years and served as a chairman. He was a member of the Ridge Presbyterian Church where he served as an elder for over 20 years. He was a current member of the Jewett Presbyterian Church, also serving as an elder.
He spent his final years living with or near his married daughter Doris Westphal in Brick, Ocean County, NJ. At the age of 91, he succumbed in Brick on Feb. 2, 2007. His remains were returned to Scio for interment in Ridgeview Cemetery, with Rev. David Lee officiating at the funeral service. An obituary was published in the Times Reporter.
Granddaughter

Carol McClain wedded Lawrence "Larry" Johnson

. In 2007, their home was in Snow Camp, NC.
Grandson Roy E. McClain

married or was a companion to Joyce Evans. Their residence in 2007 was in Jewett, OH.
Granddaughter Ruth Ann McClain was joined in matrimony with Donald Lowmiller. They lived in Sagamore Hills, OH in 2007.
Granddaughter

Doris McClain was united in wedlock with Arthur "Art" Westphal. They dwelled in 2007 in Brick,

Ocean County,

NJ.
Copyright © 2001, 2008, 2012, 2018 Mark A. Miner