Langford J. Minard
(1865-1938)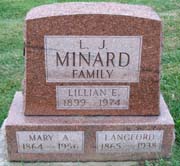 Mound View Cemetery
Langford J. Minard was born on Dec. 3, 1865 near Gambier, Knox County, OH, the son of Thomas G. and Elizabeth (Glasner) Minard.
Langford was born a year after his father returned home from the Civil War. Sadly, his father never recovered from his wartime illnesses, and died in 1868 when the boy was at the tender age of three.
Langford worked as a "moulder."
He married Mary A. "Molly" Camp (1864-1956).
They bore two children, Earl Minard and Lillian Elizabeth Minard.
The Minards resided at 907 West Vine Street, and later at 402 East Ohio Avenue, in Mt. Vernon, Knox County.
When Langford's mother died in 1895, he served as administrator of the estate, and also received a bequest of $50.
The Mt. Vernon Republican News said that Langford was "superintendent of grounds at Camp Sychar for several years. [He was] a resident of Camp Sychar, was a member of the Gay St. M.E. church for 44 years and for the past few years was teacher of the Mayer Bible Class."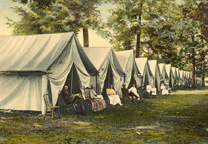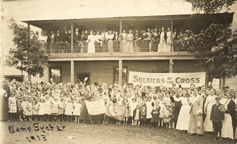 Camp Sychar's camping and revival meetings of the early 1900s

Obituary, 1938
Langford suffered from kidney disease. Sadly, he passed away of its effects on Aug. 11, 1938, at the age of 73, at Mt. Vernon Hospital. He was laid to rest in Section M, Row 3 of Mound View Cemetery in Mt. Vernon.
Molly outlived him by nearly two decades.
Toward the end of her life, she suffered from nephritis, and resided in the McConnell Nursing Home. She passed away on April 27, 1956. She was buried beside her husband.
~ Son Earl Minard ~
Son Earl Minard (1890-1968) was born in 1890.
He resided in Mt. Vernon circa 1938 and also worked for Kirk Latty Novelty Company in Cleveland.
On Nov. 28, 1916, he married Louise Davidson ( ? -1921), daughter of Allen Davidson of Utica, OH. The wedding was officiated by Rev. Foster C. Anderson of North Gay Street, and was held at his home.
They had one daughter, Edith Stawser. They resided at 1466 West Winchester Avenue in the Lakewood section of Cleveland.
Sadly, Louise passed away in Columbus on or about Feb. 11, 1921, and was buried in her hometown of Utica, OH. Among those traveling from out of town to attend the funeral, reported the Mt. Vernon Democratic Banner, were Mrs. Paul Turner, Anita Hall and son Kenneth, Ethel Byers, Samuel Clark, Clarence Clark and Lewis Atherton.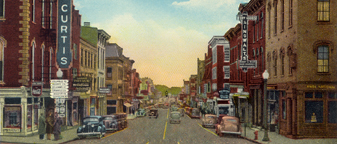 Mt. Vernon's South Main Street, as seen from the public square
Earl's second wife was Lucina S. Bebout (1901-1992). Earl was a licensed chiropractor, practicing for three decades in Mt. Vernon. A 1930 advertising notice in the Mt. Vernon Republican News shows his office was in the Chamber of Commerce Building. He also owned and operated a barber shop for a quarter century on Main Street. Lucina "was a 58-year member of the First Church of the Nazarene [in Mt. Vernon], where she had taken care of communion for more than 50 years. She played the organ and piano, taught Sunday school, served as treasurer for the Joy Club and served on the church board...," said a newspaper article. They are buried in the Eastview Section of Mound View Cemetery in Mt. Vernon.
~ Daughter Lillian Minard ~
Daughter Lillian Minard (1899-1974) was born in 1899.
She never married.
In 1922-1923, she worked as a stenographer for F.H. Harris & Company in Mt. Vernon. Later, she was a longtime sales clerk at Rudin's in Mt. Vernon.
She died at age 74, on Sept. 6, 1974, at the home of niece Edith Strawser in Marion, OH. Lillian is interred beside her parents.
Copyright © 2002-2003, 2005, 2019 Mark A. Miner