Home

Eunice 'Flora' (Miner) Cummings Sayle
(1842-1939)


Flora and Dr. Ralph W. Cummings
Eunice "Flora" (Miner) Cummings Sayle was born on March 23, 1842, the daughter of Henry and Matilda (Morton) Miner. As a girl, she moved from Ohio with her family to Indiana, where they resided in several towns. Her path later took her to Knoxville, TN, and thence to Northern California.
Her first husband was Dr. Ralph Wardlaw Cummings (1832-1880), a native of Yarmouth, Maine, and the son of Rev. Dr. Asa and Phoebe (Johnson) Cummings. Ralph's father, a graduate of Harvard College, was a Christian pastor and editor of the Christian Mirror (circa 1826) who died in Panama in 1856 and was buried at sea.
Flora and Ralph's wedding took place while he was on active Civil War duty on March 13, 1865, in Knoxville. Performing the ceremony was John A. Bowman, a hospital chaplain. Flora was age 23, and Ralph 33, at the time of their union. They traveled to Indiana and had their wedding photograph taken at D.R. Clark's Art Gallery in Lafayette.
Ralph was a widower, whose first wife Alice Illsley Waterhouse had died on Dec. 5, 1857, without having had any children. One of Ralph's sister, who had married Rev. Joseph Rowell, and was a lifelong friend of Alice, Ralph and Flora, later testified on Flora's behalf in a question over Ralph's Civil War pension. Ralph was an 1853 graduate of Bowdoin College, where he was a member of Alpha Delta Phi Society. He then completed further studies at the New York Medical College in 1856. After graduation, he was named editor and publisher in 1858 of the Maine Medical and Surgical Journal.
During the Civil War, he served as a private and sergeant with the 1st Michigan Infantry in 1861. From July 28, 1862 to March 31, 1866, he was first sergeant and assistant surgeon of the 23rd Michigan, always present with the regiment except for February 1864, when he was on detached service in Knoxville, TN, examining recruits.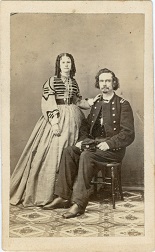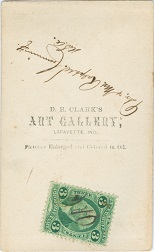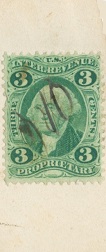 Carte de visite wedding portrait, circa 1865, D.R. Clark's Art Gallery, Lafayette, Indiana, which advertised "Pictures Enlarged and Colored in Oil." The 3 cent green "Proprietary" stamp with Washington's likeness was issued during the Civil War by the Internal Revenue Service as a tax on photographs.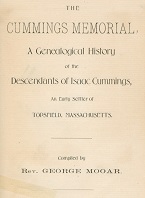 Book naming Ralph and Flora
For three weeks, from March 10-31, 1864, and perhaps even longer, Ralph was assigned as surgeon of the 1st U.S. Colored Heavy Artillery. The 1,700-man regiment had been formed in February 1864 by Gen. Davis Tillson and spent most of its time in and around Knoxville. Ralph and Flora seemed most proud of this role, as the regiment's name was inscribed on his grave marker two-plus decades later.
Following the war, Ralph was a physician in Bay City, MI; life insurance and claim agent in Knoxville, TN (1867); a pharmacist in Minneapolis, MN (1870); and associate editor of the Minneapolis Evening Times and News (1873). In 1873, while in Minneapolis, Ralph served as a corporate member of the American Board of Commissioners for Foreign Missions, and is mentioned in the November 1873 edition of The Missionary Herald. Sometime between 1873 and 1880, they moved to California where he is said to have edited a newspaper in Benicia, 35 miles northeast of San Francisco. His career history is summarized in the 1903 book The Cummings Memorial, compiled by Rev. George Mooar and published by B.F. Cummings.
The Cummingses had six children -- Ethel Morton Wright, born in Tennessee in 1868; Malanie Noyes Cummings, born in 1870 in Michigan; Kate Weil Cummings, born in 1874 in California; Theodore Melville Cummings, born in 1877 in San Francisco, Agatha Gray Southern; and Ralph Wardlaw Sayle Cummings.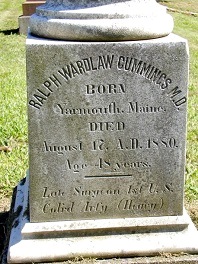 Oakland Cemetery - courtesy Kay Arnold
Daughter Agatha was born when the family lived in the Colony Tract of Central California in May 1878, and present at the birth were George A. Fuller and Lucy Jane Rucker. Son Ralph Jr. was born in Alameda in May 1880, with Sarah Oliver and Ethel M. Wright witnessing the birth.
Flora and Ralph and their family eventually resided at 209 Gough.
Sadly, Ralph died in San Francisco as he neared his 48th birthday on Aug. 17, 1880, of "disease of brain," stated his death certificate. He was laid to rest in the Oakland Cemetery. A short notice of his death was published in the Oakland Tribune.
Three of the children also died young -- Malanie on Sept. 28, 1880, just a little more than a month after her father; Kate at age two years, six months on July 8, 1876; and Theodore at the tender age of four days on June 12, 1877.
A year after Ralph's passing, on May 31, 1881 in San Francisco, the 39-year-old Flora married her second husband, 54-year-old Judge Claudius Galon Sayle (1827-1910). Performing the ceremony was Flora's former brother in law, Rev. Joseph Rowell, pastor of the Mariners Church. Witnesses were Sarah Cummings and Phebe B. Weil, both of San Francisco.
The bride and groom were 15 years apart in age. Born in December 1827, Claudius was the son of Samuel and Olivia (King) Sayle and a native of Carroll County, TN, where he had grown up on his father's plantation. He was a widower, his first two wives Corilla (Stevenson) Bacon and Amanda Newton Burke having passed away at young ages.
He is profiled in the book, Memorial and Biographical History of the Counties of Fresno, Tulare and Kern, California, Illustrated (Chicago: The Lewis Publishing Company), which was also published verbatim in the History of Fresno County, California (Wallace W. Elliott & Co., 1882).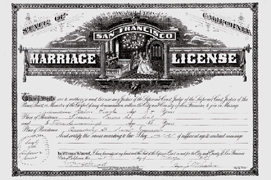 Sayle marriage certificate, on file today at
the National Archives in Washington, DC

Oak Hill Cemetery
Claudius achieved wealth early in his life in a coal mining venture on the Kern River in what is now Mariposa County, CA. He later went into merchandising in Los Angeles, and was elected one of the first Supervisors of Tulare County, CA in the mid-1850s. In the fall of 1860, he was elected Judge of Tulare County, a position in which he served until the completion of his term in January 1864. In 1864, as the Civil War raged, he was elected District Attorney of Fresno County, which he held for eight years. In 1879, he was elected as a member of the first legislature after the adoption of the New Constitution of California.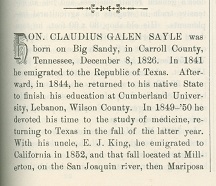 Memorial and Biographical History of
the Counties of Fresno, Tulare and
Kern, California, Illustrated
Flora and Claudius resided in Fresno in a "little home" at the corner of J and Tuolumne Streets. When he celebrated his 55th birthday in 1881, Claudius legally adopted his young stepson, Ralph Wardlaw Cummings Jr. Said the History of Fresno County, "He fixed his adopted name as Ralph Wardlaw Sayle Cummings; he being the only boy, he did not want to take his father's name away, hence he left Cummings after Sayle."
The adoption matter was important because young Ralph "was crippled in 1892 by a bad fall from a horse," wrote his sister Agatha. "He is also mentally deficient tho not an idiot by any means but he is entire dependent on others for his maintenance." Because of Judge Sayle's great wealth, it was assumed that he would always provide for the boy. "But he lost all his money before he died and Mamma was dependent on her pension for the support of herself and Ralph," Agatha said.
In fact, Claudius used the $2,000 inheritance of his one-year-old stepson to use as a loan in connection with real estate ventures involving the Strobridge Land Syndicate and Pacific Improvement Company. This was done without the legal approval of the court that had appointed him as the boy's guardian. The investment failed to produce a return and was considered an entire loss.
Some 20 years later, Ralph and his mother sued Claudius and the real estate development companies to regain the funds. After a lower case ruled in favor of Ralph, and called the loan "embezzlement, the case was appealed to and heard by the Supreme Court of California, which overturned the decision in January 1907.
When the federal census enumeration was made in 1900, the Sayles lived in Fresno. Residing under their roof were Flora's daughter Agatha and son Ralph, widowed sister Kate Newton and 26-year-old nephew Charles L. Hill, as well as two cooks and a Turkish-born lodger.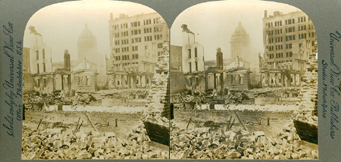 Stereoview of the heart of San Francisco's business ruins, showing the remains of the Call and Rialto buildings at the intersection of Second and Howard Streets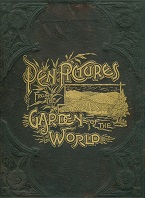 Memorial and Biographical History, a.k.a. Pen Pictures from the Garden of the World
On April 18, 1906, the Sayleses experienced the tragic effects of the San Francisco earthquake. It lasted only about one minute, but registered 8.25 on the Richter scale. Hundreds of people were killed, and hundreds of thousands of others were left homeless, with millions of dollars in property damage.
Controversy enveloped the family later in 1906, when Flora's sons in law H.E. Wright (married to Ethel) and Rev. Ward (married to Agatha) brawled over the paternity of Wright's daughter Marguerite. Wright's wife informed him that their brother in law Rev. Ward was claiming to be the father of the Wrights' daughter. Furious, Wright traveled to San Jose by train and asked Judge Sayle to verify the rumor. When confirmed, Wright then sought out Rev. Ward and punched him twice in the face, whereupon Ward "struck Wright on the head, inflicting a gash," reported the Oakland Tribune. Rev. Ward, "who was on his way to the First Baptist Church, fled to the station house and thence to the house of Judge Wallace, where he swore to a complaint against Wright. The latter deposited bail. Hundreds witnessed the trouble, and San Jose has something to talk about for a month."
Claudius passed away on May 11, 1910, at their home at 330 South 5th Street in San Jose. He was buried at Cypress Lawn Cemetery near San Francisco.
Eunice resided in widowhood at 3215 Florida Street in Oakland, and later with her married daughter Agatha at 1242 17th Avenue in San Francisco in her last years. In April 1927, in response to a request for relief following floods on the Mississippi River, she donated funds and was named in an Oakland Tribune list of flood relief subscribers.
The 1930 census shows her at age 88 heading a household in Oakland, Alameda County, which also included son Ralph and widowed sister Kate (age 82). When her sister Kate Newton died in San Francisco in January 1931, Flora's name was included in an Oakland Tribune death notice, which asked that the San Jose newspaper copy it for publication.
Flora celebrated her 95th birthday on March 23, 1937. A party was held for her at the home of her daughter Agatha Southern at 1242 17th Avenue in San Francisco. Reported the Fresno Bee, "Five generations of the honoree's family were present." Among the guests were her daughter Ethel Wright, Ethel's daughter Claudine Dobbins, Claudine's daughter Jean Legallet and two Legallet children, Nan and Paul III.
She died at the age of 96, of pneumonia and hardening of the arteries, on Jan. 30, 1939. Her remains were cremated, and she was laid to rest in the Mt. View Cemetery in Oakland.

San Jose's Market Street, circa 1909
~ Daughter Ethel M. (Cummings) Wright ~
Daughter Ethel M. Cummings (1867-1944) was born on Sept. 23, 1867 in Knoxville. With her parents, she migrated to California at a young age.
She married Harry Ellsworth Wright ( ? - ? ), a native of Pennsylvania who also had relocated to California. Harry was a onetime tea merchant and bank clerk in San Jose.
They had at least four children -- Claudine C. Dobbins, Thomas Wardlaw Wright Sr., Helen K. Tenney and Margaret R. Wright.
They lived in Fresno circa 1893 when their son Thomas was born. In 1900, living in San Jose, Santa Clara County, Harry was a grocery salesman, and headed a household that included Ethel and the four children plus Ethel's mother, step-father and brother. By 1910, when the federal census again was enumerated, the Wrights were divorced. That year, Ethel maintained a home in San Francisco with her four children.
In 1919, Ethel wrote this in a tract of the Unity School of Christianity: "Several years ago, a Unity Magazine was my introduction to Truth. Since then I have taken many steps forward..." The 1920 census shows Ethel and married daughter Helen continuing to make their residence in San Francisco and housed several boarders to generate income. Ethel resided at 1096 Pine Street in Oakland circa 1939.
She died in San Francisco at the age of 76 on Jan. 18, 1944.
Daughter Claudine C. Wright (1891-1964) was born on Feb. 8, 1891. She seems to have been married more than once. Her first husband circa 1910 was "Janochka." By 1914, she had remarried to Homer L. Dobbins Sr. (1887-1947), son of (?) and (?) (Beffley) Dobbins. They had three known children -- Homer L. Dobbins Jr., Jean Elizabeth Legallet and James Morton Dobbins. The Dobbinses resided early in their marriage in Far West, Yuba County, CA, where Homer managed a farm circa 1920. Later, for many years, their address was 716 Santa Clara Avenue in Oakland and in about 1931 relocated to Oroville/Gridley, Butte County, CA, where Homer operated a farm. Claudine and her daughter and two grandchildren traveled to San Francisco in March 1937 to attend her grandmother's 95th birthday party, representing five generations in attendance. Sadly, Homer passed away on Nov. 21, 1947 in Gridley. Claudine survived as a widow for 17 years and succumbed on Oct. 24, 1964 in Santa Cruz County, CA.

Farm laborers in Gridley, California
Grandson Robert Homer Dobbins (1912-1979) was born on May 9, 1912 and grew up in Far West, Yuba County, CA. He passed into eternity in Santa Clara County on July 2, 1979, at the age of 67.
Granddaughter Jean Elizabeth Dobbins (1915-1990) was born in about 1914 in or around Far West, Yuba County, CA. In 1931, she migrated with her parents from Oakland to Gridley, Butte County, CA. Fate intervened in February 1934 when her high school sweetheart, Paul Legallet Jr., traveled to visit her in Gridley. Just a few months later, at the age of 19, in May 1934, they eloped to Carson City, NV. News of the "secret" marriage was headline news in the Oakland Tribune. Paul Legallet Jr. (1914- ? ) was son of Paul and Vera Legallet Sr. At the time of marriage, he was a student at the University of California. The Legallets first lived with her parents in Oakland at 2122 San Jose Avenue, with Paul continuing his collegiate studies. They were in San Mateo in 1937. They produced two children, Nan Mangiantini and Paul Legallet III. The marriage fell apart, and in April 1940 Jean traveled to Reno to file for divorce. That year, as a single mother at the age of 25, Jean lived in San Mateo, with no apparent occupation. Paul soonafter married again, had five more children, moved into a new home with a swimming pool at 730 Hillsborough Boulevard, and in June 1944 sold his lot in San Mateo to his ex wife. Jean is believed to have wed again to William T. McGrath ( ? -1988) and in 1954 dwelled in Aptos, CA. In July 1954, Paul and his new wife used a cocktail party at their home to announce the engagement of their daughter Nan to Roland R. Mangiantini, son of Mr. and Mrs. Dino Mangiantini. Evidence suggests that the McGraths divorced in December 1966. Jean lived for another 24 years. William spent his final years in Watsonville, Santa Cruz County and passed into eternity on Feb. 17, 1988. She died in San Jose, San Mateo County on Feb. 21, 1990, with burial in Cypress Lawn Memorial Park in Colma, San Mateo County.
At the of her marriage, Nan Legallet was enrolled in medical secretary studies following attendance at Dominican College, while Roland, a graduate of Stanford University, was serving in the Army and stationed at Fort Ord. The wedding was held on Aug. 7, 1955 at St. Catherine's Church in Burlingame, CA, officiated by Rev. John B. Quinn. Nan's grandmother, Claudine Legallet, treated the female members of the wedding party to a luncheon at the Palace-Sheraton Garden Court. The couple went on to have three known sons -- Mark Mangiantini, Paul Mangiantini and Michael Mangiantini. The Mangiantinis enjoyed attending college football games between the University of California and Stanford. Roland in February 1961 was appointed to the board of the Peninsula Conservatory of Music in Burlingame, CA. The couple celebrated their 60th wedding anniversary on Aug. 7, 2015.
In 1955, Paul Legalett III studied at Bellarmine prep school in San Jose, Santa Clara University and spent a year of college in Reutlingen, Germany. In August 1958, he was united in wedlock with Sharon Knight ( ? - ? ), daughter of Robert Hayden Knight of Baileyana Road in San Mateo. 
Grandson James Morton Dobbins (1916-1997) was born on April 10, 1916 in Far West, Yuba County, CA. He died in San Diego on May 13, 1997. As with his sister Jean, James rests in eternal sleep in Cypress Lawn Memorial Park in Colma, CA.


Thomas Wright Sr.
Son Thomas Wardlaw Wright, Sr. (1893-1953) was born in 1893. At the age of 28, he married Hildred Culbert Church (1901-1985) in 1921 in Honolulu, HI. A native of Maui, she was the daughter of Mary Church. They had three known sons -- Thomas Wardlaw Wright Jr., Peter C. Wright and Michael J. Wright, with the eldest two and perhaps all three born in the Philippine Islands. Thomas was employed by the Southern Pacific Company (1907) and Associated Oil Company in San Francisco (1914) before being transferred to the oil firm's Honolulu office in 1917. In 1921, he was pictured and profiled in the book, Men of Hawaii, Vol. II, edited by John William Siddall, and published by the Honolulu Star-Bulletin. By 1930, Thomas and Hildred returned to California, making their home in Alameda, Alameda County, where they apparently spent the remainder of their lives. Thomas died at the age of 60 on March 11, 1953 in Alameda County. Hildred outlived her husband by more than three decades. She died in Monterey, CA on Jan. 4, 1985.
Grandson Michael J. Wright married Barbara J. Mincher. They had a daughter, Sharon Annette Wright, who married Robert Eric Warren. The Warrens produced a son, Robert Virgil Warren.
Daughter Helen K. Wright (1894- ? ) was born in 1894. She married (?) Tenney. By 1930, she was divorced, had taken back her maiden name, and was residing with her mother in San Francisco. That year, she was employed as a statistician with an insurance company. Nothing more about her is known.
~ Daughter Agatha Gray ( Cummings) Ward Southern ~
Daughter Agatha Gray Cummings (1878-1969) was born in April 1878.
She reached fame as a noted elocutionist, musician and singer. Circa 1900, when the federal census was taken, she was counted twice. One record shows her boarding with the family of William and Sarah Poole on Eady Street in San Francisco. The other lists her in the household of her mother and step-father in Fresno. In May 1902, she performed at Memorial Day exercises of Stanford University, singing vocal solos including "When the Heart Is Young" and "Swing Low, Sweet Chariot." That same year, she was mentioned in Werner's Magazine, which reported that she was:
...engaged in concert work on the Pacific coast. She writes, "I have a large class and find your magazine very helpful. I have presented a number of you pantomimes with unrivaled success, 'The Song of the Mystic' and 'Lacy Clare" making an immense hit." A sample program of hers is entitled "An Evening of Mirth and Melody," and includes as recitations, "When Jack Comes Late," "Mammy's Li'l Boy," Trying the Rose Act;" and as songs, "When the Heart Is Young," "Slumber Sea" and Tosti's "Good Bye." Her circular telling of her as a platform artist is unusually attractive.
Agatha was married twice. Her first husband was Rev. Benjamin W. Ward ( ? - ? ), whom she wed on May 12, 1903, in San Jose, when she was age 25. Dr. Young, of the First Baptist Church, officiated.
They had a daughter, Marguerite Ward.
Benjamin was considered as popular in his work as Agatha was in hers'. Said the San Francisco Call, he "has been a co-worker with the world's eminent evangelists and is widely known as a competent Bible teacher. He was the head of the Penn Bible Training Institute." Circa 1905, the Wards relocated to Boston, where his institute was headquartered. There, "he preached while she sang," said the Oakland Tribune (Aug. 5, 1906).
It later came out that he had subjected her to physical abuse and cruel language. Agatha parted company with him in Pennsylvania and returned to San Francisco. She then filed for divorce and was represented in her divorce by attorney J.C. Sayle.
In late July 1906, while on his way to church, he was attacked by his brother in law Harry Ellsworth Wright. Reported the Call, the incident took place "after a stormy interview in which charges of the most sensational nature were made. The minister is alleged to have been badly pummeled. He swore to a warrant charging his assailant with battery. Wright was arrested, released on bonds and left town. At some point Benjamin admitted to his wife that he had been smoking and drinking even while engaged in evangelism tours. He wrote a letter to her saying his acts of cruelty were the work of a demon and that the temptation to drink was "as an aid to his brain work," said the Call. "He earnestly pleased with his wife for her love."
She wrote back, saying that if he could prove that he had reformed and that the demons were gone, she would take him back. But a condition of reconciliation was that they remain apart for a year, without communicating. During that time, however, in an attempt to see their baby daughter, Benjamin tried to kidnap the child. When caught, he "claimed that he had no desire to steal the baby, but merely wished to kiss it." The divorce was finalized by Judge Rhodes in June 1907.

San Francisco skyline, with the Oakland Bay Bridge in the background
Agatha was remarried in August 1908 to architect Elmer Thomas "E.T." Southern (1873- ? ), a native Californian whose parents were emigrants from England. Elmer, having been married once before, brought a daughter to his marriage with Agatha -- Gallan Southern (born in Ohio in 1906).
When news of their marriage was printed in the Oakland Tribune, Agatha's mother was quoted saying that the newlyweds, "especially the bride, desired as little as possible said about the wedding on account of the fact that Mrs. Southern's first wedding, which was to an evangelist, was not a happy venture and had occasioned considerable talk."
Elmer and Agatha went on to have two children of their own -- John R. "Jack" Southern (born in 1910 in California) and Billie M. Southern (born 1923 in California).
Between 1914 and 1922, and perhaps earlier and later, Agatha is known to have given readings to benefit the East Oakland Settlement, located in the city's cotton mill district, which "many of the most philanthropic women of the east bay cities are interested in ...," said the Tribune. The Southerns made their home in San Francisco circa 1918, where Elmer owned and taught the Southern's School of Acting, otherwise known as the Southern Stagecraft Studio, located at 628 Cole Street.
Agatha was pictured in the Jan. 17, 1917 issue of the San Francisco Chronicle, illustrating a short article saying that she and Elmer "have combined extensive experience on the legitimate and vaudeville stages with a widespread knowledge of theatrical efficiency to make themselves the most successful teachers of singing, dancing, elocution and general theatrical and photoplay technique around the bay... [The studio] is frequented not only by theatrical aspirants, but also by numbers of prominent lawyers, ministers and public speakers, who find that the studio's motto, 'Every student a success,' works out in practice."
The 1920 federal census shows the family living on 18th Avenue in San Francisco. In 1937, their address was 1242 17th Avenue, San Francisco. In March 1937, Agatha hosted a 95th birthday party for her mother, noted in the gossip columns of the Fresno Bee. In mid-April 1937, Agatha directed a performance of "Mr. Martin Learns His Lesson" by the San Francisco Society for the Hard of Hearing, at a meeting of the Alameda County Nurses Association. Agatha is known to have resided at 1242 17th Avenue in San Francisco circa 1939.
She died in San Mateo County, CA at the age of 91 on June 19, 1969.
Son Ralph Wardlaw Sayle Cummings (1881-1960) was born in April 1880 or 1881. He apparently never married, and lived with his mother for decades. At the age of 20, in 1900, living under his mother's roof, a census-taker listed him as "at school." Ralph was a self-employed laborer circa 1918, with brown eyes and gray hair. When the United States entered World War I in 1918, Ralph, then age 38, filled out a draft registration card. He reported that he lived in San Jose and had a "crippled left hand." Ralph died in San Francisco on July 6, 1960, at the age of 79.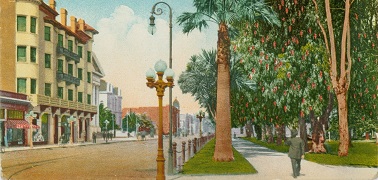 St. James Park on North First Street, San Jose
~ Acknowledgements ~
Many thanks to Krystal Kelley for freely sharing a wealth of research material.
Copyright © 2006-2007, 2009, 2013, 2016, 2018 Mark A. Miner