As an adult, Frank stood 5 feet, 7½ inches high, with a light complexion, blue eyes and brown hair. He worked as a machinist, following the family trade.
Frank married Martha C. Osborne (1843-1912), a native of Scotland. They were wed during the Civil War, in Fort Lincoln, in the District of Columbia. Rev. Thomas P. Hunt performed the ceremony on Dec. 20, 1862, while he was in the army.
They had no children of their own, but adopted a daughter "when she was very young," Martha Ellen Miner, born on March 6, 1878.

Fort Lincoln, District of Columbia, where Frank and Martha were wed
Frank served in the Civil War, enlisting at Mauch Chunk as a member of the Sixth Pennsylvania Volunteer Infantry, Company A. The company spent three months in service, from April 22, 1861 to July 22, 1861, and was commanded by Capt. Eli I. Conner. He was discharged from that regiment in Harrisburg.
Later that year, in December, Frank re-enlisted in the Second Pennsylvania Heavy Artillery, Battery H. Also known as the 112th Pennsylvania Volunteers, the unit was commanded by A.A. Gibson. He advanced to the rank of sergeant.
On Aug. 31, 1862, Frank was "detached" from the regiment as an artillery instructor for the 113th New York Volunteers. Then in October 1862, after returning to his regiment, while on duty in Fort Thayer in the District of Columbia, he became sick with rheumatism. He suffered with an undisclosed problem with his left hand in July 1863, which required an incision to rectify.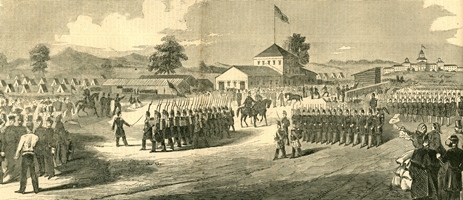 Camp Curtin, Harrisburg, where Frank drilled as a recruit during the war
When the Second Artillery was called to the front in May 1864, Frank remained behind at Fort Thayer "on account of being laid up with rheumatism," and treated by Surgeon Griswold, recalled friend Edward de C. Loud. Again in June 1864, at Fort Ethan Allen, he was detached as an artillery instructor.
He received an honorable discharge on Dec. 19, 1864, at Spring Mills, Centre County, PA. In all, he served for three years, three months and 15 days.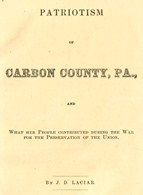 1867 book naming Frank
Frank is listed by name in a roster of the regiment in the book Patriotism of Carbon County, Pa., and What Her People Contributed During the War for the Preservation of the Union (J.D. Laciar, 1867).
Of the widespread public spirit at the time of his enlistment, said the Patriotism book:
The contributions of Carbon County in aid of suppressing the Slave-holders' Rebellion, -- in proportion to her population, -- is unequalled by any county in the State of Pennsylvania, and probably not surpassed by any community in any other State. Not only did this County furnish more men in proportion to her voting population, but the record of her soldiers is unsurpassed in point of bravery and endurance by any other troops. When the first call was made by President Lincoln for 75,000 troops for ninety days, Carbon County sent three full companies to Harrisburg in twenty-four hours.
The Miners resided in Philadelphia right after the war, remaining there for four years, where Frank found employment as a carpenter for William J. Love and perhaps others. He continued to feel the effects of his rheumatism and nasal inflammation, known at the time as "catarrh," and also had a tumor in his right wrist which caused the tendons of his fingers to contract and render them almost useless. He initially was treated for after-effects of his rheumatism by Dr. J.H. Howell, and later by Dr. Lewis Reed and Dr. Willard Wright of Atlantic City.
They moved in 1868 to a "cottage" in Atlantic City, NJ and stayed until 1900. During that time, Frank worked in carpentry for Paul Woolton and William H. Smith. A July 1880 article in his old hometown newspaper, the Carbon Advocate, reported "Our old comrade Frank C. Miner and wife of Atlantic City, N.J., are on a visit to his parents in Weissport." Their address circa 1891 was 29 North Delaware Avenue, and in 1898 was 1112 Arctic Avenue. During that time, Frank's wartime friend Edward de C. Loud often visited the family.
Friend Louis Atkinson, who lived at 726 Chestnut Street in Philadelphia, and saw him about six months after discharge, remembered seeing Frank "suffering severely... and was laid up and under treatment.... He complains of pain in the back, and limbs are very stiff and sore and at times he can scarcely walk. He has been laid up very often, the attacks lasting months at a time." Friend Loud testified in 1898 that Frank "has been continuously suffering from rheumatism, which has affected his limbs and hands, also his back, and being a carpenter by trade, he has been forced to abandon his occupation." His employer William H. Smith of Atlantic City said that in 1888, Frank was bedridden for two months, and in 1894 was debilitated for three months.
Another friend, Patrick J. Hughes of Philadelphia and Atlantic City, said Frank was "unable to perform any work," while neighbor Catherine Somers said he "was confined to his bed for months at a time" and been "totally unfit for the performance of manual labor." Friends saw him bind his hands in red flannel as a type of remedy to the pain. In his early 50s, Frank only weighed 120 lbs., and a physician noted that he looked "emaciated."
He began receiving payments from the federal government in March 1891, in the amount of $8 per month, as compensation for his wartime service. [Application #1.006.534, Certificate #804.794, filed from New Jersey] Due to a fire, Frank and Martha did not have the ability to produce a marriage certificate, which complicated the process for filing paperwork and being approved for the pension. He also was unable to produce written evidence of his medical history. But his application was approved.
The federal census of 1900 lists Frank as a "capitalist" living on Delaware Avenue North in Atlantic City.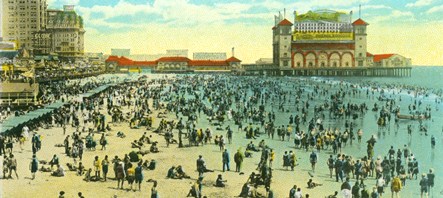 Atlantic City beach-goers, early 1900s
By 1910, the Miners moved to a new home at 120 North Third Street in the Pleasantville section of Atlantic City, located on Lakes Bay. Frank had no occupation other than his "own income." Daughter Ella, age 31 and unmarried, also did not work that year.

Obituary, 1912
In 1914, Frank received $25 per month in pension payments. While reading an article in the National Tribune, about soldier pensions, he clipped out a form and sent it to the Commissioner of Pensions, asking for an increase.
Martha passed away a the age of 69 on Aug. 6, 1912. Burial was held in Pleasantville Cemetery. It's believed the name of the burial ground today is Atlantic City Cemetery.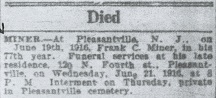 Obituary, 1916
Frank outlived his wife by almost four years. He died on June 19, 1916, at the age of 77. Following a funeral held at the family home, he was laid to rest beside his wife, in a private ceremony, at Pleasantville Cemetery.
Reuben E. Adams, of the firm of Delaware Underwriters of the Westchester Fire Insurance Company of New York, based in Philadelphia, was named executor of Frank's estate and managed affairs with the Orphans Court of Atlantic County.
~ Daughter Martha "Ellen" Miner ~
Daughter Martha "Ellen" Miner (1878- ? ) was born on March 6, 1878, of unknown parents. She was brought into the home of Frank and Martha Miner, who adopted her as their own child.
In 1920, she roomed with 69-year-old widow Eliza A. Sibley in Pleasantville, on West Washington Avenue. The census-taker recorded that Ellen had no occupation that year.
Her fate is unknown.
Copyright © 2011-2012, 2015 Eugene F. Podraza and Mark A. Miner
Obituaries courtesy of the Alfred M. Heston Collection of the Atlantic City Free Library in New Jersey.