Grant Ulysses Miner
(1867-1944)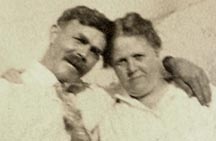 Grant and Drusilla
Grant Ulysses Miner was born on May 18, 1867 near Humbert, Somerset County, PA, the son of Henry A. and Matilda (Rose) Miner.
He is seen here with his second wife, Drusilla, and always liked to tell his grandchildren that the family was "Pennsylvania Dutch."
At about age four, in 1871, Grant came with his parents to Connellsville, Fayette County, PA. He worked for many years as a railroader, retiring as a yard brakeman for the Baltimore & Ohio Railroad. He was a longtime member of the Brotherhood of Railroad Trainmen, an early union.
Grant's first wife was Mary Louisa Hoover (1865-1913), a native of Garrett, Somerset County, PA, and the daughter of Charles H. and Harriet (Saylor) Hoover. They were wed on April 24, 1894 in Westmoreland County, PA.
Their only known son was Albert "Clyde" Miner. Grant also produced a daughter at some point, Edna Bender.
Circa 1900, when the federal census was taken, Grant, Mary Louisa and five-year-old son Clyde lived on Connellsville's South Alley. Grant's occupation was listed by the census-taker as railroad conductor.
In 1901, while asleep, the Miners were victimized by a robber who used a unique method to subdue them. The Sept. 20, 1901 edition of the Connellsville Courier reported the following:
ROBBERS USED CHLOROFORM
Took Nearly $100 from Under a Woman's Pillow Tuesday Night
Robbers entered the home of Grant Miner on West South alley about 1 o'clock Tuesday morning and procured $99.75 and a woman's gold watch. The robbers entered the house by climbing from the top of the kitchen door into the window of the room occupied by Miner and his wife, without disturbing them or a small dog which sleeps in the kitchen. Mrs. Miner awakened at 1.20 A.M. and was sitting up in bed. She noticed that the door was open and tried to arouse her husband who had fallen into a deep sleep, probably induced by chloroform. Miner awoke after his wife had shaken him for some time and called the night police....
Mrs. Miner's gold watch and $97 was taken from under her pillow, while two fine gold watches and a revolved under her husband's head were not disturbed. Mrs. Miner had received $150 on Monday in payment of a debt, but luckily hid it in an open fire place and neglected to place it under her pillow that night. Miner feels sure that the robbers are from town, although he has as yet found no direct evidence.
Grant was listed in the 1903-1904 Connellsville Directory, shown as a railroader with the address of 205 South Meadow. In the 1906-1907 directory, the address had changed to Pine Street in South Connellsville. In 1910, their home was in South Connellsville, with the couple having been married for 17 years. Harvey Hechler boarded in their home at that time. Among their neighbors was a distant cousin, Messmore Younkin, son of "Devil Jake" and Sarah A. (Tannehill) Younkin.
At age 43, Mary Louisa died on Dec. 5, 1913 at home on Pine Street in South Connellsville. The Connellsville Daily Courier said she "had been in poor health for the past two years but her late illness dated back only to last Tuesday night. Heart trouble was the cause of death."
On Dec. 10, 1916, at age 48, and after three years as a widower, Grant married 31-year-old Drusilla Fike (1885-1953), daughter of James W. and Rachel Fike of Fort Hill, Somerset County, PA. The nuptials were held in the parsonage of the Methodist Protestant Church on Apple Street, with Rev. J.H. Lambertson officiating.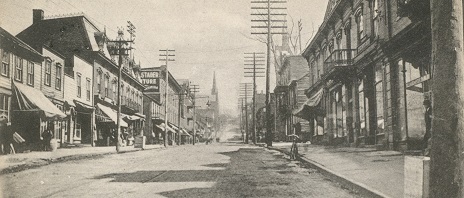 Connellsville's Main Street, looking east, circa 1906

Grant and grand-
daughter Wilma
The Miners had no children of their own but helped to raise several of their grandchildren, whom Drusilla treated as if they were her own offspring even though they were her "steps." They built a home in the Hillcrest section of Connellsville, which was still standing in the early 1990s if not later.
The Miners and their grandchildren enjoyed attending the large annual McDowell-Miner Reunions held at Connellsville's Hillcrest Park in 1929-1930, where Grant was elected to the program committee. Grant and his brother John went to the Minerd Reunion in August 1932, held at Lake Forest Park near Scottdale, Westmoreland County. Writing in the Huntingdon (PA) Daily News, their cousin Laura Jane (Minerd) Williams reported: "Everyone seemed to enjoy the fine fellowship that existed among all the reunionists and the innumerable baskets that provided dinner and supper for the party were bottomless."
Circa 1931, he helped to operate the Hillcrest Golf Course with his partner, T. Walter Rogers. As a member of the Brotherhood of Railroad Trainmen, he and Drusilla often hosted social events at their home, including the annual corn and weiner roast of the Lee Etta Lodge of the BRT's Ladies' Auxiliary in August 1931. They also held Sunday School meetings at their home on Sundays, in connection with the First Pentecostal Church. As Drusilla's widowed mother declined in health, she came to live in their home and died there of a gall bladder infection in September 1939.
When one of his chickens laid a massively large egg in February 1935, he took it to the offices of the Connellsville Daily Courier where it was displayed for a time. The item measured 8.75 inches in the long circumference and 6.5 inches in the narrow.

B&O yards at Connellsville where Grant worked, with the city as a backdrop, and the Youghiogheny River in the foreground.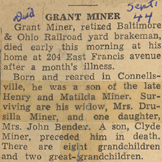 Connellsville Daily Courier
Sadness struck the family in 1941 when son Albert "Clyde" Miner passed away. He was just 47 years of age. See more about him below.
On his 76th birthday, in May 1943, a surprise party was held for Grant in their Hillcrest home. "A chicken dinner was served as 12 o'clock," reported the Connellsville Daily Courier. The honoree received many useful gifts." Among the attendees were niece Lillie Belle McDowell, her husband Arthur and daughter Izora, niece Meda Buttermore and her husband George, grand-niece Gladys Varndell and daughter Lilly Mae, grand-niece Dorothy Fisher, husband Ralph and children Joan, Junior and David, grand-nephew Leroy McDowell and wife, Lillian Solomon and daughter Lilly, granddaughter Wilma Kincaid and her husband Lehman, Harry Warrick, daughter-in-law Myrtle Miner and chidlren James and Donna Jean, Albert Hoenshell, Mr. and Mrs. Harry Fowler, Mr. and Mrs. James Showman, cousin Perry Murray and Mrs. Edward Yonkey.
Grant died at home at 204 East Francis Avenue in September 1944. He was age 77 at the time. He was laid to rest in Connellsville's Hill Grove Cemetery. The Daily Courier carried a two-paragraph obituary, stating that he was survived by eight grandchildren and two great-grandchildren.
Drusilla outlived him by nine years. She passed away just two days after Christmas 1953 at the home of step-granddaughter Wilma (Miner) Kincaid. She is buried beside Grant at Hill Grove Cemetery.
~ Son Albert "Clyde" Miner ~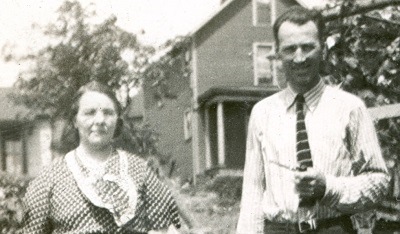 Myrtle and Albert Miner, late 1930s
Son Albert "Clyde" Miner (1893-1942) was born on Dec. 21, 1893 in Connellsville
He married Myrtle (McCarthy) Martin (Oct. 24, 1898-1970), daughter of Thomas J. and Lillian McCarthy of Connellsville. He was age 23, and she 19, at the time of marriage.
The Miners had seven children -- Albert T. "Speed" Miner, Walter Grant Miner, Robert E. Miner, James E. Minor, Dorothy Hominsky Flydell, Wilma Kincaid Rollins and Donna Ullery Galley.
Sadly, son Walter, suffering from pneumonia at age two years, two months, died on May 6, 1923, with interment in Hill Grove Cemetery. Then in October of that year, Myrtle gave birth to a stillborn son.
They lived in South Connellsville, and Myrtle was a longtime member of the Otterbein United Methodist Church.
Clyde registered for the World War I military draft in 1918, and stated his occupation as acetylene cutter at the Sligo Mills. He was a pall bearer at the funeral of his uncle John Ross Miner in 1935.
In 1919, at the age of 25, he is believed to be the same Albert C. Miner of South Connellsville who was convicted in federal court of "receiving goods stolen from the Baltimore & Ohio Railroad," reported the Courier. He was sentenced to a year in a penitentiary in Atlanta. In handing down the ruling, Judge Joseph Buffington gave a warning that he was going to end the leniency he had been showing in cases of theft in the wake of the government's takeover of the railroads.
With Clyde away in prison, the 21-year-old Myrtle was faced with raising two children under the age of 16 months. She took the children into her parents' home in Connellsville, and they all are enumerated together in the 1920 federal census.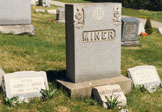 Albert and Myrtle's grave
In 1930, after Clyde returned home having paid his debt to society, the family was together in Connellsville, as shown on that year's census. Albert made a living that year as a house painter. In 1941, when he was employed as a laborer with the Works Progress Administration, their address was 540 East Gibson Avenue.
Suffering from pernicious anemia, Clyde was admitted to Connellsville State Hospital. He died there on New Year's Day 1942, at the age of 47. He was buried in the Miner family plot at Hill Grove Cemetery.
After a dozen years as a widow, Myrtle married George Fulton ( ? - ? ) of Normalville, Fayette County. In reporting on the nuptials, the Courier said it was a "quiet ceremony ... held at the home of Miss Laura F. Fulton, North Meadow lane." They made their home in Normalville, and later they moved to Connellsville.
George brought six step-children to the marriage -- Henry Fulton, Earl Fulton, Simon Fulton, Dolly Prinkey, June Prinkey and Delores Miller.
Myrtle passed away at the age of 71 on Sept. 16, 1970. She is buried near Albert, with their infant son Walter (-1924-) in between. At her death, the Courier said she was survived by 12 grandchildren and 10 great-grandchildren.
Albert and Myrtle's grave site has been lovingly maintained by their descendants for many years, marked with plantings, and kept neat and clean. In 1991, the Miner grave marker was highlighted in a feature article by Laura Dell in the Greensburg (PA) Tribune-Review about the growing Minerd-Miner genealogy research effort. The article led directly to a meeting with their offspring and Minerd.com's founder, and much new information was gleaned as a result of the family's generous sharing of information.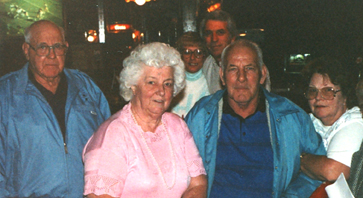 Clyde and Myrtle Miner's offspring at a 1991 meeting with this website's founder at Ninnie's Restaurant in Scottdale, PA.
Albert's obituary, 1968
Daughter Dorothy Miner (1917-1997) was born on June 23, 1917. She twice married. On April 26, 1939, at the age of 21, she wedded her first husband, 22-year-old Albert J. Hominsky (Feb. 7, 1917-1968), son of John and Mary (Ignosh) Hominsky of Connellsville. They lived on Green Street in Connellsville's West Side and produced these children, Lois Jean McClintock Jewels, Sondra Rae Harbaugh, Albert "Kenneth" Hominsky, Mary Kathryn "Kathy" Emerick and Patricia Ann Bowman. Later, they moved to 811 South Pittsburgh Street. Albert earned a living over the years as an inspector with Anchor Hocking Glass in South Connellsville. He belonged to the Glass Bottle Blowers Association of the United States (GBBA). Dorothy was a member of the St. Vincent DePaul Roman Catholic Church. Sadly, Albert died at the age of 51 in Connellsville State Hospital on Sept. 1, 1968. Rev. Victor Petri led the funeral service, with interment in Green Ridge Memorial Park. She moved at some point to Mount Pleasant, Westmoreland County, where she joined the Bridgeport Free Methodist Church. On June 18, 1969, the 51-year-old Dorothy wed a second time to Francis Edward Flydell (Oct. 9, 1912-1996), son of John and Mary (Kogler) Flydell. Their marriage lasted for 27 years until the separation of death. He had been widowed twice previously and brought these adult offspring to the second union -- Mary A. Mangus, Frances L. Wascak and Margaret A. Basinger. During his working years, Francis was a heavy equipment operator. Francis entered eternity on Nov. 24, 1996. Dorothy only outlived him by a year. At the age of 80, on Sept. 5, 1997, she passed away in St. Francis Hospital in Pittsburgh. Rev. Dean Griffiths officiated at her funeral service.
Granddaughter

Lois Jean Hominsky

(1940-2014) was born on Jan. 4, 1940 in Connellsville. On Jan. 12, 1959, she wedded Raymond Oliver "Mac" McClintock (April 1, 1937-1995), son of Melvin and Anna McClintock. They were the parents of Raymond Scott McClintock, Dan Richard McClintock and Shari Lynn McClintock. During the Vietnam War, Raymond served as a sergeant with the U.S. Marine Corps. They made a home in 1968 in Tarawa Terrace, NC. Later, she moved to Jacksonville, Onslow County, NC. Sadly, Raymond proceeded her in death, on Sept. 18, 1995 at the age of 58. She survived her spouse by 19 years and married again to (?) Jewels. At the age of 74, as a patient at Kindred Hospital in Greensboro, NC, Lois Jean died on the Fourth of July 2014. Her remains were placed into repose in Coastal Catolina State Veterans Cemetery, with Rev. Ernest King officiating at the funeral. An obituary noted that her survivors included seven grandchildren and three great-grandchildren.
Granddaughter Sondra Rae Hominsky

(1943-living) was born in 1943. In 1962, she married a distant step-cousin, James "Jim" Harbaugh ( ? -living), of the familyof

James and Sarah "Ellen" (Sands) Harbaugh

. Their children were Dana Lynn Harbaugh and James Timothy Harbaugh. The couple dwelled in Uniontown, Fayette County in 1968, in Richmond, VA in 1997 and in Oak Ridge, NC in 2014.


Built Upon Frustration's "Low Life Crew" CD label, circa 1998
Grandson Albert "Kenneth" Hominsky

(1945-2019) was born in 1945. He resided in Connellsville. He married Patty Carretti ( ? - ? ) in about 1966, and they produced two children, Lisa Marie Hominsky and Kenneth Brian Hominsky. In about 1972, he married again to Toni Furlo ( ? - ? ) and the couple bore a son, Jason Hominsky. Then in Sept. 1990, he wedded Debra (Wisilosky) Peshko ( ? -living). She brought to children to the union, Jerry Delligatti an Dina Duckstin. For many years, Kenneth was employed at Connellsville High School. Circa 1991, he and Debbie owned Ninnie's Restaurant and Lounge in Scottdale. For 25 years, he worked at United Parcel Service (UPS), retiring with the position of supervisor. In his free time, he liked to golf and belonged to the South Connellsville Firemans Club, Elks Lodge and Polish Club. Sadness blanketed this family when Kenneth succumbed to death at the age of 74 on June 18, 2019. Son Jason was a member of the heavy metal band Built Upon Frustration which issued its first full-length CD in 1999, entitled "Low Life Crew."
Granddaughter Mary Kathryn "Kathy" Hominsky

(1947-living) was born in 1947. On Oct. 12, 1969, she married George Emerick ( ? - ? ). They are the parents of Georgie Emerick and Chad Emerick. Their home in 2014 was in Acme, Westmoreland County, PA.
Granddaughter Patricia Ann Hominsky

(1950-living) was born in 1950. She was twice married. In April 1969, the 18-year-old was united in matrimony with Wendell Nicholson ( ? - ? ). Their only daughter was Wendi Renae Nicholson. After a divorce, she wedded Charles Bowman ( ? - ? ). They have a daughter, Dawn Elaine Bowman. Patty resided in Scottdale, PA in 2014.

Lehman Kincaid
Daughter Wilma Katherine Miner (1918-2005) was born on Aug. 17, 1918 in Connellsville. She was married twice. Her first spouse was Lehman "Lee" Kincaid (Jan. 21, 1911-1990), son of Joseph and Alice (Roby) Kincaid. The 22-year-old bride and 29-year-old groom were wed on Aug. 9, 1940 in the home of Wilma's grandparents in Hillcrest. Rev. Merrill L. Cadwell, of the First Christian Church, officiated at the nuptials. They resided in Belle Vernon, Fayette County, and adopted an only son, Dale R. Kincaid. During World War II, Lehman served in the U.S. Army and received a Purple Heart. He spent his working career as a turbine operator for West Penn Power Company and retired from the position. He also was a member of the Connellsville Veterans of Foreign Wars, and they belonged to the First Christian Church of Connellsville. In 1988, the Kincaids moved to Connellsville. Sadly, Lehman passed away on July 7, 1990, bringing the marriage to a close after about half a century. After Lehman's death, Wilma advertised for a husband, and connected with George Marvins Rollins (Oct. 25, 1913-2004) in Missouri. They married later that year, on Dec. 10, 1990, and lived in Connellsville at 631 Highland Avenue. She graciously opened her home to the founder of this website in November 1991, providing many key details which filled in knowledge gaps in the family tree. She and George relocated to his hometown of Marshfield, Webster County, MO in about 1995 and spent their final decade of life there. George died at the age of 90 on June 24, 2004, with burial beside his first wife in Sparta IOOF Cemetery in Christian County, MO. Wilma only outlived her husband by a year. While a patient in Marshfield Care Center, she died at the age of 86 on April 28, 2005. Her remains were shipped back to Fayette County to rest in Sylvan Heights Cemetery in Oliver near Uniontown.
Dale Wayne's obituary, 1966

Grandson Dale R. Kincaid (1944- ? ) was born in 1944. On July 4, 1964, he wedded Patricia Stout ( ? - ? ), daughter of Dorothy Stout. The wedding was held at the Rehoboth Presbyterian Church in or near Monongahela, PA, with Rev. Jesse Houk officiating. The couple initially lived in Webster, PA. Later, circa 1966, they made a home in Roseville, MI. In 1990, they dwelled in Baltimore, MI. Their three known children were Lisa Ann Kincaid, Dale Wayne Kincaid and Tracy Ann Kincaid. Sadly, son Dale Wayne died in infancy. Dale married a second time in April 1977 to Tina Nardine ( ? - ? ) and the cople produced another son, Lee Edward Kincaid.
Son Albert Thomas "Speed" Miner (1919-1996) was born on Sept. 2, 1919. He served in the U.S. Navy during World War II. He married Laura "Alberta" (Fulton) Keyser (March 16, 1916-1986), daughter of William Henry and Louisa May (Green) Fulton. She brought two stepchildren to the marriage, Marion Walker and William H. Keyser. The couple did not bear any children of their own. Albert was a longtime steelworker at the Duquesne and Clairton Works of United States Steel. He was a member of the Eagles in Connellsville. Alberta was employed at the Baltimore and Ohio YMCA and St. James Restaurants. She belonged to the Church of God of Prophecy of Connellsville and the OSIA Bowling League. Circa 1970, they made a home in Poplar Grove, Fayette County. Sadly, Alberta passed into eternity at the age of 69 in Jan. 1986. Albert outlived her by a decade and kept company with Evelyn Johnson. His address in 1991 was 1510 Hawthorne in Connellsville. He died in Uniontown Hospital at the age of 76 on June 23, 1996. They rest together in Green Ridge Memorial Park.
Son Robert Earl Miner (1925-2004) was born on Sept. 13, 1925. He served in the U.S. Naval Reserves during World War II as a seaman first class. On Jan. 3, 1953, when he was 27 years of age, he wedded 28-year-old Mary Ann Soltis ( ? -2004), daughter of Czechoslovakian immigrants Michael and Mary Soltis of Trotter near Connellsville. Rev. Louis Duychak, of the Catholic Church, officiated. At the time of marriage, she was employed by the Connellsville LaPremiata Macaroni Corporation. They bore a son, Daryl Glenn Miner. The Miners lived in Trotter and were members of St. John's Evangelist Roman Catholic Church. Robert earned a living over the years as a "core paster" for Duraloy Corporation, a postion from which he eventually retired. He also was the family caretaker for the meticulously kept Miner plot of graves in Hill Grove Cemetery. Sadly, both Mary Ann and Robert died within three months of each other, she on July 1, 2004 and he on Sept. 29, 2004. Interment was in St. John's Church Cemetery in Connellsville.
Son James E. "Pete" Minor (1929-2005) was born on Jan. 24, 1929 in Connellsville. On March 2, 1951, he married his first wife, 22-year-old factory worker Betty Ann Golitz (1929- ? ). Alderman J.W. Prinkey officiated at the wedding. They were the parents of Michael John Minor and Robert James Minor. Then on April 25, 1958, he wedded Geraldine "Jerri" Moore ( ? - ? ). Their marriage endured for 47 years until cleaved apart by death. Son James E. "Pete" Minor Jr. was born to the second union. During the Korean War and Vietnam War, he was a scuba diver and master chief with a Navy SEAL team. After the military spelled his last name with the "o," he kept that spelling for the rest of his life. They lived in Virginia Beach, VA and in 1970 moved to Panama City, FL, where he was a chief petty officer in the U.S. Navy. He is said to have been a body double for actor Dana Andrews in a Hollywood film. He may also have been advisor to the film Navy Seals, starring Charlie Sheen. James eventually retired from the Navy after 28 years of duty, remaining in Panama City. He died at the age of 76 on June 10, 2005. An obituary in the Panama City News Herald reported that memorial services were led by a Naval chaplain.
Grandson James E. "Pete" Minor Jr.was born in 1966. On Sept. 15, 1990, he married LeighAnn Johnson. Their home in 2005 was in Panama City, FL.
Daughter Donna Jean Miner (1935-2018) was born on March 7, 1935 in Connellsville. She was twice married. On Nov. 28, 1953, she was joined in marital union with her first husband, Edgar Exline Ullery (Dec. 13, 1925-1984). He was a distant cousin and the son of Lloyd and Elsie (Exline) Ullery of Pennsville, of the family of Gertrude (Minerd) Ullery. Their offspring were Douglas Ray Ullery and Darrin Edward Ullery. The Ullerys lived in Coalbrook, Fayette County in 1970. Edgar was employed as a mechanic, working as an automotive body and fender repairman for Palmer Chevrolet. He went on to own Eddie's Paint and Body Shop over the span of a quarter of a century. Donna earned a living as a cook for the YMCA in Connellsville and was a member of New Beginnings Evangelical Church in Youngwood. The couple divorced. On Aug. 21, 1971, she was wedded to Donald Robert Galley ( ? -2014). He had been married previously and brought two daughters to the union, Rhoda Fabian and Sandy Heide. In 1991, when she met the founder of this website, she graciously provided a typed genealogy of the family dating to her great-grandparents, Henry and Matilda (Rose) Miner. Sadly, Don passed away on April 14, 2014. Donna lived for another four-plus years as a widow. On Nov. 30, 2018, at the age of 83, Donna died in Excela Health Frick Hospital in nearby Mount Pleasant. Pastor Lee Maley -- a distant cousin of the family of Martha Ellen (Mayle) Mayle -- officiated at the funeral service, with burial following in Green Ridge Memorial Park. An obituary was printed in the Greensburg Tribune-Review, which said that she "was the last surviving member of her family." Former husband Edgar died in H.C. Frick Community Hospital in nearby Mount Pleasant on May 12, 1984, at the age of 58.
Grandson Douglas Ray Ullery (1957- ? ) lives in Philadelphia.
Grandson Darrin Edward Ullery (1965- ? ) was born in about 1965. When he turned age one, he was pictured in the Connellsville Daily Courier. On Aug. 8, 1987, Darrin married Tammy Dee Rager ( ? - ? ). They have a son, Matthew Ullery. Their home has been in Mount Pleasant. Darrin communicated with the founder of this website circa 2005.
~ Daughter Edna (?) Bender ~
Daughter Edna (?) is little known to us. She may have been born in the late 1880s or early 1890s, before her father married Mary Louisa Hoover.
She married John Bender ( ? - ? ). The couple produced one known daughter, Dorothea Bender.
They lived in Jeannette, Westmoreland County, PA.
She was known to be alive circa 1944 when she was named in her father's Connellsville Daily Courier newspaper obituary.
Daughter Dorothea Bender ( ? - ? ) was born in about (?). She made a home in Hazelwood near Pittsburgh and was married more than once.
More will be added when learned.
Copyright © 2000, 2005-2006, 2010, 2012, 2015, 2018 Mark A. Miner